Do you have a cat that likes to run wild and you want to keep it safe by always knowing where it is with a cat tracker?
You certainly can and it's never been easier to do so. All you need to do from this point is to continue reading the article we've prepared for you. What we did was review the best possible models in all sorts of different categories like tracker collars, Bluetooth, indoor, outdoor trackers, and more. That's not all though so there will be a product included for everyone to meet their needs and wants.
The Summary
Best 14 Cat GPS Trackers
BEST OF BEST CAT GPS
FitBark GPS Cat Tracker
Device Casing
The device comes in a small bone-shaped casing that gets attached to pet collars. It's black and you can change the color to 10 different by buying them separately. If you'd like a different color without the need of buying other ones, check out our selection of other cat locator collars next.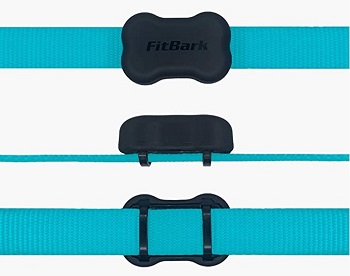 App Details
It works using an app and in this app, you'll have to pay a 6 dollar monthly subscription fee to get the full benefits. It works using 4G network and tracks location in real-time. You can also monitor things like sleep, anxiety, activity, and you can even link it to your Fitbit or other fitness bands like apple watch.
In Short:
Works using 4G network
The monthly fee is paid in-app and can cost as low as 6 dollars
Comes in 10 different colors
Can get attached to the thinnest of collars
Tracks location in real-time
Can monitor, sleep, activity, and anxiety
Can be linked with fitness bands and smartwatches
BEST COLLAR CAT TRACKER
Whistle Go Health And Location Tracker
Colors And Network
The device is colored blue but you can choose to get it in pink or white color as well. It connects to 4G cellular networks to track your cat and works only within the US. With the subscription that can climb up to 10 dollars a month but goes lower, you'll be able to track your cat's health and fitness.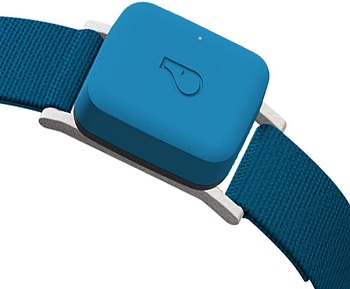 Map Provider
The collars it attaches to can be up to 1-in wide. The map within the app that lets you view your cat's location is powered by google maps and AT&T. There is no limit to its working range either. If you'd prefer a different type of cat locator collar, the article linked below might help you find one.
In Short:
It's color blue but can be colored pink or white too
Works with 4G cellular network
The monthly fee of up to 10 dollars allows for health and fitness tracking
Works anywhere within the US
Has no range limit
The map within the app i powered by Google maps
Fits on collars up to 1-in wide
BEST BLUETOOTH CAT GPS
Cat Tailer Small Tracker
Device Size
If you're looking for a small device, you can settle on this 1.08-in radius device that features a loophole to hook on cat collars. It connects to Bluetooth and you should expect a small range of around 328ft. It won't show precise map locations but it will let you play the hot and cold game to find your cat.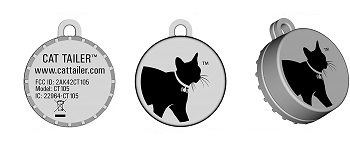 Approximate Distance Tracker
It will show you an approximate distance that's between your cat and you. It's waterproof and its battery can last up to 6 months. It doesn't require a subscription so if you like that but would prefer a larger range on your Bluetooth cat collar you can read the cat locator collar article for more.
In Short:
It's 1.08-in big
Attaches to collars
Has a 328ft range
Works using only Bluetooth
Won't show the exact map location
Gives you the approximate distance between you and your cat
It's waterproof
BEST CHIP CAT GPS TRACKER
KumasonCo Id Chip Tag
Chip Contents
If you'd like to rely on your community to help you find your cat, this is the device for you. It has a scannable QR code that leads anyone to your personalized pet profile with contacts included. If simplicity is what you trust in, you can find other cat gps tracker chip models in the GPS tag for cats article.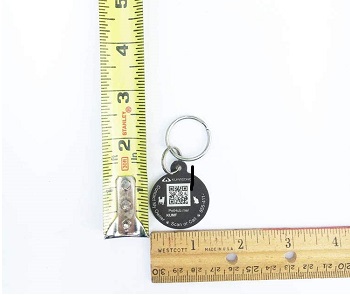 Materials Used
It's made with anodized aluminum in layers without the use of glue. The hotline number and QR code are integrated into the multiple layers so that they don't rust or fade easily. It comes with a small climbing buckle that lets you attach it to your cat's collar.
In Short:
Made with anodized aluminum
Features a QR code and hotline number
You'll get a free pet profile that's customizable
The info is integrated into the metal layers so that it doesn't fade
It's weatherproof
BEST MICROCHIP CAT TRACKER
Backagin ID microchip For Cats
Insertion By Professional
The way this microchip works is by a veterinarian injecting it under the skin of your cat using the provided syringe that comes in a sterile bag. Any veterinarian and shelter can read the scanner and it works worldwide too. You can buy your own scanner to check if it's working properly and you can easily update the pet profile info if it's changed.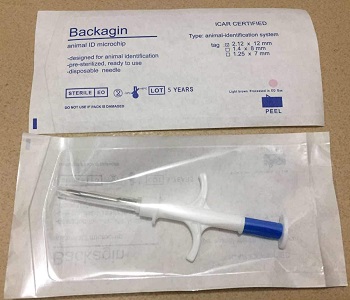 Registration And ID
The registration is free of charge and lasts a lifetime. Each chip has a unique ID code so that only your cat and no one else's is recognized. This and any cat microchip tracker might be confusing at first so we advise you read the article linked below to learn more about this and others.
In Short:
Comes with a syringe and microchip
It's in a sterile bag
The registration is free
The pet profile can be updated
The microchip is scannable worldwide
You can buy a scanner separately to check if it's working
BEST SMALL CAT GPS TRACKER
Weenect Silver Tracker
Casing And SIM
The product comes with a silicone case so that it can fit any cat collar easily. It has a SIM card integrated into it and you'll need to pay a monthly fee for it to work. We'll get into the details later on but if by now you've decided you want a no-fee smallest GPS tracker for cats, you can find more in the linked article located below.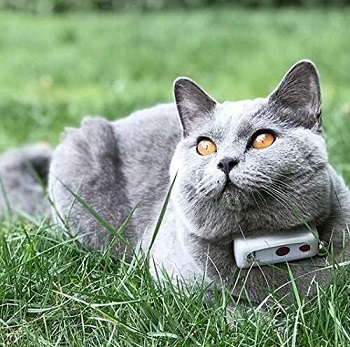 App Info
The device can show you via an app a detailed territory analysis to see where they've been wandering off too. You can set e-fences to get alerted when they've been breached, you train them using the vibration or sound available on the device, and it has no distance limit in terms or location tracking.
In Short:
Requires payment to work
The SIM card is integrated inside
Shows detailed territory analysis
You can set up e-fences
Can be used for training with sounds or vibration
Comes with a silicone case
Fits on any collar
BEST LONG BATTERY CAT TRACKER
Petbiz GPS Pet Collar Tracker
Battery Life
Depending on the activity level of your cat, this is a cat GPS tracker long battery life model with a battery life of up to 30 days. It has 30 percent more coverage than the 3G network so it will be better used in remote areas. The tracking is included only for US territory.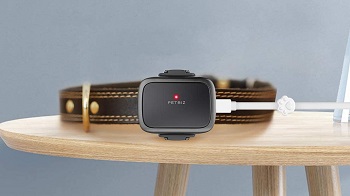 Casing And Warnings
It will send alerts when it's under 30% and needs a recharge. It's IP67 waterproof and can live track, show track history, set up e-fences, and track activity and fitness. If you want to find a model with even longer battery life, a good place to start searching is the small GPS tracker for cats article.
In Short:
The battery lasts up to 30 days
Gives alerts when the battery is under 30 percent
Has 30% better coverage than 3G network
It's waterproof
Can track fitness, live location, and location history
You can set up safe zones
BEST SMART CAT GPS
Whistle GPS Ultimate Tracker
Monthly Fees
In order for it to work, you'll have to pay a monthly fee since it works with a 4G network. The first 30 days are free though. You'll also need a wifi connection and everything it does can be done within the app that can be downloaded on iOS and Android phones.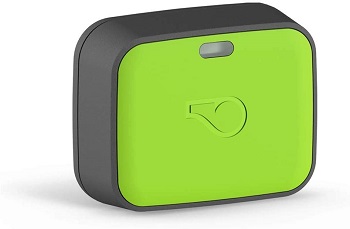 What It Tracks
It can send location alerts, track fitness and health, set up safe or e-fence zones, and it also has a built-in night light if you ever decide to go on walks with it on. The battery lasts up to 20 days with a single charge. With a cat smart collar, you can't but not go into detail about what it does so read into it more and other models in the smart collar for cats article.
In Short:
Requires a monthly fee to work
Has a 30-day free trial
Connects to 4G network to work
Requires a wifi connection to work
Works up to 20 days on a single battery charge
Tracks fitness and health
Can send location alerts and when a safe zone is breached
BEST RADIO FREQUENCY CAT GPS TRACKER
Loc8tor Pet Tracker
Free Of Other Charges
Because it uses radio frequencies to work, anything that you to find this tracker is free of charge. It comes with a handheld device and small chips that can get attached to pets. it has a 1-in location precision and works within a 400ft range. It uses audio and visual cues to navigate you to your cat.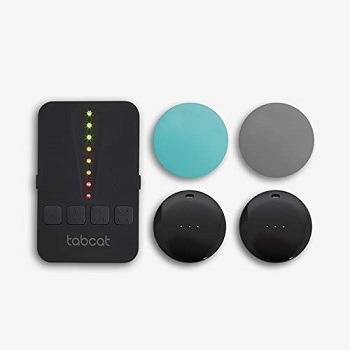 Indoor And Outdoor Use
It works perfectly fine indoors and outdoors and can help you track the cat in the best hiding places. You can use vibrating cues on the device that attaches to the collar to train your cat with this cat tracker radio frequency model. If you'd like a product with a bigger range though, read next the article about smart collars for cats.
In Short:
Has a 400ft range
Works indoors and outdoors
Uses audio and visual cues to guide you to your cat
Comes with handheld devices and chips
The chips attach to any pet collar
Can display vibration for cat training
BEST CHEAP CAT TRACKER
Tractive LTE GPS Tracker
Worldwide Track
No matter where you are, you can always keep track of your cat. It works in 150 countries using an LTE network and easily attaches to pet collars. It comes with basic and premium packages all costing around 5 dollars monthly. The SIM card is integrated into the device already.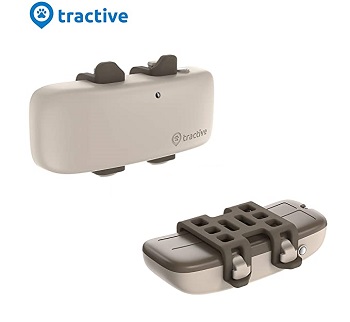 Location Tracking Rate
Since it uses the network it does, it has a 2-3 second location refresh rate, you can set up virtual fences within the app, see location history, and even track your cat's activity. On its own, it costs 40 dollars but you have to include that this cheap cat tracker has monthly fees so for products without them, read the small GPS tracker for cats article next.
In Short:
Works in over 150 countries worldwide
Has cheap 5 dollar monthly fees
The device itself costs around 40 dollars
Has a 2-3 second location refresh rate
Works with LTE network
You can set virtual fences, track activity, and location history
BEST INDOOR CAT GPS TRACKER
Cube Cat Indoor Finder
Device Shape
Cats are known to have creative hiding places indoors so it sometimes might be hard to find them. This item is a small place in a square shape with rounded corners and a hole that you can pull a key chain accessory through to attach it to collars. For more innovative products like this indoor cat tracker, check out the cat locator collar article next.
Bluetooth Connection Range
It has a 100ft range and connects to your phone app using Bluetooth technology. You can replace the battery on your own and you can do it once every year. It will show you your cat's last know location on a map and you can turn on the sound function to track your cat using sound.
In Short:
Works using Bluetooth
Can produce a sound for locating your cat
Has a 100ft range
Shows last connected location on a map
The battery needs to be replaced once a year
BEST INVISIBLE FENCE CAT TRACKER
Whistle 3 GPS Pet Cat Tracker
Working Range
This device will work absolutely anywhere within the US if there is a 3G network available. Of course, this also means you'll have to pay a monthly fee available for payment through the device's app. It can last for 30 minutes up to 3ft in water without getting damaged.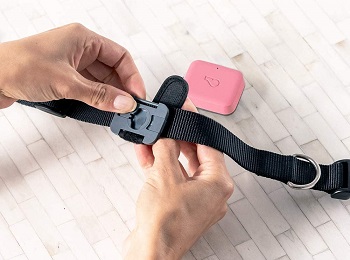 Collar Thickness
It attaches to collars that are up to 1-in thick. You can set custom safe zones that when breached, the app will let you know, You can check on track history within the last 24 hours and monitor activities as well. It's fairly common for a small GPS tracker for cats to be an invisible fence GPS collar so make sure you check them all out in the linked article below.
In Short:
Works anywhere within the US
Needs to connect to 3G network to work
Monthly payments can be done within the app
A breached custom safe zone will trigger an alert to be sent to you
tracks activity and location history within the last 24 hours
It's waterproof up to 3t for 30 minutes
BEST OUTDOOR CAT GPS TRACKER
Find My Pet GPS Tracker
4 Way Tracking
This device uses 4 things to accurately track your dog. Firstly, it uses GPS satellites, next up it uses wifi and Bluetooth signals and lastly cell phone service networks. You can locate your cat anywhere it is in the world where there is 2G network connectivity.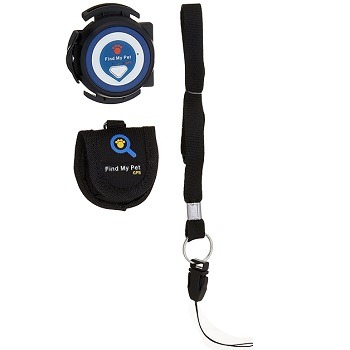 Casing And App
The casing is waterproof, it attaches to collars, and it works using a downloadable app or using a be browser app on your computer. The unlimited range surely makes it one great outdoor cat tracker but you can read about others in the pet GPS locator article.
In Short:
It's waterproof
It attaches to cat collars
Has worldwide coverage
Connects to GPS satellites, wifi, Bluetooth, and cell service networks
Works anywhere here there is a 2G network
Can be used with an app or in a web browser
BEST REAL-TIME CAT TRACKER
Moglor GPS Pet Tracker
Charging And Track Tech
The charging port of this device is a magnetic one so there are no complicated tires to work with. It works with a SIM card and uses 3-way tech to locate your cat as accurately as possible. It's waterproof, allows you to set up safe zones, and the battery can last up to 240 hours.
Warnings And Fees
It will warn you when the battery gets below 30% so you can know when it needs charging. It doesn't have a working range but it means that you'll have to pay a fee for it to work. For real-time cat trackers without fees, you can read the small GPS tracker for cats article next.
In Short:
Uses 3-way technology for locating cats
Works with a SIM card
It's waterproof
Has magnetic charging port
The battery lasts up to 240 hours
You can set up safe zones
How To Pick A Cat Tracker
With a cat GPS tracker, you have to be vary of some things seeing as plenty of them work for dogs and may not work for cats. We'll help you decide on one by giving out the information needed to choose the right one from your first buy. We'll even explain how they work and many other things.
Cat Size – Any cat is almost incomparable in size to a dog unless it's a small and extra small dog so that's exactly what your focus should be in case you found a dog tracker that you'd like to purchase. There's barely any collars here and most just attach to collars or hand from collars.
Neck Size and Collars – A fully grown cat can have a neckline of up to 10-in. Kittens, of course, have smaller necklines and can have collars that are up to 8.6-in long. Another thing to worry about with trackers that go on collars is collar width. Some may not fit well on such small collars so it's also something to better focus on.
App Details – We'll get into the nitty gritty of how they work later, but for now, it's important you know that about 60% of these work using an app. What abilities the app has all depends on the tracker you're getting but some things included can range from real-time location tracking, location history, location analysis, activity, health and fitness monitoring, and plenty of others.
Network Connected Devices – Some devices connect to 2G, 3G, and 4G networks to work. What this means is that they will anywhere where there is a signal of the previously mentioned networks. The only range they can have is that they work within the US only or worldwide and in other countries.
Monthly Fees – With network-connected devices, there's a big chance that you'll have to pay monthly fees for them to work. Some use SIM cards and you'll need to pay a subscription plan to a cell service provider while others don't. The fees are paid monthly or yearly and rarely climb over 10 dollars a month.
Bluetooth Trackers – Bluetooth pet trackers don't require monthly fees to work but they usually have a small range of up to 400ft. These are excellent for indoor cats that tend to hide a lot in your home and you want to find them. Radiofrequency devices work too in this case but they'll lead you to your cat and won't show exact locations just like a Bluetooth tracker won't either.
To Sum Up
we've decided against recommending just one cat GPS to you since they are all very different and one tracker might not be a good choice for every person. Each model has its own pros and cons and you'll have to weigh them out to find the perfect match for yourself and your cat. Just be vary or how large the devices are and if they'll fit on your cat's collar. If you'd like to focus on dog trackers, we advise you to either read the dog tracking collar article or the dog tracker article next. If your focus is to learn about all of the possible dog and cat GPS trackers out there, we have an article about that too.