Are you trying to save space with a cat tree but couldn't manage to do it so far and are now searching for a corner cat tree to do it?
You're in the right place then and we suggest you keep on reading this article because of the fact that we reviewed nothing but the best that fit the description here. We went beyond just reviewing any corner tree and made sure to include a variety of products matching different categories like tall trees, condos, furniture, houses, and a lot more.
The Summary
Best 10 Corner Cat Trees
BEST OF BEST CORNER CAT TREE
Go Pet Club Busy Box Cat Tree
Mental Stimulation
Cats love and need mental stimulation to prevent boredom and weight gain and the busy box platform with a hollow inside and cat balls inside is the perfect choice for providing them with just that. It has 3 additional platforms, one acts as a bed, and features a cat condo.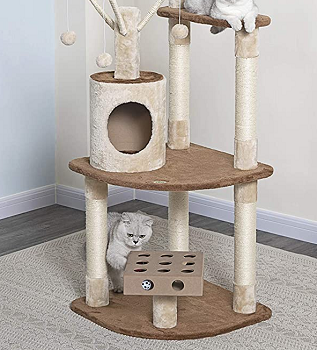 Toys And Carpet
It has multiple hanging ball toys and a tree branch-shaped ball toy as well. It's fully carpeted with faux fur and also features 6 posts fully covered with sisal rope. The base shape that looks like 1/4 of a circle is what makes it a corner tree. It's a 60-inch cat tree in terms of height and you can check out more like this in the linked article below.
In Short:
Fully covered with faux fur carpets
Features a mentally stimulating busy box platform
Has 4 platforms in total, one is a bed
It's 60-in tall
Features a cat condo
Has multiple hanging ball toys and a branch ball toy
BEST TALL CORNER CAT TREE
Benjamas Shop Tall Cat Tower
Carpet Pattern
Tree frames are tougher and more durable if made with a type of wood and this one is using e1 particleboard. It has a kick when it comes to its aesthetic since the polyester wool cloth carpets that fully cover it feature a lovely black paw pattern. If you'd prefer a more serious-looking tall corner cat tree, check out the cat basket tree article next.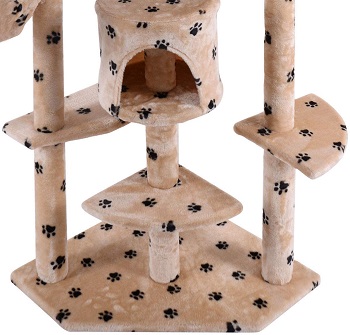 Biggest Dimension
It truly is endless fun with its height of 80-in that allows for placement of 8 platforms, a cat condo in the middle, and a hammock basket. Two of the platforms feature raised edges and act as lounging areas. Overall, it's 22.8-in long and wide.
In Short:
Made with E1 particleboard
Covered with polyester wool cloth
It's 80-in tall and 22.8-in wide and long
Has a cat condo, 8 platforms, and a hammock basket
The polyester carpets have a paw pattern
BEST CONDO CORNER CAT TREE
Superjare Fully Equipped Cat Tree
Condo Size
The spacious cat condo is elevated from the ground due to the 3 posts covered with sisal rope it sits on. It's spacious, 9.8-in tall and has a front and top entrance. Below it you0'll find a raised bed platform and above it a hammock basket, and 2 more platforms, one acting as a bed as well.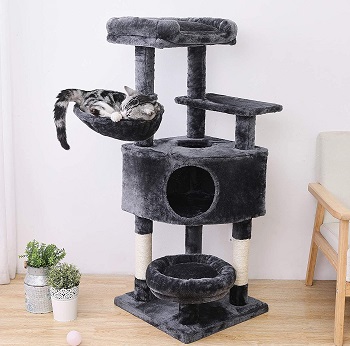 Dark Grey Color And Size
It's engineered wood frame is fully covered with dark grey plush carpets and the base that's square-shaped is 17.7-in wide and long. It's 46.4-in tall and can house multiple cats or large cats. This cat corner condo isn't the only one this big so if you'd like to check out others, we advise you to read the cat basket tree article.
In Short:
Made with engineered wood
Covered with dark grey plush carpets
The condo is 9.8-in tall and has 2 entrances
Features 3 platforms, 2 are beds
The base is 17.7-in long and wide
Overall it's 46.4-in tall
BEST FURNITURE CORNER CAT TREE
Sauder Natural Sphere Cat Tower
Stand Details
The three-legged stand of this furniture piece is covered with sisal rope so that your cat can easily climb it and access the sphere-shaped condo on top made with wicker. On the bottom, there is a carpet-covered wooden storage platform and above it, a hanging ball toy.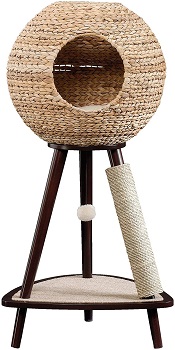 Height And Condo Inside
The stand is made with wood veneers colored with an espresso color. It's 43.7-in tall, 19.8-in long, and 21.6-in wide. The inside of the condo can be equipped with a cushion that's machine washable. If this is not your idea of corner cat furniture, you can read the stylish cat tree article for more like this.
In Short:
Sits on a three-legged stand colored espresso
The stan is made with wood veneers
Features a sisal rope covered leg
Has a storage carpet-covered platform
The top sphere is a condo and made with wicker
It's 43.7-in tall, 19.8-in long, and 21.6-in wide
Comes with a washable cushion
BEST HOUSE CORNER CAT TREE
BestPet Cat Tree Scratcher House
Posts Sisal Rope Coverage
The three posts that rise from the baseboard are completely covered with sisal rope and feature their natural color. Any other accessory features a leopard print design. If you'd prefer to stay away from that type of corner cat house design, you can read the amazing cat trees article next.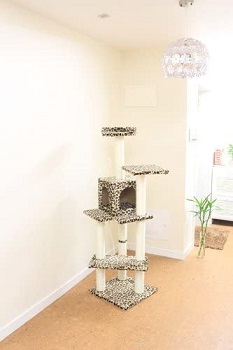 Number Of Features
It has a total of 5 platforms, 2 out of the 5 are located in front of the cat condo that features 2 entrance holes. The top platform is a perch and lounge area. The base is 18.11-in wide and long, and at its highest point, it's 59.45-in tall. The leopard print carpets are made with plush material.
In Short:
The baseboard is 18.11-in wide and long
Has 3 tall sisal rope covered posts
Has 5 platforms, 2 sitting in front of the cat condo
The condo has 2 entrance holes
It's 59.45-in tall
The plush carpets feature a leopard print design
BEST PERCH CORNER CAT TREE
Prestige Cat Trees Cat Tower
Corner Posts
Each corner of the square baseboard has a post rising from it, only one, however, is partially covered with sisal rope. Other than that, it's fully covered with plush carpets and the frame is made using solid wood. It has a total of 4 perches that act as cat beds and features a triangular platform.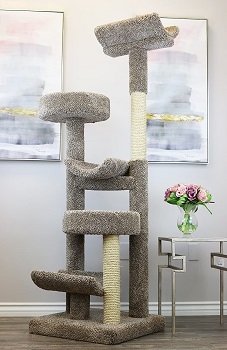 Large Perches
It's 24-in long and wide and 65-in tall. The biggest perch is 20-in long and wide which means that a large cat such as a Maine coon can easily enjoy the benefits of this corner cat perch. For more trees like this one with different designs, check out the adult cat tower article linked below.
In Short:
Has 4 posts rising from each corner of the base
The base is 24-in long and wide
Has 4 cat perches and a triangle platform
Covered with grey plush carpets
Made with a solid wood frame
It's 65-in tall
One post is partially covered with sisal rope
BEST FOR LARGE CATS CORNER CAT TREE
Go Pet Club Cat Tree
7Ft Height
The height of 80-in is reason enough for this tree to be a corner cat tree for large cats. Measured in ft, it's 7 ft tall and is sure to provide a lot of u to any cat. For more trees that are equally as tall but with different features, read the 7 ft cat tree article linked below.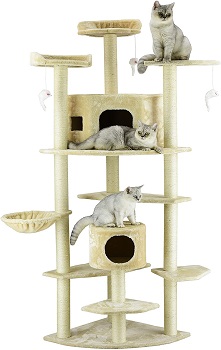 Color And Extras
It's fully beige meaning that the sisal rope posts are barely noticeable and blend well with the rest of the tree. It has 2 condos, one is larger, a hammock basket, 2 beds, 6 additional platforms, and a rope toy for playtime. It's made with engineered wood and it's 30-in long and 45-in wide.
In Short:
Fully colored beige
Has 3 sisal rope posts
Has 2 condos, one larger than the other
Comes with 6 platforms, 2 beds, and a hammock basket
Has a hanging rope toy
Covered with plush carpets and made with engineered wood
BEST WITH HAMMOCK CORNER CAT TREE
Rabbitgoo Adjustable Base Cat Tower
Adjustable Base
The product comes as 2 separate trees connected only with the top plush bed. It has 2 bases and one base is adjustable and can spin 180 degrees to make the whole tree look different. Instructions on how to assemble it are included and feature pictures for even easier assembly.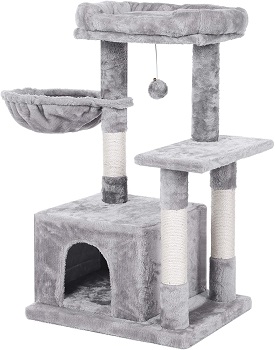 What It Features
It has plenty of posts and 3 are covered with sisal rope. Its frame is made with particleboard and the 2 entrance hole condo, bed, basket hammock, and platform are all carpeted with grey plush. It's around 19.6-in long, 17.7-in wide, and 38.1-in tall. If you want keep the tree simple, read the big cat condo article next.
In Short:
Made with particleboard
Covered with plush grey carpets
Has a double entrance condo
Has a bed and a basket hammock
Made with 2 bases that are adjustable for different designs
Overall, it's 19.6-in long, 17.7-in wide, and 38.1-in tall
BEST KITTEN CORNER CAT TREE
Catry Cozy Cat Tree
Platform Beds
There are 2 concave platforms at the highest points of the tree. One is partially covered and they're made to give your kitten a sense of security when lying around. The reason it's made for kittens is due to the 50-in in height which makes it safe for them. 2ft would be ideal but this helps prevent another buy in the future.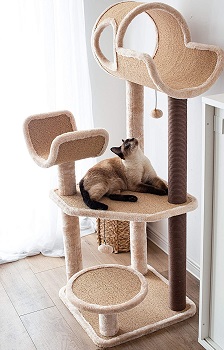 Color And Toys
It has 3 posts covered with brown sisal rope. it has 2 platforms and a couple of hanging toys for mental cat stimulation. It's fully carpeted using plush material. The base corners are rounded and it's 19-in long and wide. For adult cat trees, you can read the cat activity tree article next.
In Short:
Has 2 concave platforms that are easy to clean
HAs 3 sisal rope posts
Features 2 platforms and 2 hanging ball toys
It's 19-in wide and long base corners are rounded
It's 50-in tall
BEST CLIMBING CORNER CAT TREE
Lovepet 80 Inch Solid Tree For Cats
High Points And Features
The highest point of this tree is a lounge area and it's 80-in tall. You'll get one more and 6 additional platforms. It has 2 condos that are different in size ad it even comes with a basket hammock. Your cat can access all parts from the platforms or via sisal rope posts. There are 3 of them.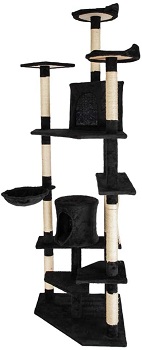 Base Size And Build
The front of the baseboard isn't curved like a circle but still makes it a true corner cage. It's 38-in long, and 28-in wide. It's made with flakeboards and they're covered with soft plush that's black. For more info on this and other similar models, you can read the 7 ft cat tree article.
In Short:
Made with flakeboard
Covered with soft plush carpets
It's 80-in tall, 38-in long, and 28-in wide
Has 3 posts covered with sisal rope
Comes with a hammock basket ad 2 lounge areas
Features 2 condos, one bigger than the other
How To Pick A Corner Cat Tree
It's easy to think that any tree can be a corner cat tree but if you're nitpicky like us then you'll know that this just isn't true for every tree. We'll talk about the benefits of these trees, how to recognize one, type possibilities, and general cat tree things all in this useful and simple buying guide
Recognizing A Corner Tree By Base – The first dead giveaway of a corner is the baseboard located at the very bottom. If the base is shaped like 1/4 of a circle you'll know that it's the best corner tree you can get. These trees will also save you the most space and look the most elegant in your home.
Tree Recognition By Back– You could get away with having a tree with a square-shaped base if other perimeters are satisfied. The back of the tree which means that it's the side that's going to be leaning against the wall should be clear of any platforms, condos, and perches that step away from the perimeter of the base. If that's the case, the tree won't perfectly fit into corners.
Main Benefit – The number one benefit of these trees is that they elegantly fit into homes and save space. Furthermore, if you can blend their color to your furniture or wall colors it's even better. With these, you can truly splurge on height as even a tall cat tree like this won't take up that much space.
Location Benefit – If you're still debating which corner you want to put the tree in, we might help you with what cat's usually love. Cats are territorial creatures and a tree is their safe haven where they're able to monitor their surrounding. A corner placement already gives the best view of the room their in but try to pick out corners away from doors and perhaps closer to windows to fully satisfy your cat.
Tree Heights – The most common factor that determines tree height which is the most noticeable thing on any cat tree is cat age. If you have a kitten you should aim for a smaller tree of 2ft. You can go higher than that but just don't go overboard, a fully grown large cat is going to benefit the most from a 5-6 ft tall tree although there are taller trees as well. The point is to create a surface that's taller than anything your cat can climb.
Different Price Angles – It's a well-known fact that cat trees of any kind aren't exactly affordable cat trees but we don't see that much of a problem with it since it's better to splurge a bit more on a costly tree than it is to have to buy new furniture since your cat has destroyed it.
To Sum Up
We can't possibly recommend just one corner cat tree to anyone unless we knew their housing situation, buying capabilities, cat age, size, and behavior. If you've read the buying guide, it'll be easy for you to decide on one. In case you've read it and decided that you'd prefer a different type of cat tree altogether, you can read the affordable cat trees article or the tall cat trees article next. In case you want to be an expert in cat trees and know about every possible type out there, be sure to read the cat trees article next.