Looking to save some space in your home but still want to give your cat a large tree to play with so you thought you'd get a tall cat tower?
You're in the right place and all you need to do from this point is continue reading this article and relax since you'll be reading about more than a few models. Each product we reviewed is different from the other so at least can suit your style. Some of the trees we reviewed are simple, for large cats, fitting for small spaces, and there are plenty of others we haven't mentioned.
The Summary
Best 10 Tall Cat Trees
BEST OF BEST TALL CAT TOWER
SmartCat Multi-Level Cat Climber
Tree Placement
Since it's tall, it's naturally going to save you space but it's also going to blend well into homes since you can place it on any standard door. It's 82-in tall and at the top and bottom, it features spring-loaded brackets so you can adjust it to your doors' height.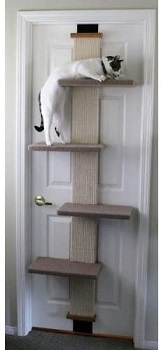 Backwall And Contents
The back wall is placed on the door and it contains shelves that let your cat climb it. This back wall also features a sisal rope front so your cat can scratch at it. It's made from wood and has 4 platforms in total. For more genius space savers, read the tall narrow cat tree article.
In Short:
Made to be attached to doors
Has a top and bottom spring-loaded bracket for height adjustment
Overall, it's 82-in tall
Made from durable wood
The back wall has a sisal rope front
Features 4 shelves
BEST SIMPLE TALL CAT TREE
Cat Craft Three Tier Tree
Shelves And Base
The three shelves are placed around a rounded post that sits on a square-shaped baseboard. The post is covered with a material that cats can scratch at while the platforms are coated with a soft fabric. At the very top, you'll find a tension rod for reasons we'll explain later on.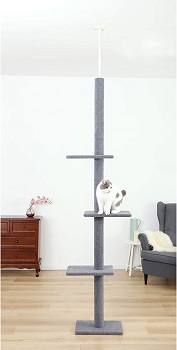 Top Rod
The rod is what makes it stable since it allows it to extend fully to the roof. The starting height is 7.5 ft but it can go as high as 9 ft. Each platform is 17-in long and around 11-in wide. If you love this simple tall cat tree, you'll love others reviewed in the simple cat tree article.
In Short:
Has 3 shelves placed on a rounded post
The post sits on a square baseboard
Covered with sisal rope
The shelves are covered with soft fabric
Has a tension rod
The starting height is 7.5 ft but can go up to 9 ft
Each shelf is around 17-in long and 11-in wide
BEST BED TALL CAT TOWER
Furhaven Tiger Tough Tree
Base And Height
This tree is equipped with enough things to prevent your cat from getting bored but it's not overcrowded so it does look elegant, ON the baseboard, you'll find 5 posts of varying heights, a hole box, 3 platforms, and the 4th platform acts as a resting area. Overall, it's 49.5-in tall, 26-in long, and 19-in wide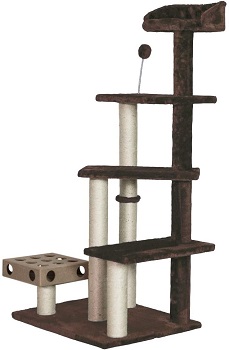 Materials Used
It's made with a composite wooden board and covered with plush material. It does also feature sisal rope so that your cat can scratch away at some of the posts. It's made for smaller cats so in case you need a tall cat bed for your big cat, you can find them in the multi-level tree for multiple cats article.
In Short:
It's 49.5-in tall, 26-in long, and 19-in wide
Doesn't look overcrowded
HAs 6 posts, some covered with sisal rope
Made with composite particleboard and covered with plush
Features a play interaction box
Has 4 platforms, one is a rest area
BEST CONDO TALL CAT TREE
Made4Pets Cat Tree Tower
Tree Build
The tree is made using a few materials that make it look exquisite all together. It's made using CARB-certified boards, plush fabric, and sisal rope. The baseboard, shelves, and the cat condo are completely wooden while the 6 posts are covered with sisal rope.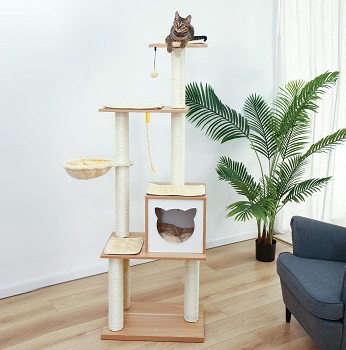 Features Of The Tree
It features a hanging rope toy, a plus hammock, plush carpets, and a hanging ball toy. In the back, you'll find a safety strap that allows you to hook it to a wall to make it more stable. The tall cat condo is found on the lower levels of this 66-in tall skinny cat tree so make sure you check out others for other models.
In Short:
Made using CARB-certified boards
Features a plush hammock and carpets
Has 6 posts covered with sisal rope
The cat condo is all wooden
It's 66-in tall
Comes with a hanging rope and ball toy
Can be secured to a wall
BEST HOUSE TALL CAT TOWER
Aivituvin Outdoor Cat House
Outdoor Wood Choice
Firwood is a great wood for outdoor use since it can go back to its original shape when exposed to moisture. The top of this tall cat house is slanted and covered with an asphalt roof so that it's protected from different weather conditions and water build-up. If you want to make sure you get the best possible one, we suggest you read the weatherproof cat tree article next.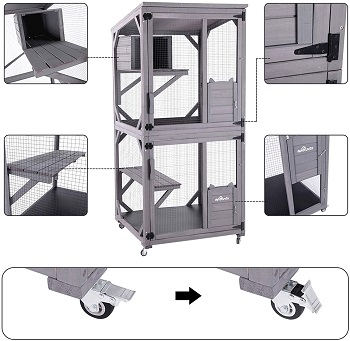 Sides And Doors
It's covered with wire sides and features two large, mainly wire entrances in the front. These doors also feature a smaller built-in entrance. The top of this house features a cat condo, there are shelves and the whole tree sits on wheels so you can move it indoors if you'd like. It's 31.5-in long, 31.5-in wide, and 70.9-in tall.
In Short:
Made with firwood and wire
Has a slanted asphalt rooftop
Sits on 4 wheels
The 2 large front entrances feature built-in smaller entrances
It's 31.5-in long, equally wide, and 70.9-in tall
Features a cat condo at the top
BEST FOR LARGE CATS TALL CAT TREE
Go Pet Club 72″ Cat Tree
Height And Perches
Apart from being amazingly tall with its 72-in in height, it's also filled with a lot of cat fun content. It has four posts partially covered with sisal rope, 2 additional levels, and 3 perches sitting on top of the posts. It even comes with a condo that has 2 entrance holes.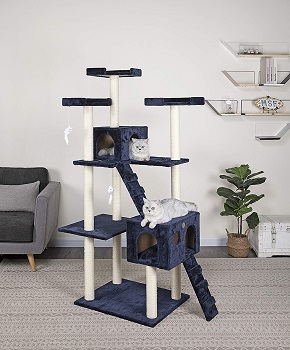 Material Used
It's made with compressed wood and that includes the stand and it's fully covered with faux fur carpets. It features 2 ladders and a mouse toy as well. The bottom of the tree is 18-in wide and 12.5-in long. If you'd like to stay away from carpet-covered products, read about others in the tall cat tree for large cats article.
In Short:
Covered fully with faux fur carpets
Made with compressed wood
It's 72-int all
Features a cat condo with 2 entrance holes
Has 3 perches, 2 ladders, and 4 sisal rope covered posts
Comes with a mouse toy
The base is 18-in wide, and 12.5-in long
BEST HAMMOCK TALL CAT TOWER
BestPet Medium Cat Tree
Materials Featured
There are three materials on this tower that are worth mentioning since they take up most of its build. These materials are engineered wood used for the base and frame, sisal rope found on teach of the 4 posts, and faux fur that's used as a carpet to cover the whole thing.
Total Dimensions
In total, it's 71.65-in tall, 23.62-in wide, and 21.65-in long so it's not only tall but big. The hammock is located in the middle and to the side but it also comes with a tubular rest area, a condo, ladder, and an additional hanging hammock that your cat can swing in. If you'd prefer a different type of tall cat tree with a hammock, you can read the cat condo with hammock article for more.
In Short:
Can be mounted on a wall
It's 11-in wide, 52-in long, 45-in tall
Comes with mounting instructions
The wooden frame is made with bamboo wood
Features fabric hammocks that are hemmed
The hammocks can be washed
BEST CORNER TALL CAT TREE
Go Pet Club Cat Tree Condo
Tree Placement
Although it's 47-in tall, it's still considered a tall tree with plenty of extras and features. Apart from being a space saves in the height department, it's also a space save since you can place it in corners. This is due to the rounded front and a back that has a 90-degree angle corner. You can learn more about this tall corner cat tree and others in the cat condo house article.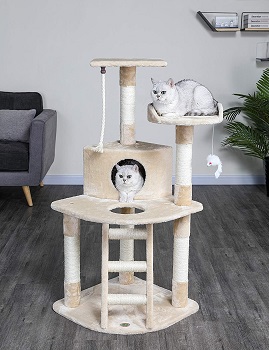 Wood And Carpet
It's made with compressed wood so it's stable and cats can easily climb it and grip it since it's covered with faux fur. It features 3 posts partially covered with sisal rope and a ladder that's also partially covered with it. it has one large cat condo, a top bed, perch, and a 2nd level platform. It also includes a hanging rope and mouse toy.
In Short:
it's 47-in tall
Has a rounded front and 90 degrees back base and shape
Made with compressed wood
it's covered with faux fur and sisal rope
Has 3 posts, a condo, bed, ladder, and a perch
it's 32-in long and 25-in wide
Features a hanging rope and mouse toy
BEST NARROW TALL CAT TOWER
S-Lifeeling Cat Climbing Tower
Base And Height
The base of this product is probably the widest thing on it and it serves to keep it stable. It's 10.6-in wide and 17-in long. It's 113-in tall and is made to go from the bottom to the ceiling. If your ceiling is lower, it has a spring bracket that helps it adjust to varying ceiling heights. It can go as low as 90-in.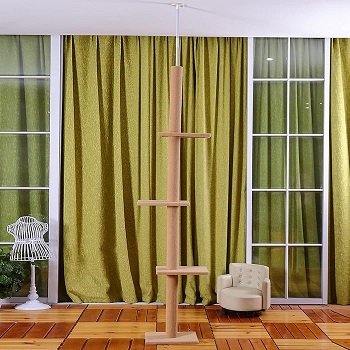 Material Coverage
It's fully covered with carpets but you can DIY the post and put sisal rope on it if you wish to. It has 3 levels and each level is 21.6-in long so a big cat can use it as well. For more tall narrow cat trees, be sure to read the extra tall cat tree article next.
In Short:
The base is 10.6-in wide and 17-in long
It's 113-in tall
Made to go from the bottom to the ceiling
The height can be adjusted ad can go as low as 90-in
Fully covered with carpets
Has 3 levels, each is 21.6-in long
BEST 6FT TALL CAT TOWER
Petmaker Cat Play Tower
Materials Coverage
Since it's 6ft tall or 71.5-in tall, it's easy to conclude that it's a tower made for adult cats. Its base is made with durable wood but it's fully carpeted so your cat can grip it and climb it with no problems. The carpet is a plush material and it also has 9 posts that feature sisal rope.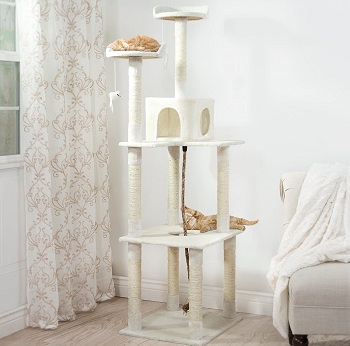 Additions And Other Dimensions
The very top of 2 sisal posts feature a bed each and on the 3rd level, you'll find a cat condo. It's colored ivory and its base makes it 23.5-in wide. It also comes with a play rope but if you'd like your 6-foot tall cat tower to have even more extras, read the 6ft cat tree article next.
In Short:
It's 71.5-in tall and has a 23.5-in wide base
Fully made with durable wood
Covered with ivory-colored plush carpet
Has 9 sisal rope posts
Features a cat condo and a play rope
Has 2 cat beds positioned at the very top
How To Pick A Tall Cat Tower
To pick out the best tall cat tower, there are a few things to reconsider and investigate further. The things that will determine your tower's height will be your cat's age, size, and there are plenty of other things to think about that aren't even related to tower height. We'll discuss everything that needs to be discussed in this simple buying guide.
What Is Tall And What's Not – If your cat loves climbing on sofas, kitchen counters, and other high areas, you might consider getting one. The tree or tower should be taller than both which comes at around 45 inches at the very least. You can go taller than that but that will be determined by your cat's age.
Why Cats Love High Areas – A high point where your cat is going to rest gives them the advantage to have a better view of their surroundings. They're territorial animals so it's only logical that they'll want the best place in the house to check out what's going on.
Tree Height Recommendation According To Age – If you have a kitten at home and want to get a tall tree for it, we advise you not to go over two ft at least until the cat is fully grown. Since they are expensive, this is not going to be an option all the time but there are some affordable cat trees out there that will ease the transition money-wise.
Tower Stability – If you're worried about the tower's stability, you don't have to be. Many grounded towers can be attached to a wall from the back to become stable and the tallest of trees are usually gonna be mounted to a door, wall, or they can have an adjustable height and extend from the bottom to the top of the ceiling.
Tall Tree Advantages – Probably the biggest advantage of a tall tree is going to be that they're space-saving. They're commonly really narrow and can help your home in terms of aesthetics. The narrow trees are only going to feature perches but it's not that uncommon to see them featuring sisal ropes for scratching.
To Sum Up
With so many options out there, it's hard to pick just one tall cat tree to recommend so we won't do it since the one we recommend might not even be the one that's suitable for your cat, home, and budget. If the contents of most of these trees didn't satisfy you, you can read the best-rated cat condos article or the post on the best cat trees for large cats. If you want to learn more about cat trees and different types of them, make sure you read the post with the widest offer of the cat trees you can purchase.