A cat scratcher condo keeps your cat's claws healthy and allows it to relax and rest.
In case you are looking for such a product, then you are in the right place. In our article, we talk about the best six models that include a condo and a scratching post. Be sure to check out all the units and don't miss reading our guide as well!
The Summary
Best 6 Cat Scratcher Condos & Trees
BEST OF BEST CAT SCRATCHER CONDO TREE
Yaheetech Cat Tree Tower Condo Scratcher
Cat Tower With Condo
Yaheetech's cat tree tower condo scratcher is a great unit for households with multiple cats. It includes a condo with a large entrance on the first floor. The condo is quite easy to reach if you have active cats. This tree with a cat scratcher condo offers multiple options for play, sleep, and scratch.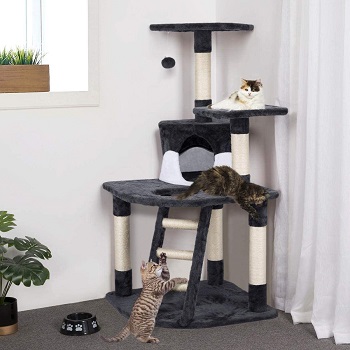 Ramp And Perches
There is a cat ramp included that leads to the first-floor cat condo. It eases climbing and gives this attractive cat tree a nice look. Other than a ramp, there are two elevated perches. One of them includes a dangling toy as well. Such a toy will swing back and forth to attract the cat's attention and keep it occupied.
Multiple Pillars
Thanks to the five pillars, this tree is has a good balance and stability. It is hard to overturn even if multiple cats jump off of it at the same time. Moreover, the pillars are wrapped in rough sisal material. They are here to provide your cats with multiple scratching options.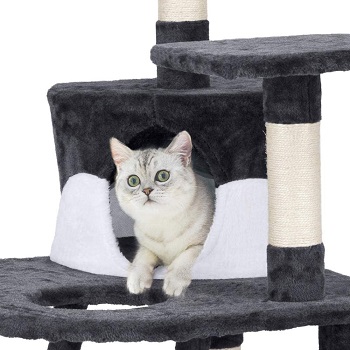 Stable With Wide Base
Lastly, there is another quality that keeps the unit in one place. It is a wide baseboard. The board is thick and as a result, it keeps this unit stable and prevents wobbling. Another good thing about the base is the fact that it allows you to place the tree in the corner if you want.
In Short:
cat tree with a scratcher condo
includes a ramp and perches
there is a dangling toy too
the baseboard is wide and thick
this tree is very stable
BEST 2-STORY CAT SCRATCHER CONDO
Trixie Mexia Condo Cat Tower Gray
Two-Story Design
Trixie's cat scratcher condo comes with two cat condos and a cozy top platform. First of all,this is a short cat tree with condos and easily fits anywhere in your home. Then, the condos are half-open and allow your cat to observe the surrounding. Lastly, your cat can choose between three sleeping spaces.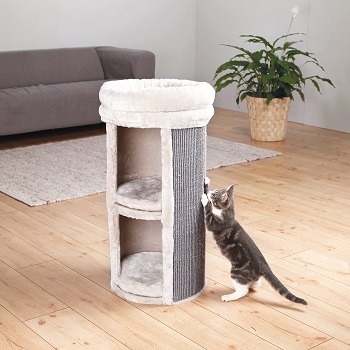 Removable Cushions
Each floor comes with removable cushion inserts. They keep cats warm and cozy all the time. Most cats simply love to relax on such a fluffy material that the cushions are covered with. Another good thing about the cushions is the fact that they can easily be removed and hand washed when necessary.
Sisal Scratching Post
The sisal scratching board is located on the side of this unit. There is more than one good thing about scratching posts. Not only do they keep your cat's claws sharp and strong but they also help to prevent furniture damage. Besides scratching, your cats can climb the unit thanks to the sisal board.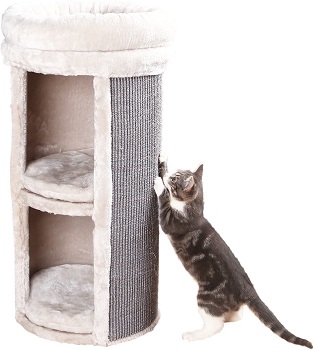 Size And Capacity
The overall dimensions of Trixie's condo unit are 15.75 W x 15.75 D x 29 H inches. The two condos can accommodate one small to medium cat each, as well as the top platform. In case you have large cats, we suggest you keep on reading and find a unit that will suit your big cat's needs.
In Short:
short unit with two condos
includes a top platform
there are three removable beds
cushions are easy to hand-wash
fits three small to medium cats
there is a sisal board included
BEST SMALL CAT SCRATCHER CONDO TREE
Catry Condo Perch Post Cat Tree
For One Or Two Cats
Ideally, this unit will accommodate one medium or two small cats. This nice cat tree with the condo and a scratching post is another unit that indoor cats love because it includes a comfortable sleeping space and a fun dangling toy. It also allows cats to jump and climb the unit.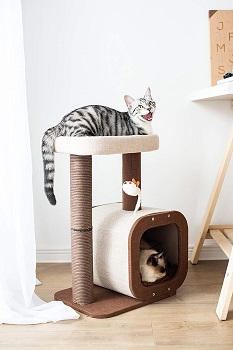 Material And Size
Catry's cat scratcher condo tree uses high-quality particleboard material and jute fiber. This is surely one of the best small cat trees with a condo. It easily fits under a window allowing your cat to watch the outside world from the top perch. The size 17x11x23 inches.
Toy, Condo, Post
The cat condo includes measures 7×7 inches. It has a large entrance and allows cats to access it easily. Other than that, there is a teasing toy included. It hangs from the top perch. Lastly, the side scratching pillar will allow your cat to stretch and maintain claws as much as it pleases.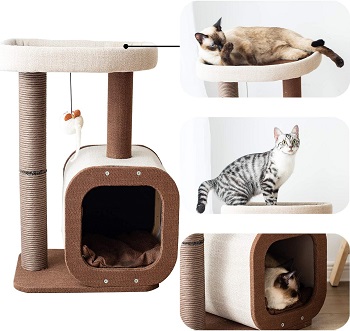 Useful To Know
In our opinion, this small cat condo house is perfect to have in case you are an indoor-cat owner. It is a unit that will surely satisfy all of your cat's needs as well as keep it safe and comfortable. Also, the unit is easy to keep clean with is very important for your cat's health.
In Short:
for two small cats or one medium
made of particleboard and jute
includes a condo and scratching pillar
there is a dangling toy too
ideal for indoor cats' scratching
BEST 3-LEVEL CAT SCRATCHER CONDO
MidWest Brown Faux Suede Condo
The 3-Tier Design
MidWest's cat scratcher condo includes two condos and a top perch. Unlike the previous model, this 3-tier cat tree condo is of medium size. It is still a unit that will easily fit almost anywhere in your home. Also, it will allow your furry friends to enjoy the condos and scratch their claws.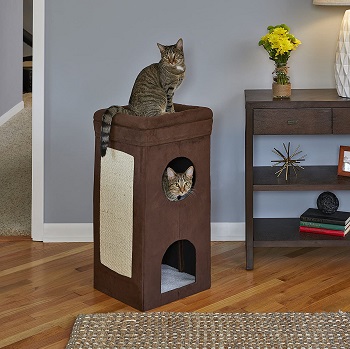 Sturdy Construction
The soft faux suede and synthetic sheepskin materials were used for constructing this tree. Thanks to this material, the structure is both sturdy and firm and easy to collapse when storing as well. It will save space when not in use. You can take it to your traveling as well.
Cozy And Relaxed Space
Both condos are comfortable and include cozy cushions. Cats will love to cuddle inside of the condos as well as perch on the top platform when observing the area around them. The scratching board will satisfy your cat's scratching instinct and keep them stressless and relaxed.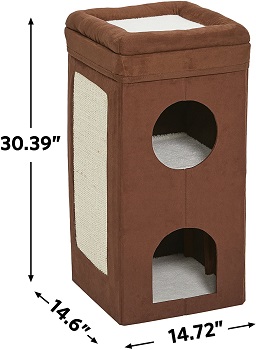 Dimensions And Cleaning
The size of this unit is 14.6L x 14.72W x 30.39H inches. The net weight is about 14.6 pounds. The assembly is very quick and easy. It takes no time to put the unit together. Clean it regularly with a vacuum and get rid of cat hair. Wash the cushion as well whenever you feel like it is necessary.
In Short:
three tiers cat condo tree
medium size with two condos
ideal for up to three cats
includes removable cushions
cozy, warm, and relaxed sleeping space
the foldable design allows saving space
BEST FOR KITTENS SCRATCHER CONDO
Petmaker Paw Pattern Condo Tree
Grey With Pattern
Petmaker's small cat condo tree comes in light grey. It includes a small paw pattern on the side. This is another nice and cute unit that cat owners and households with children and one or two cats simply love. It a perfect structure both for shy and active cats.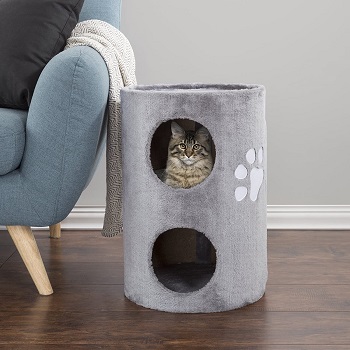 Two Condos
The two included condos both come with circular entrances. It is simple to go in and out. Both the inside and outside of the structure are covered with a plush and skin-friendly material. This piece of modular cat furniture is perfect for cats of all life stages because it is easy to access.
Soft And Comfortable
Thanks to the soft and attractive fabric material, your furry friends will love to hide, sleep, nap, and groom inside spacious condos. Even though the structure seems small, the insides are roomy enough to fit up to two adult cats of medium size.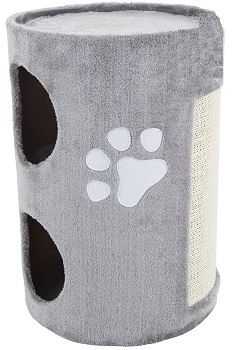 Size And Other Details
All in all, this unit will come in handy if you already own a cat tree but want to get your cats warm and spacious condos. Petmaker's cat scratcher condo comes with a side sisal scratching board. It measures 14" X 20.5". The top platform can be used for lounging as well.
In Short:
cute grey condo unit with paw pattern
ideal for two up to medium-size cats
includes two condos and a platform
condos are roomy and cozy
the unit measures 14" X 20.5"
BEST FOR LARGE CAT SCRATCHER CONDO
Happy N Pets Cute Small Condo For Cats
Small And Cute
Last but not least, the Happy N Pets' condo tree measures 14″W*14″L*14″H. It is a small and space-saving cat tree with a spacious cat condo included. This is another unit for up to two medium-sized cats. It is exclusively made for indoor use. The unit is lightweight and easy to carry.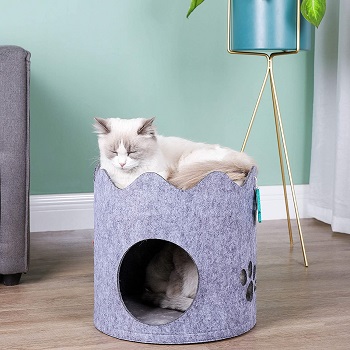 The Setup
When it comes to the setup, you shouldn't worry. This unit comes with a foldable design, so it is quickly assembled and stored when not in use. Another convenient thing about this small cat scratcher condo is the fact that you can easily take it on your travels.
Good Material
If you like eco-friendly products, then you will surely consider getting this unit because it is made of 100% recycled cardboard material. This means that the structure is completely pet-friendly and safe not only for your pets but also for the environment. Lastly, the scratching board is made of cardboard material.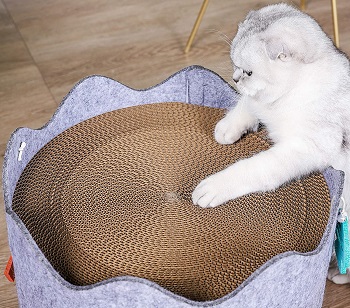 Stable And Durable
In the end, this structure comes with a wide circular base. It is completely stable. The top will hold up to 20 lbs with no problems so your lovely cats can play freely. In case you have very active cats, you can place the unit next to a wall for extra stability. But even if the unit overturns, it won't break.
In Short:
cute two-level cat condo tree
includes one spacious condo
the top comes with a cardboard post
accommodates up to two cats
made of 100% non-toxic materials
eco-friendly and safe for pets
How To Pick: Cat Scratcher Condos & Towers
In order to get the right cat condo for jumping and scratching, we invite you to keep on reading. There are a few qualities that every unit should come with, apart from the nice and cute design. Before buying, check the unit's dimensions and be sure that your cat will fit the condo easily. Also, if you have more than one cat, you should get a two or three-level cat condo or a condo tree. Read on and find out more about the available models and the importance of quality scratching boards and posts.
Size And Room – If you have one cat at home, a small and cute cat condo with a scratching post will probably be just enough. On the other hand, households with two or three cats will need a big cat condo with two or more levels. Another thing to consider is your cat's size because not every condo will accommodate large-sized cats comfortably.
Cozy Relaxing Zone – Cat condos are important for cats because they provide them with a comfortable and warm private sleeping space. Most condos are carpeted from the inside or covered in warm plush material. Cats love such material because it makes them feel relaxed. Also, it reminds them of their mother's fur. In case you buy a non-carpeted condo, we suggest you put a soft faux fur blanket inside.
Quality Scratching Post – The best scratching posts are those made of rough sisal, jute, or paper rope. Such materials are claw-friendly and help cats to maintain their nails healthy and strong. Besides that, they will help to save your furniture as well because cats will prefer to scratch on the posts rather than your sofa.
Different Models – Feel free to choose between a model that will meet not only your cat's needs but yours as well. Pick from a small condo for one cat or a 3-tier unit with two condos and a platform. There are also multiple cat tree tower condo scratchers available. They usually include a more spacious condo and may fit cats of larger sizes with no problem.
Where To Buy? – In short, we advise you to look for cat scratcher condos online because there is a larger offer available. You will quickly find a model that will suit your needs. In the hope that you will find a quality product, we suggest you check the reliable webshops and online retail websites. Also, never buy from a manufacturer you don't trust, and don't forget to read customer reviews as well!
To Sum Up
In the end, there is one cat scratcher condo that we liked best. It is the Happy N Pets Cute Small Condo and we liked it because it is an eco-friendly cat tree condo. This means that the structure is non-toxic and perfectly safe for your cats and the environment. In case you loved it as well and want to learn more about these products, check out our review about the best 2-story cat condos.