If you want to make your cats active and buy a cat jungle gym wall, then you are in the right place.
These units are not only multi-functional and fun for cats but they also save a lot of space. In this article, you will learn more about the best six models. Read all the details about each product and be sure to buy the right unit for your lovely furry friends!
The Summary
Best 6 Cat Jungle Gym Wall
BEST OF BEST CAT JUNGLE GYM WALL
TinTon Large Fun Cat Wall Playground
Amusing Activity Center
TinTon's wall jungle gym for cats is certainly one of the most fun such structures on the market. It comes with all the equipment necessary to satisfy all of your cat's needs. It is made of Pinewood which makes it firm and sturdy. As a result, this cat activity tree will last you a long time.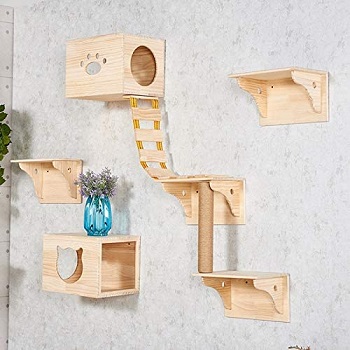 Comes Fully-Equipped
There are multiple fun and amusing possibilities for cats to have fun and climb, such as shelves, ladders, and a scratcher post. Also, this cat wall jungle gym set includes two big cat condos to keep your lovely furry friends comfortable and relaxed.
Space-Saving And Fun
Thanks to the wall-mounting option, both small and large rooms will look nice with this playground. Install this set on your wall if you lack space on the floor or simply don't want a cat tree to be on your way. This will not only be helpful to you but cats will also like to climb and explore for hours.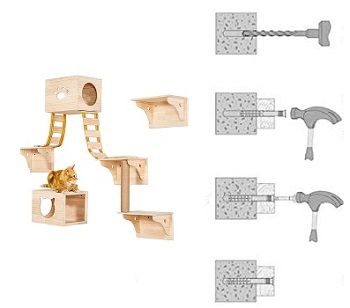 Size And Capacity
The overall size of this unit is as follows: cat condo house dimensions are 15.6″L x 11.8″W x 11.4″H, the size of each shelf is 13.8″L x 9.5″W, and the ladder measures  31.5″L x 9″W. Lastly, the size of the climbing post is 15.7″L x 4″ diameter. Multiple cats can play with this unit with no problems.
In Short:
the playground comes fully-equipped
sturdy and strong Pinewood material
long-lasting and firm construction
ideal for households with multi cats
saves space and keeps cats happy
BEST WITH LADDER CAT WALL JUNGLE GYM
Purife Ladder Cat Wall-Mounted Climber
Simple Design
Purife's cat jungle gym wall is ideal for people that love minimalist home decor because all it comes with are two shelves and a ladder in between. Even though this structure has a basic design, it is still fun, functional, and perfect for small spaces.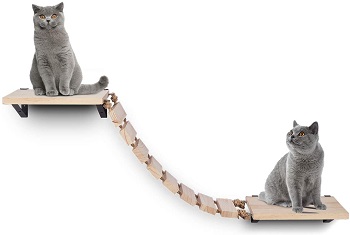 The Material
This structure is another one that is made of firm material which includes solid nature pinewood and metal brackets. It is a firm and durable solid cat tree wall mount. The structure fits in any home and on almost any wall and keeps cats active and satisfied.
Promotes Healthy Behavior
Cats have climbing and playing needs that are not always easy to satisfy especially if your cats mostly stay at home. With this unit, your felines will stay healthy and active on a daily basis. All in all, this unit will help to fulfill your cat's climbing and jumping needs.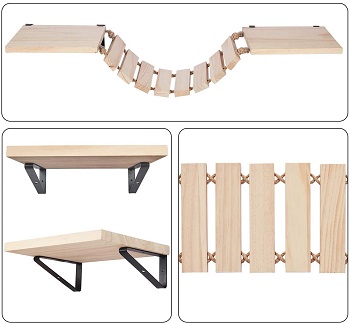 Pet-Friendly And Safe
Thanks to the natural material, this wall cat tree will provide your cats with a safe and secure environment. To install the unit correctly, follow the instructions and put the tree up in no time. It will be a long-lasting and fun ladder cat tree for your lovely felines.
In Short:
simple wall mount tree design
made of solid and strong pinewood
easy and fast to install on wall
keeps cats active and satisfied
ideal for minimalist home decor
BEST WOODEN CAT JUNGLE GYM WALL
Felivecal Wooden Sturdy Wall Cat Tree
Attractive Design
Felivecal's ladder for cats comes with a beautiful design. The two cat-like shaped shelves stay on one side each, while the pinewood bridge connects them. Thanks to the medium size of this unit, it will easily fit on any wall and in almost any corner of your home.
Strong Material
Just like the two previous models, this one is made of Pinewood as well. Apart from that, the structure includes natural sisal as well. These two materials make the unit durable and strong. Also, it provides cats with a natural environment.
Size Details
The overall dimensions of Felivecal's cat wall jungle gym are 55 x 9.45 x 9.45″. This means that this is a medium to large size. Cats of all sizes and almost all breeds can play and sleep on the structure. It is a perfect fun cat tree for cats that love to climb and perch.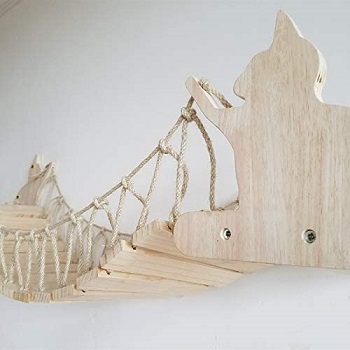 The Assembly
Almost every cat tree, whether a wall-mount or freestanding one, requires assembly. However, the guide to set this unit up is included and it helps you to install this tree to the wall with no problems. Also, the screws and anchors are included too.
In Short:
fun and cool wall tree design
pinewood and natural sisal material
easy to put on almost any wall
screws and anchors are included too
saves space and makes cats happy
BEST BRIDGE CAT WALL JUNGLE GYM
The Cat Mod Relaxing Climbing Cat Furniture
Choose The Color
This structure by The Cat Mod comes in three beautiful colors so you can choose between Onyx stan, natural wood, or English Chesnut stain. Thanks to these options, you can pick the unit that will look best with your home decor. You can install it on almost any wall in your home.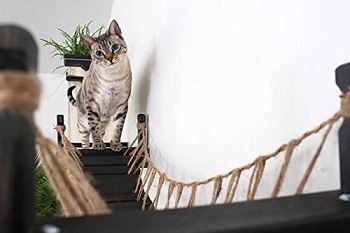 Maximum Load
First of all, the tree is made of metal and wood. It is a sturdy cat tree that will last a long time and is almost impossible to break. When it comes to the carrying capacity, the tree will accommodate up to 85 lbs at the same time. In case you want to enlarge your cat's playground, get two such units and connect them.
Floating Look
Another good thing about this cat jungle gym wall model is the design. The structure looks like it is floating thanks to the hidden brackets. This elegant look will make the tree blend in nicely with both modern or rustic home decors. It is a functional and safe wall-mounted cat jungle gym.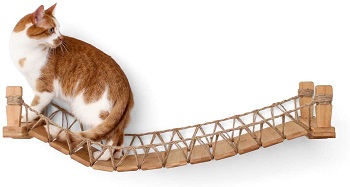 High Quality And Price
All in all, the tree's quality is pretty high. Also, this structure is versatile. It looks clean and smooth. The assembly is not difficult and one adult can do the job with no problems. The price is medium to high. There are certainly more affordable units, however, not every tree is made of such fine materials.
In Short:
pick between three nice colors
accommodates up to 85 lbs
elegant floating cat tree design
made of wooden and metal materials
the price is medium to high
BEST WITH STEPS CAT JUNGLE GYM
Big Nose Wall-Mounted Cat Tower
Modern Cat Tree
Big Nose's structure looks almost like a regular and freestanding tall narrow cat tree. It gets mounted on the wall with no problems. This structure comes with three levels and includes two platforms and a basket. Feel free to connect two such structures into one.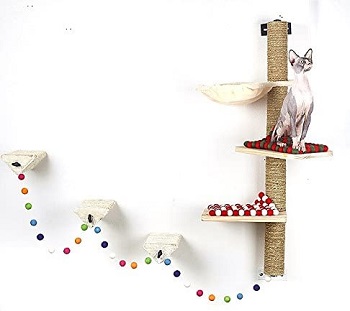 Stable And Firm
This cat jungle gym wall uses sturdy materials for construction and the package includes stainless steel screws for the installation. Once you install it correctly, there is no way it will collapse or break. Also, this unit is surely one of the best ones when it comes to scratching and climbing.
Ideal For Climbers
Most cats love to climb to high places and observe the area around them because it makes them feel confident. Know your cat's habits and needs and buy this unit if your felines enjoy scratching and climbing. Other than that, the platforms allow cats to jump between levels as well.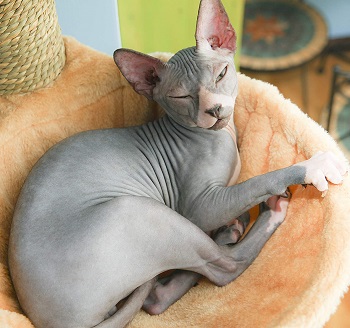 Non-Toxic Material
In the end, the material used for the construction is pinewood, jute rolling, and soft and skin-friendly material. The baskets and platforms are comfortable and keep cats relaxed. This structure is ideal for scratchers and helps to maintain claws strong and healthy.
In Short:
a perfect cat tree for climbers
ideal for cats that enjoy high locations
includes two platforms
there is a soft basket as well
easy to install on any wall
BEST MULTI-LEVEL CAT WALL JUNGLE GYM
CatastrophiCreations Cat Climber Shelves
Unusual And Cool
If you enjoy modern and attractive furniture, then this tree could be an ideal structure for your home. It is an unusual cat tree that looks best in modern homes. It is hand-crafted and incredibly sturdy. For this reason, the cat wall jungle gym will keep cats safe as well as active and busy on a daily basis.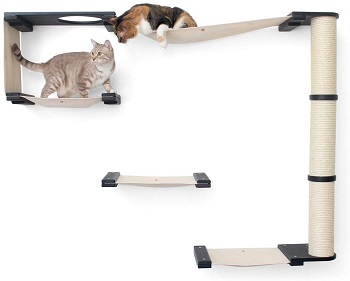 Keeps Furniture Undamaged
Cats are big scratchers and they do it not only to maintain their claws strong but also to stretch or leave a visual mark. In case your indoor cats don't have a place to scratch, they will most certainly find an alternative. But thanks to this structure, your furniture will stay undamaged.
Easy To Keep Clean
You will eventually need to clean the structure. Cats love hygiene and it is surely important for them to live in a clean environment. So, in order to keep the unit clean, simply remove the fabric and wash and dry it before putting it back on.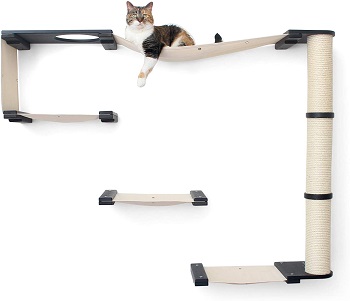 For Small And Large Cats
If you live in a multi-cat environment, we are sure this cool cat tree is going to help because it will accommodate cats of all sizes and breeds. Before buying, however, check the tree's dimensions and make sure no more than two large cats stay on the unit at the same time.
In Short:
cool and modern cat tree design
keeps your furniture safe
it is simple to keep it clean
both for small and large cats
includes scratching posts
How To Pick: Cat Wall Jungle Gym
To get the right cat jungle gym wall, you should look for the following qualities: the appropriate size, good material, and stability. In our guide, read more about the benefits of owning cat climbing wall shelves. Other than that, learn how to maintain such a unit clean and why it is important for your indoor cats to stay as active as possible.
The Ideal Size – The right size of a cat gym wall-mounted depends on how much space you have at home. Even though these units are space-saving, you still need to make room for them. In our opinion, the larger version you get, the better. Especially if you have indoor cats because they don't have as many possibilities for climbing as outdoor cats. Such a product will satisfy their exercise needs and keep them occupied and happy.
Large Variety Of Models – By exploring this subject, you can learn all the details about the available models. As you probably already know, there are simple versions or wall-mounted cat trees, as well as those with an elaborate design. Choose between a wall cat tree tower with a ladder, bridge, shelves, condo, or a fully-equipped one.
Ideal To Keep Cats Active – Cat's natural instinct is to climb and explore. Also, most cats love to stay in high locations and observe the area around them. It makes them feel confident. Apart from the climbing furniture, wall gyms often include condos, toys, and other content such as scratching posts. They are certainly one of the most important pieces of cat equipment. They help to keep cats' claws healthy. Also, your furniture will remain undamaged.
Space-Saving And Stable– A great thing about cat jungle gym wall is the fact that they won't occupy much of your space. They are perfect for small rooms. So, if you have a lack of space on the floor, this cat-tree alternative will be a saver. When installing the unit, be sure to do it correctly. The manufacturers provide you with detailed instructions for the setup. If you install the wall gym properly, it will last you a long time and keep your cats safe.
Simple To Keep Clean – All cat owners know that these animals love hygiene. Cats spend most of their waking time grooming. Not only do they love to feel neat but they also prefer staying in a clean environment. In order to satisfy your cats' needs completely, clean your cat jungle gym regularly. Use a cleaning cloth and a pet-friendly detergent to dust off the surfaces.
To Sum Up
In conclusion, there is one cat jungle gym wall that we like the most and it is the Big Nose Wall-Mounted Cat Tower. The structure reminds us of a regular narrow and tall indoor cat tree. However, the unit gets mounted on the wall and saves a lot of space. This is why we would recommend cat owners that live in a small apartment to get it. In the end, this is a comfortable cat tree with a basket and platforms. It helps cats not only to climb but relax as well.