If you are looking for a cool cat tower with a condo, then read our article.
We have gathered the best models and divided them into six different categories. By reading on, you will find out more about the best of best, modern, natural, corner, wall, and for large cats. Don't miss reading the buyer's guide and follow our tips in order to find the best model for your felines.
The Summary
Top 6 Cool Cat Towers And Condos
BEST OF BEST COOL CAT TOWER
Feandrea Kitten Cat Condo Tower
Covered In Plush
If you have cats of small or medium size at home, then the Feandrea medium cat tree will be just what you need. This tree is entirely covered in skin-friendly plush with long hairs. It is fluffy and incredibly soft. It will be your cats' new favorite resting space.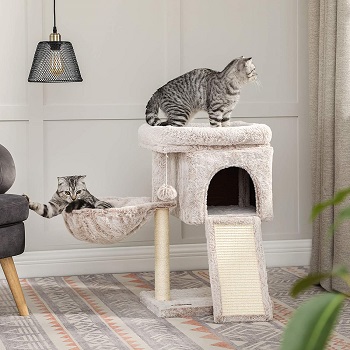 Spacious Condo
There is one spacious cool cat tower included. Two smaller-sized cats will fit inside of the condo with no problems. The scratching board leads to the condo. It helps to maintain your cat's claws healthy as well. Besides that, there is a cat basket and a top platform for resting.
Saves Your Furniture
Apart from the scratching board, there is one scratching pillar included too. Cats' natural instinct is to leave a visual mark and sharpen their claws. Cats scratch after waking up from their nap too. This tree will save your sofas from being damaged.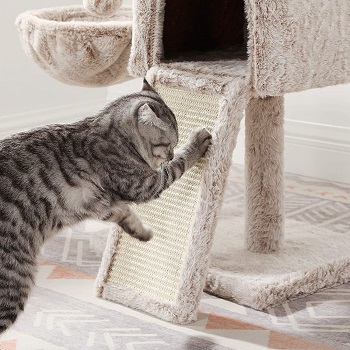 Choose The Color
Feandrea's interesting cat tree comes in light gray and dark gray. Choose between these two colors and get the one that looks best with your furniture. The assembly is fun, fast, and easy. The package includes detailed and easy-to-follow setup instructions.
In Short:
the unit is covered in soft plush
one spacious condo is included
this tree is perfect for small cats
includes a scratching board
comes with a top platform and basket
BEST MODERN COOL CAT CONDO
Hepper Cat Lounge Bed Condo
Contemporary Style
Hepper's contemporary cat furniture condo is just what a modern home with cats needs. It is made of upholstered fabric. It stands on stable four legs. They come with non-slip rubber pads that keep the condo in one place. This condo is perfect for all cats and smaller-sized dogs.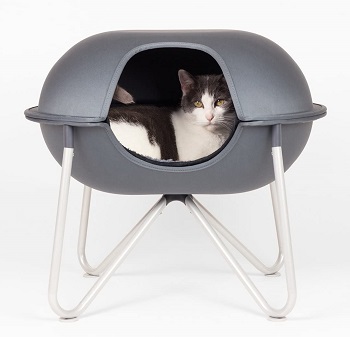 For Cozy Naps
Cats are big sleepers and they spend most of their time resting. Many cats love to sleep in a safe and private environment. Hepper's cat condo is made of thick sherpa fleece with microfiber. It keeps cats warm and cozy. The large entrance allows any cat to enter the condo and to keep an eye on the surrounding.
Easy To Set Up
This condo ships unassembled. However, all you need to do is attach the four legs to the main unit. The four screws are included and this condo can be assembled in no time.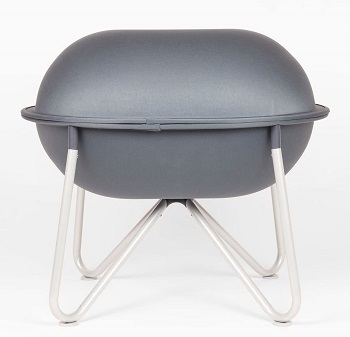 Useful Details
This cool cat condo measures approximately 17 x 21.5 x 18.5 inches. The door opening measures  8.5″x 8.5″. The large entrance allows airflow. This unit comes in a grey color. It includes a blanket liner that will keep cats warm.
In Short:
modern contemporary condo design
an ideal cozy sleeping space
it stands on four sturdy legs
the legs get attached to the main unit
made of >upholstered fabric and microfiber
includes a warm blanket liner
BEST NATURAL COOL CAT CONDO
Fhasso Bamboo Igloo Cat Bed
Pick A Color
Fhasso's cool cat condo comes in 4 colors. You can choose between the gray, creamy white, slate, and milk colors. This condo is modern and stylish. It looks nice in any elegant and modern home. It is easy to maintain clean and fits almost everywhere.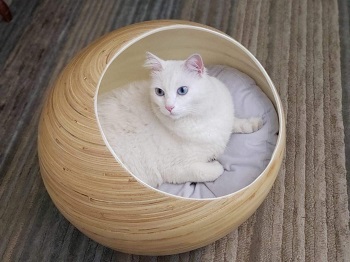 Eco-Friendly Cat Condo
This condo for cats is made of natural material. Organic bamboo and other eco-friendly materials are used. It is pet-friendly and safe not only for your cats but for you and the environment as well. The unit comes with a skin-friendly and removable cushion.
ECozy And Pet-Friendly
This is another unit that will help your cats to feel safe and relaxed when sleeping or napping. It is a comfortable and functional cat condo. Even small dogs can stay inside of this condo with no problems.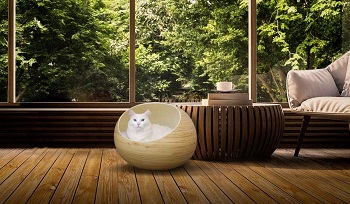 EQuality And Price
In our opinion, Fhasso's bamboo big cat condo is made of high-quality material. It is a long-lasting unit. It is sturdy, stable, and it can accommodate cats of all sizes and smaller-sized dogs. The price of this unit is medium to high.
In Short:
choose between four colors
it is made of organic bamboo
eco-friendly and pet-friendly condo
cozy and warm sleeping space
ideal for cats of all sizes
high quality and price too
BEST CORNER COOL CAT TOWER
Polis Bebe Two Story Condo Tree
For Three Cats
This medium cat tree by Polis Bebe is perfect for households with one, two, or three adult cats. It is a 2-story cat condo and it provides a lot of space for each cat. This unit is ideal for napping, sleeping, and lounging. Cats of almost all sizes will fit comfortably.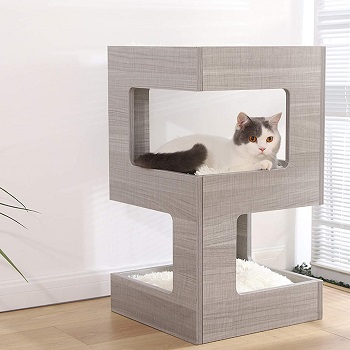 Two Cat Condos
The two condos included are spacious and roomy. Each condo will accommodate one adult cat or two small ones with no problem. There are white removable cushions included that fit perfectly on each level and keep cats cozy and warm.
Easy To Put Together
The assembly is required. But don't worry, it is quick and easy. Also, all the tools and hardware are included as well as the assembly guide. The assembled unit measures 16*16*28''(L*W*H) and it weighs about 20.5 lbs.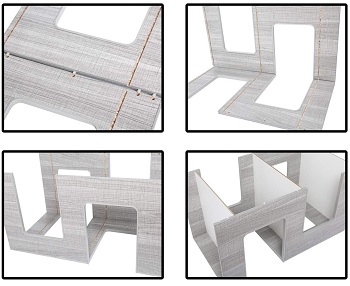 Corner Modern Desing
This cool cat tower is constructed in a way that allows you to place it in a corner. This will not only look nice and attractive but it may also save some space. This tree comes in gray color. It is made of wood and faux fur.
In Short:
ideal for up to three adult cats
comes in stylish grey color
includes white removable cushions
easy and quick to put together
cozy, warm, and private condo tree
BEST WALL COOL CAT CONDO
Tardo Transparent Cool Cat Bed
Transparent And Cool Design
This transparent cat bed by Tardo is another wall-mounted unit. It looks like a capsule and it is perfect to save space or to get installed in modern homes. This cool cat condo will accommodate adult cats and smaller-sized cats.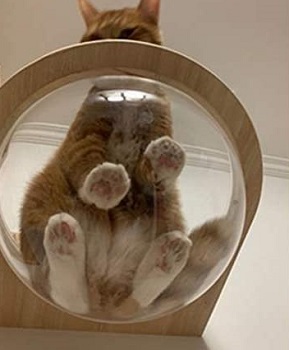 The Construction
Tardos' condo is made of transparent acrylic material and natural wood. It is an eco-friendly and attractive cat bed. You can choose between two sizes, L or XL. The larger unit will accommodate up to 28 pounds at the same time.
For Climber Cats
Cats that love to climb to high places and observe their surrounding will love this cat tree shelf condo bed. It is going to make them feel confident and meet all of their needs. Another plus is that you can use this unit if you don't want your fur friends to leave their hair everywhere.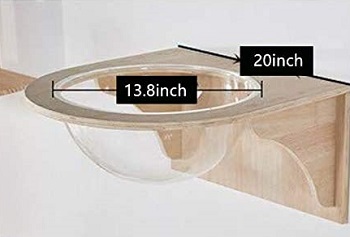 Put It Up Quickly
The installation is simple to put on the wall. Follow the included instructions step-by-step and install it in no time. When it comes to cleaning, this unit can be wiped off with a soft cloth. Do not use toxic cleaning sprays to clean the unit.
In Short:
interesting and attractive design
made of wood and acrylic
choose between L or XL size
ideal for adult and small cats
easy to install on the wall
BEST FOR LARGE CATS COOL CAT TOWER
PetPals Natural Perch Cat Tree
Durable And Steady Unit
The PetPals' cool cat tower is made of paper rope and fleece. It is natural and eco-friendly. The unit will fit two adult cats with no problems. It is a well-balanced and interesting cat tree that cuddly cats simply love. There are two cushions to make your cats feel warm and cozy.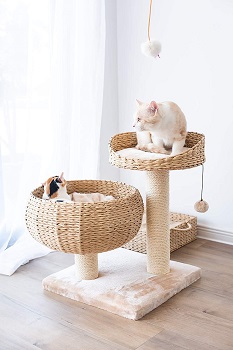 Natural Design
This unit will blend in into modern, rustic, or vintage home decors. The tree's neutral color looks nice in any household and matches all types of furniture. This cat tree comes with a wide baseboard that keeps it stable. The elevated perches-condos are supported by columns.
For Adult Cats
This cool-looking cat tree will fit two adult cats with no problems. Also, two smaller-sized cats can fit one perch as well. The tree's maximum bearing weight is approximately 25 lbs. In case you want to make sure the unit is more stable, place it next to a wall.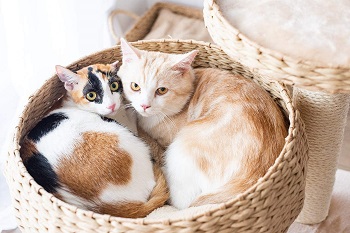 Scratching Posts And Toy
This natural cat tree by PetPals includes two columns that are wrapped in paper rope. This will attract your cat's attention and help to keep its claws healthy and strong. Apart from that, this condo cat tree will keep your cats occupied with an interactive toy included.
In Short:
durable, sturdy, and well-balanced
includes two cat condo perches
perches are supported by columns
the columns are covered with paper rope
allows cats to play, sleep, and scratch
How To Pick: Cool Cat Condo And Tower
There are plenty of cool cat towers with condos on the online market. In order to find the best model that will meet all of your cat's needs, you should know what your fur friend loves and requires. Read on and find how to buy the model of the appropriate size. Be sure your unit includes a cozy and spacious condo and scratching posts.
The Ideal Model – If you have a home with a lot of space and multiple cats, then you are going to be satisfied with a large and spacious unit. Check out the tall, wide, and similar cat trees. If you are looking for something modern and attractive, think about wall-mounting or corner cat trees. Such units will save space as well.
Small Vs. Tall Trees – In our opinion, it is best to get a small or medium cat tree if you have one or two cats at home. Also, senior cats or those with a shy personality most often prefer sleeping in a ground floor cat condo. They don't like to climb to high places as much. On the other hand, young, playful, active, and social cats will love to jump between levels, climb, scratch, and play a lot more. A tall cat tree will satisfy their needs for sure.
Coziness Is Important – We think that it is very important to get a unit that includes a cat condo with a soft and warm cushion. Cats love to rest in a private environment. They feel relaxed and safe sleeping on a warm and fluffy material. Apart from cat condos, there are many cat trees that come with hammocks and baskets as well. Cats are big sleepers and they require a comfortable resting area.
Cat Scratching Posts – Really cool cat trees include interactive toys, platforms, perches, tunnels, and many more. This content keeps cats active on a daily basis. But if a cat tree that you like does not come with scratching posts, we suggest you reconsider. The cat's natural instinct is to scratch and keep its claws healthy and strong. If your cat doesn't have a scratching post, it will soon find an alternative and probably ruin and damage your furniture.
Interactive Cat Toys – The cool cat towers that include dangling cat balls, mice, or similar will make your cat happier. Such toys oftentimes hang from the top perches. They swing back and forth and attract your cat's attention. Fun cat trees will include other cool content as well such as tunnels, hammock, and more.
To Sum Up
Between the six above-listed cool cat condos and trees, there is one that we particularly liked. It is the Polis Bebe Two Story cat tower. The reason is simple – the unit is 2 in 1. It is a cat tree and a condo at once. It will accommodate up to three cats at the same and it keeps them safe, warm, and cozy. If you want to learn more about similar units, check out the articles we made about the best cat trees gray, and cat condo tree houses.