Have you been trying to find contemporary cat furniture that will look nice with your modern interior?
There is a large variety of such products available today. If you are unsure of how to pick the right model, follow our tips and check out the six reviews that we have prepared for you.
The Summary
Best 6 Contemporary Cat Trees
BEST OF BEST CONTEMPORARY CAT TREE
Made4Pets Modern Tall Cat Tree
Modern And Stylish
The Made4Pets cat tree is tall and comes with multiple levels. It combines traditional and modern and this is why it will look nice in any household. The unit has six levels and it is 65.6" tall. This tree is covered with a wood grain surface that gives a clean look.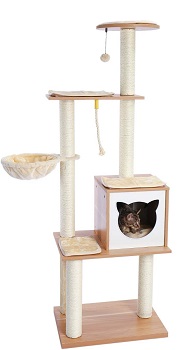 Solid And Sturdy
Thanks to the wide and thickened board, this unit will stay in one place. It is stable and well-balanced. The platforms and perches are of this sturdy cat tower are supported by multiple scratching columns. They are here to meet your cats' scratching needs as well.
Interaction Is Important
If you are a multiple-cat owner, you will surely like this unit. Especially if your cats are mostly staying indoors. This contemporary cat furniture includes dangling toys that swing back and forth and attract cats' attention. The scratching pillars will make the climbing easier.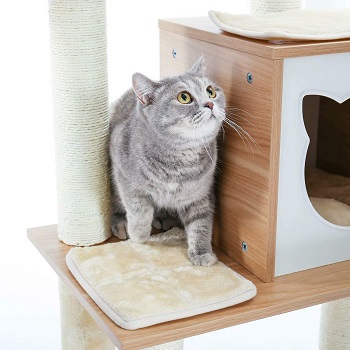 Condo And Cushions
There is one cat condo included. It will be a perfect sleeping place for cats that love to spend time resting in a private environment. There are four cushions included. One will perfectly fit the condo. All the cushions are easy to remove and are machine-washable.
In Short:
combines modern and traditional
tall and spacious cat tree
six-level tree with a cat condo
includes four removable cushions
accommodates all-sizes cats
BEST WALL CONTEMPORARY CAT FURNITURE
Trixie Wall-Mounted Cat Tree Bridge
Modern And Fun
Trixie's wall-mounted cat tree is a modern alternative for households with a lack of space. Such a piece of contemporary cat furniture is perfect for cats that love to climb, play, lounge in high locations, and observe the area around them.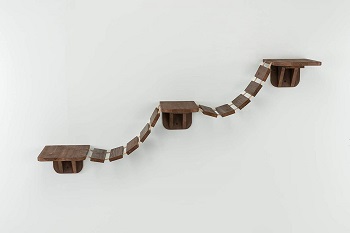 Choose The Color
These modern cat wall shelves come painted in white or espresso finish. Pick the color that you like most and get the unit that will look best with your other furniture. The unit consists of three platforms that you can mount on any wall.
Size And Capacity
The overall measures of Trixie's outer platforms are approximately 8.86" X 11.8". The size of the central platform is 6.89" X 11.8". The tree will hold up to two adult cats at the same with no problem. This unit is made of strong material that keeps it stable.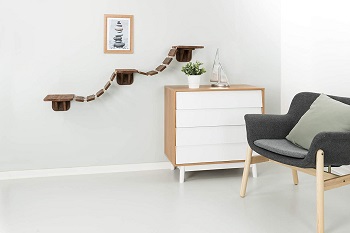 Material And Assembly
Trixie's wall-shelves for cats are made of metal, sisal, and wood. They are sturdy and durable. It is hard to break them. They get assembled with no problems. All the hardware is included as well as the detailed instructions.
In Short:
amusing wall shelves for all cats
choose between white and espresso finish
space-saving and easy to mount
for cats that love to climb and play
made of wood, metal, and sisal
BEST SHORT CONTEMPORARY CAT TREE
PetFusion Contemporary Cat Condo Tree
Less Is More
PetFusion's modern and contemporary cat furniture comes with a simple and sleek design. The unit consists of a platform, a tunnel, and a wide baseboard that keeps the tree stable. There are two side columns. One of them is covered in material ideal for scratching.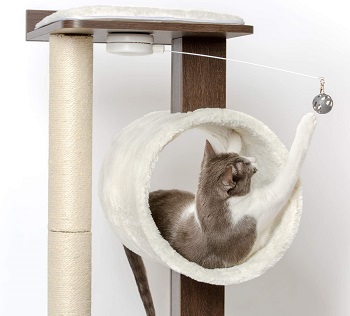 Interactive Cat Tree
Cats love to play on cat trees, especially if they include at least some of the fun content. This cat tree comes with a cozy cat tunnel. It is covered in soft material. It is ideal both for sleeping and playing. Two or three cats can interact with each other and play hide and seek.
Scratching Pillar
Although we consider this a minimalist cat tree, a scratching post is included as well. One of the columns is wrapped with sisal. Its rough texture will attract your cat's attention and allow it to sharpen its nails and keep them strong and healthy.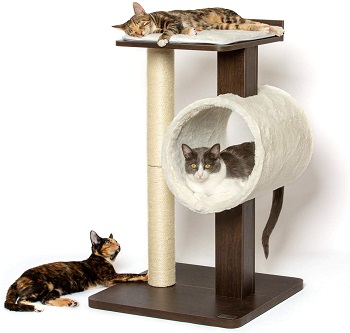 Sturdy Construction
As long as used properly, this cat tree will last you a long time. It is ideal to use it in households with two or three cats of medium size. The unit is made of premium MDF and sisal. It is well-balanced and stable. Place it near a wall for extra stability.
In Short:
simple yet sleek and modern design
consists of a wide base and a platform
includes a scratching post and a tunnel
this cat tree is stable and study
it is made of high-quality MDF
BEST CARPETED CONTEMPORARY CAT TREE
PetPals Ace Cat Tower With Condo
Natural Cat Tree
PetPals' contemporary cat furniture is made of a material that is safe for nature, cats, and you. This eco-friendly cat tree is constructed of white and black recycled paper rope. Choosing such a cat tree for your cat's playground is always a good option.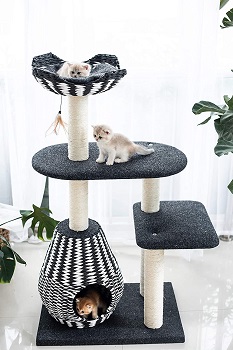 Multiple Levels
This is a 4-level contemporary cat condo tree. It includes a wide baseboard, a ground-floor condo, multiple scratching pillars, and an elevated perch. There is a dangling cat toy included as well. This unit will accommodate up to three adult cats.
Makes Cats Happy
A multi-level cat tree with an interactive cat toy and scratching posts keeps cats active on a daily basis. It makes sure your cats are not bored and encourages their natural instincts. Your cats will have a special place for playing, scratching, and lounging.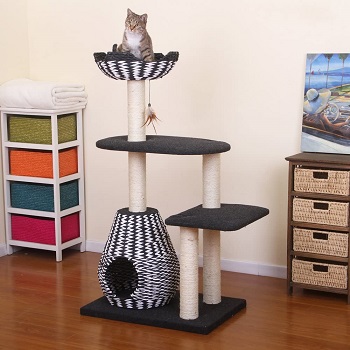 Easy To Clean And Set Up
Just like almost any other cat tree, a simple and fast assembly is required. When it comes to cleaning, it is suggested that you use a lint roller or a vacuum to get rid of cat hair. Be sure that you keep the cat tree clean. It is important for your fur friends' health.
In Short:
made of natural and non-toxic material
eco-friendly cat tree and safe for cats
encourages active and happy life
easy to maintain the tree clean
simple and quick assembly is required
BEST TALL CONTEMPORARY CAT TREE
Good Life Deluxe Solid Cat Tower
The Six Floors
This is a spacious, tall, and wide cat tree. It is ideal for households with multiple cats that love to climb, play, and stay active. The tree includes six floors and platforms of all dimensions. A ground-floor cat condo is included as well. It is spacious and cozy.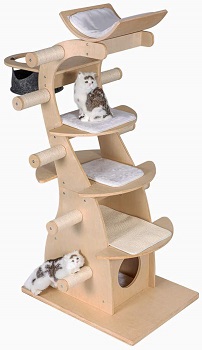 For All Cats
Such a unit will meet the needs of all cats, no matter the size, age, or breed. Senior cats or those with a shy personality will love to sleep inside of a cat condo or on lower platforms, whereas active cats will prefer to climb to the top and observe the area around them.
Solid Construction
Good Life's contemporary cat furniture is made of solid wood. It is durable and very stable. This sturdy cat tower does not wobble if two cats jump off of it at the same time. It is a large freestanding unit and you should make room for it before buying.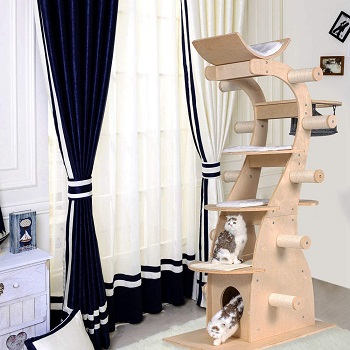 Useful Details
The dimensions of this cat tree are 31″Lx42.5″ Wx63″H. The overall size of the cat condo is 19.7″x15″x15″ with an entrance diameter of 7". The unit includes removable soft and warm mats. They can easily be cleaned and washed. Sisal posts are included too.
In Short:
includes six spacious levels
comes with a roomy cat condo
the unit is made of solid wood
ideal for all cats no matter the size
senior cats will love the unit too
BEST LARGE CATS CONTEMPORARY CAT FURNITURE
Feandrea Modern Wood Cat Tree
Wooden Cat Tree
Feandrea's cat tree is another unit that is almost entirely made of natural and solid material. It is constructed of premium-quality engineered wood which makes it sturdy and stable. Such units are hard to break or overturn. They keep your cats safe and happy.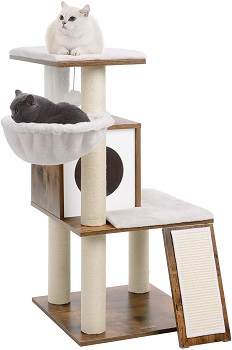 Condo And Basket
There is a spacious cube cat condo included. It comes with a soft and fluffy white cushion that is easy to remove and wash when necessary. Apart from the condo, there is a basket included as well. It is covered with a warm plushy material that keeps cats cozy.
Elevated Perch
The top elevated perch, as well as the first-floor platform, includes a removable white mat. Cats that love to keep an eye on their surroundings will climb to the top and lounge. It will make them feel confident and safe. This unit is well-proportioned and supported by scratching columns.
Easy To Keep Clean
Feandrea's contemporary cat furniture is simple to clean. Remove the mats and cushions when necessary and wash them in a washing machine. Clean the surfaces with a soft cleaning cloth. Do not use toxic sprays. Clean this washable cat tree regularly.
In Short:
made of sturdy and solid wood
includes a cozy condo and basket
comes with an elevated perch
mats and cushions are easy to wash
this tree is simple to keep clean
How To Pick: Contemporary Cat Furniture
Before buying a piece of furniture for cats, you must make sure that the unit comes with the following qualities: appropriate size and model, fun content that attracts cats and keeps them occupied, cozy condos, and scratching posts. Check the overall quality and buy from a manufacturer other customers and you trust.
Modern And Stylish Design – Contemporary cat towers are elegant, stylish, and surely pleasing to the eye. If you have modernly-decorated home decor, you might be looking for a unit that will blend in nicely. Choose the model that will look best in your household, but don't forget to check its safety and overall quality.
Choose The Right Model – You will find a large variety of spacious, tall, small, short, and many more cat trees. Be sure you know your cat's needs and habits. Do you have more than one cat? Are your cats active and love to climb and play a lot? Then you are going to need a fun cat tree of a larger size. If that is not your case and you have a senior cat or cats that prefer spending time resting and grooming, think about a medium cat tree or a minimalist cat tree.
Multiple Purposes – Owning a cat tree is a healthy way of keeping your indoor cats active. Such units will keep your cats active, occupied, happy, and healthy. They will attract your cat's attention and may prevent feline conflicts in households with multiple cats. Cat trees and towers oftentimes include condos that keep your cats rested and relaxed.
Fun And Cozy Content – Your cat tree will always include at least some of the following content: scratching posts, interactive toys, hammocks, baskets, tunnels, perches, platforms, condos, and more. Most elaborate units combine all of the listed, while others include only the basic content. Know what your cat needs and buy a unit that will make it happy.
Where To Buy The Best Tree? – Most contemporary cat furniture models are available online. We suggest that you check them out on reliable websites. Buy from a manufacturer and webshop people trust. Check out the customer reviews and make sure you know the unit will ship in a good state.