Are you searching for the best bookshelf cat tower or tree?
You're not sure which model will perfectly fit in your interior?
You are at the right place. We picked the 5 best models from the market and reviewed them for you. You can choose between the best small, modern, for large cats or the one that goes on the wall. Check our guide for more helpful tips.
The Summary
Best 5 Bookshelf (Bookcase) Cat Tower
BEST OF BEST CAT BOOKCASE
Zoovila Bookshelf Tree
Neutral Color
If you're looking for some neutral bookshelf cat tree that can easily go with any type of home decor, this Zoovila model has great features. It is made of high qualilty materials so you can use it for a long time.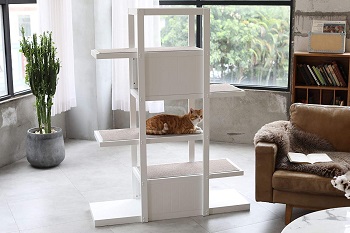 Stable Construction
Sturdy construction is fully made of wood and it is made wider to provide stability when your cat is using it. The bookcase cat tree comes in white color so you can place it next to any wall in your home.
6 Platforms
This white cat tree has 6 platforms for climbing, and 4 of them are covered with a carpet, so your cat can comfortably lay on it. Open design is perfect for playing and easy moving.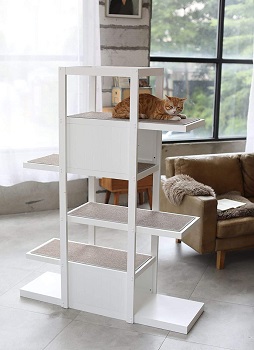 Easy Setup
A cat tree is suitable for large and adult cats, we don't recommend using it for small ones.  Don't worry about assembly, you can do it quickly with instruction included. When you're cat is not using it, you can use it only for books.
In Short
Neutral color for easy fitting
Sturdy and stable construction
Multiple platforms with carpet cover
Suitable for larger cats
Quick assembly with included instructions
BEST SMALL BOOKSHELF CAT TREE
Sam's Pets Becky Cat Tree
Neutral Tones
If you're searching for a small bookshelf cat tree that will still be functional and the perfect size for your cat, this one is a great choice for indoor use. The model comes in neutral tones for easy matching.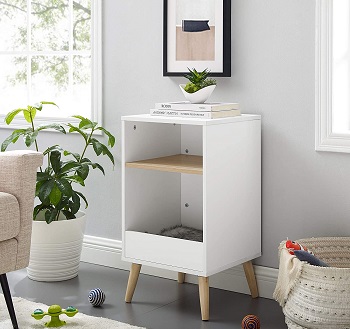 Wooden Legs
This 2 in 1 model is made of high qualilty materials that included wooden construction that can be easily assembled. It has 4 legs, so the construction is stable and raised from the ground.
Easy Moving
With a measurement of 14.96 x 15.75 x 28.35 inches, this modern wood cat tree is suitable for a medium-sized cat. Because of the size, you can easily move this cat-friendly bookcase and place it anywhere you prefer.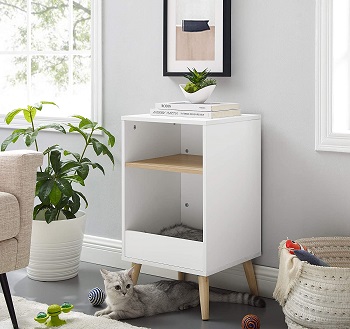 Quick Cleaning
The cat tree has a shelf for better observing and at the bottom, there is a soft cushion so your cat can have a comfortable nap during the day. The added cushion can be washed in the machine.
In Short
Small and functional design
Sturdy construction with legs
Suitable for medium size cat
Easy moving around the house
Cushion washable in the machine
BEST MODERN BOOKSHELF CAT TOWER
The Sebastian Cat Tree
Black Color
If you love modern models and you're looking for a bookshelf cat tower that will catch everyone's attention, this one is a perfect choice. Black color always fits great in any type of interior.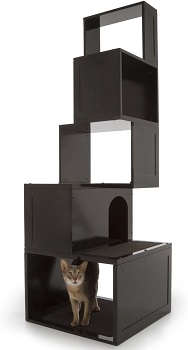 Tall Construction
Construction is fully made of wood and painted with non-toxic paint, which gives a glossy effect. This bookcase cat tower measures 22 x 22 x 67 inches, and it is a perfect choice for larger active cats.
6 Levels
The cat tree has 6 levels for climbing and playing, and your cat will enjoy using it. Because of the tall construction, make sure you place it next to the wall or in the corner for maximum safety.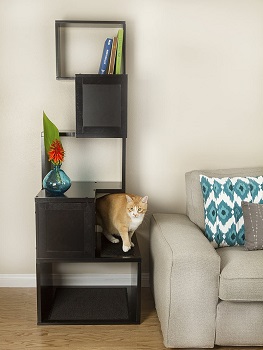 Hideout Area
When she wants to have a rest, there are levels with carpet at the bottom, for maximum comfort while napping. In the middle of this extra tall cat tree, is a hideout area where cats can have hide.
In Short
Modern design in black color
Sturdy construction painted with nontoxic paint
6 levels for active cats
Hideout area for resting
Levels with carpet for comfort
BEST FOR KITTENS CATS BOOKCASE
Lovupet Cat Bookshelf
White Color
If you have a large cat and you want a model that will be functional and fit easily with your home decor, this Lovupet one has everything you need. Simple design and white color fit well inside every home.

Easy Installation
This bookshelf cat tree has wide and sturdy construction made of wood, so you don't have to worry about stability. It can be easily installed, you will need a short time for the whole setup.
Adult Cats
With a measurement of 15 x 30 x 58.3 inches this 3 tier cat tower is a perfect choice if you have large and adult cats. Platforms are large enough so cats can have comfort while laying or sitting.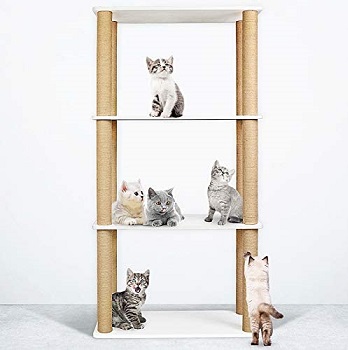 Sisal Posts
On each side, there are scratching posts wrapped with sisal so cant can do her daily routine and have healthy nails every day. Also, sisal posts can be used for stretching, so she can stay active and healthy.
In Short
Simple design in white color
Sturdy construction on 3 levels
Suitable for large and adult cats
Sisal scratching posts
Easy and quick installation
BEST WALL BOOKSHELF FOR CATS
CatastrophiCreations 18 Cat Shelf
High-Quality Material
A bookshelf for cats that goes on the wall is the perfect choice if you want a functional model that will save you space in the house. It is made of high qualilty materials so you can have it for a long time.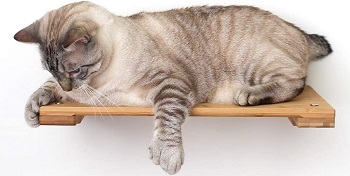 Hidden Brackets
This shelf is made of bamboo that goes well with any type of home decor. Because of the hidden brackets, the bookshelf has a floating design. You can use it standalone or place some other ones next to it or above, for more fun and climbing.
Stable Shelf
You can create a minimalist cat tree and place a searching post under the shelf, so cats can have a functional model. Don't worry about safety, a shelf is stable for use and suitable for cats of all sizes.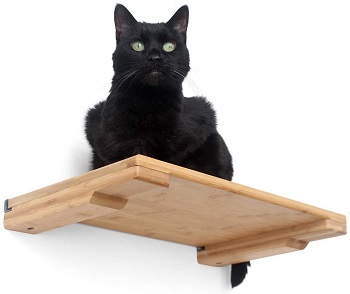 Observing Around
Make sure you place this shelf for your lovely cat at the right height, so she can have better look around the house. You can place some soft mat at the bottom, for comfortable laying.
In Short
Simple design for wall
Made of bamboo for durability
Hidden brackets for stability
Use shelf standalone
For cats of all sizes
How To Pick The Best Bookshelf Cat Tree?
If you prefer models that can be used as a shelf for books and stuff, as well as a cat tree, keep on reading to know how to pick a model that is the perfect choice for your interior.
Stable Construction – One of the most important things you need to check before buying a cat-friendly bookcase is the construction. The model needs to be made of high qualilty materials, so you can have it for a long time. It is very important that the material is sturdy, like bamboo, so you don't have to worry it will break easily. We always recommend using the bookshelf next to the wall.
Size Of The Tree – Always check dimensions before buying a model, soo you know it will fit in the spot in your home. Also, make sure that the bookshelf is large enough depending on the size of your cat, so she can have enough comfort while laying on the shelf.  If there are any hideout areas, make sure the cat can fit inside when sleeping.
Model And Color – Depending on your style and your home decor, pick the color that can easily fit with the rest of the furniture. Neutral tones like white, beige, and black always go well with most of the decor. We recommend something simple such as a bookshelf stand, on which you can put some stuff for decoration.
Additional Features – Cat bookcase for active cats need to be higher, so if you have one, pick the model with a multi-level design. For comfortable laying, pick the model that has a carpet or cushion, that can be easily cleaned. If you want a cat tree that is easy for cleaning, we recommend a solid wood cat tree in a lighter color. Also, models with scratching posts are a great choice for your cat.
To Sum Up
The best bookshelf cat tree from models that we reviewed, in our opinion, is the Zoovila tree. This model has a sturdy construction in white color, with multi-level design and it is the perfect choice for active cats. If you want to check some other models, we picked the best rustic cat tree from the market. Also, for boho style, pick the best rattan cat tree from our list.