Are you in search of a rustic cat tree furniture that will look nice with your home decor and keep your cat active and happy?
Then keep on reading and learn more about the six models that we have listed in this article and find the one that suits you best. Also, read our buying guide. It will help you choose the right model for your lovely fur friend.
The Summary
Best 6 Rustic Cat Trees
BEST OF BEST RUSTIC CAT TREE
Vesper Tree Scratching Post Condo
Elegant And Beautiful
Vesper's modern and sleek tree is 47.8 inches tall. It has a wide base that measures 22.1 x 22.1 inches. This is a 3-level cat tree that includes content for cats' sleep and play. It encourages your cats to spend time on the tree, instead of damaging your furniture.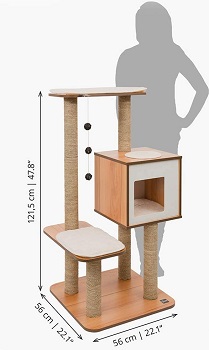 Includes A Cube Cat Condo
There is one spacious cube cat condo included. It has one large opening. The cube includes a removable cushion that is simple to clean and wash. Cats love spending time resting and we are sure most cats will love to sleep inside of this condo.
Ideal For Scratchers
If your cats have already damaged your furniture and you feel like you should prevent that from happening again, then get a rustic cat tree such as the one we are talking about. This tree includes many scratching pillars that are covered in rough and safe sisal.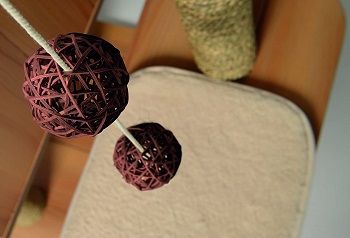 For 2 Adult Cats
Households with 2 adult cats will love this unit. This 2-adult cat tree is safe and stable if used properly. Do not buy this tree if you have more than 2 cats of large size. Cat trees are beneficial for cats' health. They promote a healthy life and keep cats occupied. Also, cat trees may reduce feline conflicts.
In Short:
beautiful and modern appearance
perfect for up to 2 adult cats
includes scratching pillars
comes with a cat condo
it is safe, durable, and stable
BEST TALL RUSTIC CAT TREE
Made4Pets Scratching Hammock Tree
Tall Tree Design
Made4Pets tree for cats measures 22.8''L x 15.7" W x 65.6" H. The design is a combination of rustic and modern. The base is heavy and wide. The included content helps to keep your cats occupied and active. It is an ideal tree for indoor cats.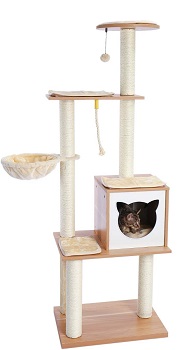 Fun And Multi-Level
This is a 4-level rustic cat tree. Your cats will find fun content on each level. If your cats scratch a lot, they will love the included scratching pillars that are wrapped in sisal. The hanging balls are here as well. They help with keeping your cats occupied.
Solid And Firm Construction
The Made4Pets tree is made of high-quality material. The thickened board and double layer base ensure stability and keep your cats healthy. The tree won't tip over if your cats jump off of it. This tree is great for up to 2 adult cats or 3 small-sized cats.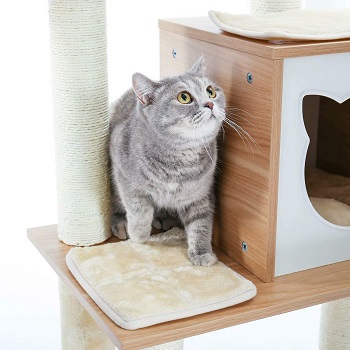 Useful To Know
We find this unit an attractive cat tree. It is beautifully designed, it looks nice in every household, and it is multi-functional. The price of this tree is medium. Considering its size and all content included, we consider that it is convenient to have this tree in your home.
In Short:
a tall tree with fun content included
there is one spacious cat condo
the tree comes with scratching pillars
up to 2 adult cats or 3 small cats
this is a multi-level cat tree
the price is medium and the quality is high
BEST FOR LARGE CATS RUSTIC CAT TREE
Usikey Multi-Level Tree
Cozy And Warm Tree
Usikey white cat tree is made from CARB P2 grade environmental board. The tree is covered with faux fur finish. It is cozy and soft. Cats love such material because it makes them feel comfortable and safe. This tree is perfect for cats that love to sleep and cuddle.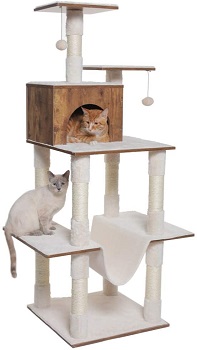 Sturdy And Firm
The quality wood that is used for constructing this rustic cat tree keeps the unit safe and prevents it from wobbling or overturning. Your cats can jump on and off the tree, climb, play, and scratch as much as they want.
Includes Scratching Columns
This multi-level white tree includes many scratching pillars that cats love. They are wrapped in natural sisal. Scratching is a cats' natural instinct and these posts keep your cat's nails strong and healthy.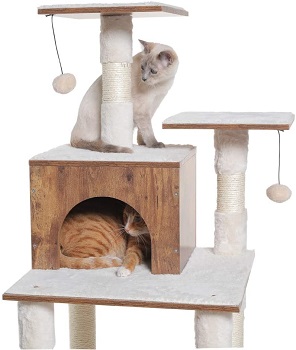 Simple To Setup
Simple assembly is required. The easy-to-follow instructions are included as well as the necessary tool and hardware. One or two adults are enough to do the job properly. The assembled unit measures approximately 19.7″L x 19.7″W x 56.5″H.
In Short:
sturdy construction covered in white faux fur
the tree includes fun cat content
scratching columns keep cats' nails healthy
sturdy construction prevents the tree from wobbling
simple assembly is required
BEST WITHOUT CARPET RUSTIC CAT TREE
New Age Pet Climber Cat Tower
Wall Design
New Age cat scratcher and climber rustic cat furniture tree is uniquely designed. It needs to be installed next to a wall. It comes in Nantucket Grey color and looks nice in any household. This rustic cat tree will keep your indoor cats safe and active.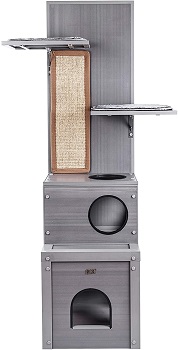 Promotes Healthy Life
If you have indoor cats, you probably know how important it is for them to play, run, climb, and jump. If you want to avoid your furniture from being damaged, then a tree will be a great addition to your home. New Age Pet cat jungle gym wall tree is a fun, safe, and stable unit that encourages cats to be more active.
For All Cats
Cats of any size, breed, and age can play on this tree. Getting such a unit will avoid possible feline conflicts. Each cat will have plenty of space for play or rest. There is a ground floor condo included. Also, multiple platforms and scratching posts come with this tree.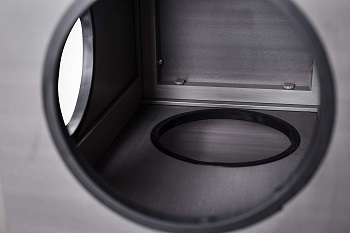 Stable And Long-Lasting
This tree measures approximately 60″ Height – 16. 5″ Width – 16. 5″ Depth. It is made of high-quality and strong material. The material used is not only pet-friendly and non-toxic but makes the tree stable and firm. This tree's price is a bit high, but it won't disappoint you and it will last you a long time.
In Short:
cool and fun wall design
for all cat breeds and sizes
ground floor condo is included
multiple levels come with this tree
tall, durable, stable, and firm
the material used is non-toxic
BEST WALL RUSTIC CAT TREE
Enjoy The Wood Wall Cat Tree
Different, Nice, And Entertaining
Every cat owner knows that most cats love to climb the furniture and stay in high places. This rustic cat tree is what every household with playful cats needs. The shelves get installed onto a wall. They look nice on every wall and entertain your cat at the same time. You can choose black or brown color design.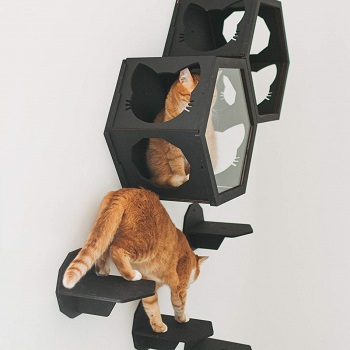 It Saves Space
You will probably like this unit if you have a lack of space at home or if you would simply like to try something different. Install this space-saving cat tree in no time and let your cats enjoy and explore. We are sure your cats will like to sleep and play inside of this unique cat tree.
What Is Included
The product needs to be customized before purchased. Choose between four natural-wood colors, from brightest to darkest. The package includes 4 hexagon shelves made of birch plywood and dowels. Each shelf measures 16.5 x 14.2 inches.
Easy To Install
The package includes four dowels for each shelf. The dowels need to be used for mounting the hexagon into a wall. The installation is simple and quick. Also, the hexagons are simple to remove from the wall if necessary. Be sure that you remove them carefully. Also, you must note that the dowels will leave holes in your wall.
In Short:
different and unique rustic tree shelves
cats love to explore and climb this unit
your fur friends will love to sleep inside
the package includes four shelves
choose between 4 different colors
install the shelves onto a wall
this tree is easy to install
BEST CARPETED RUSTIC CAT TREE
AmazonBasics Cat Tree Furniture
Short And Sturdy
AmazonBasics unit is a short cat tree. It has a simple design. There is a wide base with a ground floor condo and one raised perch that is supported by scratching posts. This space-saving small tower for cats measures 23.62 x 14.57 x 28.74 inches and weighs 22.5 Pounds.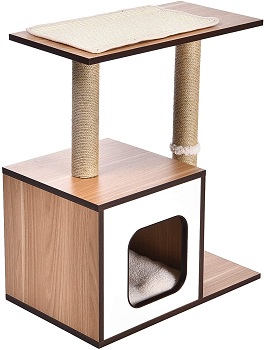 For One Cat
If you have one large adult cat at home, then you will love this tree. It will provide your fur friend with a cozy and room private space and a lot of scratching possibilities. This tree will prevent your furniture from being damaged and it will keep your cat safe.
Ideal For Sleeping
The cat condo included on the ground floor is spacious and cozy. It has one large entrance. Your cat will have a private space for its favorite activity – sleeping! This small rustic cat tree is perfect for shy or cuddly cats that don't like climbing to high places.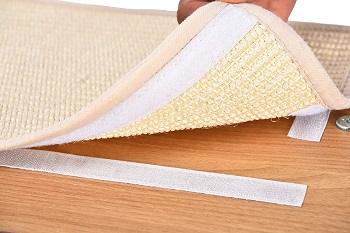 Includes Carpets And A Cushion
There is one soft and warm cushion included that you can put inside of the cat condo. Also, there is a removable carpet included as well. Both the carpet and cushion are removable and easy to wash. Keep your cat's tree clean. It is important for their health.
In Short:
small, short, and firm cat tree
ideal for one adult cat
comes with a ground floor condo
includes one perch and scratching posts
the carpet and cushion are removable
this tree is easy to maintain clean
How To Pick: Rustic Cat Tree
Getting a rustic tree for cats will surely look nice in your home. It will fit all the home decors and keep your cats active and occupied. However, before you buy a unit that looks nice, be sure that it is pet-friendly, functional, safe, and of the right size. If you have more than two cats, never buy a unit that cannot hold all the cats of your household. Read on, follow our tips, and you will surely find the right model for your cat.
Your Tree Must Be Functional – Rustic cat furniture and trees are beautiful units. They look pretty with almost any home decor. They fit in nicely in almost any household. However, you need to make sure that the tree you want to get should not only look beautiful but also needs to serve the purpose. It must be pet-friendly, safe, and of the right size and carrying capacity.
Get A Safe And Stable Unit – The best thing you can do so your cats are safe at all times is to get a sturdy and firm tree. The trees that are most stable are those that come with a heavy or wide base. Cat towers made of particleboard are fine for households with up to 2 or 3 adult cats. Natural wood cat trees will hold up to more than 3 adult cats.
Choose Between Different Models – You will find different models on the online market. Some cat trees with the rustic design are small, other come in a large and tall size. There are models with a basic design and include simple content such as a cat condo and a perch. Such units will be great for cats with a shy and calm personality. On the other hand, playful and active cats that love to climb will prefer tall and spacious trees with multiple levels, condos, perches, scratching pillars, and interactive hanging toys.
Get The Tree Of The Right Size – Short cat trees with a simple design will be ideal for one indoor cat. Also, shy and older cats will prefer a tree with ground floor cat condos. On the other hand, if you have more than 2 active cats, we suggest that you go with a tall and spacious tree that includes more content. Large trees will be beneficial for your cats and reduce possible feline conflicts.
The Assembly And Cleaning – All rustic cat tree models need to be setup. Usually, the setup is simple and quick and one person can do the job easily. Most packages include all necessary tools, hardware, and step-by-step instructions. When it comes to maintenance, be sure that the tree you are looking to buy is simple to clean or vacuum. Cats love spending time in clean places. It is important for their health as well.
To Sum Up
We recommend that, before you get a rustic cat tree, you make sure it is safe, sturdy, and holds all the cats of your household. One of the trees we liked the most is the Usikey Multi-Level Tree. It is a nice cat tree that fits in well into any household. Apart from that, the tree is firm and stable. Usikey's aesthetic cat tree will keep your cats safe and occupied. It promotes a healthy cat life and gives your cats a lot of climbing and scratching possibilities.