Have you been trying to find the best short cat tree that will look nice in your home?
Are you still unsure of which model to buy?
We have explored this subject for you and found the six best models that are available on the online market. Read all the important details about the best of best, for large cats, for kittens, and other models. Also, read our five useful tips on how to buy the best model. Find them within our buying guide.
The Summary
Best 6 Short Cat Trees And Towers
BEST OF BEST SHORT CAT TREE
Pet Pals Short Cat Tree
Simple Design
This small unit is a minimalist cat tree. It will look nice in any home, whether modern or rustic. The wide base makes the tree stable and keeps your cats safe. There are two raised perches. They are supported by scratching columns. One interactive hanging ball is included.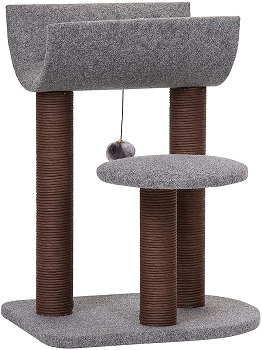 Premium Quality Material
Pet Pals short cat tree is built of felt and handmade paper rope. This tree is sturdy and lasts a long time as well as it is used properly. It is ideal for up to 2 adult cats of regular size. This tree will keep your cats occupied and save your furniture from being damaged.
Encourages Cat's Instincts
Cat's natural instinct is to sharpen their claws to keep them healthy. They will find any coarse material and they may easily damage your couches or sofas. The two paper rope pillars of this tree provide your cats with a lot of scratching possibilities and keep your furniture undamaged.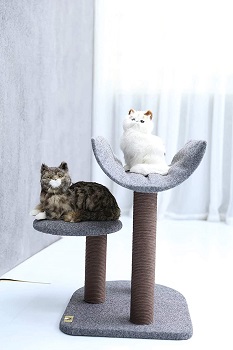 Size, Capacity, Assembly
This tree needs to be assembled. The setup is simple and quick. All the tools and hardware, as well as the installation instructions, are included in the package. The assembled unit measures 20-inch L/ 15.5-inch W/ 23-inch. The capacity is up to 15 lbs.
In Short:
simple, short, and small cat tower design
wide base prevents the tree from wobbling
two raised and cozy perches are included
there are two paper rope scratching pillars
an interactive ball hangs from a perch
the carrying capacity is up to 15 lbs
BEST FOR LARGE CATS SHORT CAT TREE
AmazonBasics Short Tree Large Cats
Two-Level Cat Tree
Households with one large indoor cat or two cats of a small size will love this unit. It is a space-saving unit and it can be placed in a corner, under the window, or next to a wall. This is a double-platform tree. It includes scratching posts and it is covered in soft jute.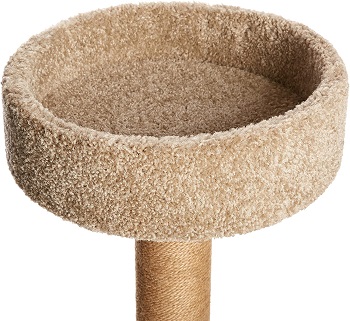 For Indoor Cats
AmazonBasics cat tree is made to be used indoors only. So, if you have a large indoor cat or if your cat prefers spending more time inside of your home, this unit will be helpful both for you and your cat. Your fur friend will have a new favorite resting and playing area.
Stable And Easy To Setup
The square-shaped base keeps this short cat tree for large cats stable and makes it perfect for placement in corners. The material used to build this tree is MDF, carpet, jute, and paper-tubes. The assembly is simple. The setup instructions, screws, and other tools are included.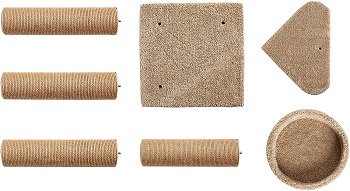 Useful Details
The overall dimensions of the AmazonBasic space-saving cat tree are 15.7 x 15.7 x 31.5 inches (LxWxH). The color of this tree is beige. The tree doesn't come in other colors. The price is medium. In case you change your mind, the same unit comes in a larger size as well.
In Short:
this unit is a two-level cat tree
square-shaped base makes it perfect for corners
the tree is covered in cozy jute
ideal for one large indoor cat
comes with scratching posts
it is space-saving, comfy, and fun
BEST SMALL SHORT CAT TREE
Paws & Pals Simple Small Short Cat Tower
Vegan Fur Carpet
The small tree for cats by Paws & Pals is another unit that comes with a simple white design. The tree has a wide base, and a raised and spacious perch supported by two columns. This small white cat tree is covered in vegan faux fleece. It keeps cats comfortable and warm.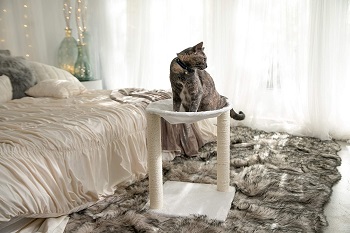 Promotes Interaction
Your cat will get to play with a ball that hangs from the perch. The ball will keep your cat occupied and active. Moreover, the columns are covered in sisal rope. They promote scratching and climbing. Also, they help to keep your furniture undamaged.
Alleviates Stress
If you are an owner of two cats, you know that they may not get along all the time. Another reason to get a cat tree is to prevent possible feline tensions or conflicts. Also, your cat may be stressed for different reasons. A tree with interactive toys and scratching posts may help to relieve stress.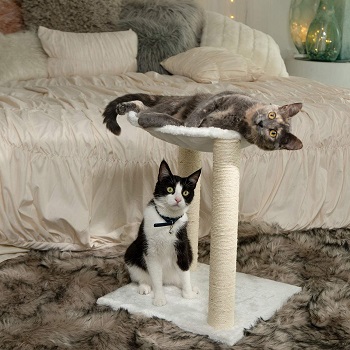 Lasting Construction
This short cat tree by Paws & Pals is made of pressed wood. The tree is durable and sturdy. The perch is well-balanced and supported by two columns. The columns are covered in rough sisal that helps to keep your cat's claws healthy and strong. The tree's size is 16" L x 16" W x20" H inches.
In Short:
small white tree with a simple design
comes with a wide base
the tree is well-balanced
there is one cozy perch included
the perch is supported by two columns
Paws & Pals tree is covered in faux fleece
one hanging toy is included
BEST CARPETED SHORT CAT TREE
Go Pet Club Short Cat Tower
Attractive Appearance
Go Pet Club tree for cats is entirely carpeted and attracts cats with its softness and warmness. It is a small tree that has a wide base and two perches. The first-floor perch is of a smaller size. It is ideal for small cats, kittens, or older cats. The top perch is large and spacious.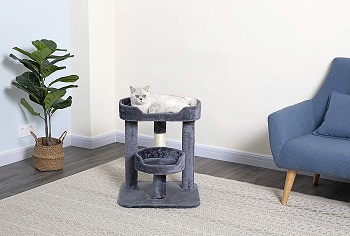 Good Quality
This short cat tree by Go Pet Club is constructed of CARB Phase 2 Compliant MDF boards. It is sturdy and long-lasting. The tree is wrapped in soft and cozy faux fur that cats love. The posts are covered in rough natural sisal rope.
For All Cats
Cats of all life stages will love this tree. The best thing about this tree is that it is optimal for households with a combination of active, playful, cuddly, or old cats. Ideally, this tree will be used for two cats of medium size. The tree is safe and firm.
Fair Price
If you have a limited budget, you will love this unit! The cost of it is affordable for everyone and the overall quality is quite good. This is a cat tree under $50. The setup and maintenance are simple and quick. The setup instructions and all parts are included within the package.
In Short:
this is a carpeted small cat tower
it comes in elegant blue color
there are two perches included
one perch is small, the other is spacious
the tree comes with sisal-wrapped posts
affordable cat tree with a price under $50
BEST FOR KITTENS SHORT CAT TREE
67i Scratching Activity Tower
For Kittens And Small Cats
The 67i short tree is optimal for households with small cats. Tree's overall dimensions are 11.8-inch L/ 11.8-inch W/ 15.75-in/H. The carrying capacity is up to 10 lbs. Note that this tree is not convenient for households with large or overweight cats.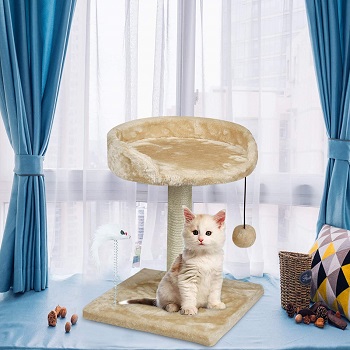 Top Quality
This tree is made of the material that cats love. It is covered in fluffy plush fabric. Cats love this material. It makes them feel comfortable and safe. Besides plush, the manufacturer of this short cat tree used natural sisal material to wrap the scratching post in it.
Easy To Install
The assembly of this kitten cat tree will be a breeze. It will take no more than 5 minutes to set this unit up. Another great thing is that no tools are required. This unit is detachable. It doesn't occupy extra space in your home when stored.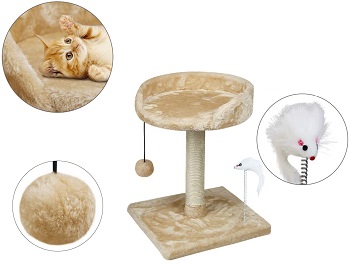 Includes Interactive Toys
Thanks to the two interactive cat toys that are included, you can be sure that your cat will stay occupied and active on a daily basis. Along with the toys, the sisal scratching column will keep your cat healthy and help to maintain its claws strong.
In Short:
the 67i cat tree is made for small cats
perfect for household with kittens
easy to assemble and detach
saves space in your home when stored
the tree can be vacuumed easily
two interactive toys are included
BEST CHEAP SHORT CAT TREE
Korimefa Small Tree For Cats
Comes In Three Colors
Korimefea is a short cat tree that comes in three neutral colors. Choose between the color you like the best. There is blue, beige, and brown-beige. The tree comes with a soft ground-floor cat bed and one raised perch. The perch is supported by a sisal scratching column.
For Small Cats
Trees like Korimefa are perfectly suitable for cats of smaller size. However, this tree will also be good enough for your medium-sized cat with a calmer personality. This tree will keep your cat warm and make it feel comfortable as well.
Top Material
This tree for cats by Korimefa is made of fine and sturdy material. As long as you use this tree for one cat, it will last you a long time. The natural scratching column is wrapped in rough and natural sisal. It will keep your cat's claws strong.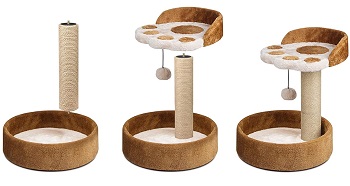 Simple To Set Up
The assembly is easy and it shouldn't take more than a few minutes to set this unit up. The easy-to-follow instructions are provided. The unit is simple to disassemble for storage or travel. This cat bed tower comes at an affordable price.
In Short:
choose between 3 different colors
the tree is perfect for one cat
includes a cat bed and a perch
there is a scratching column included
the price of the unit is budget-friendly
How To Pick: Short Cat Trees
Short cat trees are the best to get if you have one indoor cat. Also, shy, old, or calm cats will love short trees more than playful and active cats. In our buying guide, we have listed a few characteristics that we think every short cat tower and tree needs to come with. Keep on reading to find out more about this topic and buy the unit that meets all of your needs.
Ideal For One Cat – Small or short trees for cats are units that will mostly fit one large cat or two smaller-sized ones. Such units are space-saving and mostly include one or two perches or a cat condo. It is suggested that you get a tall narrow cat tree or a similar model if you have more than two playful cats that love to climb and scratch a lot.
Cuddly And Calm Cats Love Short Trees – Think about your cat's personality. Not every cat likes to climb to high places. There are many shy and cuddly cats that prefer hiding under the bed or sleeping on sofas and couches. Older cats will choose not to climb and they will love a short tree with a ground floor condo.
Condos And Cat Beds Included – Your cat tower will include a cat condo, a basket, a hammock, or one or more perches. If you are getting a tree for one cat, the model with one condo and one perch will be just enough. Households with two cats will probably like units with two or more perches or cat beds.
The Ease Of Cleaning – Every cat owner knows that cats love hygiene. They spend most of their waking time grooming. It is suggested that you clean their tree as often as possible. Carpeted models or trees covered in plush can easily be vacuumed. Some trees come with removable pads, mats, and cushions that can be machine-washed.
Buy From A Reliable Manufacturer – We suggest that you check the availability of short cat trees online. Search the web and buy from a webshop or an online retailer that you trust. Read customer reviews to be sure the unit you like is with buying. The models we have listed in this article are available on the Amazon.com website.
To Sum Up
Short cat trees are ideal for shy, old, or cuddly cats. That said, most of the trees offer soft perches that are ideal for sleepers. Interactive hanging toys and scratching posts are included as well. They often attract even the laziest cat's attention and interest by swinging back and forth. An interactive, yet simple, cozy, and safe short cat tower that represents this topic the best is, in our opinion, the Paws & Pals cat tower. It is a small and elegant cat tree that looks nice in every home. For more similar models, we invite you to read our article about the best cat trees for small spaces.