Do you have limited space and are looking for an ideal space-saving cat tree for your fur friend?
If you live in a small apartment or simply prefer your new cat tree to be compact or not to occupy too much of your space, check out our top 6 list. Read about the best models that will save your space. You can put these trees in a corner or under the window. Some models can even be wall-mounted. At the end of the article, you will find several tips on how to pick the unit that will meet all your needs.
The Summary
Top 6 Space-Saving Cat Trees Reviews
BEST OF BEST SPACE-SAVING CAT TREE
AmazonBasics Platform Cat Tree
Simple Design
The AmazonBasics manufacturers have designed many space-saving cat furniture models. One of their products is this high-quality two-platform cat tree. It is a minimalist cat tree with a simple design. It comes in beige color. It has a wide base, two columns, and two perches.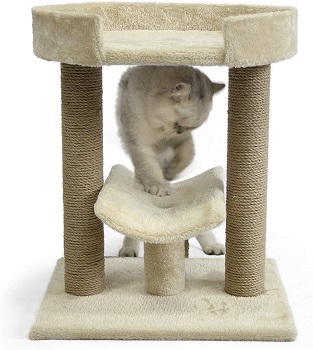 For Up To 2 Cats
This tree will hold up to two adult cats of small to medium size. The maximum holding weight is 25 lbs. The two carpeted perches will keep your cats safe and make them feel comfortable and warm. The top perch is more spacious and will fit a larger cat.
Promotes Good Behavior
This tree will keep your cats away from scratching your furniture, curtains, or carpets. It will provide your cats with a soft space to sleep, relax, climb, and scratch. The top raised perch is supported by two scratching pillars. They help to keep your cat's claws healthy and strong.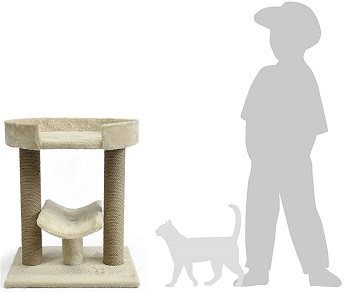 Natural Color And Fine Material
The neutral beige color will blend into any household nicely. The AmazonBasics space-saving cat tree is small and measures 21.1 X 17.3 X 13.4 inches. It is made of natural jute fiber, soft plush carpeting, and sturdy chipboard material.
In Short:
the AmazonBasics tree design is simple
this unit comes in neutral beige
it is small and holds up to 2 cats
includes two perches and scratching columns
made of jute, plush, and chipboard
BEST TALL SPACE-SAVING CAT TREE
Made4Pets Scratching Cat Tower
Tall But Space-Saving
At first, it may seem that this unit may not be a perfect space-saving tree. However, this tree is tall and it occupies only vertical space. Also, we just couldn't exclude tall trees from our top list. Most cats love heights. So, if you have only one corner available for your new cat tree, this unit will surely fit. It is only 15.7" wide.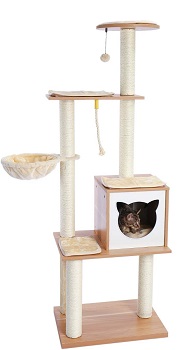 Multiple Levels
Made4Pets tree has 6 platforms that offer your cats plenty of choices to play, climb, and lounge. We know that cats' natural instinct is to stay in high places and observe the surrounding environment. It makes them feel confident and safe. This unit will satisfy all of their needs.
Well-Balanced And Steady Tree
The tree's well-proportioned lines and strong columns make it sturdy and firm. The tree will hold up to three cats of up to medium size or two adult cats of larger size. The thickened board and double layer base prevent the tree from wobbling and make sure your cats are safe at all times.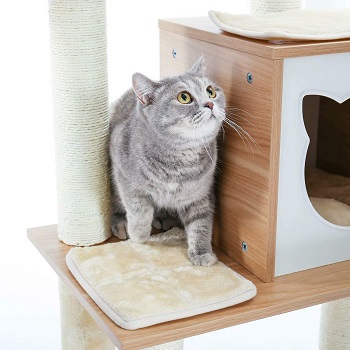 The Scratching Posts
Did you know that, apart from maintaining their claws healthy, cats scratch to marking their territory by leaving a visual mark? So, if you want to prevent cats from damaging your furniture, be sure your new space-saving cat tree includes scratching posts. This multi-cat tree comes with scratching pillars that are wrapped in natural sisal.
In Short:
tall and occupies only vertical space
it is only 15.7" wide and fits every corner
there are six platforms for cats to climb
ideal tree for play, lounge, scratch, and rest
the tree will hold up to 3 medium-sized cats
well-proportioned, steady, and firm cat tree
BEST WALL SPACE-SAVING CAT TREE
Pedy Wall Space-Saving Cat Furniture
4-Layer Wall Cat Tree
Pedy tree for cats comes with four layers. It is an entirely wall-mounted cat tree that will help to liberate your space from cat's toys and furniture. It is extremely helpful for cat owners and cats that live in a small apartment. The tree is perfectly safe and incredibly fun for cats.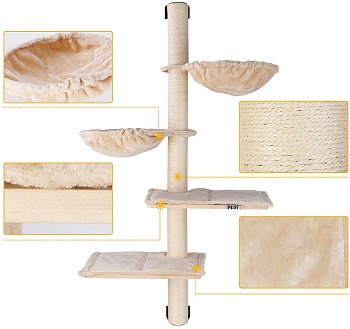 Soft And Cozy
The Pedy cat tree is covered in a warm and soft mat. This material reminds cats of their mother's fur. As kittens, they used to knead to stimulate milk flow. Plush and fluffy carpets make cats feel comfortable, relaxed, and safe.
Removable Mats
The mats that are included within the tree are easy to remove. It helps a lot during the cleaning process. Vacuum the tree from time to time and wash the mats when necessary. Be sure the tree is clean at all times. Hygiene is very important for cats.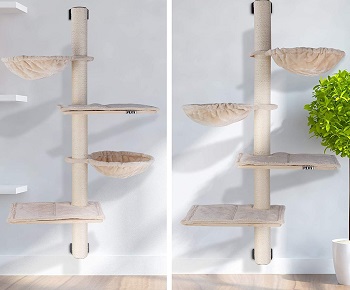 Material And Installation
This space-saving cat tree by Pedy is made of solid wood boards which makes it very sturdy. You can be sure the tree won't collapse when the cats jump off of it. The installation process of this solid wood cat tree is simple and quick. The instructions, tools, and accessories are provided by the manufacturer.
In Short:
this is a four-layer wall cat tree
Pedy tree is made of solid wood
sturdy, long-lasting, and easy to install
the boards are covered in soft material
this tree keeps cats happy and safe
a perfect cat tree for small apartments
BEST CHEAP SPACE-SAVING CAT TREE
Catry Tree For Cats
Superior Quality
Catry's small tree will fit in your corner or under your window. It won't take up too much space. It is perfect for cats with calm personalities. The tree is made with fleece and paper rope that promotes cats' scratching. The material is stable and durable.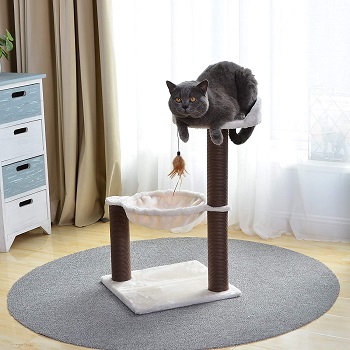 Basic Design
This unit has a wide base that keeps it stable. It includes one raised cat perch and one cozy basket. Both the perch and the basket are supported by scratching columns. The tree comes in beige and brown. It is a nice cat tree with a cat toy that hangs from the top perch and swings back and forth.
Size And Capacity
The overall dimensions of Catry's space-saving cat tree are 15.7-inch L/ 15.7-inch W/ 27.8-in/H. This tree is ideal for cats up to 10 lbs. Be sure you use this tree properly. Otherwise, it may overturn. We recommend you place it next to a wall for extra stability.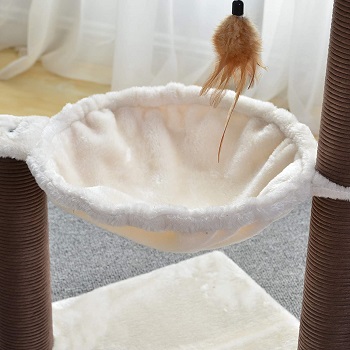 Assembly And Instructions
The assembly is required, just like with every other model. However, you will set this tree up in no time. All the tools and instructions are included within the package. Follow the guide step by step to make sure the tree is installed correctly. The cost of the unit is affordable.
In Short:
simple and basic cat tree design
perfect for cats up to 10 lbs
includes one raised perch and a basket
the scratching posts are made of paper rope
small and optimal for cuddly cats
a stable cat tree with a wide base
BEST MODERN SPACE-SAVING CAT TREE
PetPals Space-Saving Tree Tower
Stable Material
PetPals manufacturers have made another great and durable space-saving cat furniture tree. They used fleece and paper rope. Just enough to keep your two cats with calm personalities safe. The two cushions are comfy and make your cats feel warm.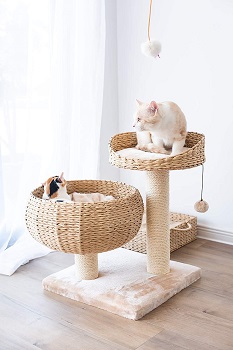 Attractive Design
The two-perch design makes this sphere cat tree look fancy and elegant. The tree comes in natural color and blends in nicely with your furniture. The tree's base is wide and heavy which guarantees stability. A teasing toy hangs from the top perch and keeps your cats occupied.
For Two Cats
Ideally, this tree will be used for two cats. The maximum holding weight is 25 lbs. Be sure you respect that. In case you have more than 2 cats at home, it is recommended to get another unit. Each perch is spacious enough for one adult cat.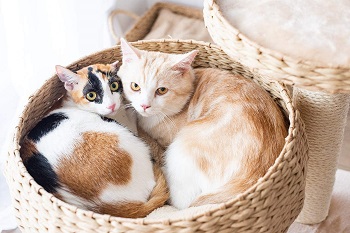 All In One
This space-saving cat tree will be your cats' favorite resting and sleeping space. Not only that, but they will get to sharpen their nails and play with the interactive toy as well. Set this unit up in no time. The instructions are included.
In Short:
this tree is made of fleece and paper rope
perfect for up to 2 adult cats
there are two spacious perches included
maximum weight that this tree holds is 25 lbs
it is a modern, elegant, and nice-looking tree
BEST SMALL SPACE-SAVING CAT TREE
Trixie Small Cat Tree
White Design
The Trixie white cat tree is another space-saving unit that comes with a simple design. It is perfect for one cat. It has a wide base and it is well-balanced. The cat basket is supported by two scratching pillars. This tree includes a hanging toy.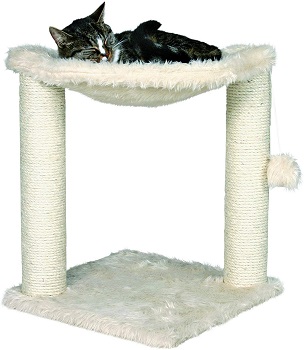 Small And Easy To Setup
Trixie's space-saving cat tree will fit almost anywhere. Choose the right corner or place the unit under your window. You will need to set this tree up. The assembly is easy and fast. One adult is enough to do the job properly.
Soft And Pet-Friendly
The unit is covered in warm and soft long-haired plush. Fluffy materials are adored by cats. It makes them feel comfortable and safe. All the material that is used is pet-friendly. For example, the scratching posts are wrapped in natural sisal and help to keep your cat's claws healthy.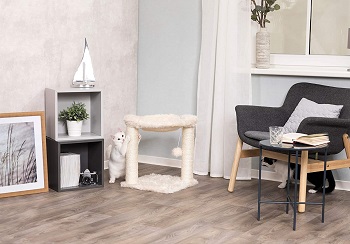 Affordable Price
This is another cheap cat tree model. The price is affordable for everyone's budget. The tree is made of fine quality and it is not recommendable to get this tree if you have more than one cat at home. Ideally, you will get this unit if your cat has a calm and shy personality and likes to sleep a lot.
In Short:
simple and white cat tree design
base is wide and keeps the unit stable
the tree is covered in soft material
a perfect cat tree for one cat
this is another budget-friendly cat tree
How To Pick: Space-Saving Cat Trees And Towers
If you are not sure how to save space by buying a cat tree, this guide will surely help. Our top-pick space-saving cat trees will meet most of our customer needs. Read on and find out why it is important to consider your cat's personality before you buy. Moreover, learn how to choose the right model and where to buy the best space-saving cat furniture.
How To Save Space – If you don't have a lot of space in your home, we suggest you get a vertical cat tree or the one that you can install onto a wall. If you have an old cat that cannot reach high places, get a small and short cat tree. Place it in a corner, or put it under your window. If you travel and move a lot, get a tree that is simple to assemble and disassemble. A folding cat tree may be fine.
Consider Your Cat's Nature – Cats with calm and shy personalities will definitely prefer resting on short and small trees. Consider getting your old cat a tree that is covered in plush, faux fur, or any other soft and warm material. Be sure that your tree includes a condo. On the other hand, playful and social cats will love climbing and jumping. You may want to get your active cats a tree with interactive toys and scratching posts.
Simple Vs. Multi-Purpose Trees – You can choose from all types of space-saving cat furniture – short and small trees with a simple design. Such units have ground floor condos and one or two raised perches supported by a scratching column. Cuddly cats will love those. On the contrary, households with more than two active cats will most probably prefer getting a multi-level, tall, or narrow tree that includes different platforms, toys, and perches.
Know The Right Size – The ideal tree's size will depend not only on the available space you have at home but also on your cat's personality. If your cats love to spend time climbing, running around, and resting in high places, it is best to get them a tall unit or a tree that you can mount high on the wall. However, if your fur buddies spend most of the time sleeping, grooming, and resting, a minimalist cat tree will be a fine choice.
Explore The Online Market – Thanks to our top list, you are able to choose one of the best models there are on the market. Hopefully, one of the reviewed models will meet your needs. The space-saving cat trees that we have listed in this article are available on the Amazon.com website. We consider Amazon a reliable online retailer. Check out the customer reviews before you buy and contact customer service if necessary.