Do you need a folding cat tree so you can easily store it when needed?
Then you're a the right place.
We found the best 5 models for each category so you can pick the one with the best color and design. In our guide at the end, you can read about important features and see our tips that will help you with buying.
The Summary
Best 5 Folding Cat Trees
BEST OF BEST FOLDING CAT TREE
Trixie Cat Hammock
Neutral Color
If you need a model that will last you for a long time and be practical for use and store, then you need to get this Trixie cat tree. This foldable cat tree comes in a neutral color for easy fitting.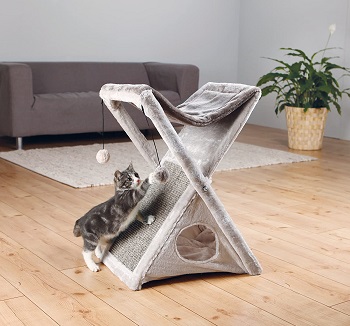 Easy Fitting
This cute cat tree measures only 20.25 x 13.75 x 25.5 inches, so you can fit it in every corner of your home or apartment, it is an ideal choice for smaller areas. The folding cat tree has a stable and sturdy construction.
Soft Plush
So your cat can enjoy in comfort, the whole tree is covered with soft plush. At the top, there is a wide hammock, where a cat can have naps or observe around the house.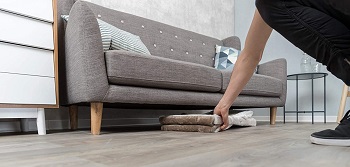 Angled Scratcher
On one side is an angled scratcher so the cat can easily stretch her muscles and stay active and healthy. Plush balls that are hanging above will entertain your cat for hours. This cat indoor tree has a spacious condo for sleeping.
In Short
Modern and functional design
Soft plush cover
Suitable in smaller areas
Wide hammock for laying
Angled scratcher for stretching
BEST CORNER FOLDING CAT TREE
Trixie Cat Tree
Neutral Tones
The modern neutral color combination will go well with any type of interior. A cat tree is made of durable materials so your cat can have it for a long time. It is a perfect choice for apartments and smaller areas.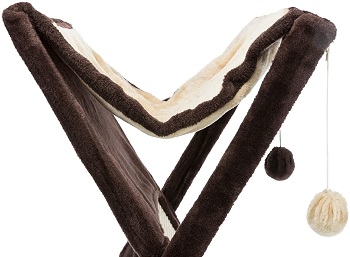 Covered With Plush
The sturdy construction of this folding cat tree is fully covered with soft plush, to protect the cat's sensitive feet. With a measurement of 20.5 x 13.75 x 25.5 inches, this beautiful cat tree is suitable for one medium-size cat.
Interactive Toys
The sisal scratching surface on one side of this cat tree is large enough so the cat can stretch easily. Cats love to play with toys so this model is an ideal choice if you have an active pet.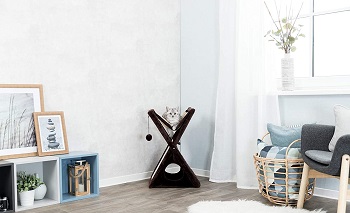 Easy Moving
For better observation, there is a spacious hammock where cats can easily fit. At the bottom, a spacious condo will be a favorite area when is time for sleeping. It has 2 doors for easier moving in and out.
In Short
Modern color combination
Sturdy and stable construction
Suitable for medium size cat
Sisal surface for scratching
Spacious condo with 2 doors
BEST MODERN FOLDING CAT TREE
Goopaws Cat Tree
If you prefer a model that comes in a grey color, that you will be obsessed with this one. The modern and functional design of this cat tree will easily fit with your home decor.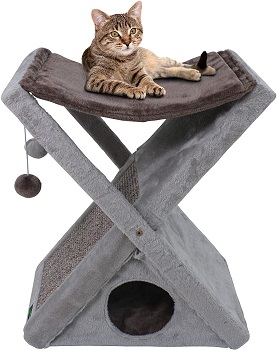 Durable Material
A sturdy folding cat tree is covered with durable plush fabric so your cat can have great comfort while laying on the surface. With a measurement of 20.3 x 13.8 x 25.5 inches when is unfolded, this cat tree can fit in every corner.
Hanging Balls
Hammock at the top of this minimalist cat tree will be a favorite area where cats will spend most of their time. It is perfect for observing and comfortable sleeping. Hanging pom balls will keep the cat entertain during the day.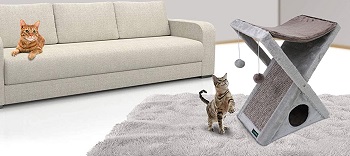 Easy Scratching
Scratching is a daily pet routine, and this model includes a wide sisal surface so cats can always have healthy nails. The inclined surface is perfect for stretching, as well. At the bottom, there is a spacious condo with a plush base.
In Short
Modern design in grey color
Small dimensions for easy fitting
Comfortable hammock at the top
Sisal surface for enjoyable scratching
Spacious condo with a plush base
BEST CONDO FOLDING CAT TREE
Jespet Foldable Cat Condo
Practical Design
If you need a really practical model, which you can easily move from place to place and store it when is not in the use, this Jespet cat condo has great features.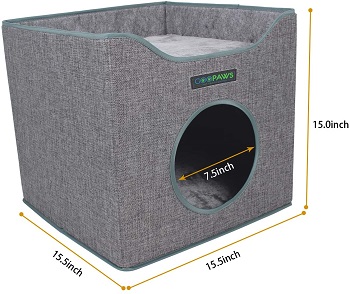 Cube Shape
This folding cat tree in cube shape is made of high-quality materials. It is covered with durable fabric in grey color, so you can easily match it with the rest of your home decor.
Lightweight Model
With a measurement of 15.5 x 15.5 x 15.0 inches, this model will not take much space in your home or apartment. Place this lightweight cube wherever your cat prefers to move around the most.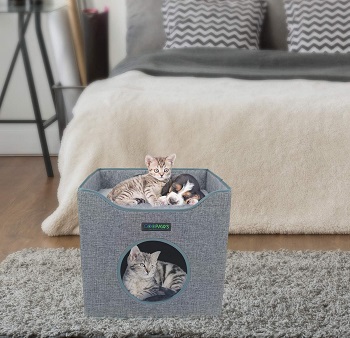 Large Condo
At the top of this cat tree for small spaces is a wide area for comfortable laying, that is covered with a plush cushion. The large condo underneath has wide doors for easy access, so even larger cats can easily fit inside.
In Short
Minimalist design in cube shape
Sturdy construction with durable fabric cover
Small dimension for easy moving
A wide area at the top
Spacious condo for cats of all sizes
BEST TALL FOLDING CAT TREE
Pet Life Cat House
Sturdy And Functional
If you're looking for a model that is taller, so the cat can have a better look around, this Pet Life is the best option. The neutral color and a sturdy and functional design will easily match with the rest of your furniture.
Easy Installation
A folding cat tree is made of durable material so your cat can use it safely for a long time. You can install it in a minute and when it is folded, you can store it on every shelf.
Pick The Color
You can place this awesome cat tree in every corner of your house, it measures 13.2 x 13.2 x 39.4 inches so it will not take you much space. The model is available in few different colors.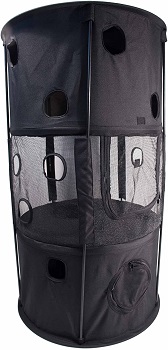 Breathable Mesh
3 levels will provide many activities and this whole foldable cat tree has wholes for air circulation. The middle part has breathable mesh with zippered entrances for safety.
In Short
Functional design on 3 levels
Easy installation and storing
Breathable mesh with zippered entrances
Holes for air circulation
Suitable for cats of all sizes
How To Pick The Best Folding Cat Tree?
If you're still not sure which model will be most functional for your cat, keep o reading. In our guide you will find many great recommendations, that will help you pick the best model.
Sturdy And Durable – Always make sure that the model you're picking is made of high-quality materials so it cannot easily be ripped off. The construction of the foldable tree for cats needs to be sturdy so pets can use it safely on a daily basis. If you're picking the model that is taller, make sure construction is not wobbling.
Pick Right Size – Depending on the size of your cat pick the model that will have spacious areas so the pet can have comfort while laying. Make sure the cat can easily enter inside the condo. Also, check the dimension before buying so you know it will easily fit in your apartment or a house.
Color And Design – There are so many beautiful colors on the market but if you're not sure which one to pick always go with neutral tones like beige, grey, or white. Neutral tones will easily match the furniture in your home. You can pick something functional and simple or some unusual cat tree to catch the cat's attention.
Functionality Of The Tree – One of the most important features, when you're picking a filing cat tree, is functionality. Make sure it has a wide area for observing and sleeping, like hammocks and condos. Cats love to have a surface for scratcher so if you don't have an additional scratcher in your house, pick the model with a sisal surface. Make sure cat trees can be easily stored in every corner.
To Sum Up
The best folding cat tree from the model that we reviewed is the Trixie cat tree. It has a modern and functional design with great features, and you can easily store it wherever you want, it will not take much space. If you're interested in buying models that have more levels, we picked the best multi-level cat tree so make sure you check it. If you want to pick some cute models, we found the best flower cat tree from the market.