Longing to go on a road trip having little to no space to spare for your dog so you could really use a collapsible travel dog crate?
You don't have to desire any longer but continue to read this article where we gathered and reviewed our top picks for these crate types. you'll get to read through the selection of not only the best but also versatile types of crates like plastic ones, some made for puppies, and a lot more
The Summary
Best 6 Collapsible Travel Dog Crates
BEST OF BEST COLLAPSIBLE DOG CRATE TRAVEL
Midwest Side-by-Side SUV Crate
Standard Indoor/Travel Use
Not always, but most of the time, travel crates don't tend to be good indoor crates but that's definitely not true with this one. it's made out of steel wire and even has a coating finish that prevents it from rusting. The finish coating in question is an e-coat.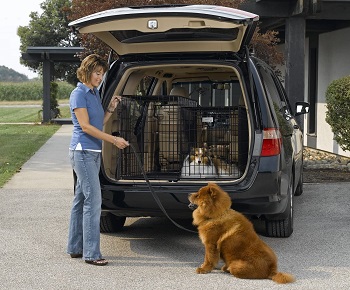 Indoor Issue
The only issue that might occur if you use it indoors is that it's not as comfortable for your dog as other large wire dog crates might be. This is because it's specifically designed to take up less cargo space inside your car or SUV so it's much narrower. Because of it, it can even be placed on the back seat of your car.
Hand To Hand Additional Features
There are two more features on this collapsible travel dog crate that go hand to hand with the fact that it's made for traveling. The first one is that it has a front and back access door that locks securely with 2 sliding bolt locks each and the second one is that it can be folded down and easily carried with a handle that's provided with the crate.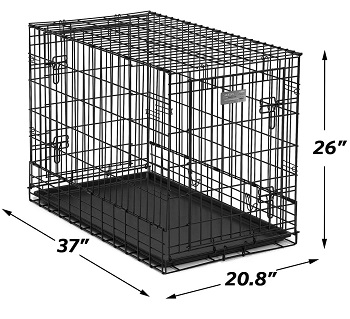 Size Explanation
The crate's size might confuse you but it's nothing to worry about. it's neither large nor medium but instead, it's right in the middle; intermediate. Intermediate crates are typically 36-in long and can usually house a dog that weighs up to 70 lbs.
In Short:
The e-coat finish makes it resist rusting
Has a steel wire build
It's narrower in design for more cargo space
Can be placed in the back seat
Can house dogs up to 70 lbs
BEST FOR PUPPIES COLLAPSIBLE TRAVEL DOG CRATE
Diggs Revol Dog Crate
Things Before Traveling
Although this is a crate made to travel with puppies you should only travel with your puppy if he's old enough and crate trained. This is necessary to protect you from him distracting you and him from going through the nasty experience of feeling alone and panicking.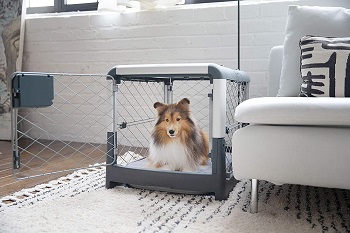 Durable Materials
It's made quite durable even though it's made out of plastic. the plastic in question is reinforced and you can find it on the frame of this collapsible dog crate travel. The sides are even more durable since they're made out of aluminum steel wire that is also high grade. It has three access doors and one even opens like a garage door.
Puppy Housing Help
This wouldn't be a puppy crate if it didn't have some feature that allows it to house them. The first one on the list is the typical puppy crate divider that most crates for puppies come with but the unique thing about it is that it's made to comply with industry standards for babies.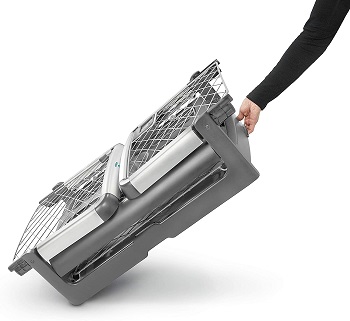 Transport When Collapsed
Of course, it can be collapsed and it's quite fast and easy to do so. To help you with transport when it's either collapsed or assembled, the built-in bottom wheels or the built-in top handle might help you with that. You should get the size that fits your dog's adult approximate dimensions. This one specifically can house medium adult dogs.
In Short:
Complies with industry standards for babies
Comes with a puppy divider
Features built-in wheels and a handle
Can house medium-sized dogs
Made with reinforced plastic and aluminum steel wire
Has three entrances, one opens like a garage door
BEST PLASTIC COLLAPSIBLE DOG CRATE TRAVEL
Pet Gear Door Steel Crate
Reasoning Behind Indoor Use
If we didn't categorize it as a plastic crate, we'd definitely categorize it as a large indoor dog crate. This is because of the number of doors it has that will allow you to position it with every bit of freedom. It has 4 doors in total: 2 side doors, 1 top door, and the large front door even open like a garage door to not get in your way.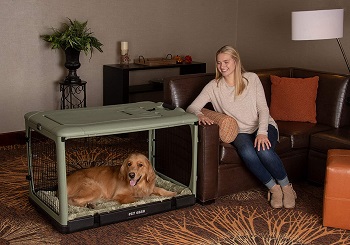 Maximum Fold Down Design Utilization
There's something unique about this collapsible travel dog crate when it's like that and it's the wheels that are built into it. You can utilize them when the crate is in its own travel bag that it comes with to drag it instead of carrying it. It also features a built-in top handle.
Details About Materials
The plastic in question is heavy-duty plastic that's been blow molded. The sides are made out of steel wire and what's so interesting about those two is that the corners on the inside are rounded while the side edges don't have any exposed sharp edges made out o steel. To conclude, it's very safe for your dog.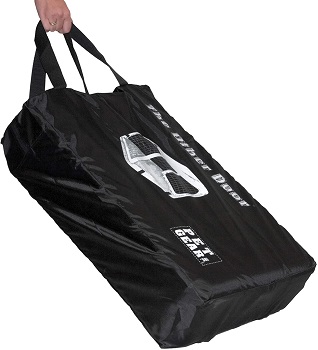 Comfort Addition And Size
Not only is the crate safe for your dog, but it can also be quite comfortable. It comes with a cozy bolster bed that you can easily remove to wash it when you need to. Dogs that will get to be comfortable inside can easily be a large dog breed that weighs up to 90 lbs.
In Short:
Has a heavy-duty plastic frame and steel wire sides
Has 4 door in total for access
The large front door opens like a garage door
Can house large dogs since it's 42-in long
Comes with a travel bag and a washable bed
Features built-in wheels and a handle
BEST FOR CAR COLLAPSIBLE DOG CRATE
A4Pet Soft Collapsible Dog Crate
Floor And Car Interior Protection
The two things that make it ideal for cars are its bottom and corners. The bottom is leakproof and waterproof so if by any chance your dog were to urinate inside, the urine won't get to contact with your car floors. The rounded corners will also protect the interior of your car.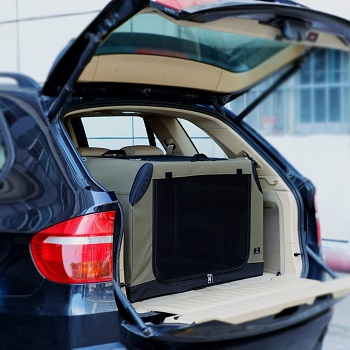 Build Information
The cover of this soft collapsible dog crate is made with oxford fabric which only means that it's durable. It has a frame as well, and thanks to it, it holds its shape well and can be folded down. The cover of the A4pet soft collapsible dog crate is also easy to take off if you ever need to clean it.
 Crate Sides Contents
The cover of this collapsible dog crate travel is more than just that. It features windows made out of mesh fabric as well that can be used as doors and that also function as air vents. you'll find them o top, in the front, and on the side. the other side features only an air-vent while the back doesn't have one, it has an accessory pocket.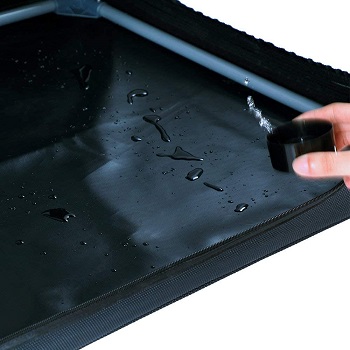 Housing Dogs Tips
This collapsible dog crate for car is 31-in long which means that you'll get to contain a medium-sized dog inside it. One important thing that we should mention is that is made to house calm and crate-trained dogs and you should always keep an eye on the dog. That's why we wouldn't recommend you use it indoors.
In Short:
The bottom is leak-proof and waterproof
Protects car interior with rounded corners
Can contain crate trained medium dogs
Made with oxford fabric and a  foldable steel tube frame
Has 3 entrances that function as vents as well
The back features an accessory pocket
BEST SMALL COLLAPSIBLE TRAVEL DOG CRATE
One for Pets Portable 2-in-1 Kennel
Divider Design
The crate comes with not your ordinary divider panel for puppies. The divider is here to divide the crate into two separate ones and it's a fabric divider that you have to zip onto it. With it, you'll get to divide the crate into two separate ones, have two crates that are connected, or you can remove the divider to house a single dog.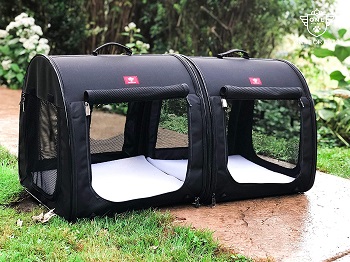 Recommended Behavior And Size Of Dog
This multi-dog crate can house only small dogs. Even if you're not using the divider, the rest of its proportions are too small for you to house a dog any larger than small. On top of that, you should also make sure that your dog or dogs are crate-trained since it's a fabric crate.
Crate Cover Accessories
On the fabric cover of this collapsible dog crate travel, you'll find many useful things. The first one are the built-in straps that will allow you to connect the crat to a seatbelt. The second one is the handle for carrying each crate and the third one are the mesh fabric windows found on all sides.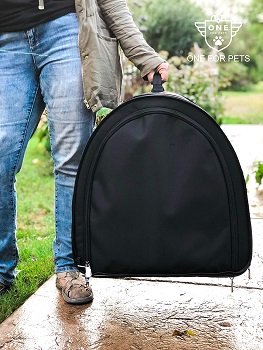 Convenient Comfort And Transport
For more convenient transport when the crate is folded down, you'll get to carry it in its own carry bag that has its own carrying handle. The interior will be comfortable for both dogs in each crate or crate part since they both come with washable mats.
In Short:
Made out of fabric
Comes with a separate carrying bag
Can house two dogs by dividing them with a divider
Built for small crate-trained dogs
Can be attached to a seatbelt because of the built-in straps
Has ventilation windows on all sides
BEST MEDIUM COLLAPSIBLE TRAVEL DOG CRATE
Petsfit Portable Medium Dog Crate
Special Frame
The frame on this crate is somewhat different than on the rest of the soft travel dog crates we reviewed here. it's made out of steel tubes but it's a frame that connects with spiral tubes. It's just as easy to operate with it but in return, you're getting a much more firm crate.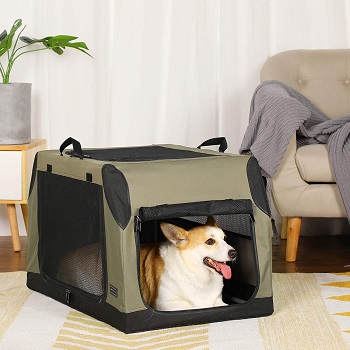 Crate Shape And Details
To form a closed-off crate, the frame is covered with a soft fabric cover. Because of the way that the steel tube frame is designed, the top corners of the collapsible travel dog crate are rounded. This will help with keeping your car interior safe and free from damage. The bottom features a leak and waterproof bottom and there's a non-slip sheet on the outside to prevent the crate from slipping or sliding.
Ventilation And Entrances
The crate's cover is not just made out of soft fabric. It also features gridded fabric that has a hexagonal shape for proper ventilation of the Petsfit portable soft collapsible dog crate. You'll find them on top and all sides except for the back where there's an accessory pocket. the top, side, and front ventilation windows are also doors.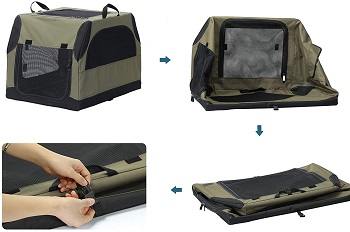 Velcro Use And Crate Size
There are velcros in some places of the crate and they have two functions. Their first function is to keep the doors open when you roll them up and stick them to the velcro. Their second function is to connect the fabric to the steel tube frame better. This is a medium-sized crate for containing medium dogs.
In Short:
The bottom is leakproof, waterproof, and anti-slip
Has a spiral tube steel frame
Can house medium-sized crate trained dogs
The cover connects to the frame with velcros
Has three entrances and 4 vent windows
The back holds an accessory pocket
The rounded corners keep the car interior safe
How To Pick A Collapsible Dog Crate Travel
While collapsible travel dog crates do make transport easier this is not the only thing they should excel at. traveling with your dog is no joke and there are some things you need to make sure of to make your traveling experience safe. You'll want to start with picking out the right crate type so that's where we'll start when talking about some of their differences.
Which Type To Choose – Which type of crate you'll choose to get mainly depends on the level of your dog's crate training journey. If your dog hasn't been crate trained at all you'll want to reach for a more sturdy folding metal dog crate and if he is crate trained ad calm, you can safely get a soft dog crate. Plastic travel crates aren't typically made just out of
Other Uses For Collapsible Design – Crates with a collapsible design don't necessarily put it to good use just for easier transport. You can also use it to store the crate without it taking too much space inside your home. This is especially true for crates that you can't rely on to be good indoor crates such as soft ones.
Crate Training Importance – you could travel with a puppy or adult dog that hasn't been crate trained yet but doing this might put you and your dog at risk. You want as little distraction as possible and a dog that has not gone through crate training might be a big one. Besides, the dog will feel much more comfortable inside if he's crate trained.
Scoping For The Right Size – You don't have to guess which size of the collapsible travel dog crate you should get since there is a simple method to figure it out. You'll want to make sure that your dog is at least 4 inches shorter in length and height when compared to the crate.
Traveling With Dog – Dogs that aren't crate-trained when traveling with you become a hazard. You can't always predict your dog's behavior so even the nicest of dogs might do something unexpected like come into your lap while you're driving, distract you by chewing on things, or accidentally pressing something you don't want them to press.
To Sum Up
We see the Diggs Revol Dog Crate as that one collapsible travel dog crate that almost has it all. it's safe for puppies and dogs, it's durable, it can potty train puppies, it can be used indoors as well, and it has travel ease supplies like built-in wheels, and a carrying handle. if you haven't gotten around to crate training your dog yet and want to start you should check out the article about training cages for dogs and if you're looking for an aesthetically pleasing indoor crate you might want to read the article about indoor dog crate furniture.