Do you want to stand out from the crowd by getting your dog a colored dog crate?
No matter the color, we've reviewed them all and not just that but we made sure to pick the best out of what was offered so make sure to continue reading if you want to find out a little bit more about these crates and find a crate in your favorite color like green, blue, or simply black.
The Summary
Best 6 Colored Dog Crates
BEST OF BEST COLORED DOG CRATE
EliteField 3-Door Soft Dog Crate
Other Colors
We chose to review this crate as green seeing as how there aren't many green dog crates. If you happen to like it but want it in a different color you can easily get another since it comes in a total of 16 different colors including purple and even a camo color.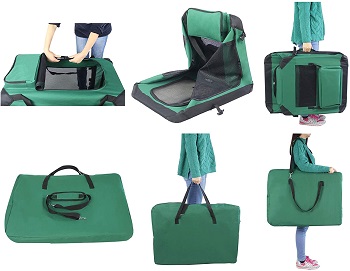 Fabric And Frame AbilitiesThe reason why it's a green dog crate is because of its cover that's made out of 600D oxford fabric. The material is durable and can even be washed if you want to take it off of the steel tube frame. Thanks to its frame, this is also a soft collapsible dog crate.
Cover ContentsThere are many things that the cover of this colored dog crate holds. Firstly, we've got the sides of the cover that are equipped with windows made out of mesh fabric. These windows help ventilate the crate but the top, side, and front are also access doors. Both in the back and on top you'll find pockets for storing accessories.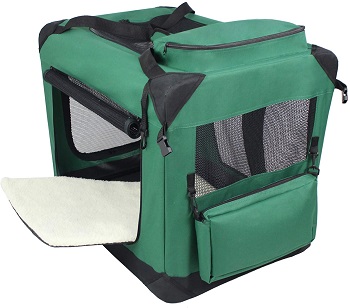 Interior Size And Contents
It only weighs around 6 lbs so its main purpose is to make it easier for you to travel with your dog. On the inside, it's more spacious than regular soft 30-in long dog crates because it's made to be 2-in wider and 4-in taller than them. You'll get to house a medium-sized dog inside but it's important for you to know that it should only house calm dogs that have already been crate trained. The inside is also equipped with a padded mat for comfort.
In Short:
Has an oxford fabric cover and a foldable steel frame
The cover is colored green ad can be washed
Has more room to house a medium-sized dog
3 of the mesh fabric windows are also doors
Has 2 accessory pockets
Best to use it for traveling and calm, crate-trained dogs
BEST LIGHT BLUE COLORED DOG CRATE
MidWest Homes for Pets Dog Crate
Small In Size
More often than not, wire crates that are colored anything but the black are typically only large enough to house small dogs and that's true for this crate as well. It's 24-in long and you should only use it to house a dog that's up to 16-in tall and up to 22-in long.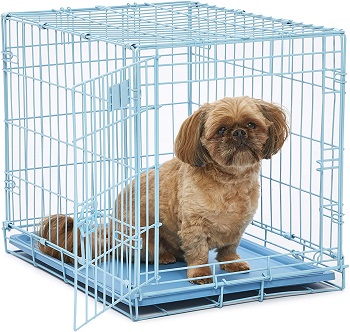 Metal And Plastic BitsAs we've mentioned, it's made out of steel wire and the blue finish is actually an e-coat. E-coats or electro-coats typically give the material they coat rust-resistant properties. It does feature a single plastic bit and that's the cleaning pan located o the bottom that's also colored in light blue.
Safety And Training
You might not expect much from a light blue dog crate so small but it does have all the features of a large wire dog crate for example. On the inside, it has a rounded corner so that your dog doesn't pinch his paws and it even comes with a divider that's adjustable. It will help you potty train a puppy.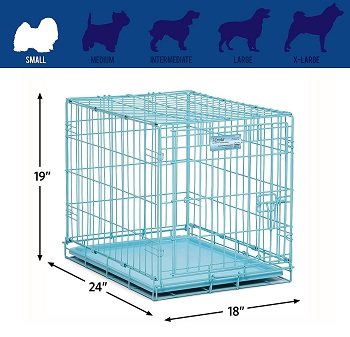 Indoor And Car Positioning
You can easily fold this colored dog crate down and carry it with the handle it comes with. The way the handle is positioned makes it look like a briefcase when carried. You can use this feature to travel with it just know that you won't get a lot of placing options indoor and in your vehicle since it has a single access door.
In Short:
The steel wire is coated with an e-coat
features a single access door
Has rounded corners and comes with a puppy divider
Can house dogs up to 16-in tall and 22-in long
Can be folded down and carried
The plastic cleaning pan is also blue-colored
BEST PINK WIRE COLORED DOG CRATE
Carlson Pink Metal Dog Crate
Common Wire Build
Similar to the crate we reviewed before it, it features a single access door that locks with a single sliding bolt lock but instead of being colored blue, it's a small pink dog crate. The wire is durable enough so that you can use this pink wire dog crate as a dog training cage.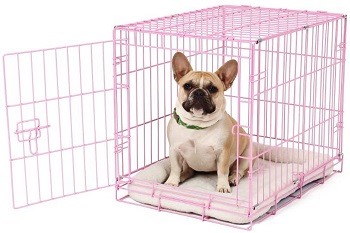 Standard Certified
It might not come with a divider but what it does come with is certificates for safety. To be more specific, it's certified to both ASTM and JPMA standards. The one we're interested in is the JPMA standard that concerns itself with product safety for juvenile products in this case, puppies.
Travel And Storage FeatureOnce your dog is crate trained, you'll put to good use its foldable design. It's easy to do so and it will be easy for you to carry the crate to your car. The reason why you should have a crate-trained dog when traveling is because of the fact that one that is not might distract you during driving. If not for traveling you can use it to store the crate as well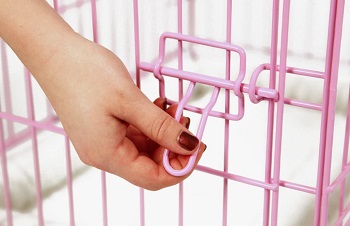 Safe Locking DoorThe single door in the front doesn't just lock with a sliding bolt lock, it locks from other points as well for more security that your dog won't escape. The dog in question should be a small dog breed to fit inside this colored dog crate comfortably and safely.
In Short:
Certified to ASTM and JPMA standards
The single door locks from multiple points
Can be folded down for traveling and storage
Can house small dogs
You can use it to crate train a dog
BEST GREY COLORED DOG CRATE
BarkWood Large Pet Crate
Material Durability
The material coated with a gray-colored finish is actually solid wood. Solid wood tends to be the most durable one to make dog crate furniture and can even survive some light chewing coming from the dog. Be careful with that though because we'd still recommend you only use it to house a crate-trained dog that can be a large breed of dog.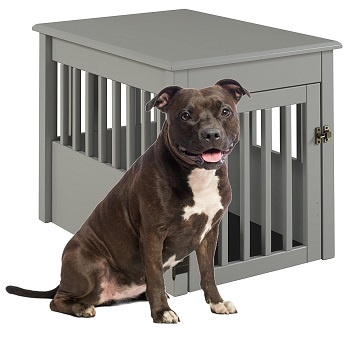 Door Opening Style
It might as well be almost perfect indoor dog crate furniture because of the way its door opens. It does open like a regular swing door but it can open all the way to the side so that it doesn't bother you or block anything. This feature also saves you space in the surrounding area of the crate.
Panel Connection
The wooden panels of this large grey dog crate are connected with joints called mortise and tenon. They are definitely the most renowned and most commonly used in making furniture in general so it's definitely not a flimsy colored dog crate.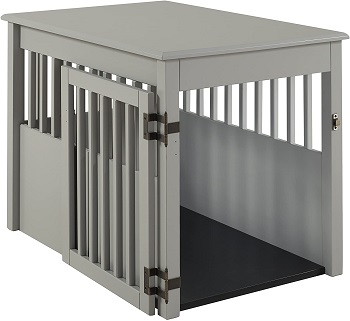 Mention Worthy Bottom Things
There are two things worth mentioning that are located on the bottom. The first thing is the rubberized bottom that will help minimize the woods' liquids and odor absorption. The second thing is found on the outside and it's the rubber feet that will prevent the crate from accidentally damaging your floors.
In Short:
Made with solid wood
Can house large dogs
Built to look and function as furniture
The panels are connected with mortise and tenon joints
Has a rubberized bottom that prevents liquids absorption
Features rubber feet that protect floors
BEST WHITE COLORED DOG CRATE
Unipaws Pet Crate End Table
Metal Bits Characteristics
Although the crate's primary build material is wood, it does have some metal bits that change how the crate works largely. The metal bits are disguised as bars located on the sides that are chew-proof and that help ventilate the whole crate much better.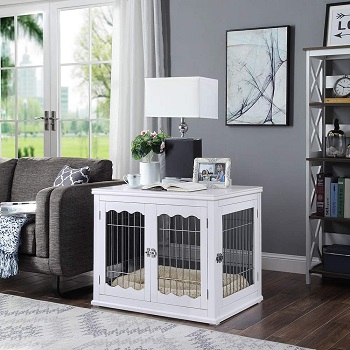 To Crate Train Or Not
What shouldn't worry you but is something to keep in mind is that the wooden parts are not chew-proof. This comes as no surprise but makes it harder to figure out whether or not you can crate-train a dog inside it. The general rule of thumb with furniture style crate and this white dog crate furniture is that you should use it to only house crate-trained dogs.
In-Home Placement
This white-colored dog crate can easily be considered a great addition to your home. Not only does it work as furniture, but the weight limit for the top is large at a weight of 200 lbs. To help you with easier positioning side your home, you'll get a double side door and a single front door for access.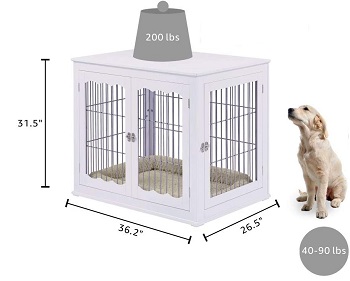 Safety And Comfort
If you're looking for safety when it comes to how the crate locks you might find it in this one since the doors lock with a total of three different locks. For inside comfort, you'll get a crate bed that's both waterproof and washable. The waterproof bit might even protect the bottom from getting into contact with liquids.
In Short:
Made out of wood and metal bars
The metal bars are chew-proof, the wood is not
Has 2 entrance points and 3 doors that lock with 3 locks
Can house large dogs
You'll get a waterproof and washable bed with it
The top has a weight limit of 200 lbs
BEST BLACK COLORED CRATE
Casual Home Wooden Medium Pet Crate
Not So Common Wood Ability
You might not consider the solid wood build to be all that impressive and it wouldn't be if it weren't for the fact that the wood that makes this crate is chew-resistant. Even though this is true, you should be careful with just how much your dog chews on this crate because it still might take some physical damage.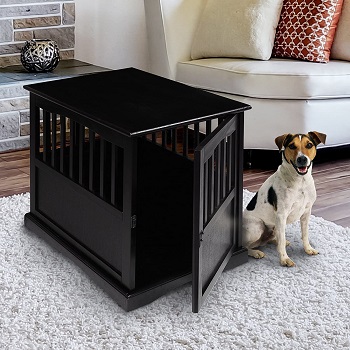 Vents And Visibility Points
All around it, on all sides, there are wooden bars that are placed in a vertical direction that will allow air to flow through the crate well. It also might help your dog with visibility on the outside. Some dogs like to keep an eye on their owners to keep calm.
Crate Access And Cleaning
There's a single door in the front that locks with a hasp latch lock. Through that same door, you'll get to access this colored dog crate to clean it.  The problem that might occur with just one door is how you're going to place it inside your home but this crate solves that problem by acting as furniture.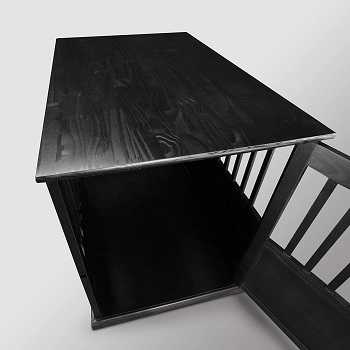 Top And Bottom Weight Limits
This is small dog crate furniture which means you'll get to house an under 25 lbs dog even though the weight limit for the interior is 120 lbs. The top also has a weight limit of 120 lbs. This means that you'll get to put a lot of stuff on top without having to worry you'll go over it.
In Short:
Constructed out of chew-resistant solid wood
Can house small dogs up to 25 lbs
The top weight limit is 120 lbs
Has a single entrance in the front
Gets ventilated from all sides
How To Pick A Colored Dog Crate
Picking out a colored dog crate isn't just a matter of picking out a color you'd like. Since there are so many different types of crates you should know what each crate type brings with it, what it's good for and what it's bad for. Ultimately, these differences will help you pick out the right crate so continue reading to make that happen.
Wooden Crate Type Colors – You typically won't find any crazy and bright colors with wooden dog crates. This is due to the fact that they are designed to look and function as furniture so the most typical color you'll get is either espresso brown, black, white and sometimes gray. You should choose the color depending on what color is your actual furniture as this will make them blend better into your home.
Wire Crate Type Colors – Wire crates normally come colored black but you can find ones that have either a blue or pink color. You might find purple and green ones but they are much harder to get a hold of. if you're looking for a large or XL wire crate that has a different color than black, unfortunately for you, you won't find it or you'll go through a lot of trouble to find one.
Soft Crate Colors – This is probably the most versatile category of crates when it comes to color. Since They're made out of fabric it's really easy to color them differently. Another reason why they come in more colors than others is that they're only designed for traveling so in a way, a soft crate is usually a fashion dog crate.
Crate Types Differences – The most durable crates reviewed here are definitely wire crates. They re known to be used as training cages for dogs and it's for a good reason. Both the soft and wooden crates will require you to crate-train your dog before using them. wooden crates can only be used indoors while soft crates are only good for containing your dog temporarily while you travel.
To Sum Up
We can't base our recommendation for these colored dog crates solely based on color. We had to think about their durability and multiple purposes so we decided we should recommend the Carlson Pink Metal Dog Crate. You can travel with it, crate train your dog or puppy and it looks nice with its pink color. We have realised we missed a few colors so if you want to see the options for more crate colors we suggest you read the article about purple dog crates or the article about white wire dog crates.