Are you looking for a perfect 10g fish tank, so your fishes can have a great environment?
We found great models from the market, so make sure you keep on reading. In our post, you will find the best small, blowfish, with filters and much more models. In our guide at the end of the post, you can find tips before buying.
The Summary
6 Best 10g Fish Tanks
BEST OF BEST 10 G FISH TANK
GloFish Aquarium Kit Fish Tank
Functional Design
If you're looking for a modern fish tank that includes all important features so you can have a functional and beautiful aquarium in your home, this Glofish model is the best choice. It is made of durable materials.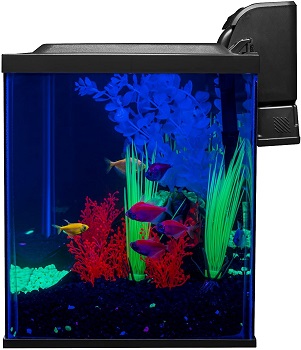 Sturdy Construction
The aquarium is made of glass so you don't have to worry about durability. This 10g fish tank measures 23.69 x 13.44 x 19.88 inches, and you can place it on every sturdy commode or shelf, so you can enjoy the view.
Led Lights
At the top of this 10g aquarium is low profile hood with LED lighting in a blue and white combination. Model is the perfect choice for glow and tropical fishes with vibrant colors.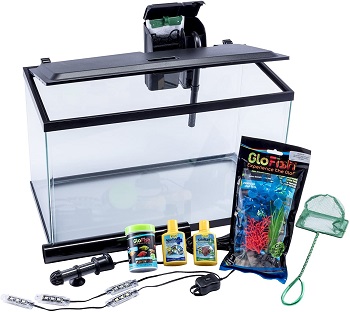 Included Features
So your fishes can always have clean water and the best temperature, this 10-gallon aquarium hood with light includes a Tetra Whisper power filter and a thermometer with heater. You can place some plants inside for a better look.
In Short
Modern and functional design
Suitable for smaller spaces
Hood with LED lights
Perfect for tropical and glow fishes
Includes filters and a heater
BEST PLANTED 10G FISH TANK
JBJ Rimless Desktop Tank
Modern Design
If you need a model that will be functional but not too big so it doesn't take you much space in your apartment or house, this Jbj model has great features. Modern and practical design will easily fit in your interior.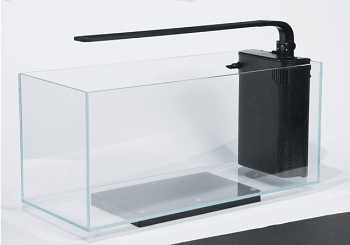 Easy Fitting
With a measurement of 23.6 x 10.6 x 10.2 inches, this 10g fish tank can fit on every sturdy shelf, commode, or desk. You can place it in higher areas and enjoy beautiful views and colors.
Adjustable Lightning
The 10g rimless aquarium includes modern LED lighting in 2 colors. You can also adjust brightness depending on your preferences. This 10gallon fish tank is perfect for colorful fishes.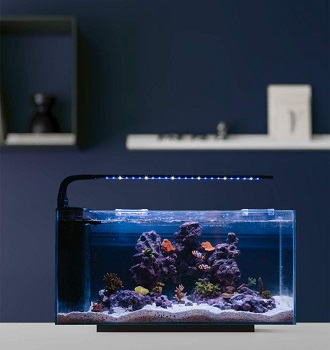 Bio Filter
You can place some colorful plants inside, so your fishes can enjoy in a beautiful environment. With the package, you will get a clip-on biofilter, for easier cleaning and maintenance.
In Short
Functional model for smaller spaces
Glass design for durability
Led lighting with 2 colors
Biofilter for maintenance
Perfect choice for small colorful fishes
BEST GOLDFISH 10G FISH TANK
JBJ Flat Panel Aquarium
Sturdy Glass
For glow fishes, you need to get this model, that will perfectly fit with the rest of your home decor. This JBJ fish tank is made of sturdy glass so you don't have to worry about the safety of your pets.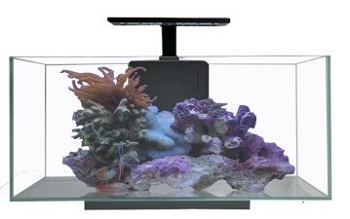 Smaller Areas
Place this model on some higher areas that will hold the weight of a 10g fish tank. With a measurement of 14 x 27 x 13 inches, you can place it in every corner, it will not take much space.
All In One
In the package with the aquarium, you will get all the important features so you can start creating a beautiful environment for your fishes. Kit includes biofilter so pets can always have clean water.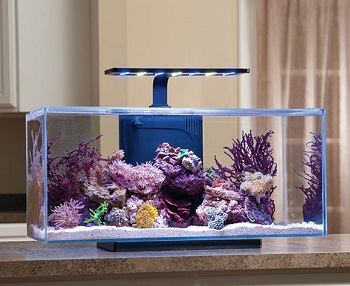 Beautiful Design
In the middle of this fish tank is a lighting fixture, with LED light and 2 colors so you can create a beautiful design if you add some plant inside. 10 gallons all in one aquarium will, for sure, catch everyone's attention.
In Short
Sturdy glass for durability
Biofilter for great filtration
Led lighting fixture with 2 colors
Suitable for multiple fishes
BEST WITH FILTER 10 G FISH TANK
Marina LED Aquarium Kit
Perfect For Beginners
If you're a beginner and you want to buy a functional fish tank with included features, this Marina aquarium kit is a great choice. In the package, you will get a soft fish mesh, as well. Your fishes will enjoy in a new environment.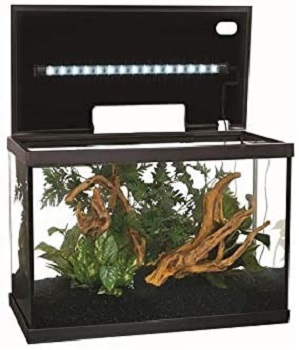 Quick-change Filter
The 10g fish tank has 12.91 x 10.24 x 20.2 inches, and you can place multiple small fishes inside. The aquarium is made of sturdy glass and it has a Marina Slim S10 filter that can be easily changed when needed.
LED Lights
For better lighting, there is a LED light to illuminate colors. Make sure you place this 10-gallon goldfish tank on higher, sturdy areas so you can enjoy the view at night.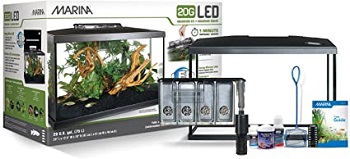 Safe And Healthy
In the package you will also get a Fluval Max fish food, one of the best on the market, so your pets can stay healthy. Also, Fluval water conditioners and supplements will provide a safe biological environment.
In Short
Perfect aquarium kit for beginners
Suitable for multiple fishes
Sturdy construction made of glass
Filter with quick changing
Included features for easy daily routine
BEST SEAWATER 10G FISH TANK
Aqueon 10 Gal Black Aquarium
Black Edges
If you're searching for a model that is good for marine application as well as freshwater, this Aqueon aquarium has great specifications. It has a durable glass construction with black silicone edges.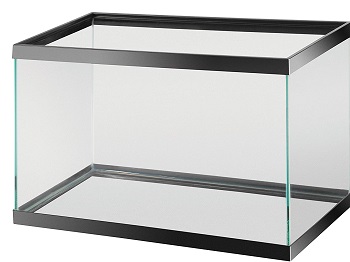 Sturdy Stand
Because this 10g fish tank measures only 20.25 x 10.5 x 12.63 inches, you can place it on every sturdy stand that is able to hold the weight of a filled aquarium.
Light Hood
The light hood at the top can be easily removed so you can place some natural or artificial plants or decor, to fulfill the environment for a better natural atmosphere.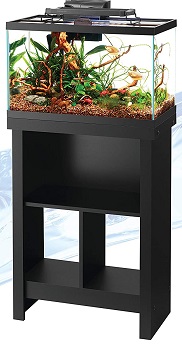 Multiple Fishes
You can add to this 10-gallon clownfish tank multiple small fishes and easily remove them when it's time for cleaning. With included instructions, you will need a few minutes for the whole setup.
In Short
Marine and freshwater
Suitable for multiple small fishes
Light hood for easy access and maintenance
Included instructions for easy setup
Add decor for a better atmosphere
BEST RIMLESS 10G FISH TANK
Lifegard Aquatics Aquarium
High-quality Glass
If a simple and functional design is your choice, this Lifegourd Aquatics model has great features. This rimless fish tank is made of high-quality glass for durability.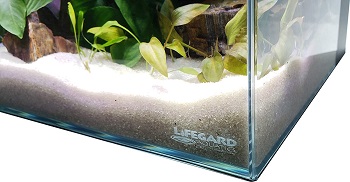 Without Hood
The aquarium is made very precise, with invisible glue for the clearest look. The fish tank has no hood, so you can easily reach inside when needed, and enjoy the natural environment and a great view.
Simple Design
Because of the design, you can easily place this 10g fish tank in every corner. Make sure the stand is stable and sturdy to be able to hold the weight of the aquarium. This 10g tank measures 24 x 15 x 12 inches.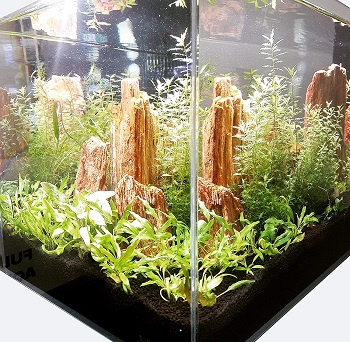 Adding Features
Because of the openable top, you can easily place stones, plants, and some other decor inside of these 10-gallon tank fish combos. Filters and other additional features are not included.
In Short
Simple design with sturdy glass
Invisible glue and high-quality glass for a clear view
Easy access from the top
Suitable for multiple fishes
Filters and other features are not included
How To Pick The Best 10g Fish Tank?
If you checked our recommendations and you're still not sure about some features, keep on reading. Our helpful tips will make buying a lot easier.
Check The Capacity – Before buying a model, make sure that the fish tank can fit 10 gallons of water. Every model needs to have information about size and measurement so you're sure it will be big enough for your fishes. Also, measurement is also important so know it will fit easily in every corner.
Stand For Aquarium – One of the most important features is to provide a sturdy and stable stand where you will place it. You can also use a desk, commode and other furniture. Make sure the stand is strong enough to hold the weight of the fish tank when is filled with water. Also, aquariums look best when they are in higher areas.
Pet Safety – No matter if you're picking the 10-gallon cube aquarium or some other shape, the model needs to be made of high-quality material such as acrylic or glass, so it cannot break easily. If you want to save fish from predators, such as cats pick the model with the top hood.
Additional Features – Depending on your preferences pick the model that will look best in your interior. The best models are those with LED lights in few different colors because they illuminate colors of decors, such as plants and stones, as well as colors of your fishes. If you are a beginner we recommend a 10g fish tank with included features such as filter, food, and other ones.