Do you want your kid to have the best princess fish tank?
In this article, we will give you the reason not to wait anymore!
Here you can find the three cutest models and the reasons why they are fun presents for your kid. Read till the end and decide now!
The Summary
Best Of Best Princess Fish Tank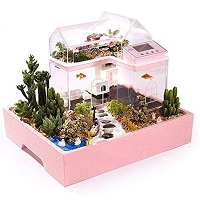 TWDYC Creative Fish Tank
This is more than just an aquarium, on the platform you can plant succulents and have an interactive aquarium and around it!
Jump To Review
Best Pink Castle Princess Fish Tank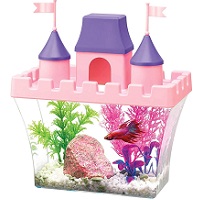 Aqueon Princess Castle Aquarium Kit
This is the real princess aquarium because it's made like a castle with purple and pink decoration, ideal for one small fish!
Jump To Review
Best Betta Princess Fish Tank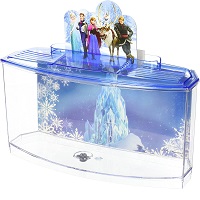 Penn-Plax Frozen Themed Betta Tank
This aquarium has a more traditional shape, but it is still a real princess fish tank because of the dreamy background and details!
Jump To Review
Best 3 Princess Fish Tanks
Best Of Best Princess Fish Tank
TWDYC Creative Fish Tank
More Than Aquarium
Only one part of this installation is an aquarium intended to keep fish in. On the main platform, you have plenty of room for decorative plants, like succulents, so the whole installation looks very decorative and gives a better environment for fish.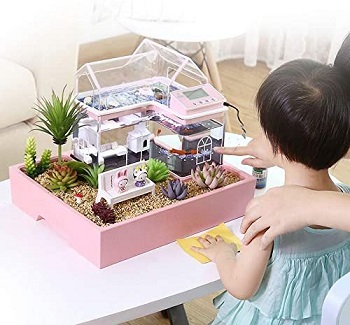 Interesting Equipment
Even though there is no filter aquarium, it comes with LED lights inside the tank and around it. On the main site, you have a screen with the possibility to turn them on and how bright you want to set them. Simply plug it into electricity to use it.
Fun For Using
The princess aquarium is very interactive and interesting to use, giving your kid more to care about: plants from the outside and fish in the aquarium. It is made of plastic which allows good vision inside but is safe from cracking.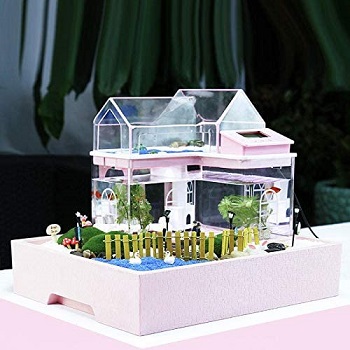 Decorative Element
Even though this fish tank is a very decorative element in pink colour, it is small and intended for one betta fish only. While a house-shaped aquarium is interesting for kids, they can spend time playing with figures outside it.
In Short:
House-shaped aquarium
Made of acrylic and plastic
Pink platform
Possibility to plant herbs
Decorative and interactive
Best Pink Castle Princess Aquarium
Aqueon Princess Castle Aquarium Kit
Realistic Design
Unlike other models, this aquarium has a very realistic castle design with many pink details. It is intended to be used as decoration rather than a professional tank, such as a hanging aquarium. It has a stable bottom and should be placed on a firm base, like a desk or cupboard.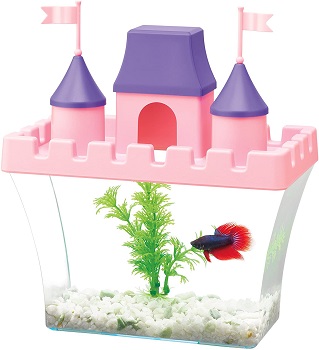 Safe Plastic
The whole aquarium is made of acrylic which is known to be very durable and prone to damage or cracking. What is more, the pink lid is made of quality and durable plastic with purple steeples and has a feeding hole not to move it.
Ideal For Single Betta
The pink castle fish tank has only half a gallon and is ideal for keeping one betta fish. It is good for both freshwater and saltwater fish and needs to be cleaned once a month to keep it clear and visible inside.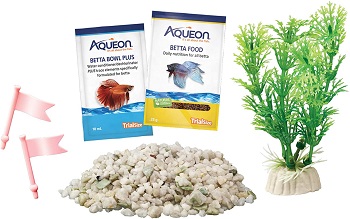 Ideal For Kids
The aquarium is ideal for kids who like princess themes. It comes with decorative gravel and two decorative flags. What is more, you will get food samples, too. It is ideal to teach your kid obligations and give them fish as a present and first pet.
In Short:
Made of acrylic
Half of gallon big
Decorative protective lid
Purple and pink details
Ideal for one betta
Best Betta Princess Fish Tank
Penn-Plax Frozen Themed Betta Tank
More Regular Design
With other aquariums having castle designs, this model has a classic cubicle design with coloured Frozen background. Yet, it is made to be durable and fit well into any space, but be sure to place it onto a firm base, like a desk.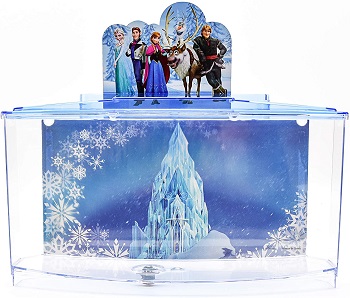 Easy To Use
There is no special equipment for this aquarium, so it is very easy to use it. The big hole on the top allows you or your kid to easily feed fish every day. It can be used for betta fish with simple decoration and kept there its whole life.
Simple Cleaning
It is a very low maintenance aquarium, so this is the main reason it is acceptable for kids to use. Only cleaning is regular monthly cleaning fish load, but if you don't add any plants, there is not much to clean after.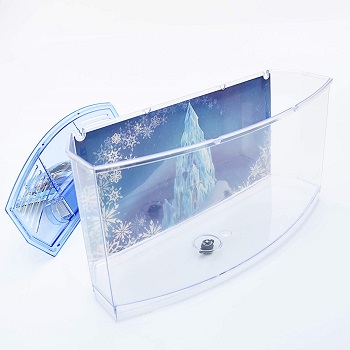 Size And Price
The whole aquarium is made of quality acrylic which assures good visibility inside but is prone to cracking. The princess betta fish tank is a bit smaller than one gallon, so is intended for keeping one fish only.
In Short:
Lightblue colour
Princess background design
Lightweight and made of acrylic
Intended for one fish
Easy to maintain
How To Pick The Best Princess Fish Tank?
Picking the best princess aquarium is a very fun task – it isn't intended to be used as professional gear, but a fun decoration for your kids. Here are some useful tips on what you should think about when choosing.
Colourful Elements – The real princess tank should consist of colourful and fairy elements, usually coloured in pink, purple, red or light blue. Some aquariums are completely shaped like a castle, but some have a neutral shape with princess elements. Be sure that you decorate it if it doesn't have anything similar – there are plenty of plastic elements, like castles to get the princess look!
Practical Size – Since the princess castle will usually be in the kid's room, you should think about their size. Ideally, it shouldn't be bigger than 1 gallon for kids to use it. It is enough for one fish, usually betta, and enough as their obligation.
Easy To Use – Small princess tanks usually have no equipment, like a filtration system or heaters, so they should be easy to use. It is very helpful to have a feeding hole since this is a regular and everyday activity your kid will do. Also, be sure it is well-fixed on the surface not to spill the water out.
Low Maintenance – Even though it has no filtration system, keeping this type of aquarium should be very low maintenance and use little of your time. To avoid too much cleaning, you should have one simple fish and avoid any plants. In these conditions, you will need to clean it and change the water once a month.
Safe For Kids – Not only princess aquariums should be fun, but also be safe for kids. Pick only acrylic models with plastic parts since they are lightweight and prone to cracking and scratches, even if they fall.
To Sum Up
It isn't hard to pick the best princess fish tank – Aqueon Princess Castle Aquarium is an ideal choice because of its castle-shaped design and pink decorative parts. Even if you don't want that type of aquarium, you can still make princess aquariums at home. Pick some of the best desk aquarium models or the best-rated acrylic aquarium and decorate it with a plastic castle or pink gravel – you can still have the princess atmosphere!