Are you dreaming of the perfect parrot fish aquarium? 
Don't set yourself up for mediocre solutions, we will discover your best options on the market! 
Here, you can read about 6 ideal models for having parrotfish and their characteristics. Later, there is additional advice on how to pick the best model and what should you look for! 
The Summary
Best 6 Parrot Fish Tank Models On The Market
Best Of Best Parrot Fish Aquarium
SCA 50 Gallon Starfire Glass Aquarium
Spacious Design 
For keeping a parrotfish, a 50 gallon tank is ideally spacious and provides plenty of room to add decoration or other fish. Even though it has a cubicle design, simplicity and elegance make it easier to incorporate them into the room. The tank comes with a heavy cabinet in black colour, so you don't need to buy a cube aquarium stand.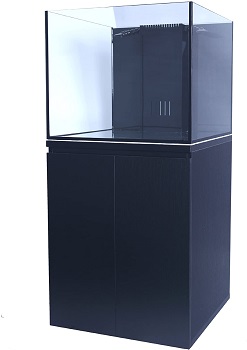 Quality Made 
The parrot fish tank is made of quality glass with a rimless design. The bottom is thick and stable, made of glass and assures a firm position. Because of that, it has a higher price but is intended for longer use. 
Easy Assemble 
The fish tank is intended for beginners and has all equipment included. The only thing you need is to assemble it right. It is recommended to assemble a cabinet and then add an aquarium on the top.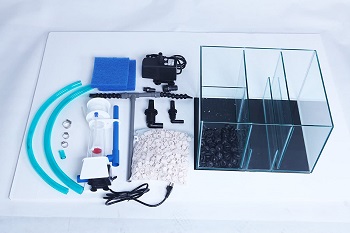 Powerful Filtration System 
All equipment you need comes in a package, including a sump with 3 chambers, return T-pipe, tubing system and powerful filtration system and cleans from any impurity and leaves water and habitat clean.
In Short:
50 gallons tank 
Rimless glass design 
Quality and durable chamber 
Sump with 3 chamber 
Overflown return system
Powerful filtration 
Best Blood Parrot Fish Aquarium 
Tetra ColorFusion Aquarium
Premium Design 
Among all aquariums, this model has one of the most modern designs. It consists of glass sides and a thick plastic top with a removable part for feeding or cleaning. The bottom is thick to secure the aquarium and provide a balanced position. 
Quality Filtration System
For an aquarium with built-in filtration, this model has powerful and promising results. Yet, in the package, you will get more professional equipment: heater and colour changing LED lights to ensure a good environment. 
Plants In Package
The parrot fish tank comes with 2 packages of multi-plant and anemones which not only make a great background but also allow your fish to hide and rest. Thanks to the filtration system, you can easily keep them in control.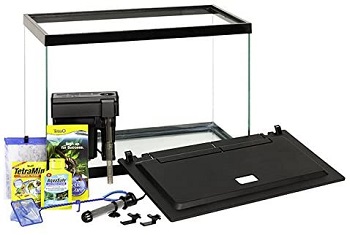 Size And Price 
The aquarium has a 20-gallon tank which is enough for keeping parrot fish only but be modest with decorations and other species. The price is adequate to its quality and equipment you get with it. 
In Short:
Completely made of glass
Black top and bottom 
Quality filtration system 
The LED light in several colours 
Plants in original package 
Best Community Parrot Fish Tank 
GloFish Aquarium Kit Fish Tank
Ideal For Tropical Fish 
With a cubicle design, this model is ideal for keeping tropical fish. Not only is it practical, but the corner design makes it easier to fit it in different rooms. Yet, because of weight, it should be mounted on a proper cupboard or stand.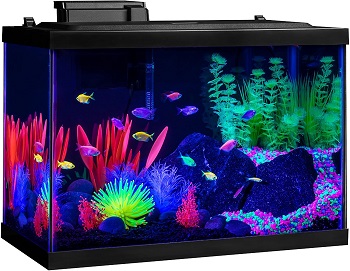 Quality Material 
Overall, the parrot cichlid tank is made of quality and durable material. Glass is thick and transparent, so you can easily see through from any angle. What is more, it is scratch-resistant and easy to maintain. 
Adequate Equipment 
Since it is made for keeping saltwater fish, this tank has all adequate equipment to do so, including a quality filter, LED light and LED light fluorescent stick and co2 diffuser for regulating water quality.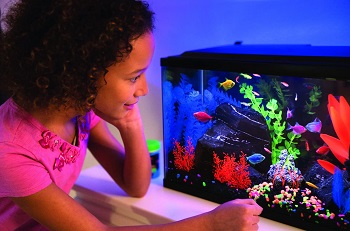 Price And Size 
The tank has 20 gallons in total, which is enough for keeping parrotfish and having extra plants for hiding or resting. The price is very affordable and is ideal for people who want to have their first aquarium. 
In Short:
Cube design 
Quality and thick glass
Quality mechanical filtration 
LED light and light stick 
20 gallons tank
Best Blue Parrot Fish Tank 
SeaClear Acrylic Aquarium Combo Set
Big And Spacious Design 
Unlike other models, this has big and quality space which ensures enough space for fish to swim freely. Also, it is possible to decorate it more and provide better shelter for fish. Since it is one of saltwater safe aquariums, it is appropriate for parrotfish. 
Made Of Acrylic 
Unlike others, this aquarium is made of acrylic. It still allows a good view and provides good quality, but is safer from cracking or scratches. It is still easy to maintain or clean from algae. It is very strong, but more lightweight and easier to move.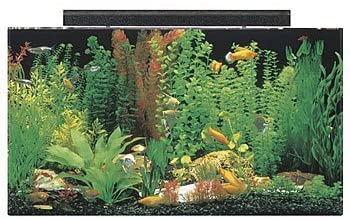 Ideal For Upgrading
Because of its simple design, it is ideal for combining as a stand aquarium or wall aquarium. It has a universal size for upgrading with heater, light or filtration. In the original package, the aquarium comes with a simple filtration system. 
Size And Price
Made of acrylic, this parrot cichlid tank is very durable and the price is higher because of the quality material it is made of. The aquarium has a total of 50 gallons and can have a blue or black background. 
In Short:
50 gallons tank 
Made of acrylic 
Lightweight and durable 
Quality filtration system 
Ideal for saltwater fish 
Best Saltwater Parrot Fish Aquarium 
Fluval Sea Evo V Saltwater Fish Tank
Modern Design 
This simple aquarium has a very modern design and fits well in any interior and needs only a stand or cupboard for keeping it. The aquarium is made of quality and thick glass which ensures view from any angle and is safe even if it is full.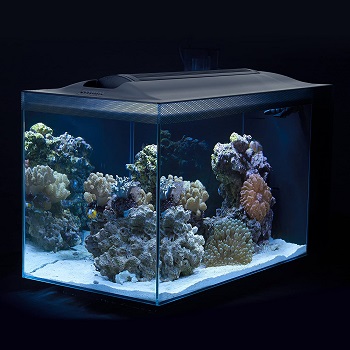 Completely Functional 
The aquarium has a honeycomb design and looks very modern, but is at the same time effective and provides mechanical and chemical cleaning. The upper top has an in-built LED light which can be used for day and night time. 
Easy To Maintain
The parrot tank is very easy to maintain thanks to the removable top which can be also used for everyday feeding. Even though it has filters, it is needed to clean it regularly to avoid plant spreading.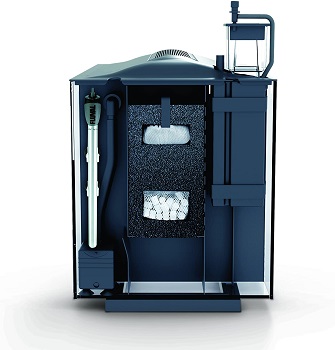 Price And Size
Even though this tank has a bit less than 20 gallons, it is appropriate for parrotfish. Yet, be careful with plants not to overload. Full-spectrum aquarium light and filter makes it ideal for the saltwater community. 
In Short:
Modern design 
Made of quality glass
Aluminium waterproof casting 
LED light included 
Top hole for maintaining 
Best Coral Reef Parrot Fish Tank 
Aqueon Aquarium Starter Kit
Glass Structure 
The tank is built of durable and thick glass prone to scratches and adequate for saltwater fish. It has a plastic top and bottom with a hidden filter in black colour. The top is easy to remove if you want to feed fish or when you clean it regularly. The tank has a total of 20 gallons and is good for keeping blood parrot fish only. 
All Equipment Included
As the starter kit, it has all the necessary equipment included. Not only will you get a filter, but also a filter cartridge and fish food samples. Parrotfish are tropical saltwater fish, so this aquarium has anything you might need for its keeping.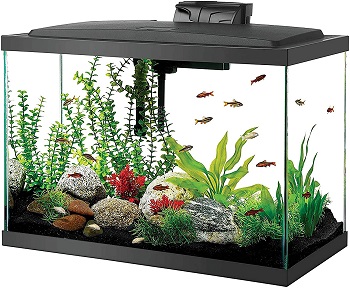 Heater For Easier Adaption
Like a properly mixed reef tank, this parrot cichlid tank has a heater to keep a proper temperature for keeping blood parrotfish. Also, it provides a better atmosphere for other tropical fish. The heater can be set to turn on at the desired time or to work constantly. 
LED Light For Atmosphere 
The set of LED lights is built on the upper top to provide enough light for plants to grow and to keep a good atmosphere for fish. Also, it allows you a good view inside at any moment. 
In Short:
20 gallons tank 
Made of thick and transparent glass
Plastic top and bottom 
Filtration system 
Quality heater 
In-built LED light 
How To Pick The Best Parrot Fish Tank?
Parrotfish are very decorative species, but you need to be sure conditions are perfect for their keeping. Since it is tropical and saltwater fish, you might need to invest more money initially, but with time they become more resistant. We bring you basic tips for choosing the parrotfish tank. 
Parrot Tank Size – Blood parrot fish needs more than 20 gallons of space for free swimming and living. In aquariums, less than 40 gallons isn't recommended to mix parrotfish with others. In an aquarium bigger than that it is possible to experiment with plants and decoration. 
Needed Equipment – Since the parrotfish is saltwater and tropical fish, you need to ensure adequate equipment. This means you need a heater to keep the temperature at 25°C. Be sure to use a quality filtration system, possibly the three stages – biological, mechanical and chemical.  
Best Material For Tank – There are two main types of aquariums you can choose from – glass and acrylic. Glass aquariums provide a crystal clear view from any angle, but it is heavy. On the other hand, an acrylic tank is better against cracking and scratching but is more lightweight. Both types of material can stand saltwater fish but need to be secured with a waterproof casing.  
How To Maintain Parrot Fish Tank – Saltwater aquarium must be cleaned regularly. It is easier if you have a filtration system, but still, you need to remove algae or plants. It is recommended to change the water at least once in three months. 
Tank Decoration – For tanks larger than 40 gallons, you can choose the appropriate decoration. First, these can be plants for resting and hiding. Then, you can think of decorative natural elements, such as branches or rocks. For a better view, it is recommended to build LED lights.