Do you search for a hanging aquarium?
Are you still wondering if it is a good idea?
In this article, we bring you the 6 best models on the market, but also useful information about choosing and maintaining them! Be sure to read till the end to find the one that suits you most.
The Summary
Best 6 Hanging Aquarium Models On The Market
Best Of Best Hanging Aquarium
WinnerEco Wall Fish Tank
Easy To Mount
Since this aquarium is very lightweight, you won`t have problems mounting it. A better solution is to set it in its place first and then add water gradually to be sure it will stand the weight. For mounting, you only need a screw that fits a hole on it and a screwdriver to tighten it.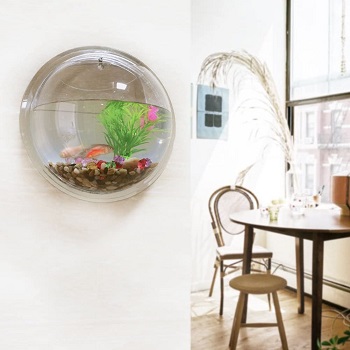 Creative Design
Looking like a bubble, this hang-on aquarium has transparent glass and is ideal for observing fish from any corner. Glass is thick and suitable for both saltwater and freshwater fish. Also, it provides you a great view from any angle or side, especially from the bottom since it will be the most common position to observe it. Because of the shape, it reminds of cute aquarium models!
No Maintaining
Since there are no filters, you only need to clean the aquarium from dirt once a month. Other than that, there is no maintenance. To clean it, use mild detergents to remove algae, but be sure it leaves no smell. As an everyday routine, you can wipe off dust.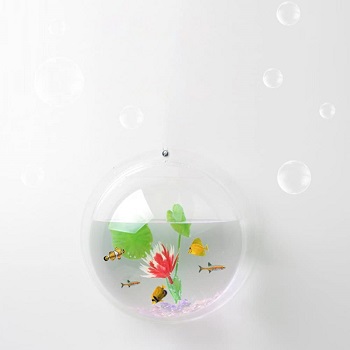 Cheap Price
The cheap price for this aquarium makes it a real bargain and allows you to be creative and decorate one whole wall with them! Yet, for this price, you will get a compact and interesting aquarium to observe or just use to decorate the room. The main purpose of an aquarium is to keep fish, but you can also use it for keeping live plants or growing underwater plants.
In Short:
Bubble design
Transparent glass
Easy to mount
Cleaning once a month
Ideal for fish and plants
Best Bowl Hanging Fish
GREENWISH Clear Acrylic Fish Tank
Simple Design
A very simple round design that is wall-mounted makes this aquarium ideal for fish lovers that prefer something different. It is ideal for one fish and recommended strong species, like beta fish. The flat backside ensures you a good position on the wall and safety for hanging. The design is very similar to half moon aquarium models.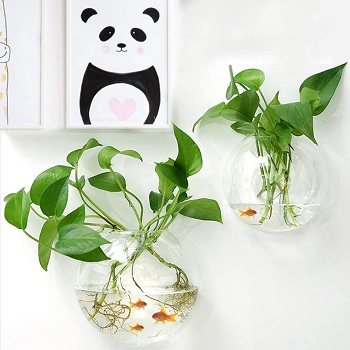 Quality Material
The acrylic glass is very quality and prone to scratches which makes durability much longer and provides safe keeping. The bottom glass is extra thick to fit on the wall. Also, it provides a good look at the interior from any angle or position. The material is still very lightweight which helps with the installation.
Using For Plants
It is stated that you can use a bubble fish tank for fish, but it is only ideal for plants. If you just fill the hanging fishbowl with colorful rocks, you will get an interesting decoration. The interesting decoration is when you combine both fish and plants with a bit of rock on the bottom. It is also similar to their natural habitat and helps faster habituation.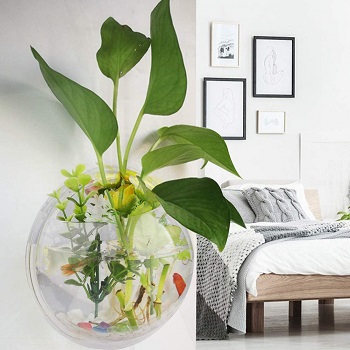 Easy To Clean
Since there is only glass and water, it is easy to clean the tank. The open-top allows you to feed fish easily and later clean it quickly. It is also helpful for the everyday feeding process when you don`t have to open any lid.
In Short:
Open top for feeding
Quality and thick glass
Smaller size
Good for fish and plants
Easy cleaning
Compact design
Best Wall Hanging Aquarium
Tfwadmx Fish Bowl Hanging Fish Bubble
Modern Design
The glass of this hanging fish tank has a blue shine and makes it a modern and creative decoration. It has quality glass that still allows you a good overview inside. The back of the aquarium is neutral, which is good for fish to feel like in a natural habitat.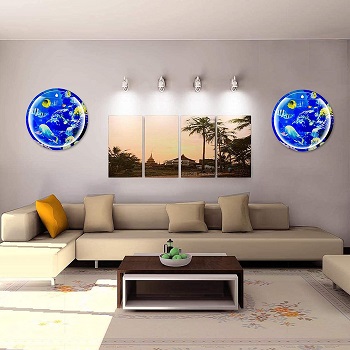 Use And Installation
The fish tank is intended for keeping only one fish, but you can use it for live plants, too. To grow plants only, you will need a bit of soil and change water regularly. Installation is very simple and you can easily change the position whenever you want.
Price And Size
This type of wall-hanging aquarium has a very low price but still is good for home and office use. It weighs only 0.4 pounds which makes installation easier. Also, you can use it in any room: office, living room, bedroom, hall… Because it is so decorative and unique, this betta fish wall tank is a good investment that you can use in many different situations.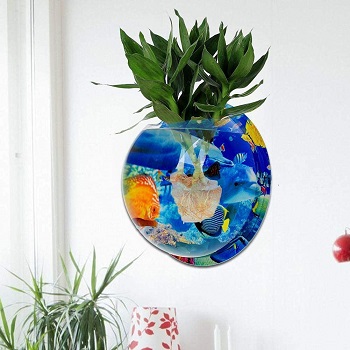 Quick Cleaning
For cleaning, you must empty the tank, but it only requires one month of cleaning and using simple water and a sponge – so easy it won`t take you too much time. Also, mechanical cleaning once a month is the best way of keeping glass transparent and helps you keep it safe for fish.
In Short:
Quality blue glass
Quick to clean
Easy to install
Can be used to keep fish or plant
Affordable price
Round design
Best Beta Hanging Fish Tank
Flueyer Desk Hanging Fish Tank
Eye-catching Design
Because of the hanging design and half round with half flat bottom, the hanging beta fish tank is very decorative. Still, the model is completely safe for use and needs no additional equipment. It is very decorative on a shelf or as a desktop fish aquarium.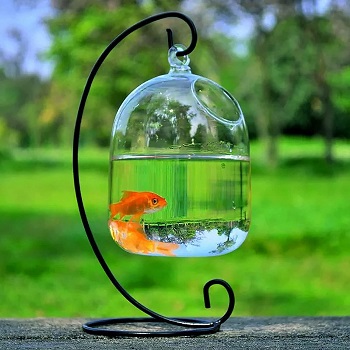 Ideal For Decorating
Whether you use it to keep fish in or to decorate it with plant or small stones. This is a very creative element for the living room, office, or bedroom. Also, it can be very effective as a present. Yet, it is recommended not to overfill it with plants because it reduces space for fish.
Quality Material
The stand is made of quality metal and can stand full aquarium. The glass is transparent and resistant and provides you with a great view from an angle. Also, it is easy to clean it using a simple mechanical solution like a sponge or with mild chemicals.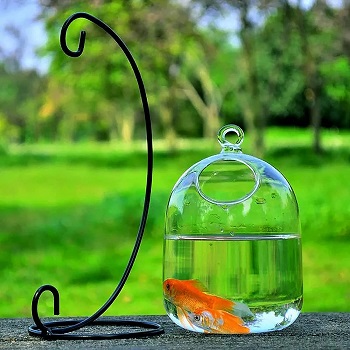 Compact Size
The smaller size of this tank is ideal to keep one beta fish. Not only it looks nice, but it is very mesmerizing to look at in stressful situations. When you don`t want to use it anymore, you can easily remove the aquarium from the stand and put it back when you want to.
In Short:
Compact design
Quality stand
Mesmerizing effect
One fish with plants
Safe and wide base
Best With Stand Hanging Aquarium
Desk Glass Hanging Fish Bowl
Safe Stand Base
Since this aquarium comes with a stand, the most important is to keep balance. Thanks to a steel stand with a wide base, you don't have to be afraid to use it and fill it with water. The whole stand is made of quality metal that won`t oxidase near water, even if it splashes it. This colorful fish tank can be used for both keeping fish or growing plants.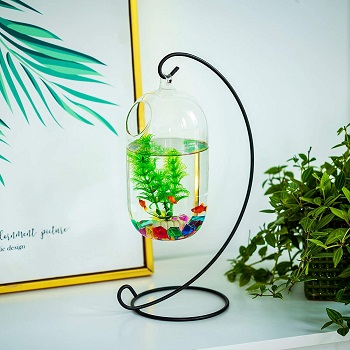 Creative Bowl Shape
The fishbowl has a round and long shape that is very creative and decorative. It Is intended for one fish only, but you can use it for growing plants or just as a decorative item. What is more, it provides you with a good view from any position and lets you change it when and how you want it.
Easy For Using
Since it has a hole on the front side, it is easy to use it for feeding fish or cleaning it. There isn't any additional equipment, so you won`t lose too much time cleaning it. Yet, it needs general cleaning and changing the water at least once a month and removing dust every three to four days.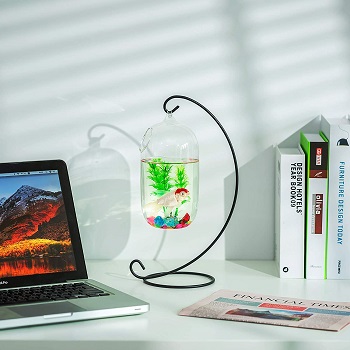 Affordable Price
Thanks to an affordable price, this hanging tank is great as a gift for the office or just an apartment. Yet, since it hangs on the stand, it is recommended to keep it far away from smaller kids. As it is easy to move, you can use it in any room in the house. Even filled with water and fish, it is easy to change its position.
In Short:
Quality metal stand
Wide and stable base
Front hole for feeding
Made for one fish
Can be used to keep plants
Small and convenient
Best Small Hanging Fish Tank
STOYRB Desktop Hanging Glass Fish Tank
Globe-Like Design
Since this fish tank has a round tank and globe-like stand, it is ideal for office and business desks. Black metal is in great contrast to glass tank and has an elegant design. The stand itself is very decorative and you can choose from different stand designs. They all have a stable base in common. It can also be used as a faux fish tank to decorate space.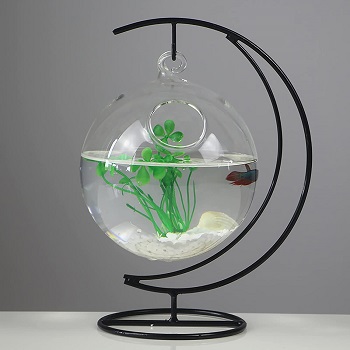 Easy To Use And Clean
Not only it looks good but is also easy to use thanks to the top hole for fishing and cleaning. The hang-on fish tank doesn`t need and additional equipment to work. To keep the water clean and fish healthy, don`t fill it with many plants and clean it well at least once a month.
Quality Material
The stand is made of non-corrosion metal that will safely keep the weight of the aquarium. The thick glass is transparent and safe for freshwater and saltwater fish. The glass is well-sealed and you don`t have to worry about water penetration.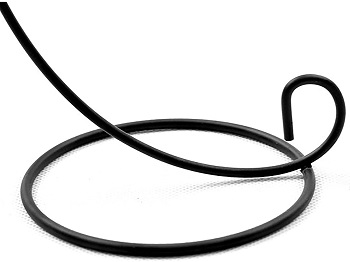 Price And Size 
Since this is one of the smallest models on the market, it has a very affordable price and is great as a gift or to decorate the office with your favorite small fish.
In Short:
Tank for one fish only
Quality stand metal
Top hole for feeding
Easy to maintain
Globe-like design
What Is Important About Hanging Aquarium?
Since there's not enough to only take a look at the picture and choose the aquarium for your home, office, or another place, here is the guide that will tell you which specifications are important considering. You can find out more about hanging tank types, needed equipment, price, and more.
Two Main Types – There are two main models of hanging aquariums you need to choose from. First is the wall hanging model where you tighten the flat back to the wall with screws and the half-moon design looks like a bubble from the front side. The other model comes with a stand where it hangs. Both are interesting, but a wall-hanging model is safer if you have kids or pets.
Check The Stand – If you choose the model with a stand, you need to check for its quality and durability. Even the wall-mounted model must use quality and non-corrosive screws, so the sand must have the same characteristics. Also, you can choose its shape and color to match your interior decoration.
No Additional Equipment – Without any additional equipment, these models are very simple to use and need minimum space. Yet, without filtration, you need to wash them at least once a month. Don`t overfill it with plants which can cause quicker pollution. Wall-mounted aquariums are ideal for growing plants only. But you will need a bit of soil on the bottom and refresh water weekly.
Very Decorative – Because of its compact and small size, you can use these aquariums in any room as a very decorative item. Wall models can be mounted on any wall and height, while models with a stand are ideal for office decoration or on bookshelves.
Price And Source – Since they are usually smaller in size, compared to other aquariums, the hanging tanks have lower prices. Because of that, you can use them as creative gifts. If you can't find it near you, check it on Amazon.com and choose from one of many models on the market!
To Sum Up
Even though there are so many models of hanging aquariums on the market, we recommend you WinnerEco Wall Fish Tank. This model is a wall-mounted aquarium that has no additional equipment but can be used for both fish-holding or growing plants. These models are similar to fish tanks without filters, so be sure to check them, too. If you are interested in more desk aquarium models, you can find them on this link.