Is a fish tank without a filter your choice, but do you need more information?
You're in the right place!
In this article, you can read all about these models and their main characteristics. What is more, you can read 6 reviews about the best models on the market in each category and easily choose the one for you!
The Summary
Best 6 No Filter Fish Tanks
Best Of Best No Filter Fish Tank
Landen Rimless Low Iron Aquarium Tank
Simple Design 
The minimalistic and simple design for this aquarium makes it ideal for any opportunity. You can simply put it on a cupboard or desk. Because it doesn't have filters or additional equipment, you don't need to have storage for this low-iron glass aquarium.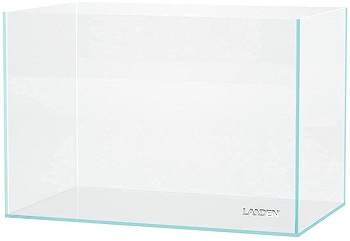 Quality Glass 
The glass is made of very high quality and has a manufacturer's warranty. On the outside, it is smooth with no joints visible. Also, it is completely safe for holding both freshwater and saltwater fish. Wide vision allows you a great view inside.
Comes In Different Sizes 
This aquarium without a filter has several sizes you can choose from and the price changes depending on it. Each model is rectangular, but they change in depth and water capacity. Yet, above that, all characteristics stay the same.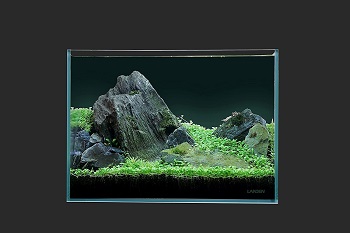 Easy To Maintain 
When the aquarium doesn't have a filtration system, you need to clean it more often to remove plants and algae. Since the top is completely uncovered, you have easy access to any part of it and can clean it very easily.
In Short:
Minimalistic design
Cube shape
Comes in different size
Smooth and quality glass
Invisible joints
Best Betta Fish Tank Without Filter
Marina CUBUS Glass Betta Kit
Cubic And Interesting Design 
If you want a practical design with a modern twist, you should check this model. It is completely made of quality glass with silicone sealed joints that are completely waterproof and resistant. The pedestal base is stable and protects from damages.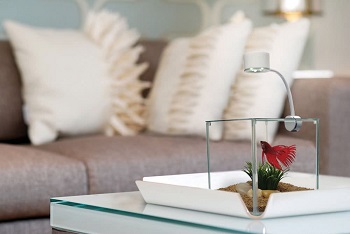 Additional LED light 
What is interesting about this cheap betta fish tank is an additional LED light. Unlike other models, this has a clip-on flexible lamp above the aquarium that can change the direction of light. It uses three powerful LED lights to brighten the inside and allow you to see during the night.
Ideal For Betta Fish 
This betta fish tank no filter has a bit over 1 gallon, so it is ideal for one or two betta fishes. Since it doesn't have a filtration system, it is recommended not to overfill it with plants that grow fast. There is a hole on the top where you can feed fish and clean the aquarium when needed.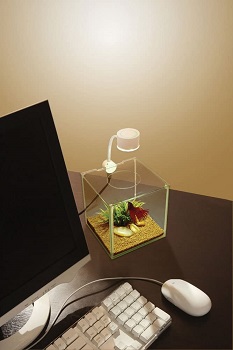 Quality And Lightweight 
The aquarium is made of quality and durable materials, so the price matches its values. You can use it in any room, like the living room or kids room, but it will be a great decoration for the office too.
In Short:
Clip-on LED lamp
Flexible lamp neck
Cubicle design
Ideal for max 2 betta fish
Resistant glass sides
Best Bowl No Filter Aquarium
Koller Products 1-Gallon Fish Bowl
Round And Leak-Proof Design 
The aquarium is made as a one-piece bowl with a flat and stable base. It is completely of quality plastic that is clear to look through but is more resistant and safer than glass. It is break-resistant and has a big hole on the top to easily clean it through.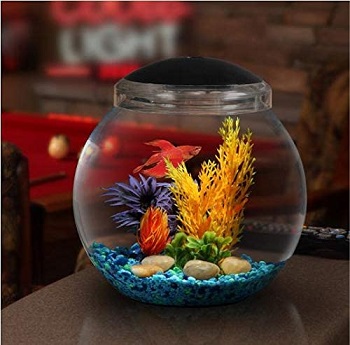 Extra LED Light 
The aquarium comes with dispersive LED light placed under the top cover. There are 7 different colors you can choose from and use day or night. They are powered by a battery but have an additional power cord that can be plugged in a regular electricity source on the wall and save you money and energy for batteries.
Spectacular View 
The round shape ensures a great view from every side, which can be interesting to observe. What is more, it has a timer to set a time for lights to turn on, so you can have a good atmosphere and view when you want.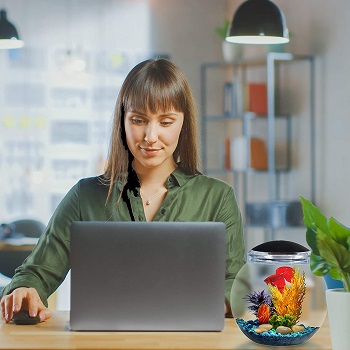 Price And Benefits
Compared to its quality, this 1-gallon betta tank with no filter has a fair price. It is proven that looking into an aquarium has therapeutic effects, but it is a very creative decoration for the living room or office.
In Short:
One-pieced bowl
Made of quality plastic
7 colors of LED light
Electricity cord included
Practical design
Best 4 Gallon Fish Tank Without Filter
biOrb Classic Aquarium
Small And Practical Size 
The 4 gallons aquarium has a very practical and convenient design with a flat bottom to stand stable and a top covered with a plastic cap that can easily be removed. Like any other fish bowl with a lid, it is safe for holding on to any furniture. Yet, it is rounded and the round shape makes it special and better for styling different spaces.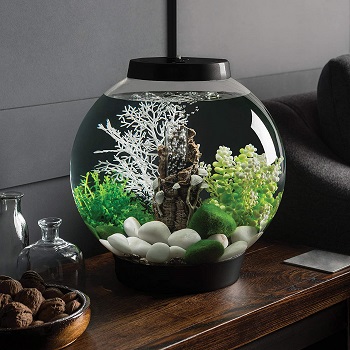 Quality Acrylic Sides 
The whole aquarium is made of acrylic that is said to be even stronger and safer than glass, so you can keep both saltwater and freshwater fish inside. Also, it is prone to scratches and cracking, but leaves an excellent view inside.
LED Light Included 
The tank without a filter is equipped with a bubble hose in the middle that only produces decorative bubbles. The LED light enhances the atmosphere and provides great light for the inside. Even though this model does not have a filter, you can easily get one since it has a prepared position for it.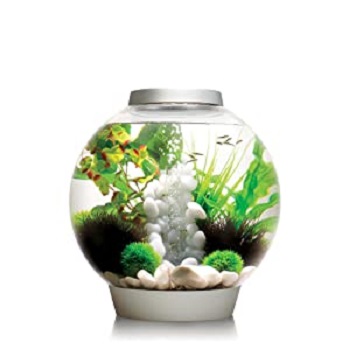 Price And Quality 
Even though it has a smaller size, this aquarium is made of quality material which holds its price. The acrylic makes it very light, so it is even easier to move it around. The package comes with Bacteria liquid that reduces their number and makes it safer for fish.
In Short:
4-gallon fish tank
Make of quality acrylic
Ceramic bottom
Lightweight and practical
LED light bubbles
Best Mini No Filter Aquarium
Hygger Mini Glass Oblate Fish Bowl
Small And Compact Design 
This aquarium has a very unique shape – it has oblate sides and is very narrow, pretty close to narrow fish tank models. It is completely made out of glass and has no joint points, so there is no fear of water leakage.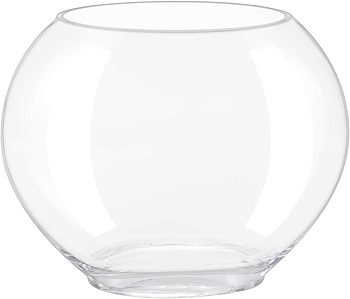 Easy To Maintain 
The aquarium is very easy to clean because it has a big hole on the top, so you can reach any part of it. There are no additional parts you need to clean, so it only takes minutes to remove anything that doesn't belong inside.
No Additional Equipment 
The aquarium has no additional equipment like filters, which means you need to clean it more often. Because it has a flat bottom, it is easy to put on every flat surface safely. It is suitable for smaller fish species and 1 to 3 at once.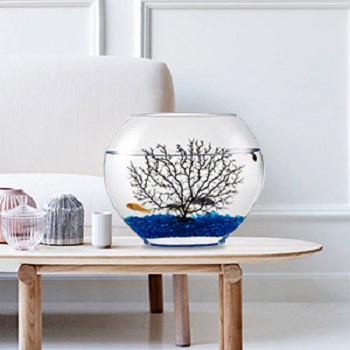 Price And Quality 
This tank without a filter is very small, it has 0,74 gallons in total. Yet, it is made of quality material that guarantees durability and is prone to scratches. The price is appropriate and you can use it as a gift in different situations.
In Short:
Quality glass
Flat front side
Very narrow design
Stable base
Easy and quick to maintain
0,74-gallon tank
Best Long No Filter Fish Tank
Aqueon Aquarium 20 Gallon Long
Minimalist Design 
This is a very simple aquarium that reminds of an empty fish aquarium model. It has a long cubicle design, so you can use it in many installations, like a part for a wall aquarium or with furniture. It has an 18-gallon tank which is enough for many different fishes to live.
Safe And Stable 
The aquarium is made of thick and quality glass that provides a clear view, but all of the edges are covered with black silicone to be completely safe for use. Because of that, you can use it for both saltwater and freshwater fish.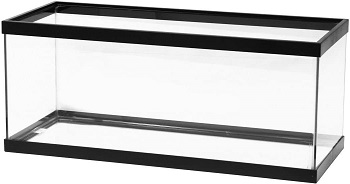 Multiple Use 
This aquarium without a filter can be used for both types of fish, but it can also be suitable for reptiles or growing different plants. Since it doesn't have any filter you just need to clean it regularly. A big hole on the top helps you reach any part of it.
Price And Warranty 
Because of its very simple design, this aquarium doesn't have a high price. You can buy it without a filter, but because of its universal design, you can use it in many different situations.
In Short:
18-gallon tank
Simple design
Glass sides
Silicone edges
Can be used in multiple situations
What Makes A Good No Filter Fish Tank?
If you wonder what characteristics of a perfect aquarium without filtration are, you must know that they aren't universal and depend on the model and needs. Yet, some similarities can help you focus on the right model.
Quality Glass – There aren't many no filter tanks that have additional cupboards or stands, so they are usually made mostly of glass. Since you don't need extra equipment, they tend to be as simple as possible. The quality of glass is very important, especially if you keep saltwater fish. It should be well-sealed and prone to scratches or smaller damages.
Way Of Cleaning – Since there isn't an in-built filtration system in those aquariums, you need to wash and maintain them regularly to prevent bacteria and plants growth. This type of aquarium needs to have wide space for removing things and having access to the inside. For washing it, you can simply use a sponge to remove any water stains or algae from the sides.
Balance Is Important – To prevent the overgrowth of algae, you need to keep balance with plants. First, choose low-light plants because plants that need much light tend to spread faster. Also, use smaller amounts of each plant and keep them separated from each other.
Choose The Right Fish – It isn't only important to choose the right plant but to find the right species of fish to live in. Because you don't use filters, any water change might result in disbalance and cause fish to die. You need to choose hardy species that usually have some role in the aquarium – mostly those fishes that eat excess algae from the bottom or side glass.
Price And Quality – Depending on the size, the price of the no filter aquariums can vary from cheap to more expensive. Yet, this type of aquarium will save you a lot of money that you would normally spend on equipment. So, don't use the cheapest model, but try to seek a quality and long-lasting one.
To Sum Up
Since there are many no filter fish tank models, it is hard to pick one, but we definitely recommend Landen Rimless Low Iron Aquarium Tank. Not only it has a firm glass structure, but it is basic and fits well in any situation. If you are interested in this type of fish-holding, you need to read about the office desk fish tanks. Also, the post about the best desk aquariums might be interesting for you and help to find some decorative choices for you.