Are you planning to start your aquatic home and you're looking for a perfect empty fish tank?
If you're not sure which size and shape to pick from the market, you just need to keep on reading.
In this article, you will find 6 models with the best features and read all the specifications. For more tips, read our guide at the end of this article and check all the needed information that will help you with shopping.
The Summary
Best 6 Empty Aquarium
BEST OF BEST EMPTY AQUARIUM
Koller Products AquaView Aquarium
Simple Design
This model is one of the best on the market if you're looking for a functional tank with a simple design that can easily match any home decoration. The aquarium includes a whole setup for beginners so you can add needed decoration inside and fulfill the environment.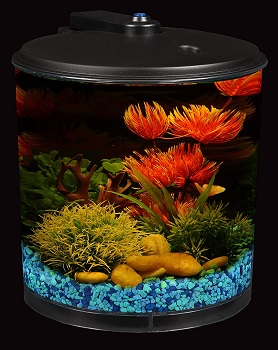 Cylindrical Shape
The empty aquarium has a cylindrical shape with a plastic black lid that can be easily opened when you need to feed your fish. It is made of impact-resistant acrylic material which is lightweight material so you can quickly move this model from side to side.
3 Gallons
The acrylic cylinder fish tank has 10.25 x 10.25 x 14.5 inches which are suitable for a maximum of 3 gallons. You can fit in this tank small fish breeds which include bettas, tetras, and goldfishes. This model will look amazing with colorful decorations that will catch everyone's attention.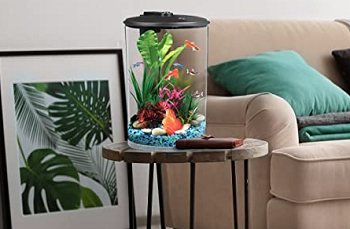 Filtration System
So you don't have to worry if the water is clean on a daily basis, this model has a great filtration system. You can easily change the water when needed. For the reflection, this aquarium is equipped with colorful LED lights. Place this tank on a higher stand or commode in your living space.
In Short:
Simple design for easy fitting
Sturdy acrylic construction
Cylindrical tank with plastic lid
Suitable for 3 gallons
Filter and lights included in the package
BEST WITH FILTER EMPTY FISH TANK
JBJ Rimless Desktop Aquarium
Modern Design
For easier daily maintenance, this model with a filter is a perfect choice. The aquarium has a very simple but modern design that goes well with all styles in the interior. It is made of high-quality and durable materials so you can be sure it will last you for a long time.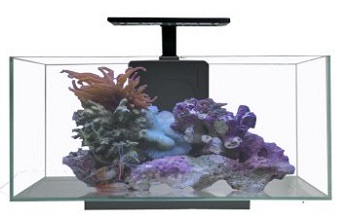 Glass Tank
This rimless model is made of impact-resistant glass and it is strongly siliconized on the edges which will prevent any leaking. Because of the great transparency, you can have a look at this empty rectangular aquarium tank from multiple angles. Place this model on a sturdy and stable stand.
Water Application
With the measurement of 14 x 27 x 13 inches, this aesthetic fish tank can fit up to 10 gallons of water. You can use it for freshwater and saltwater application and fit multiple small fish breeds inside. Add some colorful decoration that will fulfill the environment.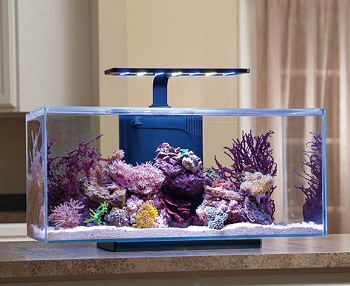 Clip-on Filter
The hinged LED lights in blue and white color combination will provide great reflection so you can enjoy the view at night. You can adjust the brightness depending on your preferences. A powerful filter with a clip-on system can be easily installed in the tank.
In Short:
Modern tank in a rectangular shape
Sturdy glass construction
Suitable for 10 gallons of water
Included clip-on filter
LED lights with adjustable brightness
BEST SMALL EMPTY AQUARIUM
Tetra Bubble Bowl
Easy-fitting Model
For those who don't have a big house that can fit large aquariums, this Tetra model is an ideal choice. The unique shape will easily catch everyone's attention. You can place this model in every corner, it will look like a part of your home decoration.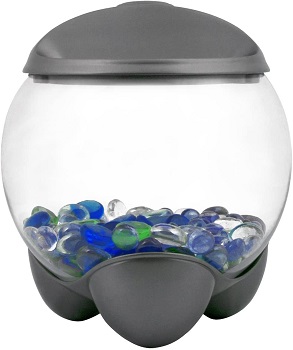 Bowl Shape
The aquarium comes in a shape of a bowl, and it has anti-slip feet so you don't have to worry about stability. The unique lid has an easy-feeding hole so you can quickly sprinkle the food inside the bowl. This empty aquarium is made of high-quality plastic.
Small Tank
Because this round fish bowl measures 4.78 x 4.88 x 5.69 inches, it won't take much space wherever you place it. The lightweight model can be stored in every corner of your house or apartment. Don't worry about quality, the plastic is impact-resistant so it won't break easily during use.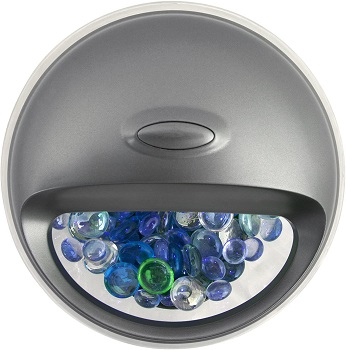 LED Lights
The tank is suitable for mini fish breeds such as tetras. You can add aquatic decoration inside or leave it empty if you prefer clean aquariums. This model has built-in LED lights for the reflection and you can easily turn it on or off when needed.
In Short:
Small and functional model
Unique shape with anti-slip feets
Suitable for mini fish breeds
Hole for daily feeding
Built-in LED lights
BEST ROUND EMPTY FISHTANK
BiOrb Halo Aquarium
Attractive Model
We are sure this is one of the most unique models you saw on the market, so if you love attractive tanks this needs to be your choice. The aquarium comes in white and grey colors so you can pick the one that will match the rest of your home decoration.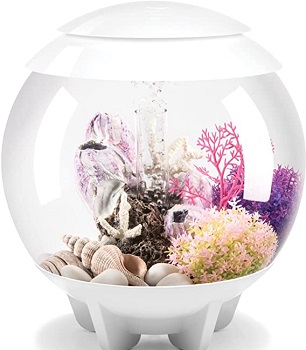 Easy Moving
This fish tank empty model has a bowl shape with legs so you can easily hold it and place it wherever you want. It is made of high-quality acrylic material which has great transparency so you can always check your lovely pets no matter where you're standing or sitting.
4 Gallons
The aquarium has 11.88 x 11.88 x 13.75 inches, and it can fit a maximum of 4 gallons of water. This is suitable for small fish breeds like bettas and tetras or some other colorful breeds. The neutral design will go perfectly with colorful aquatic decoration that includes reefs, plants, and gravel.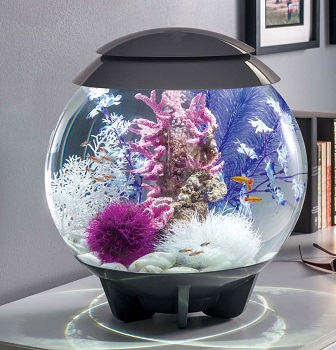 Daily Maintenance
The top of this model can be easily opened when you need to feed your fish or change the water. Don't worry about maintenance, this fish tank canopy is equipped with a filter. The LED lights come with a controller so you can adjust the colors and the brightness of the lights.
In Short:
Unique design in white and grey color
Sturdy tank in a bowl shape
Made of acrylic material
Suitable for 4 gallons of water
Included LED lights
BEST CORNER EMPTY AQUARIUM
Biorb Life Aquarium
Pick The Color
If you're looking for a model that can fit in the corner and still look decorative, this Biorb aquarium is one of the best options. You can choose a black, white, or transparent model depending on your preferences and the style of your living space.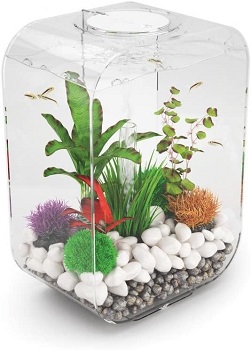 Oval Model
This empty fish tank has oval construction and it is stable for use. In the middle is transparent acrylic protection so you can see your fish and enjoy the view. The whole model is made of impact-resistant material so you can be sure it won't break easily.
Small Fishes
With the measurement of 7 x 10.5 x 15.75 inches, this beautiful aquarium is suitable for 4 gallons of water, and freshwater fish breeds smaller sizes. You can leave it empty or add some colorful decoration that goes well with the color of the aquarium.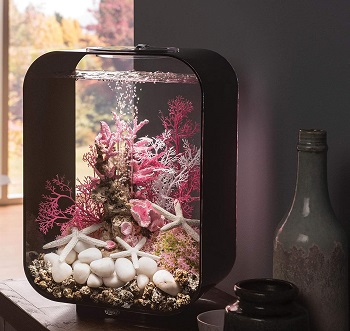 Filtration System
To save you time with daily feeding, this model includes a powerful filtration system that will keep water purify and clean for the fish. LED lights will reflect the interior and provide a great atmosphere at night. There is an easy-opening door for daily feeding.
In Short:
Pick the color of the tank
The sturdy model with rounded corners
Suitable for freshwater breeds
Made of acrylic material
Included powerful filter
BEST CUBE EMPTY FISH TANK
Tetra LED Aquarium
Durable Model
This cube tank will fit in every corner of your house or apartment and it has a very simple design so you can match it with the tones in your living room. The tank is made of high-quality materials so you can be sure it will last you for a long time.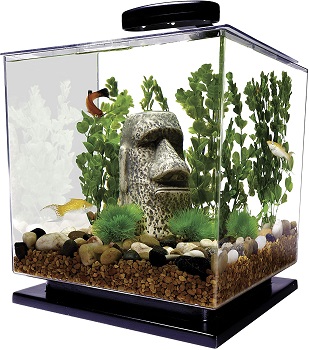 Stable Stand
This aquarium is made of impact-resistant acrylic material and it is a rimless model so you can have a great view from all sides. For easier holding when you need to move the tank, there is a sturdy and stable stand in black color.
3 Gallons
With the measurement of 10.51 x 10 x 10 inches, this empty aquarium tank is suitable for 3 gallons which means it is perfect for small fish breeds such as goldfishes and bettas. This transparent model will look great with either natural green or colorful decoration.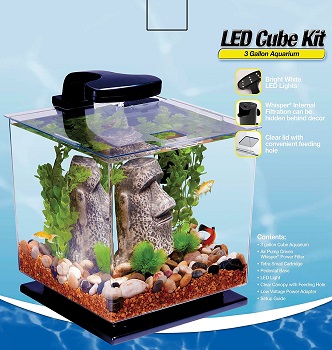 Quick Feeding
The 3-gallon betta fish tank has a transparent lid with a hole so you can sprinkle the food inside. LED lights on the top will provide great reflection. This model is equipped with a Tetra filter for daily cleaning. You will need a short time for the setup.
In Short:
Cube model for easy fitting
Sturdy rimless tank with stand
Suitable for 3 gallons of water
Included filter for maintenance
LED lights at the top
How To Pick The Best Empty Aquarium?
In this guide, you will find all the needed information that you need to check before buying a new tank for your living space.
Why Buy? – Empty fish aquariums are a great choice if you want to decorate the tank by yourself and pick the colors that you love. You can also leave them empty and they will still look amazing and decorative wherever you place them. If you're not sure which decoration to place inside, you can check some models online that will help you with your decision.
Durable Aquarium – One of the most important features is the quality of the aquarium. The tank needs to be sturdy, leakproof and made of impact-resistant materials. Most of the tanks are made of either acrylic or glass, and both of the materials are sturdy and safe for use. If you want to be sure the tank won't break easily, we recommend picking an acrylic rimless aquarium.
Shape And Size – Always check the dimensions of the aquarium so you can be sure it will fit on the stand, commode, or wherever you're planning to place it. The tank needs to be large enough for the fish breeds, so they can have enough space for moving. There are many beautiful models on the market and we always recommend a simple design with neutral colors for every home.
Daily Routine – When picking an empty fish tank, make sure to check if there is a hole for daily feeding or an easy opening door so you can sprinkle the food inside. If you want a whole setup, pick the tank with included filter for easier maintenance. LED lights are a must-have, you will have a great atmosphere and the best view of the tank during the day and night.