Do you think that the best model of aquarium for you is a shallow aquarium?
If you are tired of searching for the best model, you should continue reading this article. We will present to you the 6 best models on the market, but also provide some useful information about the main characteristics of these aquariums and how to pick the best model.
The Summary
Best 6 Shallow Fish Tank Models
Best Of Best Shallow Aquarium
Landen Rimless Low Iron Aquarium
Rimless Design
The rimless design of this aquarium makes it ideal for observing fish since the glass provides 91% of visibility. The glass isn't only transparent, but thick to protect fish from outside noises and to be durable for a longer time.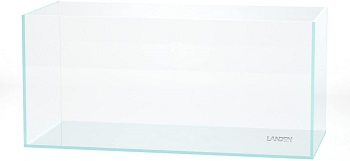 Easy To Clean
Since there are no additional pieces that come with this aquarium, it is very easy and simple to clean. If you use it as a no-filter aquarium, you should clean it more often. Yet, don't use aggressive detergents and clean them gently with a brush. Rather use warm water combined with vinegar which is a more natural solution for fish.
Fits For All
The shallow tank aquarium is suitable for multiple interior styles and you can combine it with a cupboard to make it more efficient. What is more, it allows you to combine any decoration to get the best aquarium for your needs.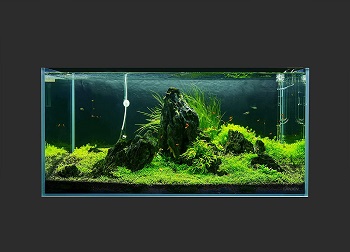 Quality And Price
The affordable price makes this aquarium ideal for beginners, but the negative aspect is all the additional equipment you need to buy. Yet, the producer guarantees long-term use, so this is a lifetime investment.
In Short:
Rimless design
Made of thick glass
Easy to maintain
Simple lines
Affordable and long-lasting
Best Long Shallow Aquarium
Tetra 55 Gallon Aquarium Kit
Long Design 
Even though this aquarium has a very long design, it is ready to use for many types of fish. You can use it as a simple solo piece or combine it into a project like a wall aquarium. Yet, it doesn't come with a base, so you might think of a good black fish tank stand to make it stable.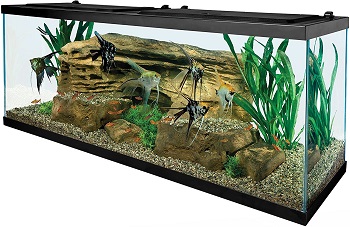 Additional Equipment 
Ideally, for people who don't have much time to search for the best equipment, this aquarium comes with all equipment needed. From a basic filtration system and co2 diffuser, you will get a LED lights system to get the best view in any situation.
Ideal For Many Situations 
The aquarium can be used for both freshwater and saltwater fish and when you add proper decoration, you will get very interesting scenery. It is made of thick and durable glass that provides a good view but provides security.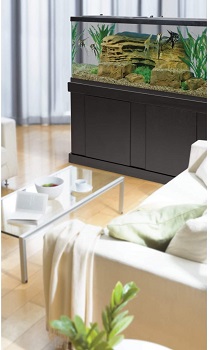 Big Size 
Even though a long shallow aquarium sounds like a little place for fish to swim, this model has even 50 gallons that provide enough space to decorate it and still leave space for fish to swim free. Long size only allows better visibility from any corner.
In Short:
Long and shallow design
Made of durable glass
Plastic top and bottom
Filtration system and LED lights
Appropriate for saltwater and freshwater fish
Best Reef Shallow Tank
Fluval Sea Evo V Saltwater Fish Tank
Quality And Protected
The aquarium itself is made of quality and durable glass that still provides great visibility inside. Yet, it has an additional aluminum casing that makes sure there is no water leakage and makes it more stable.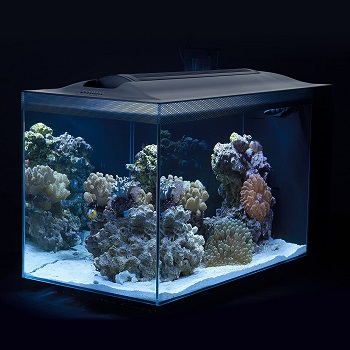 Ideal For Saltwater Fish
The aquarium itself is ideal for saltwater fish and can provide excellent reef conditions. First, it is very durable to withstand saltwater. Then, it has heaters to ensure optimal temperature for growing saltwater fish. Since it is appropriate to grow a reef inside, you can have a very rich life inside.
Additional Equipment
The equipment makes this aquarium ready to use immediately. The powerful 3 stage filtration system provides biological, mechanical, and chemical filtration. Also, it has inside light to provide the best vision even during the night. Yet, you can add more equipment, like a bubble maker or thermometer to have better conditions.
Use And Size
With 13.5 gallons, the shallow reef tank can have much smaller fish or a few bigger. Also, it is very easy to use thanks to top gates which ensure easier everyday feeding and cleaning. Because of those characteristics, it is considered to be one of the saltwater safe aquariums on the market.
In Short:
Simple design
Aluminum casing
Ideal for saltwater fish
Made of glass
3 stage filtration system
13.5 gallons tank
Best Rimless Shallow Aquarium
Aquadock Rimless Low Iron Glass Fish Tank
Simple Design
The simple and rimless design is what makes this aquarium ideal for combining into any interior design or any situation. Also, this indoor fish aquarium allows you many possibilities to use it in space – from the simple aquarium on the cupboard or the stand, to an interesting wall aquarium.
Extra Equipment
Even though the aquarium has a basic design, it comes with helping equipment to keep it functional. It comes with a fishing net, scissors, and shovel. Those tools help you decorate and maintain the aquarium, but you can easily adjust a filtration system or inside light.
Premium Glass Quality
The aquarium glass is very quality and thick, allowing you to see clearly from any angle and with no fear of water leakage. What is more, it is suitable for both freshwater and saltwater fish. The small percentage of iron in glass makes it more durable and has no harm to fish.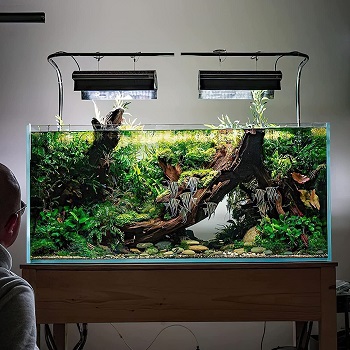 Different Size
Aquariums come in different sizes and the mutual characteristic is shallow design. The price depends on the size. Yet, each model is easy to clean using a simple sponge and warm water, so these models are ideal for beginners and people with less time.
In Short:
Simple and transparent design
Rimless thick glass
Comes with a net, scissors, and helping tools
Ideal for freshwater and saltwater fish
Best 20 Gallons Shallow Tank
SeaClear Acrylic Aquarium Combo Set
20 Gallons Design
A 20 gallons fish tank should be enough for any fish you want to keep inside – except for the extra big fish. The corner design makes it easier to adapt this model into any interior and a stable base makes it functional for both stand and cupboard.
Made Of Acrylic
The whole aquarium is made of acrylic that is similar to the glass so you can have crystal clear vision inside but is better protected from cracking and scratching. The best characteristic is its lightweight which helps you with moving it.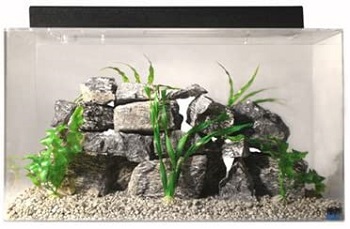 Useful In Many Situations
The aquarium is made for both freshwater and saltwater fish and you can combine any decoration inside. The best part is the lighting system that provides a natural atmosphere for fish and great vision for you.
Long-Lasting And Durable
The most important thing about this 20-gallon shallow aquarium is its durability and easy maintenance. It makes it ideal for beginners. A big open hole on the top makes it easier to feed fish every day and provides enjoyable moments for the whole family.
In Short:
Made of acrylic
Smart and simple design
Ideal for freshwater or saltwater fish
Inbuilt lighting system
Best Corner Shallow Fish Tank
REPTI ZOO Glass 67 Gallon Large Terrarium
Modern And Strong Design
This aquarium stands out from others because of its very modern design. It is made of transparent glass, but the edges are secured with black metal. The waterproof bottom is raised to keep heat longer.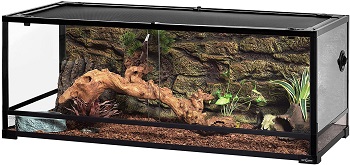 Quality Material
The whole shallow tank aquarium is made of quality glass that allows no cracking and is durable. Also, it allows the best view from any corner. The top is heavy but allows infrared light and heat to go through it. It has a big hole for easier feeding.
All Equipment Included
All and much-needed equipment is included in the original package. You will get the filtration system and light. Also, you have space for heaters secured.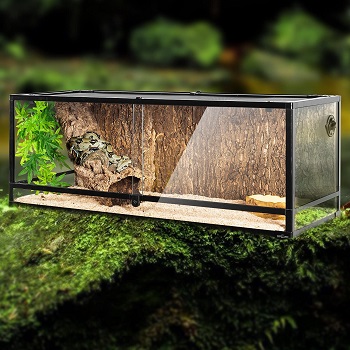 Ideal For Turtles And Reptiles
This model is more appropriate as a musk turtle aquarium and you can keep many other reptiles inside. What is more, it is suitable for any room and makes a great decoration. The aquarium is even 67 gallons big and requires space to stay.
In Short:
Quality glass
Black metal edges
Ideal for turtles and reptiles
67 gallons tank
Light and basic filtration system included
How To Pick Shallow Aquarium?
There are some mutual characteristics that any shallow aquarium should have and which makes it different from other models. To find the best one, you don't only need to check the price and equipment, but its measures and shape. Here we explain what makes an ideal shallow fish tank and why they are appropriate for keeping fish.
What Is Shallow Aquarium – Unlike any other aquarium type, shallow models are considered any aquarium until 18 inches in height. Even though there are more shapes, like a cube, it is usually longer to provide more space for fish to swim inside.
Better To Decorate – the shallow fish tank allows you more creativity in decorating it. Not only will you have a bigger surface to style, but also you can play with statement decor, like branches that emerge from the water. It can make you feel like your world is part of the underwater world.
Best Material – Usually, there are two main materials you can choose from – glass and acrylic. Glass is more traditional and usually mixed with iron to be more durable, but it is usually a heavier solution. On the other side, acrylic will provide the same view inside, but is more prone to cracking and scratches.
Ideal For Any Fish – Shallow tank is appropriate for both saltwater and freshwater fish, but you only need to choose the appropriate equipment for both. Try to leave enough space around the decor for fish to swim.
Interesting View – Usually, shallow fish tanks have more open space on the top, which provides you more space to feed and view fish. Looking from the above, it gives you a unique way of observing. What is more, you can have less to clean and it can be easier for people with busy schedules.
To Sum Up
With so many options on the market, it is hard to choose the best shallow aquarium, but we find the Landen Rimless Low Iron Aquarium the best model for everyday home use. It has a basic design, but you can style it how you want and use it for freshwater and saltwater fish. If you need some similar models, you can check some custom glass aquariums that can match your idea. Look for an easy-clean fish tank if you don't have much time to care about it.