You decided that you want to have a fish tank and now you're looking for the best indoor aquarium?
There are so many models on the market, and you're not sure which one to pick?
Then this post is perfect for you. We found 6 models and places them in different categories so you can check which is the best koi fish, big, corner, and with a stand. If you need some help before shopping, check our guide at the end of this article.
The Summary
Top 5 Indoor Aquariums
BEST OF BEST INDOOR AQUARIUM
GloFish Aquarium Kit Fish Tank
Whole Setup
We are not sure what type of model you have in mind for your home, but if you're looking for a simple aquarium that comes with a whole setup for beginners, then this Glofish aquarium needs to have a place in your house. It is made of durable materials to last you for many years.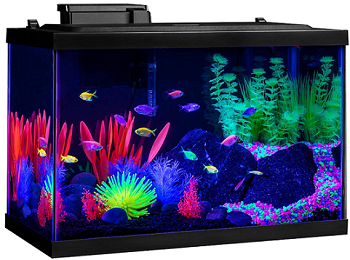 Glass Construction
The rectangular aquarium has sturdy glass construction with silicone edges and protection at the bottom that will prevent any sliding. For maximum safety, there is a plastic lid that will keep your home pets away from the fish. This indoor aquarium provides a crystal clear view from all sides.
20 Gallons
With a measurement of 27.88 x 16.13 x 20.38 inches, this aquarium is suitable for 20 gallons of water. You can have small fish breeds in different colors and shapes, like bettas, tetras, and other ones. For the decoration, you will get colorful artificial plants that will catch everyone's attention.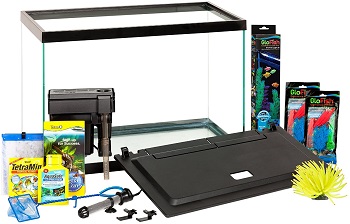 Included Items
This 20-gallon community tank includes a powerful filter and a heater for easier daily maintenance. LED lights will illuminate colors so you can have a great view during the day and night. This model can fit on every sturdy stand or commode next to the wall.
In Short:
Rectangular model made of glass
Suitable for 20 gallons
Included colorful plants for the decoration
Filter with heater for maintenance
LED lights for the reflection
BEST KOI FISH INDOOR FISH TANK
SeaClear System Acrylic Aquarium
Simple Design
If you're planning to have bigger fish, then you need the much larger model and this Seaclear aquarium is one of the most popular on the market. It has a very simple design so you can match it with your home decoration and the colors in the interior.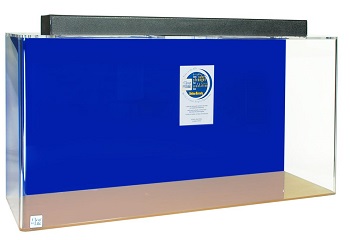 Acrylic Aquarium
The indoor koi fish tank has a rectangular shape and it is made of high-quality acrylic material which is much stronger than glass so you can be sure it will last you for a long time. The rimless model has great transparency so you can check your fish from multiple angles.
50 Gallons
This model has 36 x 15 x 16 inches, and you can fit 50 gallons inside, which means you need a bigger stand for this aquarium. Add decorative plants, dragon stones, gravel, and other aquatic decoration that will fulfill the environment. Pick the cobalt blue or black background.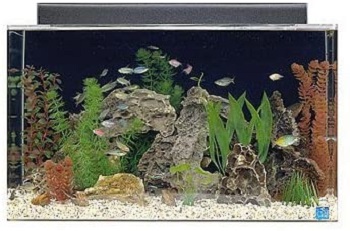 Easy Feeding
The acrylic rimless aquarium has a transparent lid with an opening on the back so you can feed your fish daily. The great filtration system will keep the water clean so your koi fishes can live in a healthy environment. Light fixture included in the package.
In Short:
The simple model for every home
Sturdy acrylic construction
Suitable for 50 gallons of water
Black and blue background
Included filter and light fixture
BEST CARP INDOOR FISH TANK
SC Aquariums Starfire Aquarium
Black Color
For carp fishes and other breeds of similar sizes, this is a great functional model. It comes in a black color so you can match it with any home decoration. The aquarium is made of durable and high-quality materials so you can be sure it will last you for a long time.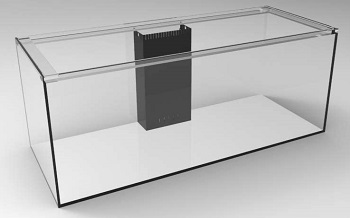 Great Transparency
The indoor fish tank has a rectangular shape and rimless design for a perfect view from all sides. This model is made of impact-resistant glass which has great transparency. The aquarium will definitely catch everyone's attention when entering the room because of its modern design.
Spacious Space
With the measurement of 60 x 24 x 24 inches, this model can fit a maximum of 150 gallons and you can fit multiple carp fishes and other fish breeds that live in the same environments. We recommend adding natural or artificial plants that will fulfill this big aquarium.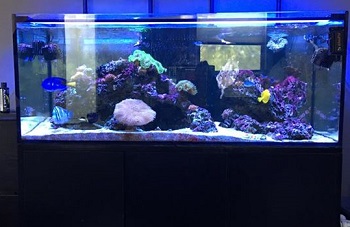 Overflow System
Because the aquarium is large and heavy, you need to have a sturdy commode or stand for it. This empty fish tank has a built-in overflow system so you don't have to worry about the mess around. A plumbing kit is included in the package.
In Short:
Modern aquarium in black color
Sturdy glass construction
Rimless tank with leakproof design
Suitable for 150 gallons of water
Built-in overflow system
BEST CORNER INDOOR AQUARIUM
SeaClear Acrylic Aquarium Combo Set
Blue Or Black
For every house or apartment, this corner model is an ideal choice. The aquarium has a sturdy construction that will last you for a long time so you can have your lovely pets for years. You can choose a model with a black or cobalt blue background depending on your preferences.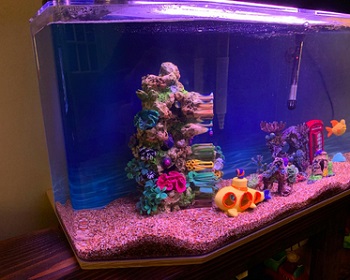 Bowfront Design
The aquarium has a very simple design that will match all home decorations. It comes in a rectangular shape with a bow front which will create the illusion of a bigger space and provide a perfect view from multiple angles. The indoor aquarium is made of impact-resistant acrylic material.
Fish Breeds
This curved aquarium has 36 x 16.5 x 20 inches, and you can fit 46 gallons of water inside. Because you can use it for freshwater and saltwater application, you can pick between different fish breeds for this model. Add decorative plants, stones, and gravel to the bottom.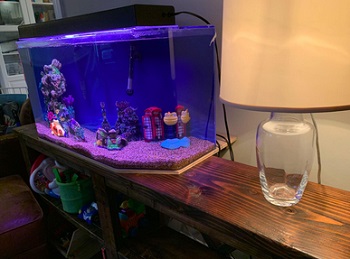 Great Reflection
Even if this model is big it is actually lightweight because of acrylic construction, and you can easily move it when needed and store it when it's not in the use. The light fixture is included in the package so you can have the best reflection during the day and night.
In Short:
Easy-fitting model for corners
Sturdy acrylic construction
Bowfront design for a better view
Black or blue background for the decoration
Suitable for freshwater and saltwater fish breeds
BEST WITH A STAND INDOOR FISH TANK
BioCube LED Tank and Combo Kit
Whole Setup
For those who want the whole setup so they can start with an aquatic home, this model is the best choice from the market. This functional aquarium with a stand will easily catch your attention if you're looking for an easy-fitting model in black color.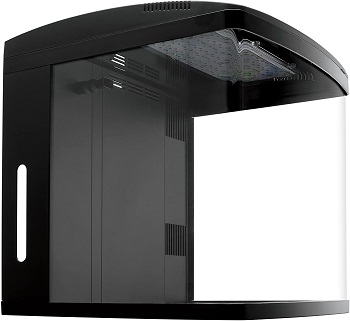 Cube Shape
This indoor fish aquarium is made of sturdy material and it has rounded corners for a better view. The aquarium comes in cube shape so you can easily fit it in the corner of every room. For maximum safety, this model has a plastic lid with an easy-opening door for daily feeding.
LED Lights
The tank is suitable for 32 gallons and you can fit small fish breeds inside. Coral reefs, plants, and other aquatic decorations will fulfill the environment so make sure you add them so your fishes can feel at home. This aquarium has LED lights in white and blue color combinations.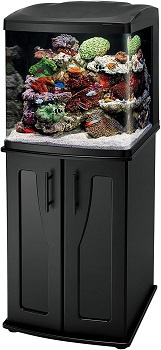 Easy Setup
For easier daily maintenance, this aquarium is equipped with a powerful filter for a clean environment. The black stand is made of high-quality materials and it has a cabinet where you can store needed items for your daily routine. This aquarium kit with a stand can be easily assembled with an included guide.
In Short:
The whole setup for beginners
Cube aquarium made of sturdy material
Suitable for 32 gallons of water
Included filter and LED lights
Sturdy stand with storage area
How To Pick The Best Indoor Aquarium?
If this is your first time buying a new aquarium for your house or apartment, then this guide will be helpful. Keep on reading and check all the needed information that will help you to pick the perfect model for your living space.
Home Decoration – One of the best decorative models for every living space that you can buy is definitely an aquarium. The aquariums can easily fit in every home and match with any home decoration. They will create a great atmosphere and they are the perfect choice for you if you want to have pets but you don't have much time for your daily routine.
Durable Model – One of the most important features is the quality of the aquarium. Check the information about materials and whole construction so you can be sure you're buying a high-quality model that is safe for use. Most of the indoor models are made of acrylic and glass. Which material you'll pick depends on your preferences.
Size And Design – The size of the indoor fish tank depends on the size of your living space and where you're planning to place the aquarium. Make sure that the fish breeds that you'll pick can have enough space in the aquarium. You can choose from small to large models in different shapes such as a cube or classic rectangular models.
Additional Tips – Make sure that the aquarium can fit on a stand and check if the sand is sturdy and stable enough for use, especially if you'll buy a glass model. The aquarium needs to be functional and has an easy-opening door or areas for daily feeding. We recommend aquariums with a built-in filter for easier maintenance. For a better view, pick the aquarium with LED lights.