Have you been searching far and wide for the perfect small cage for birds that is specifically a 30x18x18 bird cage?
You can finally stop looking by continuing to read this article where we only reviewed cages that fit these measurements. Even though all have the same dimensions, they're not meant to house the same birds so that's why you'll find parrot and parakeet cages but that's definitely not all of them.
The Summary
Best 6 30x18x18 Bird Cages
BEST OF BEST 30X18X18 BIRD CAGE
You & Me Finch Flight Cage
Width As A Flight Cage Indicator
Flight cages don't have to be tall and long, all they have to be is wide because that's how birds fly, from left to right. That's why this is still to be considered a flight cage. These cages are not meant to fully replace your birds' need for out-of-cage time but can surely help if you don't have a lot of time to spend with them daily.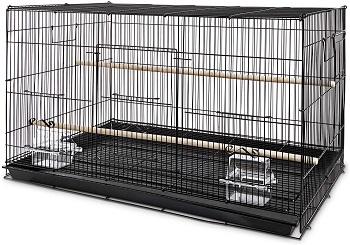 Front Door Changing Perspective
In the right order, dimensions start with length and end with height but there are some exceptions to this rule. For instance, we found that this cage is 30-in wide only because its front entrance is located on the wide side of this 30x18x18 bird cage so this is the perspective you'll be looking from for all of the other details.
How It's Built
It has a full wire body and a plastic tray on the bottom. This tray can easily be slid out through the hole that matches its dimensions. Underneath it, there's more wire to be found and on top of it, you'll also find a wire grid. The top grid serves to prevent your bird from stepping in its own litter.

Recommended Birds
This is a budgie flight cage which means it's meant to house small birds and we'll guess that it's probably because of the thickness of the wire and the spacing between each wire. On the inside, you'll get to place two wooden perches and 2 clear cups for food and water. These cups can be placed on the feeding entrances.
In Short:
Has a full wire body
The bottom holds a plastic cleaning tray
Comes with 2 perches and clear cups
Has 2 feeding entrances
It's 30-in wide, 18-in long, and 18-in tall
Acts as a small flight cage
BEST PARROT 30X18X18 BIRD CAGE
Vivohome 30-In Height Cage
Generally Wide Bird Range
An 18×18 bird cage is the minimum cage size for a lot of medium-sized and small-sized birds. Of course, this all depends on the wire spacing but generally speaking, these cages can house budgies, lovebirds, finches, quaker parrots, and this is just the tip of the iceberg.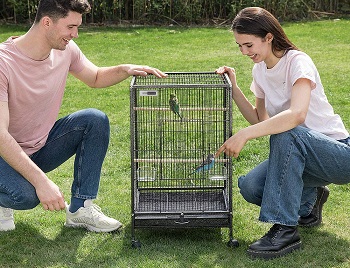 With What It's Made
Wrought iron, along with iron and stainless steel, is one of the most common materials that make up bird cages. It's more durable than the other two we mentioned because of its low carbon content. Usually, a powder coat finish will protect it from rusting but in this case, it's a hammer tone finish.
Knowing The Wire Width
We already mentioned that the birds' you'll be able to house inside a specific cage vary due to the wire spacing. This bird cage with 30x18x18 dimensions will only get to house medium-sized birds that go more on the larger side because the width between each wire is 7/8-in. This includes the previously mentioned quaker parrots.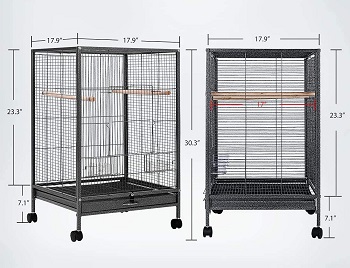 Bottom Equipment And Weight
Even though it's small and weighs only around 13 lbs, You'll still want to be able to count on the option of moving it by pushing it. You'll get to do that due to the 4 plastic wheels it has on the bottom. These wheels can be locked so that the cage is more stable when you're not moving it around.
In Short:
Built out of wrought iron
Has a hammer tone finish
It's 30-in tall
Has a 7/8-in wire spacing
Able to house medium sized birds
Weighs around 13 lbs
Sits on 4 lockable wheels
BEST PARAKEET 30X18X18 BIRD CAGE
Mcage Lot Of Bird Cages
Cage Construction
There's a lot of similarities between the first cage we reviewed and this one. For starters, it has a full wire body and only a slide-out cleaning tray on the bottom. Just like the first reviewed cage, on top of the cleaning tray, there is a wire grid but the difference between the two is that this cage is white.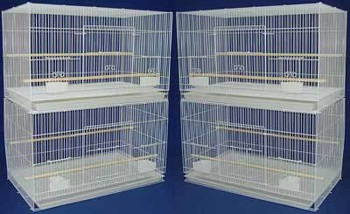 What It Is And Can Be
Apart from being a flight cage, it's also a breeding cage. Typically, bird breeding cages come with a divider but this 30x18x18 bird cage doesn't include it. It doesn't really have a nesting box door either to be considered one but you can actually use either the large front door or the smaller built-in door as a nesting box entrance.
Bird Housing Advice
We'd advise you to only use it to house smaller birds because a larger bird might easily bend the wire of this 30x18x18 cage. The wire spacing also proves that this is true since it's a 3/8-in wire spacing which is a lot narrower than 0.5-in. Use it to house birds like finches.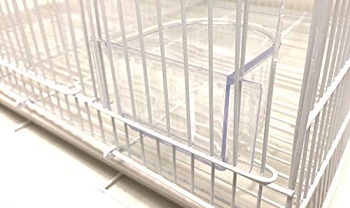 How Many Cages You Get
In the end, we wanted to save the best for last and that is that you'll actually get 4 cages in this lot. So that means 4 of the same cages we described and you'll even get to stack them to save space. You'll be paying around 180 dollars for these which isn't all that much considering you'll get 4.
In Short:
Comes in a pack of 4 cages
The cages are colored white
The front door has a built-in smaller door
Features 2 feeding entrances
Has a 3/8-in wire spacing
Made to house the smallest of birds
BEST INDOOR 30X18X18 BIRD CAGE
Prevue Pet Products Wrought Iron Cage
True Size
Some might be confused with the fact that this cage is 57-in tall but that's actually its overall height. The actual livable cage is 32-in tall. The same goes for its length and width. On the outside, it's 18-in long and wide but on the inside, it's 17.5-in wide and long. These are size differences that don't mean a lot to birds or owners.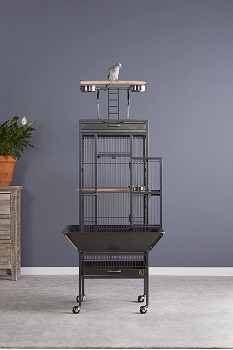 What's Included In The Height
The reason why it's 57-in tall is that this height includes the stand, cage, and play top. The stand features 4 wheels for easier movement and above the cleaning tray, you'll actually get to place seed guards on all 4 sides to keep your floors cleaner.
Play Top Contents
This play-top 30x18x18 bird cage has the most basic things a cage like that could have. It consists of a single wooden perch, a ladder, and 2 bowls that are made out of stainless steel. The play area has its own slide-out cleaning tray so you'll get a total of 2, one on the bottom, and one at the top.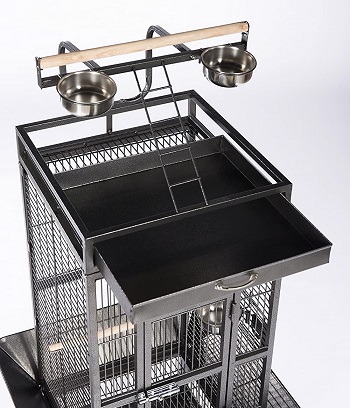 Doors And Wire Info
It features only one entrance in the front that will be used for you and your birds to access the interior. You won't need to feed them from this door because on the left side, there are 2 smaller feeding entrances. You'll get to place the two interior bowls on them. It has a 3/4-in wire spacing so it's designed for housing medium-sized birds.
In Short:
Made with wrought iron
Overall, it's 57-in tall
Has a play top and a stand with wheels
The cage is actually 32-in tall
Made with 3/4-in wire spacing
Comes with seed guards
How To Pick A 30x18x18 Bird Cage
Even though the measurements of 30x18x18 are exact, there can still be a lot of differences between them. The most obvious ones are differences between build materials and wire spacing, but we're also here to talk about the less obvious differences. After reading this buying guide, you'll know a lot more and that will help you pick one out.
2 Dimension Types – Although dimensions usually for any type of cage are length, width, height, we took the liberty to change a few things up and review cages that were 18-in long, wide, and 30-in tall as well as those that are 30-in wide and 18-in long and wide. Width and length are usually a matter of perspective though.
Determining Length And Width – Although it doesn't really matter all that much, the way we determine whether a cage is lengthier or wider is by checking the position of the main entrance. The side you're looking at is then the width, and the sides left and to the right of you determine the length.
Minimum Cage Size – If we're talking only about dimensions and not at all about wire spacing, the size of the 30x18x18 bird cages is minimal if you house small and medium-sized birds. With small birds, it's good for budgies, while medium birds that can be housed in them are Quaker parrots, lovebirds, cockatiels, and many others.
Importance Of Wire Spacing – Wire spacing is the most significant factor that will determine whether a cage is right for your bird or not. Next up in line is cage size. for small birds, a 0.5-in width between each wire is perfect. Medium-sized birds can vary up to 1-in while large birds are exclusive to a 1-in bar spacing cage.
To Sum Up
The cage we feel best represents a 30x18x18 bird cage is definitely the Vivohome 30-In Height Cage. It's 30-in tall and 17.9-in long and wide. It's made out of wrought iron and features a 7/8-in wire spacing meaning that it's able to house medium-sized birds. If you're after slightly larger cages, we advise you to read the article about 24×24 bird cages and if you want to look at more aesthetically pleasing cages, you can read the article about beautiful bird cages next.