Hard for you to find a 24 x 24 bird cage and you've lost all hope that you'll actually find one?
You can get your hopes back up by continuing to read this article.
We reviewed the best models that truly and closely fit these dimensions. We mostly reviewed cages for different types of birds so that's exactly why you'll find parrot cages, cockatiel cages, and more.
The Summary
Best 6 24×24 Bird Cages
BEST OF BEST 24 X 24 BIRD CAGE
A&E Cage Co Platinum Bird Cage
Length And Width Determination
The same rule that applied to one of the cages previously mentioned applies to this one and has something to do with size. It's 24-in long and wide. Width and length are usually a matter of perspective to determine which is which but we look at the cage from where its front entrance is.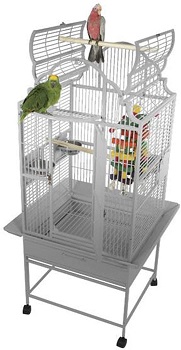 Top Resting Area And Shape
The top of this cage is slightly curved and rounded out at the top but we wouldn't say it's a dome top. This type of top often then makes the cage feature a 2-door entrance and it's true for this 24 x 24 bird cage. You'll get to keep them open by placing a perch between them to create a resting spot.
Ease Of Movement
It's really good that this large white bird cage features a stand with 4 wheels. You can't remove the cage from it but we feel like you wouldn't want to anyway since the cage weighs around 58 lbs. It wouldn't be impossible to move it without wheels, but it's good that you can count on them.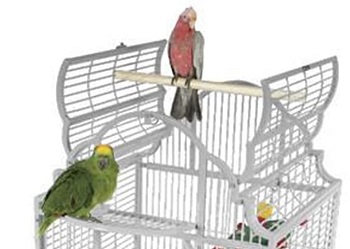 Other Entrances And Extras
The front entrance features another door at the top of it. This door can drop down to create another resting area for your bird. You'll get a wooden perch for the inside and 2 stainless steel doors. You can place seed guards on eh outside to keep your floor cleaner at all times.
In Short:
Has a victorian top
Features a top and front rest area
Comes with seed guards
it's 24-in long and 22-in wide
Sits on an undetachable stand with wheels
Comes with an interior perch and 2 bowls
BEST COCKATIEL 24 X 24 BIRD CAGE
Topeakmart Medium Parrot Cage
Top Description
We'd definitely say that this is a bird cage house due to its top shape. We would describe it as having 2 levels but the second level rises from the first. Both have house roof shapes so it definitely gives off the vibe of a castle. The house roofs are made out of wire just like the rest of the cage.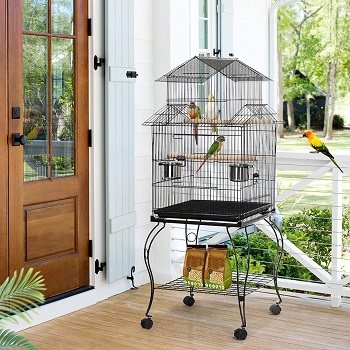 Precise Measurements
For it to be considered a 24 x 24 cage, you'll be missing 0.8-in since it's 23.2-in long and wide and also 2-in because it's 32.7-in tall. This is a menial difference and won't change the fact that it's the minimum cage size requirement for many medium-sized birds. This is true because these minimum dimensions are more of a reference guide.
Stand Details
Although it doesn't have a dome top, it's still to be considered an antique bird cage due to its stand. The stand has curved and hollowed legs with wheels on the bottom end and a wire grid for storing bird supplies. It makes the cage 11.2-in in taller than it actually is.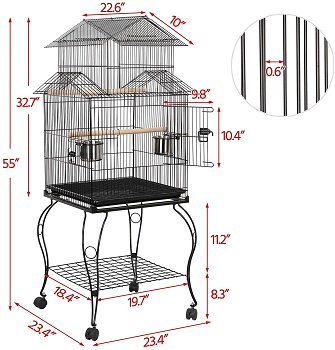 Entrances, Equipment, And Wire
It has one entrance in the front and 2 feeding entrances on the left and right sides. It comes equipped with 2 stainless steel bows and 2 wooden perches. IT has a 0.6-in wire spacing so you can't house small birds like budgies inside but a medium-sized bird will do just fine inside.
In Short:
Has a house rooftop
It's 23.2-in long and wide
Sits on an 11.2-in tall antique stand
The cage is 32.7-in tall
Has a 0.6-in wire spacing
The stand has 4 wheels and a wire shelf
BEST PARROT 24 X 24 BIRD CAGE
King's Cages Coppertone Bird Cage
Finish Quality
Although this manufacturer is known for making aluminum bird cages, this is not one of those cages. What does stand out is the quality of its powder coat finish. It's a lot harder and thicker than the ones we're used to seeing on bird cages which means that it will definitely last longer.
Color And Bird Protection
The reason why it's so important to get a good quality finish is that it will protect the metal from rusting and with it, your bird from suffering metal poisoning. It's a copper tone finish so it's definitely eccentric and unique. What you see in the picture might be slightly different from what you'll actually get color-wise.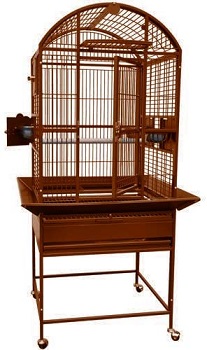 Top And Bottom Things
To make this 24 x 24 bird cage look a bit more interesting, it features a rounded top commonly named a dome top. The bottom features a stand that you can't detach from the cage. It doesn't feature a shelf for storage but it does have 4 wheels that will allow you to easily move it.
Panels And Wire
The front panel features the main access door and at the top of it, there is a door that opens from the top and lays flat to create a resting area for our bird. On the sides, you'll find a total of 3 feeder doors where you can place the 3 food and water bowls. It has a 5/8-in bird cage so it's mostly good for housing medium-sized birds.
In Short:
Has a durable powder coat finish
Has a Coppertone color
Features a dome top
Sits on a stand with wheels
Has a 5/8-in wire spacing
Has a resting door in the front
Features 3 feeder doors
BEST INDOOR 24 X 24 BIRD CAGE
Yml 24 Dome Top Cage
Typical Antique Cage
If you see a cage that looks like this, you've stumbled upon a typical vintage bird cage with stand. The two distinguishing features of these cages as a dome top and an antique stand. These antique stands are hollowed and have curved legs that sort of form the shape of the letter S.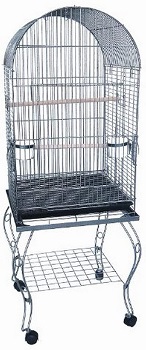 Ensuring Safety
Since it's 24-in long and wide, it has a square shape but many antique-looking cages are round. These round cages are not safe for birds because it deteriorates their mental and physical health because of lack of corners. That's why these are typical because they are actually safe for the birds.
Wheels And Storage
The whole 24 x 24 indoor cage weighs around 38 lbs so it might be harder to move but the things that will surely make it easier are the 4 wheels on the bottom of the 4-legged stand. You'll even get a square wire grid that acts as a shelf where you can store and better organize your bird's supplies.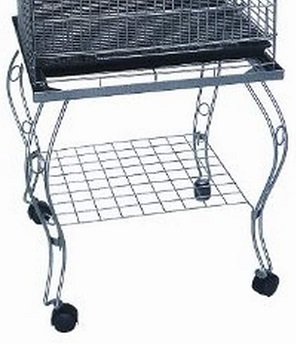 Cockatiel Cage Specifics
Cockatiels are very specific birds because they are categorized as medium birds but can't really be housed in cages with a wire spacing above 5/8-in. They can also be housed in cages made for smaller birds like parakeets but only some due to the size. This one has a 5/8-in wire spacing so it's perfect for them.
In Short:
Has a dome top
Sits on an antique stand
The stand has 4 wheels and a wire shelf
Made with 5/8-in wire spacing
Made to medium birds
BEST ON WHEELS 24 X 24 BIRD CAGE
Mcage Large Elegant Cage
True Dimensions
It definitely wasn't an easy task finding cages with the requested measurements so we did have to bend the rules a little to find all of them. We thought, if one dimension is correct and one stands out from the one asked by 2-in, we can still review it here. This is one of the two cages like this since it's 24-in long and 22-in wide.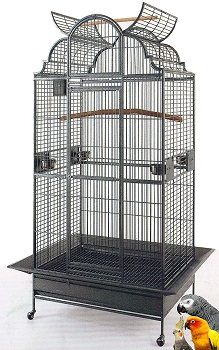 Outside Dimensions
Overall, this cage is 63-in tall but in reality, the actually usable interior is 50-in tall. Overall it's also much longer and wider due to the bird cage seed guards than you can find on the bottom outside edges of the cage. With them, this 24 x 24 bird cage is 30.5-in long and 29.5-in wide.
Inside Accessories
We wouldn't truly say that it's a play top bird cage because we find the 2-door top entrance that can stay open with a perch more of a resting area but it's still categorized as one. You'll get another perch for the inside, 3 bowls for food and water, and you'll even get a nesting box door on the left top side.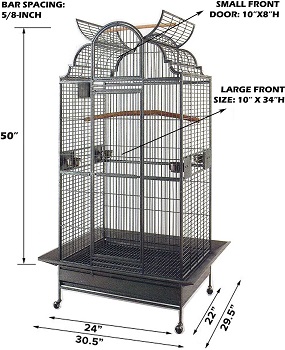 Wire Spacing And Materials
All that's left to mention is its build material and wire spacing. It's a wrought iron bird cage which is a cage more durable than regular iron since it has a lower carbon content. It has a 3/4-in bar spacing which would mean that it's good for housing some medium-sized and some larger-sized birds.
In Short:
Overall, it's 63-in tall
The interior is 24-in long, 22-in wide, and 50-in tall
Has a 3/4-in wire spacing
Made with wrought iron
Has a rest top area
Comes with seed guards
Can house medium and some large birds
How To Pick A 24 X 24 Bird Cage
To truly get the best bird cage that is around 24 x 24, we have to dig a little bit deeper and give you the information needed to pick out the best and the safest. This information will include why it's these exact dimensions, figuring out what birds you can house inside, and many other.
Reference Guide Dimensions – The reason why we were able to review some cages that have around 2-in smaller dimensions is that the 24 x 24 dimensions are sort of a reference guide for you to easily figure out what size of the cage will be appropriate for housing your bird.
Birds It Can House – These dimensions are a reference guide for housing active birds. For example, lovebirds can be housed in 18×18 bird cages but a sun conure that is only slightly larger but more active should be housed in a 24 x 24 cage. Other birds included in this are green cheek conures, cockatiels, and a lot of other medium birds.
Housing Wire Specifics – You can't just simply look at the size of a cage to determine whether or not your bird can be housed inside. You'll also have to look at the wire spacing. You never want your wire spacing to be wider than the recommended for birds and it can be smaller only if your bird doesn't have a strong beak and if the wire is thick.
Bird Size Wire Spacing Category – Birds can be placed into size categories so that it's easier for you to determine the appropriate wire spacing for them. Small birds can be housed in cages with a wire spacing of up to 0.5-in. Medium birds vary largely and can go up to 1-in like African Greys for instance while large birds can exclusively be housed in 1-in bar spacing cages with little wiggle room.
To Sum Up
Even though the width of the Mcage Large Elegant Cage is 2-in smaller, we'd still recommend it as the best 24 x 24 bird cage because it's made out of wrought iron, features 2 resting areas, and is generally quite durable and good for housing medium and large birds. If you're interested in checking out these smaller cages, then we'd advise you to read the article about 18x18x30 bird cages or if you want them as large as possible no matter the dimensions, you can read the article about extra large flight cages.