Do you already have a parrot cage and you don't want to buy another one just for the play top so you set out to get a parrot play gym?
You can find the best if you continue reading this article where we reviewed them. We made sure to include large, medium, and small ones for different parrots and we even made sure to review different types like hanging gyms and even playstands.
The Summary
Best 5 Parrot Play Gyms
BEST OF BEST PARROT PLAY GYM
Mcage Elegant Parrot Playstand
Playground Type
There are three types of playgrounds that we will review here and we'll start with what we consider to be the most practical ones. These are actually playstands that you can move around your home wherever you'd like since the whole stand sits on 4 wheels.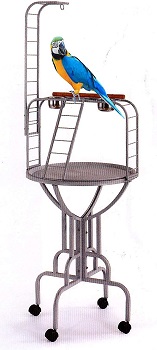 Metal Used
Since it's made out of metal, you'll still want to make sure that the meta used is durable and safe enough for parrots that tend to chew on most things they can get their claws on. This one would be a perfect fit for a wrought iron bird cage since it's made out of wrought iron itself so you'll probably know a lot more about it if you already have one.
General Material Safety
The reason why wrought iron is a good material of choice is that it's durable due to its wrought iron construction so it will be harder to damage by larger parrots that have strong beaks. To protect it from rusting, it's coated with a powder coat finish that's safe for birds and generally doesn't crack or chip.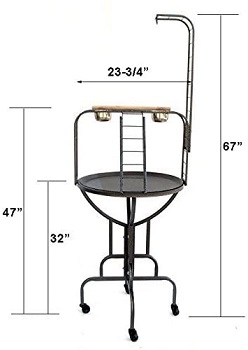 Contents Of The Stand
Everything on this parrot play gym sits on a rounded plate that will serve as a tray where bird droppings will fall onto. It consists of a ladder, curved frame that also acts as a ladder and that extends from one side. This extended ladder is curved at the top and features a loop for hanging toys. The last two things it has are a perch and 2 bowls for food and water.
In Short:
Made out of wrought iron
Has a non-toxic powder coat finish
Consists of ladders, a perch, bowls, and a loop for toys
Sits on 4 wheels for easy movement
Everything sits on a rounded cleaning tray
BEST HANGING PARROT PLAY GYM
Filhome Hanging Bird Ladder
Why Size Matters
There's a lot of parrot species out there, around 350, so some differences in size between breeds are bound to happen. This parrot playpen is made for smaller parrots because a larger parrot might feel cramped playing on it and wouldn't have the use of everything that's on it.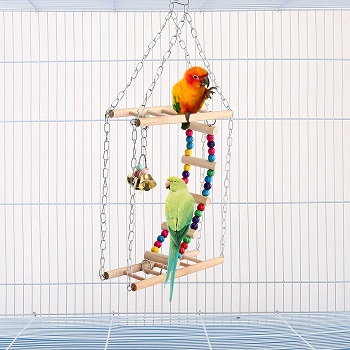 Shape And Proportions
It's around 10-in tall so think about your parrots' height when purchasing this. It's also around 9-in wide, and 3-in long. If we were to talk about its shape, we'd say that it looks like a really tiny house with a roof, the roof being the metal chains used to hang it on a cage.
Ways Of Use
You can either used it inside a parrotlet cage or outside of it. If you have a hook on a ceiling that you can hang it to it can act as a play or rest area for your parrot when it's getting some out-of-cage. It's important to keep parrots busy and entertained because they can easily get bored and depressed otherwise.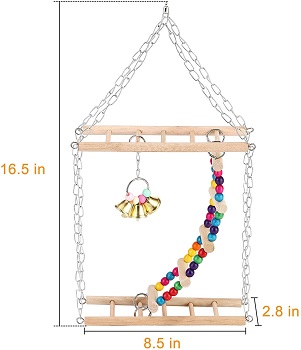 What It Contains
It's made out of a durable metal chain and wood that's 100% natural and doesn't feature any toxic materials that might damage the health of your parrot. This hanging gym has a ladder on the bottom. The chains eave it hanging while on top you'll find two perches that can hold other toys like a bell and another colorful ladder.
In Short:
Made out of natural wood
Features metal chains
Made for smaller parrots
Can be hung on a cage or a ceiling
It's around 10-in tall, 9-in wide, and 3-in long
Consists of a bell and two ladders
BEST LARGE PLAYGROUND FOR PARROTS
Prevue Hendryx Parrot Playstand
Bottom Stand Contents
This is another one of those stands so you can place it anywhere inside your home and move it there using the 4 wheels on the bottom. Apart from the wheels, it also comes with a wire grid that will act as a shelf where you'll get to store your birds' supplies and other accessories.
No Hassle Cleaning
Apart from actually having a slide-out cleaning tray that will make cleaning it more efficient, it will also make cleaning the floor less frequent. This is due to the bird cage seed guards that it features on all 4 sides. They are angled and extend from the outer edges so that everything finds its way back in the cleaning tray.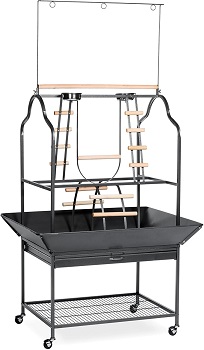 Finish Details
The metal used to make this playground for parrots is not specified but it is coated with a hammer tone finish. These finishes give the stand a distinguishing color. Apart from the color, these finishes fight well against corrosion and rusting which is something to think about because birds can suffer metal poisoning if they get into contact with it.
Shape And Stuff It Has
It has a victorian style bird cage with a stand frame but without the wire sides. On top, there is a wooden perch and above it, another wireframe with 3 loops for hanging toys. It features 4 ladders with wooden step boards, another perch in the center, and two stainless steel bowls. It's made for medium and larger parrots.
In Short:
Made out of metal
Has a stand with wheels and a storage shelf
Features a hammertone finish
Comes with a cleaning tray and seed guards
Consists of 4 ladders, 2 perches, and bowls
At the top, it has 3 loops for hanging toys
BEST ON WHEELS PLAYGROUND FOR PARROTS
Mcage Large Bird Play Stand
Hard To Come By Gyms
It's truly hard to find a parrot play pen that isn't actually a play stand. The reason why is that most of these play gyms are just too small for parrots so your parrots will be cramped and have no use for the various toys they oftentimes feature. With these, they have more freedom space-wise.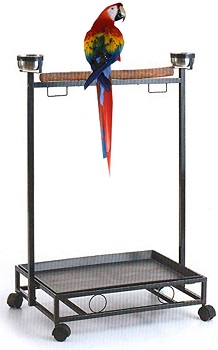 Metal Strength
Just like the first reviewed cage, this one is also made out of wrought iron so you can count on it not get bent by your parrot with its strong beak. We've previously mentioned why it's durable but due to the carbon content, this metal also has high tensile strength.
Low Build
As a whole, the stand is 30-in wide, 17.5-in long, and 38-in tall so it's sure to fit your large parrot. Its bottom features are positioned low so that it looks slimmer and more elegant. It contains 4 wheels for great mobility and a tray right above it where bird excrements will fall onto.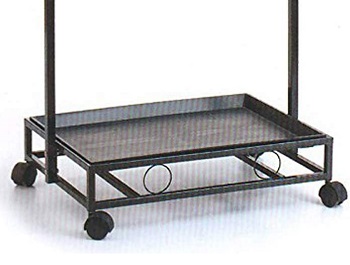 Things It Has
It's made up of pretty simple things. On top, it only features a perch and 2 stainless steel bowls much like play top bird cages do. Right below it, there are two handle-looking loops that you can use to hang hanging toys on. Your parrot will have room to play precisely because it has a low bottom.
In Short:
Constructed out of wrought iron
It's 30-in wide, 17.5-in long, and 38-in tall
Has wheels and a cleaning tray on the bottom
Has 2 handles for hanging toys
Features 2 bowls and a perch
BEST SMALL PARROT PLAY GYM
Qbleev Play Gym Stand
Detailed Proportions
Even though it's 18.7-in wide, 12.8-in wide, and 21-in tall, it's still to be considered a small stand that medium and small-sized parrots can use to play on it. It's not a play stand so you can actually place it wherever you'd like, as long as the place is big enough to fit it.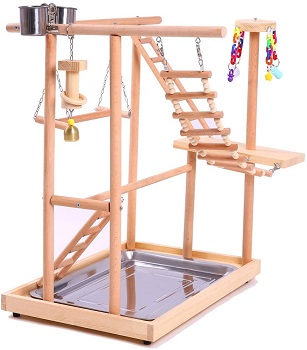 Wood Used
The frame that holds all of the toys and accessories is made out of wood, unlike the others that were primarily made out of metal. The wood in question is pine wood and the only thing you'd have to worry about if it wasn't processed pine woods is a resin that'd leak out of it which is a sticky substance.
Bird Boredom
Although it's safe for birds, you have to know that you should change up toys for birds once a week. This should also be more frequent if the toys are chewed down and almost rendered useless. Another reason why you should change them often is to avoid boredom. With a parrot play gym, it might be less frequent because of the toy amount but the rule applies.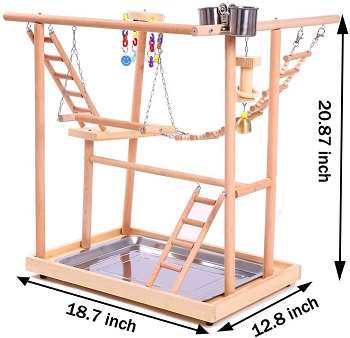 Everything It Features
The 2 bowls that you get with it are actually clip-on bowls that you can place anywhere you'd like. It features a hanging ladder, 2 regular ladders, one hanging perch, and 3 perches that are actually part of the frame. It also features a small stand for hanging toys and has a metal cleaning tray on the bottom.
In Short:
Made out of pine wood
it's 18.7-in wide, 12.8-in long, and 21-in tall
Features a hanging perch and ladder
Comes with additional ladders and perches
Features a hanging spot for toys
The bottom has a metal cleaning tray
Made for small and medium parrots
How To Pick A Parrot Play Gym
Although a play gym for parrots doesn't have the restrictions of a cage with wire sides, you'll still have to pick out the correct size for your parrot. Other than that, you should be aware of the various types that exist, materials they're made out of, and a lot more things than that. You'll find out about it all and more in this buying guide.
Ways Of Use – There are many different ply gyms in general but the ones we reviewed here can be placed in three categories. You can get a very mobile play stand, a hanging gym for the cage or out of the cage, or ones with a stand but that don't feature wheels for easy movement.
Material Types – The most common materials used to make these gyms is metal and wood. The metal is usually wrought iron which is great for larger parrots that might easily destroy a wooden one and the wooden ones are made for smaller and medium-sized parrots. They will eventually need replacement though.
Size Matters – The reason why you'd wanna be careful with the size is that a parrot that's playing in a gym that's too small can feel cramped and won't really have any use for the toys that the stand features. One good way to look at it is to see if one of the dimensions is close to the minimum cage size requirements for your parrot if the parrot in question is large.
Parrot Boredom  – Parrots easily get bored with their toys and it will be a similar case with parrot play gyms even though they feature multiple toys. Because of the multitude of toys, this might not happen as often but it is bound to happen so if you're counting on this, get a wooden one.
To Sum Up
Since we know that a parrot play gym can easily be destroyed and disposed of if your parrot destroys it or get bored of it, we decided to recommend the Prevue Hendryx Parrot Playstand that's made out of wrought iron so it's definitely going to last and will keep your parrot entertained due to a lot of toys it has.  If you want to check out more play gyms on cages or as stand-alone gyms for different birds, we advise you to either read the article about cockatiel play gyms or parrot cages with play top.