There have been a lot of issues with plastic in recent years. From microplastics folding our sees and unfortunately organisms, to the fact that plastic takes years to recycle properly.
Everyone is talking about how we should take action to reduce plastic waste but not a lot of people take it seriously enough. There's not much an individual can do if the large-scale companies we buy from don't take action so as long as plastic, PVC, and acrylic bird cages are sold, there is no hope that we'll reduce our carbon footprint
Since that's the case, you might as well get an acrylic cage so here's what you should know before purchase.
The Summary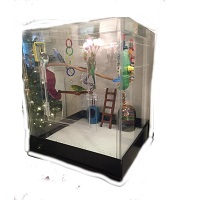 Penzoni Small Bird Cage
OVERALL RATING: ★★★★★
The cage is fully acrylic and even soundproofs it for around 30 percent. It features multiple toys to get you started and it can house a decent variety of birds..
Jump To Review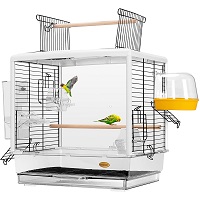 Vivohome Hibrid Bird Cage
OVERALL RATING: ★★★★☆
If you have a really small bird and want to offer it the chance to be outside of the cage more using a rest top, this smaller cage will allow it.
Jump To Review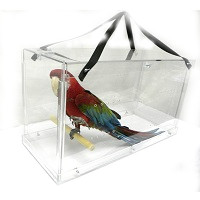 Penzoni Display Travel Bird Cage
OVERALL RATING: ★★★★☆
Although it can't be used as a primary indoor cage, due to its length you're allowed to even house large birds like macaws inside when traveling.
Jump To Review
Are Acrylic Bird Cages Safe For Birds?
Acrylic cages also referred to as plexiglass cages (plexiglass is acrylic, it's just a brand name) have one or more sides clear since acrylic material is transparent. They can be great for birds, depending on the bird you want to house inside. They see their best use in small birdcages and travel cages.
Acrylic Material Alternatives
Acrylic is a clear material so any other clear material can be used to substitute it for your cage sides. The most obvious option is glass while other materials are plastic and can include PVC, PET, PP, PC, and PS materials.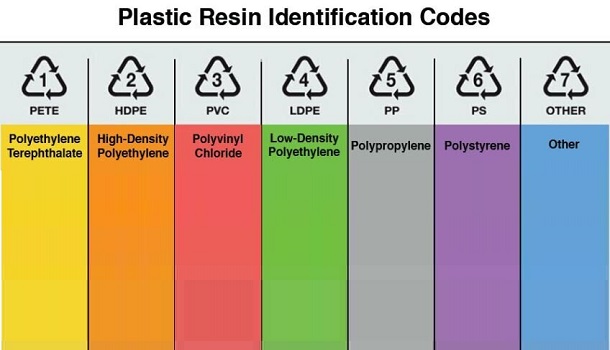 Which Birds Can Be Housed In Acrylic Cages?
Since we said they are best for housing small birds, we should define what exactly constitutes a small bird. This includes budgies, parrotlets, parakeets, canaries, finches, and lovebirds while for medium birds, we'd suggest only housing cockatiels inside them. The reason we've limited it to these birds is the fact that other birds have stronger beaks which cause potential harm if the bird is to chew off bits of the acrylic material.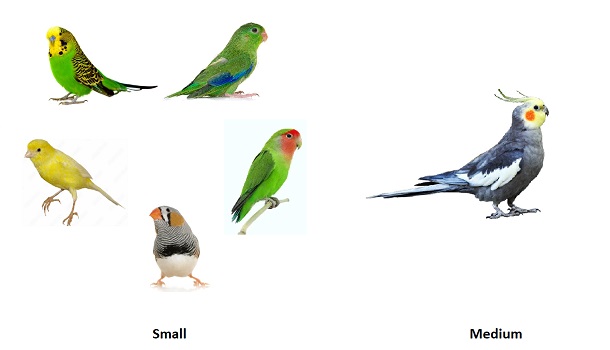 Are Acrylic Cages For Birds Soundproof
The reason many people opt for soundproofing their cage is all of the excess noise birds tend to produce. They're naturally loud and talkative creatures. One good way to start soundproofing your cage is to invest in an acrylic cage.
What Are They Used For?
These cages don't see many applications but there are still two. Most commonly, you'll see them made for either permanent bird housing or traveling. It's more likely that you'll find them as travel carriers though.
The Pros And Cons Of Acrylic Cages
The Pros
Often feature minimalist designs that make it easy for them to blend into modern homes
Since acrylic is inert, it's safe for birds to ingest ( it's not toxic )
Dirt is easy to spot so they are easier to clean
Can't be scratched
If cared for properly, they can outlive your bird
Won't break if dropped
They don't rust (rust is toxic to birds)
The Cons
Birds might flee into the acrylic sheets until they get used to it
Can only house small and some medium-sized birds
Can be cheaply made if acrylic isn't thick enough
They easily limit access to the inside of a cage
There are not a lot of them on the market so they're pretty expensive
Cage Properties To Consider Before Buying
Other Materials
You will find rarely a cage that's fully made out of acrylic material. That's why it's important to know what other materials you can get for your bird's cage. Metals like stainless steel and aluminum would be best since they are rust-proof/resistant while other materials can include wrought iron, iron, alloy steel, and steel. Wood can also be used but it's harder to clean.
Cage Size
We advise you to carefully choose the size of a cage. These cages can often be too small to even house small birds for extended periods of time so it's important to give the bird the chance to play and rest outside of the cage as well. Up next are the minimum size requirements for small and medium birds but if you can go bigger, we certainly recommend it.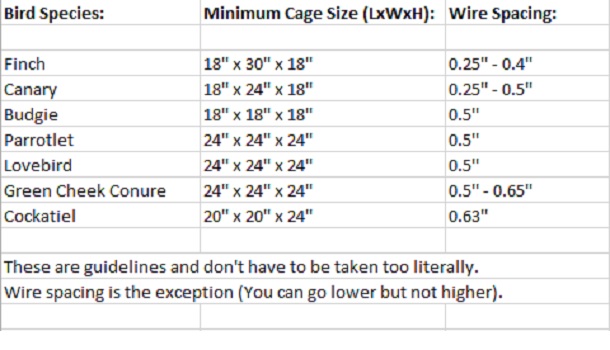 The Function Of A Cage
Not a lot of indoor cages are made out of acrylic material. You are more likely to see travel cages being made from it and secondary cages as well. One look at the minimum cage size requirements for birds should tell you whether or not the cage is made for traveling.
Ventilation
Ventilation is something a lot of people worry about with these cages and you shouldn't. Fully acrylic cages get ventilated using holes in the acrylic material while other cages use wire sides to ventilate the inside properly
Wire Spacing
If you are choosing to get a cage with some wire areas, make sure you get the wire spacing right. It shouldn't be too big since birds can hut their heads, legs, and wings by getting stuck in between the bars.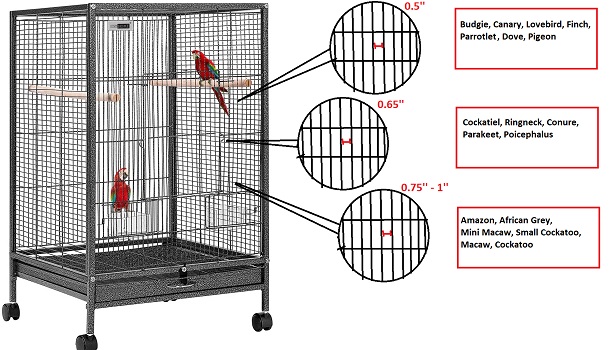 How Do You Clean An Acrylic Bird Cage?
You'll rarely if ever, find an access door on the acrylic material wall and access to the inside is important for switching up toys and accessories, and of course, for cleaning so make sure you fin da cage that allows you to access the inside to its maximum potential.
Acrylic Bird Cage Covers
You can use pretty much any cage cover as long as it fits the dimensions of the cage on acrylic cages. We suggest using them if you can't fully darken the room for at least 10 hours. Birds need a quality rest just as much humans do. A cover can also prevent loud noises from the bird too soon in the morning.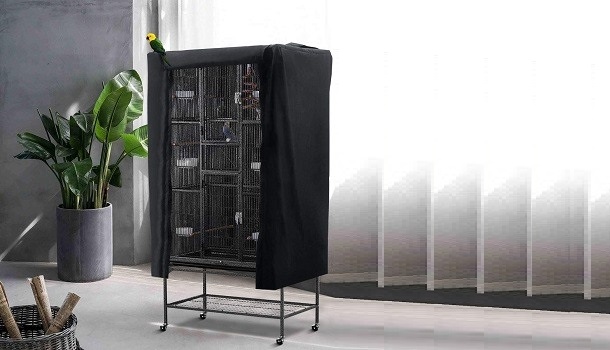 Best 6 Acrylic Bird Cages
There's a lot to account for with acrylic cages. Ventilation points, acrylic material thickness, other materials used, and a lot more. Everything and more has been taken into consideration to bring you this list of the best acrylic-made cages for birds.
Penzoni Display Small Bird Cage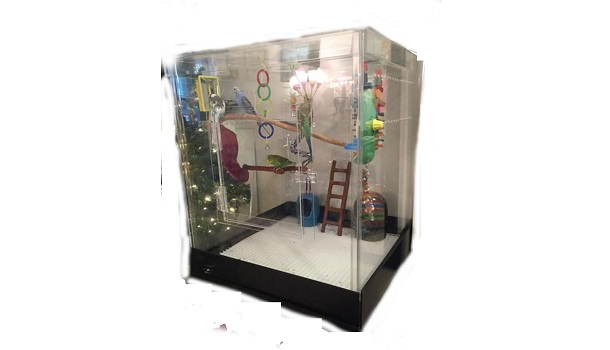 SPECIFICATION:
Other Materials: None
Size: 24" x 24" x 27"
Weight: 13 lbs

Extras: Feeders, Perch
Uses: Indoor Cage
Suitable For: Conure, Budgie, Cockatiel, Finch, Lovebird, Canary, Parrotlet, Parakeet
With its dimensions being the way they are, this cage can actually even house conures if you'd like. The manufacturer says that it will even offer some noise reduction, around 30 to 50 percent. It has a central door in the front and plenty of vent holes all around.
The top even features hooks that will allow you to place hanging toys there. The only real issue is that if your bird loves climbing cage bars, it, unfortunately, won't be able to do it with this cage.
Overall:
Safety:
Size:
Price:
Accessiblity:
Cleaning:
AVERAGE PRICE
$480 – $500 varies from webshop to webshop: Amazon
WHY TO BUY
Can even house birds like conures
Has hooks on top for hanging toys
WHY TO AVOID
Birds that love climbing cage bars can't do so
Vivohome Hibrid Bird Cage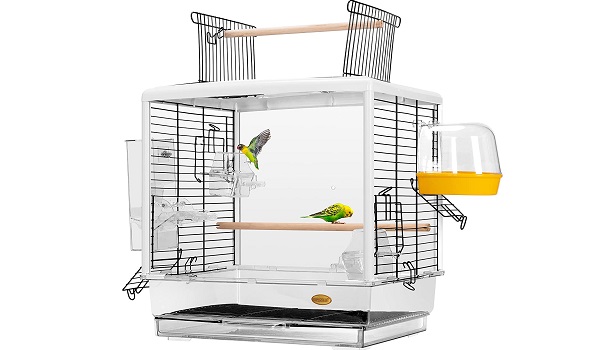 SPECIFICATION:
Other Materials: Iron, Plastic
Size: 18.5" x 13.8" x 24.4"
Weight: 8.7 lbs

Extras: Bird Bath, Rest Top, Perches, Food Stations
Uses: Travel/Indoor Cage
Suitable For: Budgie, Canary, Finch
The frame of the cage is made of white plastic while the front and backside are made of acrylic. The base and the slide-out cleaning tray are also acrylic while the sides and the top are made with wire for proper ventilation.
The top features a double door and you can place a perch there and use it as a rest and play area. It's smaller than the recommended for the birds it can house so either limit its use to travel only or make sure your bird gets plenty of time out of it.
Overall:
Safety:
Size:
Price:
Accessiblity:
Cleaning:
AVERAGE PRICE
WHY TO BUY
Comes with plenty of extras
It's a hibrid cage featuring a wire top and sides
WHY TO AVOID
Can't house birds for long since it's smaller than recommended
Penzoni Display Travel Bird Cage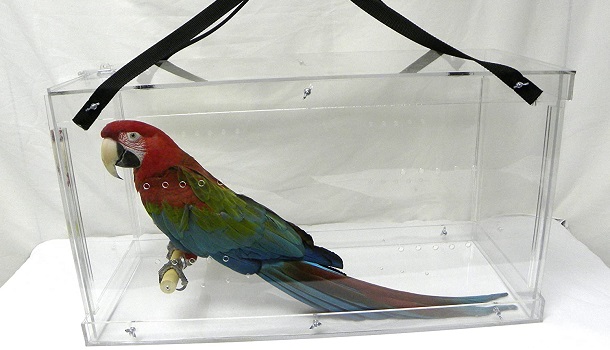 SPECIFICATION:
Other Materials: Nylon
Size: 27" x 12" x 17"
Weight: Around 5 lbs

Extras: Perch
Uses: Travel Cage
Suitable For: Macaw, Cockatoo, Conure, Indian Ringneck
The focus of this cage is to house long birds so that their tail feather don't bend or break. That's why it's perfect for the largest of birds which are macaws. It comes disassembled and you have to assemble it yourself with no instructions.
Even though it doesn't come with instructions, it's easy to assemble it. It comes with one hardwood perch that you'll place on the ventilation holes which there are plenty of. The top features 2 nylon handles that will make it easy for you to carry it.
Overall:
Safety:
Size:
Price:
Accessiblity:
Cleaning:
AVERAGE PRICE
$280 – $300 varies from webshop to webshop: Amazon
WHY TO BUY
It's long enough for travleing with large birds
The acrylic is 1/4th inches thick
WHY TO AVOID
Doesn't come with assembly instructions
Hopperhall Flight Bird Cage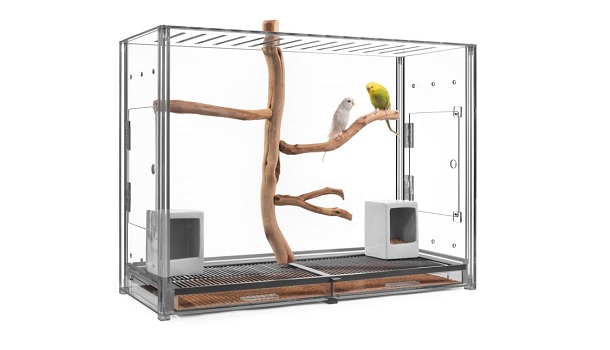 SPECIFICATION:
Other Materials: Metal
Size: 30" x 12" x 22.5"
Weight:

Extras: Tree Branch Perch, Food Cups
Uses: Flight/Indoor Cage
Suitable For: Budgie, Finch, Canary
The cage is fully made with 5mm thick acrylic bars which makes it incredibly durable. The only exception to the fact is the heavy-duty metal tray it features on the bottom to separate the birds from the cleaning slide-out tray.
There are 2 front entrances both located on the sides of the cage. They can be locked from 2 points each. They close with magnets in case you ever forget to close the doors. It can house 2 birds since it's a flight cage but no more than that since it is pretty narrow.
Overall:
Safety:
Size:
Price:
Accessiblity:
Cleaning:
AVERAGE PRICE
$400 – $445 varies from webshop to webshop: Hopperhall
WHY TO BUY
Has 2 front magnetically closing doors
Features a lovely tree branch perch
Made with 5mm thick acrylic
Handmade Clear Bird Cage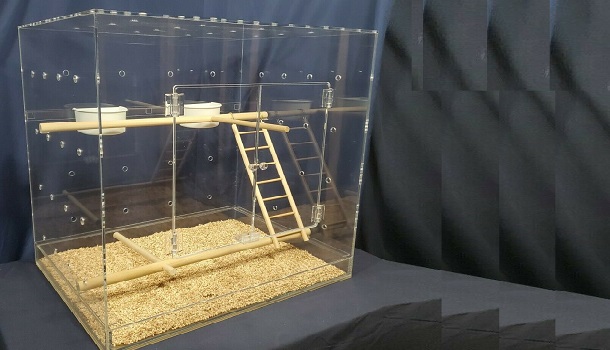 SPECIFICATION:
Other Materials: None
Size: 24" x 18" x 24"
Weight: Around 10 lbs

Extras: Perches, Food Cups, Ladder
Uses: Flight/Indoor Cage
Suitable For: Budgie, Finch, Canary, Lovebird, Cockatiel, Parrotlet, Parakeet
The only reason why this cage might be slightly less durable than others is that its made with 1/4" acrylic. There's not one part made from other materials minus the accessories it comes with which are made from wood.
It's a handmade cage meaning its build is not standardized. The front door is actually a double door that is centered which allows you to fully access the inside. It does feature an acrylic deep base that you can take out for cleaning.
Overall:
Safety:
Size:
Price:
Accessiblity:
Cleaning:
AVERAGE PRICE
$650 – $690 varies from webshop to webshop: eBay
WHY TO BUY
Has 2 front magnetically closing doors
Features a lovely tree branch perch
Made with 5mm thick acrylic
Ikayaa Tall Bird Cage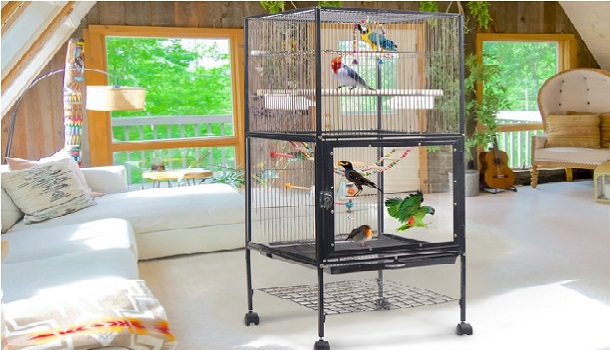 SPECIFICATION:
Other Materials: Iron
Size: 21" x 21" x 56.5"
Weight: 28.7 lbs

Extras: Feeders, Perches, Toys
Uses: Indoor Cage
Suitable For: Budgie, Cockatiel, Lovebird, Canary, Finch
This cage comes with a warning. It might contain lead which is toxic to both humans and birds so we'd tread carefully with buying it. It's made primarily with iron wire and sectioned into two parts. The bottom part has all sides acrylic with the exception of the back.
The top area is fully wire-made. It has a small wire spacing perfect for smaller birds and comes with 4 perches, a swing ladder, a bell toy, and rope toy. It also features 2 food and water bowls. It sits on a stand with wheels and a storage grid.
Overall:
Safety:
Size:
Price:
Accessiblity:
Cleaning:
AVERAGE PRICE
$110 – $130 varies from webshop to webshop: Walmart
WHY TO BUY
Has an acrylic area and a wire area
It's easy to move due to the stand with wheels
WHY TO AVOID
Might be toxic to birds since it may contain lead
Relieving You Of Acrylic Cage Related Worries
Placing Accessories In The Cage
Toys are important to keep the bird from getting bored and to keep it healthy physically and mentally. A lot of people worry about how they're going to place toys inside an acrylic cage since there are usually no bars to hang them or attach them to. A lot of acrylic cage companies offer their cages with perch placement in mind. Moreover, they even offer customized perch sets.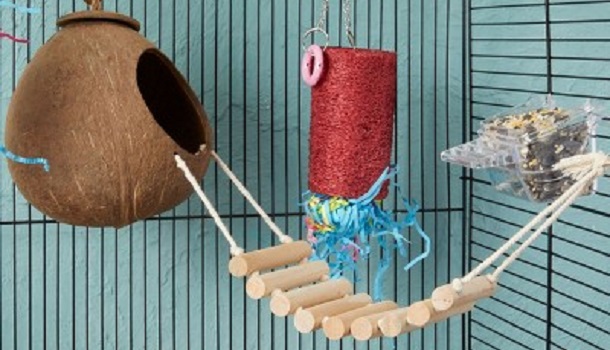 Foggy Acrylic
The only way to get foggy acrylic is if you don't clean it properly. Harsh cleaning chemicals and hard waters can all cause fogginess. What we suggest is cleaning and disinfecting the cage with natural cleaning supplies like vinegar and water.
Bird Exposure Feeling
Birds hate feeling exposed to a large room where a predator might seemingly be lurking. No matter the cage you get, at least one side but preferably two should be laid flat on the wall to cover that side so even if your cage is fully acrylic, it won't bother the birds if you follow this tip.
Acrylic Scratches
If you make sure you're housing small birds, there's no way your bird will get to scratch the material. Even if they did try, it just won't be possible. The culprit in reports of scratched-up acrylic cages are usually people that accidentally scratch them with sharp objects.
How To Assemble An Acrylic Cage For Birds?
If you're more prone to building stuff yourself to fit your home better, you can make an acrylic bird cage yourself fit your home better. The cage you can make will be made for a larger bird and using alternative methods.
You'll need acrylic rods, teak wood boards, 2mm stainless steel pegboard, and plenty of tools. If you don't know how to handle and use the materials correctly and safely, we suggest you avoid making this cage. The whole thing can be made using a saw, drill, and screws though.
From the top view, the cage is going to be 916mm wide and 660mm deep and it will be 1200mm tall inside. The back wall is made using a stainless steel pegboard that is 2mm thick.
First, you'll prepare the wood boards. Take them and cut them out to measure 35mm x 35mm. This will be done using the thickness planer and a table saw.
For the front panel, you'll need 12 pieces of 300mm and 6 x 916mm longboards. For the side and top, you'll need 4 x 1200mm longboards, 7 x 558mm, 8 x 1032mm, and 8 x 848mm long wood boards.
You'll be using a total of 156 pieces of acrylic rods to make the cage bars. Measure out their thickness, mark down the areas of the wood you'll want to drill to fit them and make the holes. You'll be making a total of 312 holes.
Next, drill the pocket holes at an angle and it's time to start assembling.
The front panel will be made in 3 x 3 sections. The wooden frame will separate them. start assembling the first section. If you want to ensure the corners are square, use corner clamps. Take your screws and drill them into the angled holes. repeat the process two more times. Repeat the similar process for the 2 side panels.
When preparing the stainless steel pegboard, make sure it's flat and if it's not smooth, sand it down and wipe the debris off.
When finally assembling the cage, try and use a heavy toolbox to keep the side panels square and flat. You can use corner clamps again. put the top panel on the bottom, then the other side panel. Fix it onto the toolbox as well. Double-check if the sides are placed flat before screwing in the angled screws with the drill.
Markdown where the front panels will be placed and apply hinges to be able to open up the panels for easy access.
Next, screw in the pegboard on the back, then, make the bottom. You can use wooden boards and drill them in. Make sure to leave some space for the cleaning tray.
Insert the locking mechanism and wheels on the bottom.
To Sum Up
The cage we'd definitely recommend even though it's pricey is the Penzioni Display Bird Cage. It's big enough to house 2 small birds or one big, and it even comes with a beautiful perch branch. A good acrylic-made cage is going to have an appropriate size, the acrylic sides will be thick, and it will use other bird-safe materials for its build. Remember, they can only house large birds if they're made as travel cages or if you're making your own.