Do you like how large wooden bird cages look so you want to get one for your bird?
Are you having trouble finding one or choosing one?
If all of this is affirmative, you might want to continue reading this article where we reviewed nothing but the best ones. Throughout the article, you'll be reading reviews of different types of cages that fit this description as well like a parakeet, canary, indoor, and even outdoor cages.
The Summary
Best 6 Large Wooden Bird Cages
BEST OF BEST LARGE WOODEN BIRD CAGE
Aivituvin Outdoor Bird Aviary
Shape And Main Function
This cage is actually a wooden aviary. Aviaries are designed to allow your bird to fly around from the safety of the cage and get their exercise without your risking their safety due to predators or your home getting wrecked. They are longer and wider than regular cages and this one has a rectangular shape.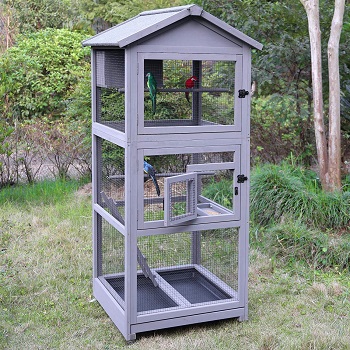 Usable Interior Space
This large wooden bird cage would almost have a square shape if it were 2-in longer. As it is, it's 26.8-in long and 28.3-in wide. If you think that this means that it's small, you should also know that it's incredibly tall with 70.8-in height. The ground square footage that you get is around 5 ft.
Indoor And Outdoor Use
It's made out of solid fir wood and wire. The wood is stained with a grey finish that makes it more pleasant to look at and also makes it blend better into your home if you choose to use it there. The wire of this cage is galvanized which means that it's better resistant to corrosion and rusting and that's why you'll get to use it outdoors as well.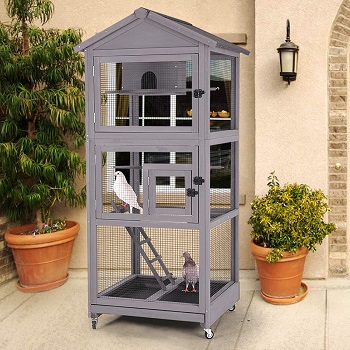 Top, Bottom, And Interior Content
Another reason why you'll get the option of using it both indoors and outdoor is because it sits on wheels so you can easily move anywhere you'd like. It features an asphalt waterproof roof and the interior is equipped with a hide-out area, perch, ladder, and even a wooden feeder. You can use it as a big bird cage for parakeets.
In Short:
Made with solid fir wood
The wire bits are galvanized
Has a waterproof asphalt roof
Sits on wheels
Can house small birds like parakeets
Comes with a hideout, perch, ladder, and feeder
BEST PARAKEET LARGE WOODEN BIRD CAGE
PawHut 65″ Large Wooden Aviary Cage
Cage Size
This is yet another aviary for birds but since it's mostly tall and not as nearly long and wide, it'll fit well inside your home and won't look like a large obstruction. To be specific about its size, it's 65-in tall, 24.25-in long, and 26.25-in wide so it comes close to the first one in size.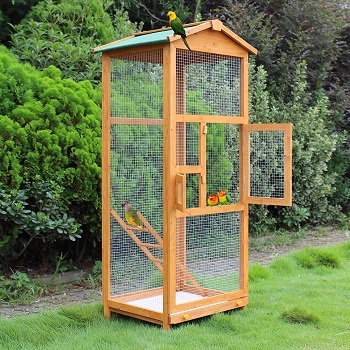 Wood And Wire Type
It's made to look more natural than the previous large wooden bird cage we reviewed since the wood keeps its original wooden color. The wood in question is pine wood and it's used for the frame and top. The sides of this parakeet aviary are made out of wire for your bird to easily navigate through it.
Reasons For Outdoor Use
The reason why you'll get to use this cage as a large outdoor aviary because all of the materials that you see are well protected from outdoor weather conditions like rain. The first thing to do is and provide your birds with some shade is the asphalt roof and next in line is the water-resistant finish and baseboard.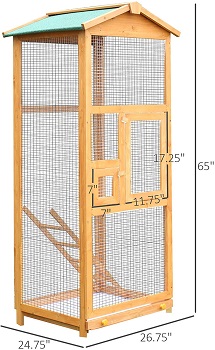 Interior Access
You will get to access the interior through the large front door. You won't get to step inside it, but it's big enough for you to reach anything you might need to change up. To keep your birds safe when they're inside and when you want to reach them, you'll get to do that through a smaller door located next to the large door.
In Short:
It's 65-in tall
Can be used as a parakeet aviary
Features a water-resistant finish, roof, and baseboard
Made out of pinewood and wire
Features a large and a small entrance
BEST COCKATIEL LARGE WOODEN BIRD CAGE
Pets Imperial Stunning Wooden Bird Aviary
How It's Shaped
The only reason why we're reviewing this cage in the indoor category is that it looks amazing. it doesn't look great just because of its color but because of its shape. The shape in question is hexagonal and it even features a wonderful green canopy, to top it all off.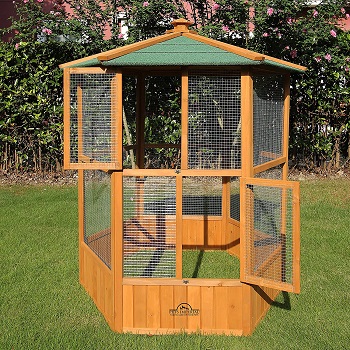 Dimension In Feet
The benefit of getting a hexagonal large wooden bird cage or any bird cage is that your birds will get a lot more room to fly around inside. We say birds because you can easily house more of them inside. it's big so its dimension are presented in ft and they are as follows: 4ft 9" length and width, and 5 ft 2" height.
Outdoor Use Reasoning
The wood used to make is is timber and it's coated with a finish that's non-toxic to animals or, in this case, birds. The wire is galvanized and the roof is waterproof since it's an asphalt roof because you will get to use it outdoors. Actually, it's intended for outdoor use, indoor use is optional if you have space.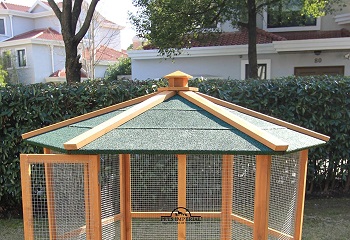 Cleaning Tray And Doors
It's rare for aviaries to feature a cleaning tray on the bottom if they don't sit on a stand, and if they're very big, they usually don't so this one doesn't have one either. You'll get t2o large doors and one will allow you to access the bottom and the other one the top. You can easily use it as a dove aviary.
In Short:
Has a hexagonal shape
Made with timber wood and galvanized wire
Features an asphalt roof canopy
Can function as an aviary
It's 4 ft 9" wide and long
Able to house small birds like doves
BEST CANARY LARGE WOODEN BIRD CAGE
PawHut Wooden Outdoor Bird Cage
Entirely Wooden Sides
All of the other bird cages we reviewed so far had sides made out of wire. This stands only partially true for this cage because the left and back side are entirely made out of wood. You'll have use of this feature because it'll keep our bird in the shade and protect it better from direct rain.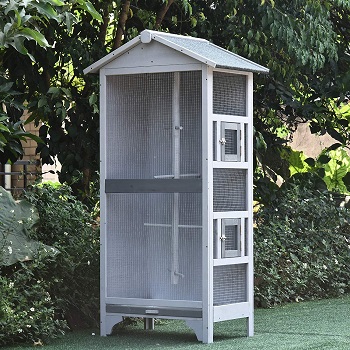 Lightweight Build
The fir wood that makes parts of this large wooden bird cage si incredibly light so you won't have that much trouble assembling it or moving it elsewhere. You will have to keep in mind that it doesn't sit on wheels so it'll be harder to move when you want it to no matter the fact that it weighs only 30 lbs.
Bottom And Right Side
This canary flight cage is elevated from the ground to prevent mold build-up after prolonged outdoor use. It's also elevated to fit a slide-out cleaning tray and wire grid below. On the right side, you'll find two small doors that will allow you to access the cage and your bird.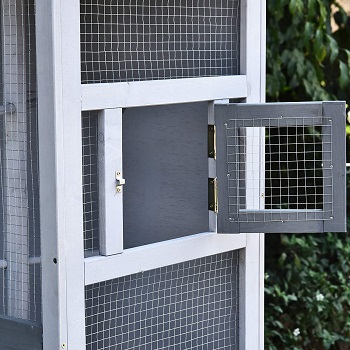 Dimensions And The Inside
All of the cages we reviewed so far were big enough to house multiple birds and the same stands true for this one. It is 62.5-in tall, around 32-in long, and 22.5-in wide. On the inside, you'll find a single toy that's actually a central pillar with perches pulled through it to resemble a tree with branches.
In Short:
Made with lightweight fir wood
It's elevated from the ground
Features a slide-out cleaning tray and wire grid
Has an entirely wooden left and backside
The small doors are located on the right
Has a pillar with perches as an accessory
BEST PARROT BIG WOODEN BIRD CAGE
Trixie Pet Products Natura Aviary
Stand Info
Usually, with cages that come sitting on a stand, you do have to worry about how much of the cages' height falls to the stand but with this one that's not the cage. The stand is nothing more but 4 short legs with caps that elevate it from the ground ever so slightly.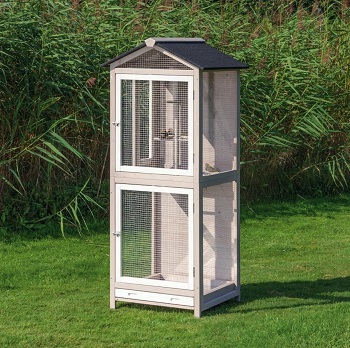 Doors And Locks
The entrance to this large wooden bird cage is so large that you'll have no problems reaching for anything and anywhere on the inside. There are two of them and one is found on the top and one on the bottom of the cage. They can be safely locked with sliding bolt locks.
Standards It's Compliant With
What's important to mention about the solid wood that makes this cage is that it's compliant with CARB Phase 2 standard. What this means in practical terms is that formaldehyde, which is unsafe for humans and birds, the emission is reduced and the air quality of your interior air will be kept healthy.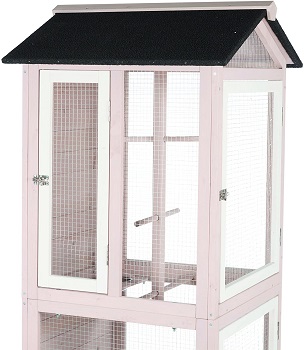 Multiple Details
There are multiple things that this large white bird cage comes within its interior to keep it fun for your birds. These things are 2 wooden perches, a frame for climbing, a play ladder, a wooden feeder, and even stainless steel bowls for food and water.
In Short:
Made with solid wood and wire
It's certified to CARB phase 2 standard
It's elevated from the ground with a capped stand
Can house multiple small birds
Has 2 large front entrances
Comes with perches, ladder, climbing frame, and bowls
BEST OUTDOOR LARGE WOODEN BIRD CAGE
Aivituvin Large Pigeon Cage
Cage Proportions
This cage, just like the first one we reviewed, features a lovely gray stained finish that would make it fit for indoor use if it wasn't so big. It's 68.6-in tall, 65-in long, and 44.5-in wide. It's no wonder that it's so big since it's intended to house around ten to fifteen birds.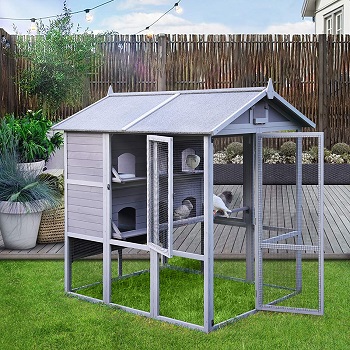 Bird Breeding And Housing
The birds you'll get to house inside can actually be pigeons. Not only will you get to host them inside but you'll get to use this outdoor pigeon cage as a breeding cage as well. This is large since the inside is equipped with a total of six separated nesting areas.
Weather Protected Bits
From wood to the wire and finish, everything that makes this large wooden bird cage indicates that you'll get to use it outdoors. The large asphalt roof is waterproof, the finish is weather-resistant and the wire is galvanized which means that the zinc coating protects it from corrosion and rusting.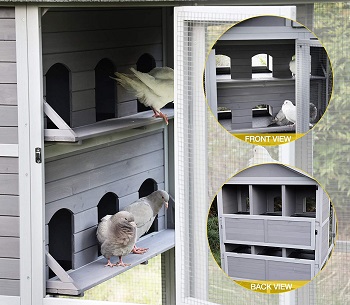 Cleaning And Access
The back of this cage features 2 slide-out cleaning trays for the nesting areas. You can also open the two wooden doors to access these areas as well. The entrance to this cage is also incredibly large, so large in fact that you'll get to easily enter it to change things up or clean.
In Short:
Designed to be used outdoors
features a large asphalt roof
Built with wood and galvanized wire
Has a water-resistant finish
Can house up to 15 birds
Features 6 separate nesting areas
You can walk inside it
How To Pick A Large Wooden Bird Cage
To choose the right large wooden bird cage for yourself and your bird, you first need to know what their main function actually is. You'll also want to concern yourself with the safety of these cages and how to improve by simply picking out the correct cage for your bird or birds.
Wood Problems – If you know by now that not all metals are safe for birds the same applies to wood as well. Birds need to chew on wood, it's what their instinct tells them so if you have a wood that's not of the best quality, you might risk damage to the wood. There are hardwoods and softer woods. All of the cages we reviewed here are softwood cages.
Soft Wood Cages Use – If you're looking at a cage that's built with softer wood, you're most likely looking at a cage made for smaller birds. smaller birds have weaker beaks so it will be harder for them to chew on the wood ad damage it. For larger birds, you'll have to find a hard wooden cage.
Preferred Bird Behavior – It would be the safest if your bird behaved well while inside these cages and it would also be good if they were trained. This also has to do with the fact that the wire of these cages is mostly thin. This wire is considered chicken wire and larger and aggressive birds can easily bend it and escape or hurt themselves.
Birds to House – We mentioned that these large wooden bird cages are purposed for small birds but we didn't really specify and tell you the main reason for it. The main reason is that the wire spacing is small. Birds like budgies, finches, and canaries can't be safely housed inside cages with a wire spacing over 0.5-in. Another reason is that the wire is weaker and the cages are too small, even though they are large, to house larger birds.
To Sum Up
We just had to recommend the Pets Imperial Stunning Wooden Bird Aviary as the best large wooden bird cage to get. Its hexagonal shape not only makes it look great but also makes the usable interior space much larger. Everything on it, including the galvanized, wire asphalt roof and finish will protect it from wearing off over time when used outdoors. If you want to check out what are your options for large bird cages we'd advise you either to read the article about extra large flight cages or large white bird cages.