Do you want to see all of the options available for a finch aviary but are having difficulties finding them?
We might be able to help you see what aviaries for finches are offered out there if you continue reading this article. We made sure to review only the best but also to review different cages. This means that no two cages are alike. indoor, outdoor, and mixed finch aviaries are just a few of the ones you'll find here.
The Summary
Best 6 Finch Aviaries
BEST OF BEST FINCH AVIARY
PawHut Wrought Metal Bird Aviary
Aviary Dimensions
Aviaries are easy to find if you know how big they should be. They're mostly very long and wide to allow your bird to easily spread its wings. This one is square-shaped meaning that its length and width are the same. It's 28.25-in long and wide but it's also very tall with 67-in in height.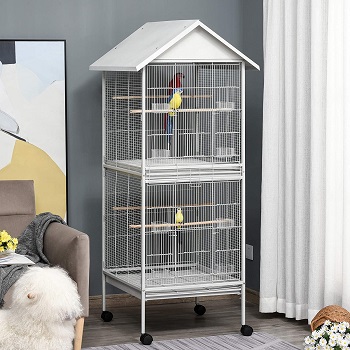 Stand Height And Other Info
You will have to take into account the height of the stand this finch aviary sits on to figure out just how tall the interior is. In this case, the stand only takes around 9-in of height from the previously mentioned one. The stand features wheels which will allow you to move it easily from room to room.
Separate Cages
You can actually convert this aviary into a regular large white bird cage. You'll get to house 2 birds separately because you can place an additional cleaning slide-out tray and wire grid right in the middle. This will leave you with two separate bird cages, one on top and one on the bottom.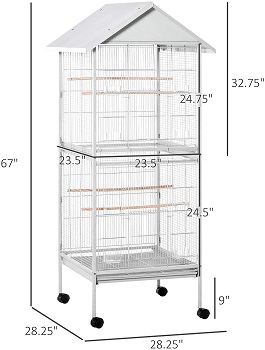 Other Birds It Can House
Finches are considered to be small birds so they are the safest in a cage with a wire spacing of up to 0.5-in. This is exactly that cage but you will get to use it with other similar-sized birds. You'll get to use it as a big bird cage for parakeets or even as a cockatiel aviary or canary aviary.
In Short:
Made to be used indoors
It's 28.25-in wide and long
It's 67-in tall
Sits on a 9-i tall stand with wheels
Has a wire spacing of 0.5-in
Can be converted into 2 separate cages
BEST INDOOR FINCH AVIARY
Prevue Pet Products Charming Aviary
Looks And Color
In terms of how it looks, this aviary is definitely a lot similar to the first one we reviewed. Just like the first one, it also has a top that's shaped like a house roof and it's also made out of metal sheets. Although it looks similar in color, it's not because the first one is white while this one has a pearl grey color.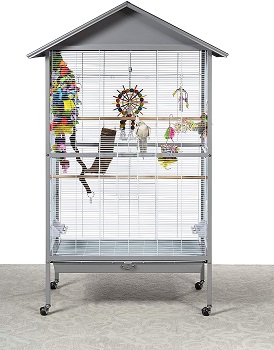 Top Problem And Solution
Since it has a metal sheet top, you might come to a problem that you can't hang toys and accessories on top for your bird or birds to play with. The solution to this problem is simple. All the manufacturer did is give you the cage with a bar that acts as a place where you'll get to hang the toys you want to.
Rectangular Shape And Height
Even though we said this parakeet bird house looks like the one before, that's not entirely true. Unlike the cage reviewed before this aviary is rectangular and gives your bird more ground square footage of living space. Take into account its height of around 69-in and you've got yourself an incredibly spacious indoor finch aviary.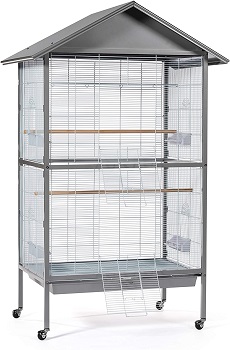 Additional Details
It would be pretty worrisome if this cage didn't come with a cleaning tray. The difference is that this one is a lot deeper and able to collect bird droppings better because of it. The interior also comes equipped with 2 wooden perches, 4 feeding cups, and 4 feeding entrances.
In Short:
HAs a metal sheer house roof
Comes with a bard for hanging toys
Has a rectangular shape
It's around 69-in tall
Comes with 2 perches, 4 cups, and feeding entrances
BEST OUTDOOR FINCH AVIARY
Aivituvin Wooden Bird Aviary
Optional Uses
If the first two aviaries we reviewed are meant to be used indoors, this one is the opposite of that. Everything about it points out the fact that you can use it outdoors but if you want, you can easily take it indoors because it features 4 caster wheels for easy moving on the bottom.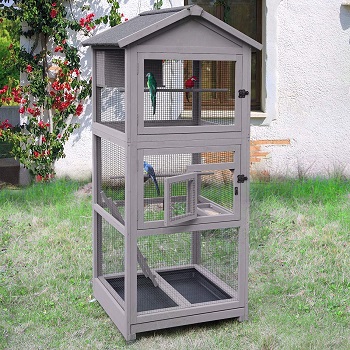 Outdoor Build
It's primarily made out of wood but it does feature steel wire sides. The wood is stained with a grey color so that it fits better into most homes but the wire is galvanized. Galvanization is a process where a material is covered with a layer of zinc that makes it resist corrosion and rusting better.
Accessing The Interior
Although it's not as large to be considered a walk-in aviary, this wooden aviary can easily be accessed through two large doors if you ever want to clean it more thoroughly or change something up a bit. You'll also get a smaller entrance that's built into one of the large ones in case you want to access your birds while they're inside.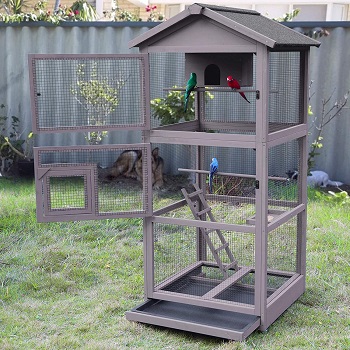 Top Use And Interior Details
The top of this outdoor finch aviary is shaped just like the ones reviewed before it. The difference is that it's an asphalt roof and protects your bird from direct rain and sun. The interior is equipped with a lot of accessories like a hideout area, a perch, a wooden feeder, and a play ladder.
In Short:
MAde out of wood and metal wire
The wire is galvanized
Has an asphalt roof
Has caster wheels on the bottom
Designed to be used outdoors
BEST MIXED FINCH AVIARY
Prevue Pet Products F030 Aviary
Multiple Bird Housing
What we mean by mixed is that you can use this aviary to house multiple finches of different breeds. Finches, like many other breeds of birds, come in all shapes and sizes so it's no surprise that they have different cage needs as well. The thing that connects them is the wire spacing and this mixed finch aviary is ideal for most.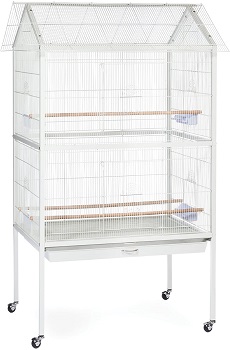 Wire Spacing In General
Wire spacing is really important because it gives you the insurance that your bird won't be harmed while inside the cage or aviary. Too big of a wire spacing and your bird can easily pull its head through or even get its wings stuck in the spaces between and get seriously hurt. For finches, a general good wire spacing is up to 0.5-in.
How It Looks
If you choose to use this aviary indoors, although you definitely should, it'll blend well within your home since it's colored white. it even has a roof house top that's made out of wire so you can still hang your bird accessories and toys there if you want to or need to.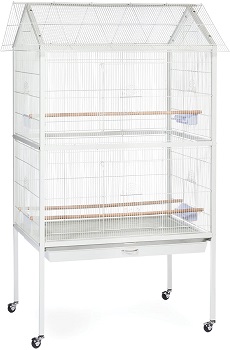 Bottom And Interior Stuff
It sits on an undetachable stand with wheels for you to easily move it from room to room. The bottom also contains a slide-out cleaning tray on the outside. On the inside, you'll get to place 2 perches made out of wood and four water and food cups that can be placed on their own feeding entrances.
In Short:
Made out of metal wire
Has a white color
Features a 3/8-i wire spacing
Sits on a stand with wheels
Has 4 feeding entrances
Comes with 2 perches and 4 cups
BEST ZEBRA FINCH AVIARY
PawHut 44″ Hexagon Covered Aviary
Stand Looks
This aviary can be considered a vintage bird cage with stand and it mostly has to do with the fact that it sits on a stand that looks antique. It's a stand with six legs. The legs are curved but they are also hollow. It does have a grid for accessory ad supply storing and wheels for easier movement.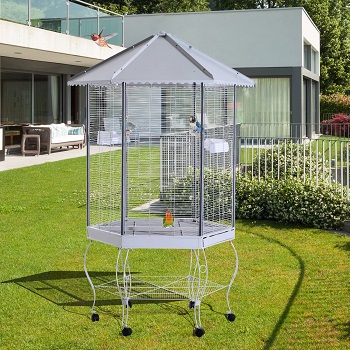 Interior Spaciousness
The top of this zebra finch aviary is nothing short of amazing in terms of how it looks. It steps out of the boxed-in rectangular and square shape and has a hexagonal shape. This makes its interior living space a lot bigger as well since it's 40-in wide and long.
Top, Bottom, And Interior
It even has a canopy that's made out of metal sheets and that's intended to protect your birds from direct sun and rain occasionally. You'll get two slide-out cleaning trays on the bottom, 2 perches that are made out of wood, and 4 cups that can hold both food and water.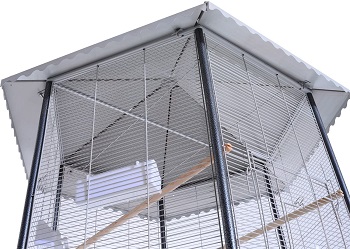 Why Zebra Finches
This bird aviary can house any type of finch but it's specifically good for zebra finches. That's because zebra finches are highly social birds and require a partner and this aviary is big enough to house 2 or even more than two. It has a 0.5-in wire spacing so it's completely safe for them.
In Short:
Has a hexagonal shape
Features a metal sheet canopy
Can house multiple birds
Has a 0.5-in wire spacing
Sits on an antique-looking stand with 6 wheels
BEST METAL FINCH AVIARY
A&E Company Walk-In Aviary
Unusual Size
You'll rarely find a small bird aviary that's actually a walk-in one. This is because these aviaries are and with a larger size, you usually get a larger wire spacing. Another reason that small birds can manage just fine in a smaller aviary. This aviary is small but it's still a walk-in aviary.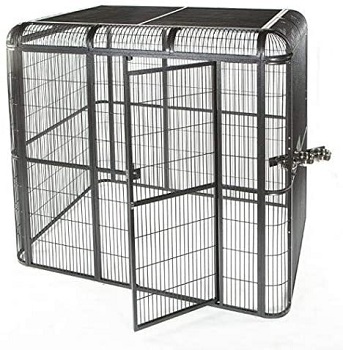 Door Safety
The single door that you'll use to access this bird aviary locks in two ways. One is that it locks with a hasp latch lock and the other is that it locks with a key. This is great because locking the door like this will ensure you that your birds won't get to escape the aviary.
Interior Customization
What we mean by planted finch aviary is that you'll get to customize it completely. Aviaries are typically decorated with plants and other greenery to simulate the natural environment that birds live in. Since you'll get to walk inside, customizing this parakeet aviary will be a breeze.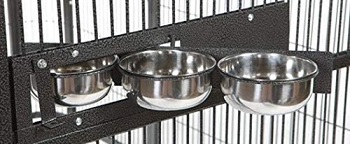 Location And Maintenance
Since it's for finches, this automatically means that it's for parakeets and cockatiels because of the 0.5-in wire spacing. You could use it as a backyard aviary but keep in mind that you'll have to maintain it every once in a while even though its non-toxic to birds powder coating finish is durable-
In Short:
Made out of metal
Has a powder coating finish safe for birds
Features a 0.5-in wire spacing
The single door locks with a hasp latch lock and a key
You can easily walk inside it for customization
How To Pick A Finch Aviary
To get the best finch aviary, we'd like you to learn a bit more about aviaries in general, cage requirements for finches, general cage safety, and a lot more that you should really know. We'll talk about all of this in this quick and made to be a simple buying guide for these.
Finches In General – There are many breeds of finches and they all have different requirements when it comes to their living space. You can place them in a size category though. Finches, just like parakeets or budgie are one of the smallest types of birds so they don't need that big of a cage or aviary.
About Aviaries – Not only finch aviary but all aviaries are usually made to be large and you really won't find a small aviary ever. The reason for this is because they are supposed to allow your bird or birds to stretch their wings and fly around a bit. Of course, a major factor in this is that they should be safe
Achieving Safety For Finches – Every bird has different needs when it comes to cage safety. The number one safety feature for birds, in general, is wire spacing. You should never get an aviary or cage with too big of a wire spacing and finches are no exception. They'll be safe enough in a cage with a wire spacing or 1/4-in up to 1/2-in.
General Cage Safety – Almost all cages have some metal in their build and this is exactly what you should pay close attention to. Birds can easily suffer from metal poisoning if their beaks get into direct contact with exposed metal bits or with bits that have suffered rusting and corrosion. To prevent this from happening you'll want to look for a cage or aviary with a quality coating, usually a powder coating.
To Sum Up
It's easy to recommend the Prevue Pet Products Charming Aviary as the best finch aviary when it's this good. It looks amazing with its house roof-shaped top made out of sheets of metal and a pearl grey color. it's safe for finches because of the wire spacing of 0.5-in. If you want to look at aviaries for bigger birds we'd advise you to read the article about either macaw aviaries or if you want to read about specifically indoor finch aviaries, the article about those.