Do you wish your bird could safely fly and get its daily exercise in a large outdoor aviary but can't seem to find one?
You're on the right track so far and to continue to be, you'll definitely want to continue reading this article where we did our best to provide you with a selection of the best aviaries to fit this description out there. We didn't just review these aviaries but we also made sure to include a variety of types like walk-in, wooden, metal, and a lot more.
The Summary
Best 6 Large Outdoor Aviaries
BEST OF BEST LARGE OUTDOOR AVIARY
Wonline Large Walk in Bird Aviary
Metal Used
It's easy for us to start our reviews with this aviary because it's just that good. With metal outdoor aviaries like this one you really want to make sure that you're getting the best out there since metal and water don't really like each other. Thankfully, this aviary is made out of stainless steel.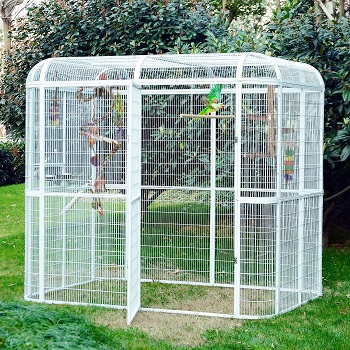 Material Resistance
Not only is this large outdoor aviary made out of stainless steel but it's also welded together to solidify its construction strength. Thanks to the metal, this aviary is bound to last for years of use because it's resistant to rusting, corrosion, fading, and a lot more than just that.
Aviary Maintenance
To top it all off, it even manages to look nice since it's a large white bird cage. You will have to do maintenance every once in a while but that's pretty standard practice with these aviaries. All you need to do is spray it down with a new coating finish every 2 or 3 months to ensure it lasts you for years.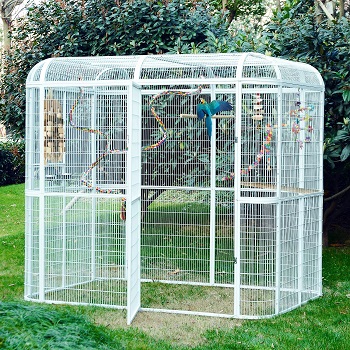 Determining Which Birds It Can House
You won't have to worry about how you're going to customize the interior since it is a walk-in aviary. You can definitely use it as a macaw aviary since it has a 3/4-in wire spacing. Just make sure you don't use it for small birds like parakeets, cockatiels, or finches.
In Short:
Made with stainless steel
Its parts are welded together
The metal is corrosion, rust, and fade resistant
Has a 3/4-in wire spacing
You can walk inside it
Can house birds like mini macaws
BEST METAL LARGE OUTDOOR BIRD AVIARY
Talis Large Deluxe Bird
Price Worthy
Everything that you see on this aviary is made out of a metal that we're not used to seeing on bird cages and we strongly believe that we should. The metal in question is aluminum and it's used for the frame and the netting. It does cost over 1000 dollars but it's well worth it.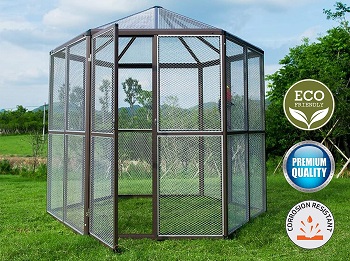 Metal Pros
Aluminum, along with stainless steel is definitely the best material of choice when it comes to bird cage materials. This is true because aluminum is rust and corrosion resistant and even when it does it produces aluminum oxide, a white substance that's still not toxic to birds.
Exact Proportions
This is the largest large outdoor aviary that we will review. You can be sure that your bird will be more than happy to be inside it. From the bottom to the tallest point there's 93-in of space. The width and length are the same because it has a hexagonal shape and it's 95-in wide.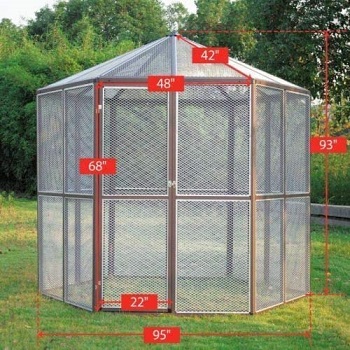 Birds Allowed Inside
The wire spacing of this aluminum bird cage is not specific but what we do know is that the wire is actually netting because of that pattern. We also know that it will be large and safe enough for medium and large birds. To put this into perspective, we mean birds like African greys, cockatoos, and macaws.
In Short:
Built with aluminum
Able to house medium and large birds
You'll have the option to walk inside it
Has a hexagonal shape
It's 93-in tall and 95-in wide and long
BEST ANTIQUE LARGE OUTDOOR AVIARY
Pets Imperial Stunning Wooden Bird Aviary
Canopy And Shape
Even though this aviary has a hexagonal shape just like the aviary before it, it definitely doesn't look like it. It's more of an antique wooden bird cage due to its shape, material of choice, top, and color. The top is actually a canopy that extends outside the top edges.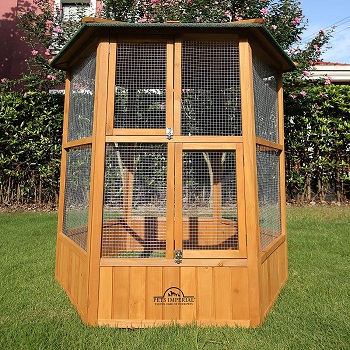 Top Protection
The canopy isn't just here for decorative purposes. This green canopy is actually an asphalt roof which means that it's waterproof. It will help keep your bird or birds in the shade and it will help protect them from being in direct sun but from direct rain as well.
Weather Protected Materials
Most of this large outdoor aviary is made out of timber that's treated with a finish that's safe for pets and birds specifically. It does feature wire sides as well that have been galvanized to stand up better to corrosion and rusting. The finish and roof work together with it to give you an aviary that will last for years with outdoor use.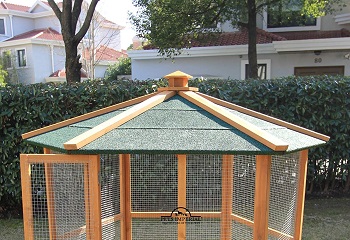 Proportions And Birds It Can House
This aviary is 57-in long and wide, and as we said, the hexagonal shape has the benefit of providing your bird with a much larger interior but still keeping it elegant. It's also 62-in tall so you won't exactly get to walk inside it. It should be good for housing smaller birds like parakeets and finches.
In Short:
Made out of timber wood and wire
The wire is galvanized
Features a waterproof asphalt roof canopy
Has a hexagonal shape
Can house small birds like parakeets
It's 57-in long and wide and 62-in tall
BEST PIGEON LARGE OUTDOOR BIRD CAGE
Aivituvin Pigeon Large Bird Cage
Material Combo
The first two aviaries we reviewed are actually the only fully metal cages that you'll find here. Every other cage is made with a combination of wood and wire and that includes this cage as well. The materials used are solid fir wood and galvanized metal wire.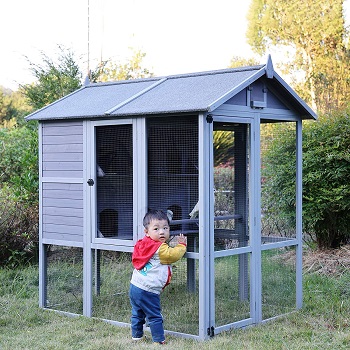 Metal Protective Coating
If you're worried about the wire of this large outdoor birdcage rusting easily you don't have to be since it's galvanized. galvanization is the process of providing metal with a protective zinc coating. Thanks to zinc, the metal automatically becomes resistant to corroding and rusting.
Allowed Bird Number
This is an aviary for pigeons and it's so large that you'll get to easily walk inside it and house 10-15 birds. In fact, you can actually use it as a bird breeding cage due to the fact that it comes with 6 privacy spots that are separated and act well as nesting boxes or places.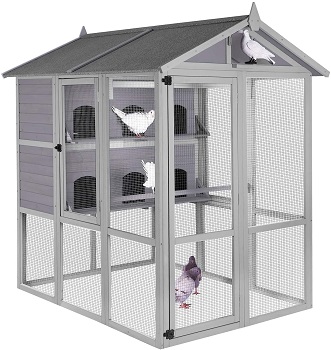 Nesting Area Access
The nesting boxes are located in two rows so each row has three nesting areas. Beneath each row in the back, you'll get to pull out the cleaning slide-out tray to easily clean these not-so-easy-to-reach spots. The large waterproof asphalt roof and rain resistant fir wood should be enough to protect the aviary and the birds from the rain.
In Short:
Made with wood and wire
The wire is galvanized
HAs a large waterproof asphalt roof
Has 2 rows of three separate nesting areas
Can house up to 15 birds
Designed for pigeons
BEST WOODEN LARGE OUTDOOR AVIARY
PawHut Wooden Vertical Aviary
Door And Type Difference
Every aviary that we have reviewed so far was so large that it allowed you to walk inside it easily through the front door. This aviary is the opposite of that. Don't get us wrong, it's still a large aviary but the doors are a lot smaller. You find a large door on the right and next to it a smaller one.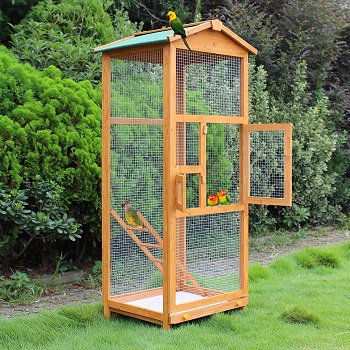 Material Details
Although it's a wooden aviary the solid pine wood is only used as the material that makes the frame and the top. The rest of the aviary is made out of metal wire. Sometimes, with metal wire, you can come to a problem if it's only galvanized but that's not the cage with this large outdoor aviary.
Weather Protection Factors
The things that make it fit for the outside are three things. The first one is the finish on both the wood and wire, the second one is the baseboard, and the third is the asphalt roof. The asphalt roof is waterproof and will also provide your bird with some shade and protection from direct rain.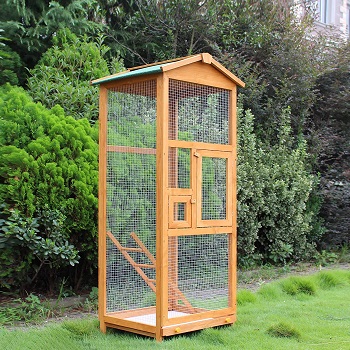 Size And Birds To House Inside
A lot of the size of this aviary comes from its actual height. Even so, it's still a roomy aviary that will allow your birds to get the exercise they need.  Because it's 24.75-in long and 26.75-in wide and because of the wire spacing, the inside can house small birds like cockatiels and parakeets.
In Short:
Made out of pinewood and wire
Can house small birds
Features a waterproof asphalt roof
It's really tall, but not as long or wide
The finish coating protects it from harsh weather
BEST WITH STAND LARGE OUTDOOR BIRD AVIARY
Trixie Pet Products Aviary
Elevation Reasons
There isn't much to say about the stand of this cage since it's not really a stand that we're used to seeing on large bird cages with stand. It's comprised out of wooden legs that feature rubber/plastic caps. The elevation will help prevent mold build-up on the bottom while the caps will prevent damage to your floors if you choose to place it indoors.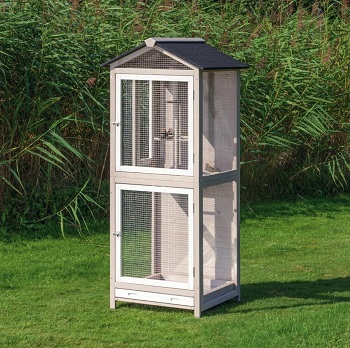 Model Comparison
This is actually a more toned-down and simple model of a large outdoor bird aviary. The model you'll also get to buy is stained with natural finishes and the aviary features a lot more doors in the front. This one is pink and only has 2 doors in the front but they are very large.
Large Doors
The manufacturer of this aviary wanted to allow you to still access the interior even though it's not a walk-in aviary that the doors are so large. it's designed to house small birds such as parakeets and cockatiels so you can actually use it to house multiple birds.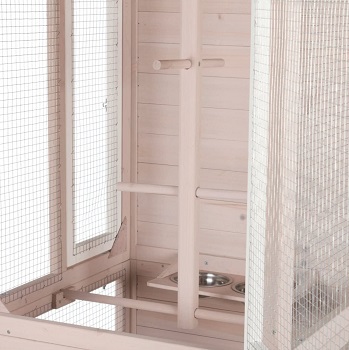 Interesting Interior
The interesting thing about the inside of this aviary is its accessories. Specifically, we're talking about the pillar in the center that drops down from the roof. It has 3 wooden perches and the whole thing is made to resemble a tree with branches. You'll also get 2 stainless steel bowls with it.
In Short:
It's elevated from the ground
Thanks to the protective caps, it's suitable for the inside
Can house small birds
Features 2 large front doors
Has a pillar with perches on the inside
How To Pick A Large Outdoor Aviary
The thing you need to worry the most about when choosing a large outdoor aviary is definitely the safety of your birds. This can be achieved in multiple ways and we'll go through them all in this guide. We'll also talk about size specifics, and various types of aviaries as well.
2 Types Of Aviaries – There are two types of aviaries that you might stumble upon in this article and elsewhere. The first is the walk-in aviary and the second is the small door aviary. Both are large don't get us wrong, but the ones where you won't get to walk inside are mostly tall, rather than long or wide
What Aviaries Are For – If you don't know whether or not you should get an aviary in the first place you might want to know what they're for. They're designed to mimic the special size of a natural environment so that your birds can fly around and get the exercise they need but safely.
Aviary Location – Apart from outdoor aviaries, you also can find indoor aviaries as well. These aviaries usually don't offer so good weather protection as outdoor ones. They're also very tall but not as nearly long or wide so that they can look decent inside your home.
Bird Health Warnings – We'll keep the list short since there are so many things to consider. When choosing a large outdoor aviary you first have to think of the bar spacing and if it's small or big enough for your bird according to their size. Another thing to worry about is if the metal is well protected from rusting because birds can suffer metal poisoning otherwise.
To Sum Up
If you're looking for a large outdoor aviary you definitely won't mind getting the Wonline Large Walk in Bird Aviary. It's made out of stainless steel so you can be sure it won't rust easily, it's large enough for you to walk inside it, and it can house large birds because of the 3/4-in wire spacing. if you're looking for large aviaries in general we advise you to read the article about large aviaries and if you're looking for an aviary for a specific small bird we have an article about parakeet aviaries that might interest you.