Are you and your bird in a need of an exercise cage that looks nice so you decided to get an indoor finch aviary?
You can get the best fast if you continue reading this article where you'll go through reviews of our top picks for these aviaries. We didn't just review them though, we also made sure to include a large variety like wooden, with stand, on wheels, and more to come.
The Summary
Best 6 Indoor Finch Aviary
BEST OF BEST INDOOR FINCH AVIARY
Prevue Pet Products Charming Aviary
Optional Outdoor Use
You don't have to limit yourself and use this aviary only indoors. Thanks to the metal sheet house rooftop, your bird or birds will be protected from the rain and direct sunlight if you choose to use it indoors. You'll easily get to transfer it there since it sits on wheels.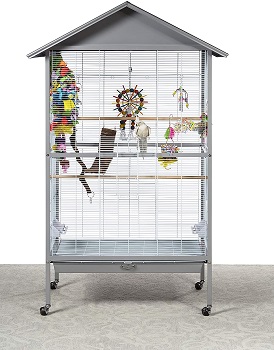 Accessories It Comes With
Since it has a metal sheet roof housetop, you won't get to hang your birds' toys there but there is a solution to this problem. You will get a bar whose sole purpose is to allow you to hang bird toys on it. With it, you'll also get 2 wooden perches and 4 feeding cups.
Side Door Functions
You'll get to place the food cups this indoor finch aviary comes with on the feeding doors located on the sides of the cage. You don't have to limit yourself and use it just for that though. You can also use it as a place where you'll put a nesting or breeding box so this is actually a breeding cage as well.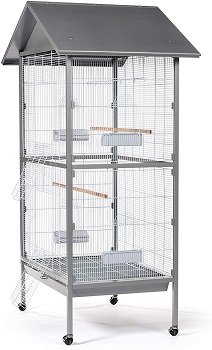 Size And Wire Spacing
The wire spacing of the cage is 0.5-in which is perfect for finches. If you want you can also use this aviary to house similar-sized birds like parakeets and cockatiels. With the stand on, the cage is around 5 1/2 ft tall, 37-in long, and 23-in wide which is enough for housing multiple birds.
In Short:
Has a covered top
Comes with a bar for hanging toys
Sits on wheels for easy movement
HAs a 0.5-in wire spacing
Has feeding and nesting box entrances
Comes with 4 cups and 2 perches
BEST WOODEN INDOOR FINCH AVIARY
Gutinneen Outdoor Bird Aviary
Indoor Outdoor Moving
This aviary is actually intended to be used outdoors primarily. The reason why we're reviewing it here is that it also has wheels. These 4 wheels made out of stainless steel will allow you to easily transfer this aviary inside or outside, depending on your wants and needs.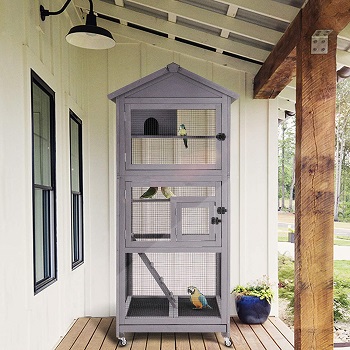 Outdoor Use Features
This aviary is made out of solid wood and wire. The top features an asphalt roof. These roofs are almost always waterproof and can serve as a shade from the sun for your bird or birds or they can help you protect your birds from getting into contact with direct rain.
Access To The Inside
Since it's an indoor finch aviary you can't really expect it to be so large that you can walk inside on your own. Its doors, however, or rather their number and size, will still allow you to reach inside the cage and change a few things or clean it when you need to.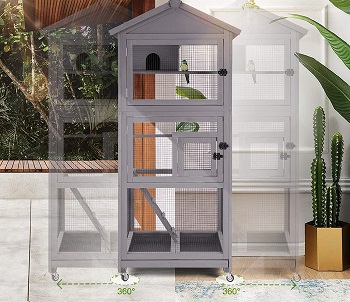 Interesting Interior Contents
The most interesting thing about this wooden aviary is probably what it holds inside. On top, you'll find a hide-out spot and a perch, an additional perch below, and even a play ladder on the very bottom you'll also get a slide-out cleaning tray on the bottom that sits below a wire grid.
In Short:
Made out of solid wood and wire
Has an asphalt roof
Features multiple access doors
Comes with a hideout spot, ladder, and perches
You'll get a cleaning slide-out tray
BEST WITH STAND INDOOR FINCH AVIARY
Prevue Pet Products Aviary Flight Cage
How It Looks
You'll absolutely adore how this aviary looks inside your home since it's a white bird cage with stand. It definitely isn't an offputting cage and the roof that's shaped like a house roof will add another note of interest to its visual presentation and appeal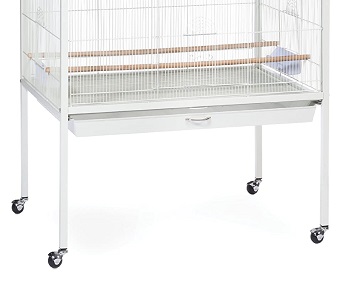 Wire Top
Unlike one of the cages we reviewed so far, the roof of this indoor finch aviary isn't made out of metal sheets but instead, it's made out of wire just like the rest of it. This will give you the opportunity to actually hang some toys and accessories there without the need for a bar.
Small Wire Spacing Importance
0.5-in wire spacing is the maximum allowed for finches and many other small birds. With a bigger wire spacing, you might risk your bird getting seriously injured. Luckily, this finch aviary actually has a smaller wire spacing than the maximum recommended of 3/8-in or 0.375-in.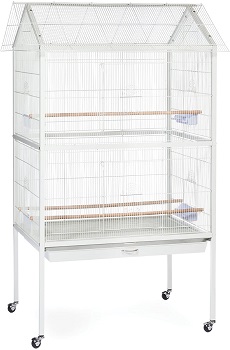 Bottom Middle And Interior
As we've mentioned it does have a stand but it only features wheels so that you can move the whole thing more easily. Just below the cage interior, you'll find a cleaning tray and on the inside, you'll get to place 4 food and water cups and 3 perches that are made out of wood.
In Short:
Has a wire roof housetop
Made out of wire
Sits on a stand with wheels
Has a 3/8-in wire spacing
Comes with 4 cups and 3 wooden perches
BEST LARGE INDOOR FINCH AVIARY
Aivituvin Store Wooden Bird Aviary
Home Fit
Finches are very small birds so they don't need a lot of space to comfortably fly around. Of course, this also depends on the breed but it's a great rule of thumb. This aviary is taller than it is wide or long so it is still large but it will fit inside your home a lot better because of it.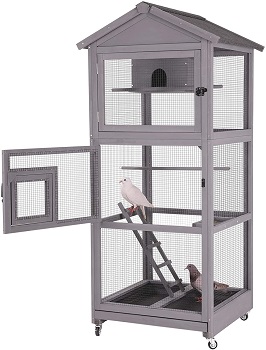 Accessing The Inside
It's not a walk-in indoor finch aviary but you will still have enough room to get to the inside a change a few things up when needed. This is largely due to the doors that can be found on the top and the middle. They are large and the middle for even has a built-in smaller door.
Wire Weather Protection
Although we're reviewing it as indoor, it functions well as an outdoor wooden aviary. Everything that you can see on it is protected ins some way from outdoor weather. The wire sides are galvanized which means a thin layer of zinc coating protects it from rust and corrosion.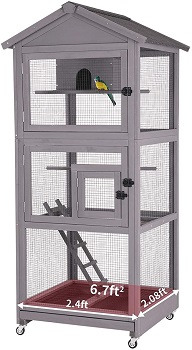 Interior Contents
You truly don't have to worry about your bird not having fun while inside this aviary. That's because you'll get a plethora of different accessories. You'll get a little resting area where your bird or birds can hideout, a wooden perch a play ladder, and a wooden food holder
In Short:
Made with wood and wire
The wire is galvanized
It's taller than it is wide or long
Can be used outdoors as well
Comes with a hideout area, perch, ladder, and feeder
BEST ON WHEELS INDOOR FINCH AVIARY
PawHut Wrought Metal Bird Cage
Square Shape
It's easy to conclude that this is an aviary because of the simple fact that it's both long and wide. If you were to compare it to the previous aviary we reviewed it'd be a lot bigger. it has a square shape which means that it's equally long and wide. To be specific, it's 28.25-in long and wide.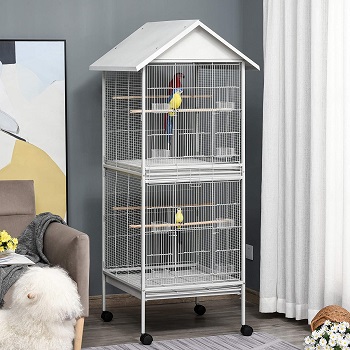 Multiple Functions
We might as well add that it's very tall. This information will become useful when we tell you that you can use it in multiple ways. You can either have one large open flying space or you can put an additional tray and wire grid in the middle to create two separate living cages.
Top Dimensions And Roof
The top of this indoor finch aviary is made out of metal sheets unlike the rest of it that's made with metal wire. This closed-house roof will add a visual component to this cage. This also means that the birdhouse on top will get a little bit more space than the ones housed down.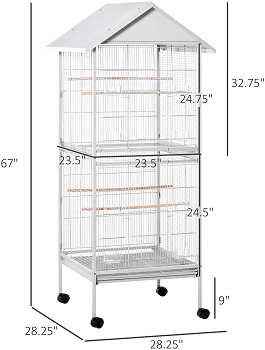 Spacing And Inside Info
What makes it available for us by finches is its wire spacing of 0.47-in. You can be sure that your birds will be safe inside this parakeet bird house. Each part of the cage comes with its own accessories so you'll get double of everything like 4 wooden perches, 8 feeding doors, and food, and water cups.
In Short:
Has a metal sheet house rooftop
Sits on wheels
Can be split into two separate cages
comes with 2 slide-out trays and wire grids
Has a 0.47-in wire spacing
Comes with 4 perches, and 8 feeding doors and cups
BEST ANTIQUE INDOOR FINCH AVIARY
PawHut 44 Hexagon Covered Aviary
The Looks Of It
We do strongly believe that indoor finch aviaries should have dashing looks and step out from the typical rectangular and square shape a bit. That's why this aviary is here to break the habit of you looking at boring cages. It has a hexagonal shape and that alone comes with another benefit.
Interior Space Footage
The benefit of getting a hexagonal indoor finch aviary is that your bird will get a lot more space to fly around on the inside. If you'd measure from any point to the one sitting across it, you'll always get the length of 44-in. This leaves you with space footage of 10 which is plenty of room for finches.
Stand Design
This aviary actually comes sitting on a stand as well. If we'd describe how it looks we'd best describe it by saying that it's an antique bird cage stand. This is true because it has curved and also hollowed-out legs. There are 6 of them and each sits on a wheel so a total of 6 wheels.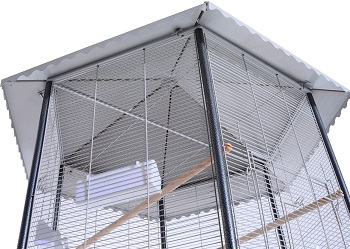 How Many Birds It Can House
It even has a canopy if you ever want to use it outdoors for a bit on a sunny day. It has a 0.5-in wire spacing which is perfect for finches of all kinds. Since it's big you'll get to house more than one finch inside and they'll get to rest on 2 wooden perches and drink and eat out of 4 cups.
In Short:
Shaped like a hexagon
Gives your birds 10 ft of space
It's 44-in wide
Has a canopy and sits on a wheeled stand
The wire spacing is 0.5-in
How To Pick An Indoor Finch Aviary
We believe that every animal product should focus on safety first and that's why we believe it's the same when picking out an indoor finch aviary. Apart from that, you might want to read this simple buying guide where we'll explain more about aviaries in general, their difference and many other things.
What Are Aviaries – Aviaries are nothing more than large bird cages. What's specific about their size is that they are incredibly wide and long. Of course, it's not uncommon for them to also be tall but the point is that they allow your bird to safely fly around inside to get the exercise they need.
Why Go Large – There is no limit as to how big of a cage a bird can be. There is a bottom limit but in terms of size, you can go as big as you want. Of course, there are some things to worry about with bigger cages and that mostly has to do with the wire spacing since they get bigger with bigger cage sizes.
Minimal Cage Requirements For Finches – Since the indoor finch aviaries are designed for indoor use, it's only logical that they're not as big as outdoor bird aviaries. Still, they're big enough for finches or even multiple finches since the minimal cage requirement for them is 18-in long, 30-in wide, and 18-in tall
Worrying About Wire Spacing – Like we said, with bigger size comes bigger wire spacing that can be hazardous to all birds if you're not getting the right one. Finches require a wire spacing of up to 0.5-in. Anything bigger than that might put them in terrible danger and we're talking even death here.
To Sum Up
It's easy to recommend the Prevue Pet Products Charming Aviary as the best indoor finch aviary when it looks this nice and it's this good. It has the perfect 0.5-in wire spacing for finches, and it has a roof housetop that's made out of metal sheets. this allows it to look good but also to be used outdoors. if you want to read more about aviaries but for different types of birds, we recommend you read the article about either cockatiel aviaries or dove aviaries.