Is your birds' mental and physical well-being extremely impotant to you so you decided that you want to get a cockatiel aviary for them?
You can make their dreams of safely flying and getting the exercise they need come true by continuing to read this article where we reviewed nothing but the best for your bird. All of these cages are safe for use by cockatiels and there' a lot of them in terms of tyype so you'll find outdoor aviaries, small aviaries, wooden ones, and a lot more.
The Summary
Best 5 Cockatiel Aviaries
BEST OF BEST COCKATIEL AVIARY
Prevue Pet Products Charming Aviary
Visual Elegance
The name of this aviary is charming and it surely is with how it looks. You probably wouldn't care about how it looks if it was designed specifically for outdoor use but its main function is to be used indoors. That's why it's a bit smaller than some of the other ones we'll review and it even has an elegant pear grey color.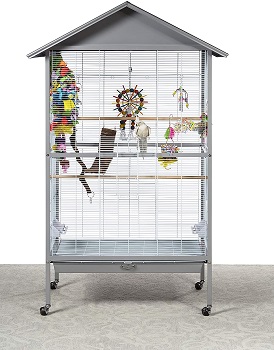 Protective Top
The top of this cockatiel aviary is made out of sheets of metal instead of wire and it resembles a house rooftop. Since this parakeet birdhouse really does act as a roof you can even use it oudoors from time to time. The roof will make sure that your bird or birds are protected from direct sun or rain.
Weight, Size, And Moving
Even though it's small enough to comfortably fit inside your home, it's still large and somewhat heavy. It weighs around 70 lbs and it's around 35-in long, 23-in wide, and 68-in tall. Its stand takes away some of its height but not a lot and since it features wheels you'll get to use it to easily move the aviary around.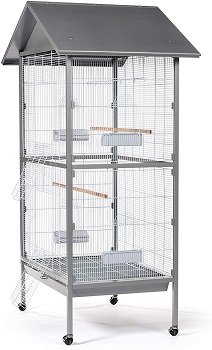 Nesting/Feeding Entrances
This aviary can actually as a cockatiel or parakeet breeding cage. This is because the 4 side entrances are feeding ones but they can be converted into nesting box entrances. Since there are 4 nesting/feeding entrances, you'll get 4 cups to place each one on one entrance per cup and you'll also receive 2 wooden perches.
In Short:
Made out of metal wire
Has a closed-off metal sheet top
The top can provide shade from the sun
Sits on wheels
Weighs 70 lbs
Can be used as a breeding cage
BEST OUTDOOR COCKATIEL AVIARY
Wonline Large Walk In Bird Aviary
If we had to compare a cockatiel to another small bird we'd compare it with budgies since they are the most commonly know breed among bird owners. Budgies are not a lot smaller than cockatiel but they still are and this small size difference makes a big difference in what bar spacing is tolerable for each. This aviary has a 3/4-in wire spacing that's still great for cockatiels but not budgies.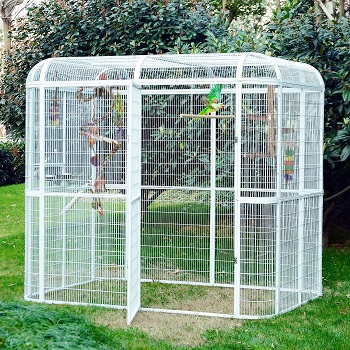 Large Walk-In Space
This cockatiel aviary is actually so large that you will only get to place it outdoors and you can actually walk inside it through the sinlge large door it has. Your bird or birds definitely won't be disappointed when it comes to how much space they'll get to fly around since the aviary is 86.5-in long 60.5-in wide, and 80.39-in tall.
Metal Used To Make It
The best part about it is that it's a stainless steel bird cage. This is why you can rely on it to be completely safe for your bird and you can also rely on it to not rust after prolonged outdoor use. It even has a strong construction because it's welded and it's corrosion, rust, and fade resistant.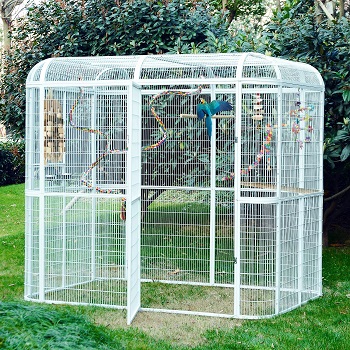 Finish And Adding Finish
Aviary or cage finished are also important generally and especially on a cockatiel outdoor aviary like this one. The finish of this one is safe for birds powder coats. You will have to do aviary maintenance every few months by spraying it down with another finish coat to ensure its long-term use.
In Short:
Made with stainless steel
Has a 3/4-in wire spacing
Can only be used outdoors
The coating finish is white and safe for birds
You'll get to walk inside it through a large door
Require simple maintenance every few months
BEST IRON COCKATIEL AVIARY
A&E Cage Co. Small Bird Aviary
Is It Really Small
You might be confused by the size of this aviary because it is smal but it still is a walk-in aviary and it's hard to believe that this type of aviary could be small. Compared to the one before it, we reviewed it is small but you decide for yourself. It's 85-in long, 61-in wide, and 79-in tall.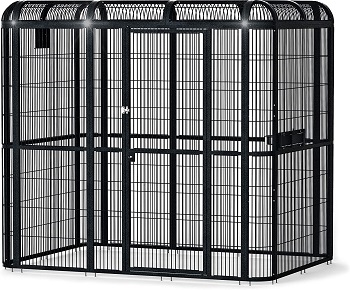 Indoor Walk-In Aviary
There is such a thing as a walk-in aviary that's meant to be used indoors and this is the one to prove. It does make sense now that it's smaller than the one before because its point is to look nicer inside a home and actually fit inside one. You can use it outdoors but we wouldn't recommend it.
Lock And Wire Safety
You won't have to worry about your bird escaping because this cockatiel aviary has a single entrance that can be locked with a hasp latch lock but also with a key. Another thing to not worry about is if your cockatiel will pull his head through the wire since it has a 0.5-in wire spacing.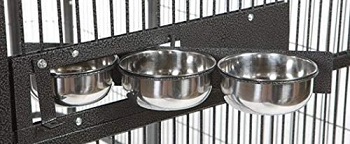 Assembly And Interior
The only that has been reported with this aviary is its assembly because you might go through a lot of trouble when doing it. If you're handy or don't mind it you're good to go. The interior is equipped with 3 stainless steel bowls that you'll get to attach to the feeding doors.
In Short:
Made out of metal wire
Should be used indoors
It is a walk-in aviary
The single door locks with a key
Has a 0.5-in wire spacing
Might be difficult to assemble
BEST WITH STAND COCKATIEL AVIARY
Prevue Pet Products Flight Cage Aviary
Top Looks And Functions
In terms of how it looks, this aviary is a lot similar to the house rooftop aviary we reviewed before. That's because it's got that top shape as well but the difference is that this one is made out of steel wire just like the rest of it. What this will allow you is to hang accessories on top.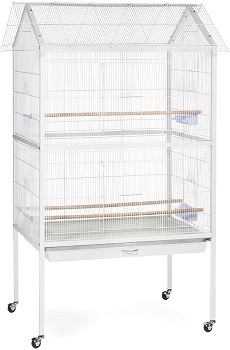 Details On Wire Spacing
If you ever see a bird aviary or cage cthat can house parakeets, you can be sure that it can house cockatiels as well. To know for sure, though, you can look at the spacing between the wires to figure it out. This cockatiel aviary has a 3/8-in wire spacing which makes it great for them as well.
Stand And Actual Cage Height
You have to take into account the height of the stand if you really want to make sure that this white bird cage with stand is tall and overall large. With the stand on, it's 68-in tall but if you don't include it, the usable interior space is 48-in tall. The stand can't be detached but does have caster wheels for you to move it with ease.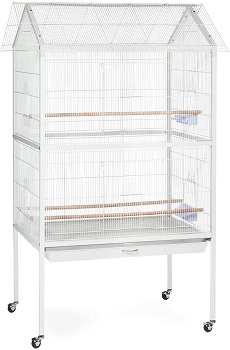 No Additional Purchase Accessories
To get your bird started with flying and general interior fun, without having to purchase anything else, you'll get 3 wooden perches and 4 food and water cups. You can place the cups on their own feeding entrance found on the left and the right side of this aviary.
In Short:
Has a wire house rooftop
MAde out of steel wire
It's colored white
Sits on a stand with caster wheels
The interior is 48-in tall
Has a 3/8-in wire spacing
Comes wtih 4 food cups and 3 perches
BEST WOODEN COCKATIEL AVIARY
Aivituvin Bird Wooden Aviary
Smaller Length And Width
Most of the wooden aviaries we've seen so far have been extremely tall but not as long or wide. It's hard to determine whether these and this wooden aviary are actually large or small but one thing is for certain, they can both be used outdoor and indoor due to their smaller length and width.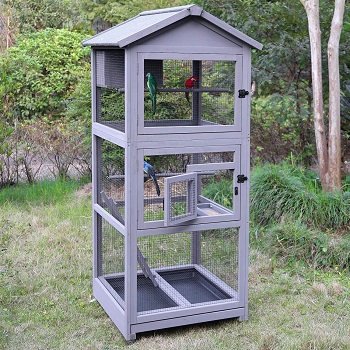 Materials Used
The wood used to make this cockatiel aviary is solid fir wood. You can found this wood as the construction material of the frame and top while on the sides you'll find steel wire. It definitely looks a bit more modern since the wood is stained with a lovely grey finish.
Outdoor Weather Protection
Everything that you see on this aviary is protected from outdoor weather conditions to ensure long-lasting use. These things are the wire that's galvanized which means that it has a zinc coating that protects it from corrosion and rusting. The other 2 things are the paint finish and the waterproof asphalt roof.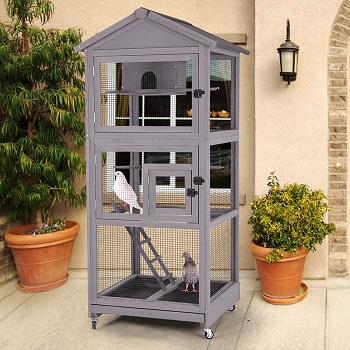 Inside Details
Another interesting thing about it, or rather things, is the interior details. Your bird will get to play on a ladder that you can place on the bottom and rest on either 2 wooden perches or a hide-out area located on top. It also features a single wooden feeder on one of the interior sides.
In Short:
Made with solid fir wood and wire
The wire is glavanized
Features a waterproof asphalt roof
Has an on-toxic coating finish
Has a hideout spot, 2 perches, ladder, and feeder
How To Pick A Cockatiel Aviary
We'd like to start this guide on how to pick the perfect cockatiel aviary by mentioning some of the things we'll discuss here. We'l mostly touch upon bird safety, general cage information for cockatiels, the primary function of aviaries, their types, and a lot more so make sure you keep on reading.
What Aviaries Are For – Aviaries are also known as flight cages but with a bit of a difference in their dimension. flight cages are usually wide but not as long while aviaries are both wide and long. Of course, they are also tall and what they do is they allow you rbird to safely fly around and get their exercise.
What Cockatiel Require – If you're not sure how to determine which aviaries and cages can actually house cockatiels you'll find the answer to this question by checking out the spacing between the wire. Cockatiels are somewhat larger birds so they can thrive in a cage of up to 3/4-in wire spacing.
Aviary Types – Here and anywhere else you'll find two aviary type categores that both split into two types. The first category is indoor aviaries and the second one is outdoor. Furthermore, there are walk-in aviaries and regular aviaries. Walk-in aviaries are much larger but both can be used indoor and outdoor, depending on the specific aviary while indoor aviaries can also be walk-in aviaries or regular ones but they are usually smaller.
Bird Safety Importance – Although wire spacing plays a big role in how safe a bird cage or cockatiel aviary is, it's definitely not the only one. You'll also have to worry about metal rusting since this can cause your bird to get metal posisoning. To prevent it either focus on getting a quality metal cage, or one with a quality coating finish.
To Sum Up
If we get the chance to recommend a stainless steel aviary as the best in any category we definitely will and that's why we chose to recommend the Wonline Large Walk In Bird Aviary as the best cockatiel aviary. Stainless steel is incredibly durable and safe for birds. Furthermore, this aviary can be used outdoors and it's a walk-in aviary as well. If you'd like to read about more bird aviaries but for different bird breeds, we'd advise you to read the article about parakeet aviaries or macaw aviaries.