Are you ready for your bird to have the time of their life by safely flying around in a macaw aviary?
You can get one today by continuing to read this article where we did our best to review only the best. Apart from reviewing these aviaries, we also made sure to give you a lot of options to choose from like indoor, outdoor, and even smaller aviaries. The choice is up to you.
The Summary
Best 6 Macaw Aviary Reviews
BEST OF BEST MACAW AVIARY
Wonline Large Walk in Bird Cage Aviary
Welded Stainless Steel Build
It really doesn't get better than stainless steel. Stainless steel as a bird cage material is a reliable choice since it's definitely the most durable and won't quite be easily bent by your bird chewing on the wire. Furthermore, the cage is welded together to really ensure a durable build.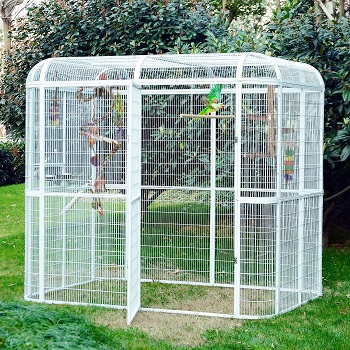 Aviary Cleaning
This metal is also a great choice for birds because it's very easy to clean and birds need to have a clean living or flying space. It's actually so large that you'll get to walk in and change a few things up when it's necessary and of course, it'll make cleaning the interior a lot easier. One thing we feel should be also noted is that it's actually a large white bird cage.
Outdoor Cage Durability
We really wanted to focus our attention on the actual durability of the metal since this is a large outdoor aviary. The coating finish of this macaw aviary is also safe for birds because it's non-toxic for them. Overall, the metal used provides you with excellent corrosion and rust resistance and many other things.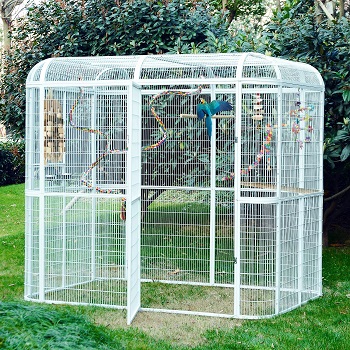 Interior Customization
You'll get one large door that you can use to walk inside the cage. There are two locks on this door for additional safety. Of course, you'll get to completely customize the interior but you will get a single wooden perch that you can hang on top and also 2 feeding bowls.
In Short:
Made with stainless steel
Has a bird sage white finish
You can walk inside it through a large front door
Comes with a hanging perch and 2 water and food bowls
Resists corrosion and rust well
Intended for outdoor use
BEST INDOOR MACAW AVIARY
Prevue Pet Products Charming Aviary
Recommended Location Of Use
If we were to compare the size of this aviary to the first one we reviewed, it would be very clear that this is a lot smaller aviary. It still managed to earn its place in these reviews because the small size will allow you to use it as an indoor bird cage so it will definitely be a lot safer.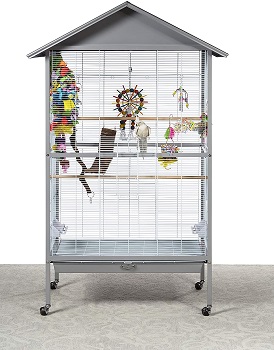 Protective Roof
If you want to, you can use it outdoors as well. You should be aware of the fact that it has a top that's shaped like a house roof. This bit is made out of metal sheets so it will give your bird some shade during sunny weather and protection from rain during cloudy and rainy days.
Birds It's Good For
You can also use this macaw aviary as a parakeet aviary. We concluded this because it has a wire spacing of 0.5-in which is ideal for budgies and other similar-sized birds. In terms of what macaws can use it, we'd recommend you get it for mini macaws like Hahn's and Severe's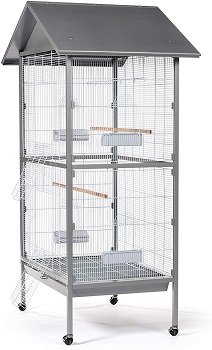 Moving It And Interior Detailing
If you're wondering how you're going to move this around 5 ft tall cage anywhere you'll be pleased to know that it comes sitting on a stand with wheels. On the inside, you can place whatever you want but as it is, it comes with 2 wooden perches and 4 cups that have a designated area for food and water.
In Short:
 Comes witting on a stand with wheels
Can be used indoor and outdoor
Has a metal sheet roof house top
The top protects your bird from the sun and rain
Has a 0.5-in wire spacing
Suitable for mini macaws
BEST WOODEN MACAW AVIARY
Aivituvin Wooden Bird Aviary
Aviary Dimensions
Aviaries and flight cages are usually really long and wide. they don't usually focus much on the actual height because birds don't need a tall aviary to fly around but rather, they need length and width. This aviary focuses on height more since it's 70.8-in tall 28.3-in wide and 26.8-in long.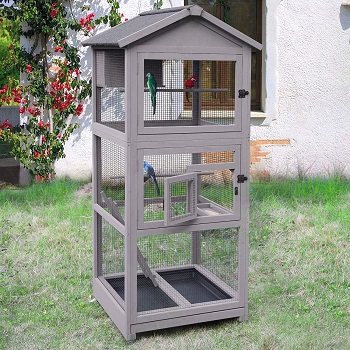 2 Material Construction
This aviary is mainly made out of wood and it does feature some wire bits as well. you will have to assemble it but it should be easy since you will get predrilled holes and the hardware needed to assemble it. The wire of the cage can stand up to rain since it's galvanized.
Wood And Metal Outdoor Protection
It's not really a surprise that the wood and metal that make this wooden aviary have coatings that protect them from rain and the sun. On wood, the coating in question is the paint finish while on the wire, it's a zinc coating meaning it's galvanized and resists rusting and corrosion outstandingly well. You'll also find a waterproof asphalt roof on top.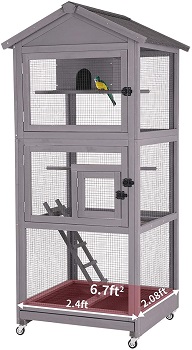 Outdoor To Indoor Movement And Other Details
Since it isn't exactly long or wide we'd recommend you use this outdoor macaw aviary with mini macaws. You'll get a ladder, 2 perches, and a hideout spot on the inside and you'll easily get to move it indoors because the bottom is equipped with 4 caster wheels.
In Short:
Made out of wood and wire
The wire is galvanized
Has an asphalt roof
Features wheels on the bottom for easy moving
Can be used indoors and outdoors
It's 70.8-in tall
Comes with a ladder, hideout spot, and 2 perches
BEST METAL MACAW AVIARY
Talis Large Deluxe Aviary
Aviary Price
Before we even start with this review, you'll want to know how much exactly will you be spending on this aviary if you choose to get it. we won't say that it, unfortunately, costs around $1200 because it's well worth the price and we'll explain why a bit further down the road.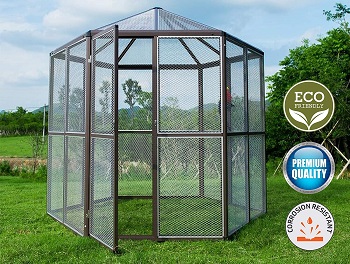 Frame And Netting
This macaw aviary is completely made out of aluminum. It has an aluminum frame and aluminum netting. The netting is not shaped like your typical wire but it actually is patterned as netting. The net bit is silver while the frame of the aviary is colored black.
What's Up With Aluminum
You seriously can't go wrong with aluminum bird cages and the simple reason why is that it doesn't corrode as regular iron or steel does. Overall it's well resistant to rusting and corrosion and even when it happens the white substance left as a sign of corrosion and rust isn't toxic to birds.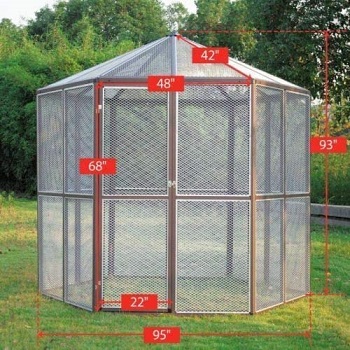 How Big It Is
Just like the first aviary we reviewed, this is another walk-in aviary so you'll get to fix or customize anything from the inside of the cage. It has a hexagonal shape so you can be sure that you'll be providing your bird with the most space since it's 93-in tall and 95-in wide.
In Short:
Made out of Aluminum
Incredibly resistant to corrosion and rust
Even if it corrodes, it's not toxic to birds
It's 93-in tall and 95-in wide
You can easily walk inside it
BEST OUTDOOR MACAW AVIARY
Flyline XXL Large Bird Aviary
Large Macaw Aviary
This aviary is somewhat similar to the wooden aviary that we'd already reviewed but if that one was made to house smaller macaws, then this one is the opposite and able to house larger macaws. There are multiple reasons for that claim but probably the main thing is its 1-in wire spacing.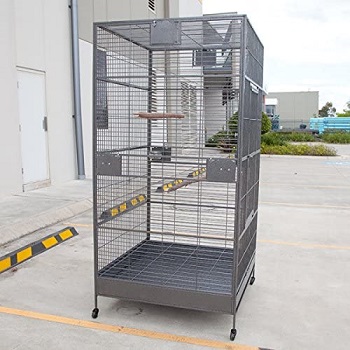 Width And Length
Extra large flight cages are usually narrow but have the same function as aviaries that are not only wide but also long and with it also tall. This aviary has a square shape and with a length and width of 35.5-in, you can be sure that your bird will easily stretch its wings and get its exercise.
Weight And Moving It
It does weigh a lot and it's no surprise since it's also 80-in tall. You still won't have problems moving the aviary that weighs 120 lbs because of the simple fact that it sits on wheels. That's why you'll get the option to use it as an indoor macaw aviary as well.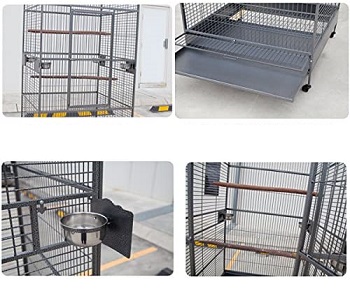 Front And Side Entrances
If the front entrance were any bigger, you could easily walk inside it but it's not. You'll also find entrances on its sides. The left side is equipped with 2, one on top that serves as a nesting box entrance, and one a bit lower that acts as a feeding entrance. The same applies to the right side.
In Short:
Has a 1-in wire spacing
Weighs 120 lbs
Sits on wheels for easy movement
It's 35.5-in long and wide and 80-in tall
Has a large front entrance
Features breeding box and feeding entrances
BEST ANTIQUE MACAW AVIARY
PawHut 44″ Hexagon Covered Aviary
Shape Benefits
The benefits of getting a hexagonal aviary or bird cage, in general, are great. The first thing that comes to mind has to do with its visually since it doesn't have that boxed-in look. The second benefit has to do with the fact that it's far more spacious on the inside but still manages to looks smaller.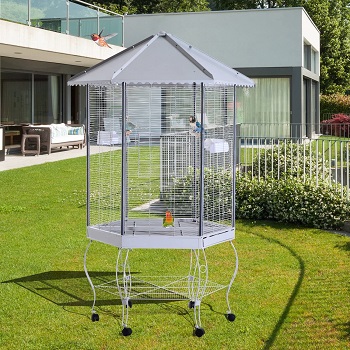 Stand Visuals And Function
Apart from being shaped visually great, it also has a nice white and grey color and it comes with an antique bird cage stand. The stand is antique due to its hollowed legs that are also curved. You'll easily get to move it because the six legs come with six wheels and you'll get a storage grid as well.
Canopy And Front Entrance
Another thing that makes it a visually pleasing macaw aviary is its top. It's a canopy that extends over the edges of the cage to provide your bird with better sun and rain protection. It features a smaller entrance on one of the 6 sides so you might have a bit of an issue accessing the interior.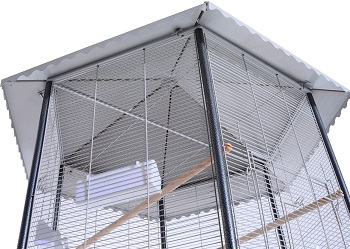 Use Advice And Size
We'd advise you to use this aviary for smaller macaws. This mainly has to do with the fact that it has a 0.5-in wire spacing. It is 44-in long and wide so it'll be spacious enough for them but take to account that it also has a small door. The interior is equipped with 2 perches and 4 feeding cups.
In Short:
Has a hexagonal shape
Features a canopy
Has a 0.5-in wire spacing
It's 44-in long and wide
Sits on an antique stand with wheels
Comes with 2 perches and 4 feeding cups
How To Pick A Macaw Aviary
There are a lot of things to consider, check out, and make sure of when it comes to getting an aviary for your macaw. Since they're mostly intended for outdoor use, there are even more safety features to check out and worry about. We'll go through them and more in this buying guide we recommend you continue reading.
Outdoor Dangers – There's a lot of dangers that come with placing an aviary or a cage outdoor. The first one is predators so the wire should be strong enough to make them back off and the second one is the dangers of rain and sun and the impact they might have on the metal.
Corrosion And Rust Problems – If you're getting a metal cage it's most likely that the metal has rusting properties. This is dangerous because your bird or birds can easily suffer metal poisoning if they chew on the rusted bits. To protect the metal and your bird from getting into contact with rust you will have to either get a different metal aviary or ensure that the coating finish is durable.
Indoor Use – Unless you're getting a small indoor bird cage you might also battle with size problems. Aviaries are usually incredibly large and become large obstructions inside homes if you don't downsize. With smaller aviaries, there are limitation as to what birds you can
Mini Macaws And Large Macaws – There are two types of macaws: mini and large macaws. Each has its own needs in terms of cage size and safety. For mini macaws, you'll have to get a macaw aviary or cage with a wire spacing of around 3/4-in or 4/4-in. With large macaws, a safe cage would be one with a 1-1.5-in wire spacing.
To Sum Up
We feel like it's only right to recommend the Wonline Large Walk in Bird Cage Aviary as the best macaw aviary out there. It's made out of stainless steel so you can be sure it's durable it has a white coating finish, it's large enough for you to walk inside, and it comes with a hanging perch and 2 bowls for food and water. If you want to check out more aviary options but for different birds, we'd advise you to read the article aviaries for pigeons or about cockatiel aviaries.