Looking for a fashionable but durable backyard aviary where your bird will get to fly around safely?
You're on the right track to finding one that will fulfill all of your birds' needs and wishes. All you need to do is continue reading this article. As you read, you'll go through reviews of the best aviaries to fit inside backyards and you'll get to choose from a wide range of aviaries like large, antique, and even aviaries on wheels.
The Summary
Best 6 Backyard Aviaries
BEST OF BEST BACKYARD AVIARY
Wonline Large Walk in Bird
How Big It Actually Is
Depending n the size of your backyard, you'll easily get to place a huge aviary like this one there. This aviary is 86.5-in long, 60.5-in wide, and around 81-in tall. We are sure that it'll easily fit there and another benefit that's a consequence of its size is that you'll easily get to walk inside it.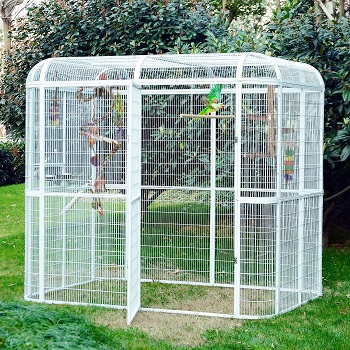 Perfect Outdoor Metal
You don't have to question whether or not it'll survive outdoor weather conditions since the material used to make it is actually stainless steel. It surely is one of the best materials to use on a backyard aviary that tends to be exposed to moisture and rain a lot and stainless steel is resistant to corrosion and rusting.
Construction And Looks
Another detail that'll tell you just how big it is is the fact that all parts of it are welded together so that you can rely on it to have a stable construction. It definitely isn't an eyesore of an aviary because it's colored white even when it's that big. the top edges are actually curved.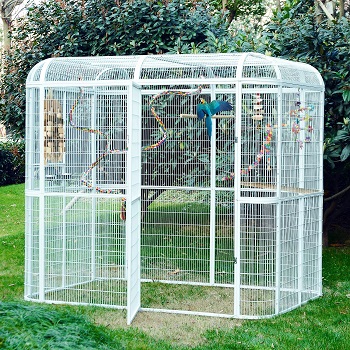 Birds To House Indicator
You'll have to worry about wire spacing if you want to know which birds it can house. Since it has a 3/4-in wire spacing that's a bit bigger than the smallest of wire spacings, you'll get to use this aviary as a macaw aviary. Other than for them, you can use it to house any bird of similar size.
In Short:
Made out of stainless steel
All parts of it are welded
You can easily walk inside it because it's large
Has a white powder coating finish
Features a 3/4-in wire spacing
BEST ON WHEELS BACKYARD AVIARY
Flyline XXL Wheeled Bird Aviary
Aviary Shape
Aviaries are nothing more than large cages but what can help you tell them apart from regular bird cages is the ground square footage they have. This means that they have a much larger width and length than what's normally seen. Cages are typically narrow and rectangular while aviaries are usually squared.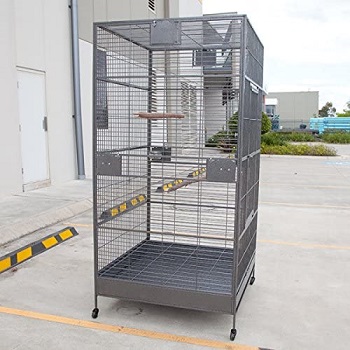 Length, Width, And Height
This squared backyard aviary has a length and width of 35.5-in so it will surely be enough for your bird to spread its wings and fly around to get its daily exercise. If the entrance door of this aviary was any bigger you could easily walk inside it because it's 80-in tall.
Moving It
It actually sits on wheels which is unusual for aviaries but the benefits of this are great. The first thing that comes to mind in terms of what you'll get to do is that you can choose to move it indoors if you want to. It's a heavy cage with a weight of 120 lbs so you'll definitely put it to good use.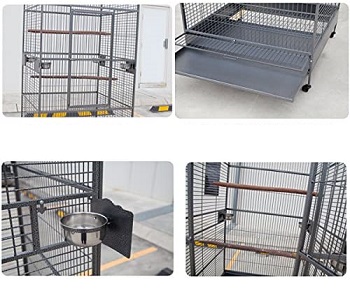 Entrances And Wire Spacing
Apart from the front entrance, you'll also get 4 more entrances that have different functions. Two of these are feeding entrances where you'll get to place the bowls for food and water while the other two are entrances for placing a nesting box. The wire spacing is 1-in which means that you'll get to use it like a parrot aviary.
In Short:
Has a square shape since it's 35.5-in long and wire
It's 80-in tall
Sits on wheels for ease of movement
Has 2 feeding and 2 breeding box entrances
Features a 1-in bar spacing
BEST ANTIQUE BACKYARD AVIARY
PawHut 44″ Hexagon Covered Aviary
Color And Looks
If these aviaries could compete with how they look this one would definitely win this competition in our opinion. The reason is quite simple and surprising. This aviary has a hexagonal shape, it's coated with a white and grey coating finish, depending on the place, and it even features a canopy.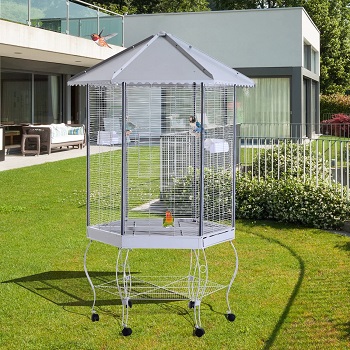 Canopy Use And Build
Oftentimes, aviaries or bird cages will have a wire top but this one is different. Its canopy is made out of metal sheets and it extends from the edges to offer your birds full protection from rainy weather. Another thing it'll help with is keeping your birds in the shade when it's sunny.
Stand Contents
What makes it antique is its antique bird cage stand. The stand is hollowed out and it's also curved. it has 6 legs and each leg has a wheel on the bottom for easier movement. It also features a large wire gird that will help you keep your birds' accessories ad supplies organized.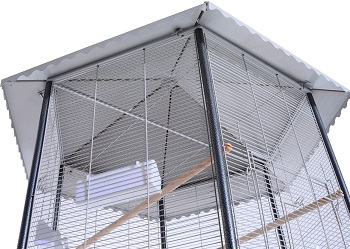 Bird Allowed Inside
This backyard aviary has a smaller entrance and it makes sense because you'll get to house small birds like budgies inside. if you want to figure out on your own if you'll get to house your bird inside what might help you with that is the information about its 0.5-in wire spacing.
In Short:
Has a hexagonal shape
Features a metal sheet canopy
Sits on a stand with wheels and a storage grid
Has a 0.5-in wire spacing
Features a small front entrance
BEST LARGE BACKYARD AVIARY
Talis Large Deluxe Bird Aviary
Build Material And Pattern
This is the first aviary of this type we'll review. You don't get many like this one. What makes it special is the fact that it's made out of aluminum. This means that it has an aluminum wire and an aluminum frame. It'd be wrong to say that it's wire, it's more of netting because of the specific netting pattern.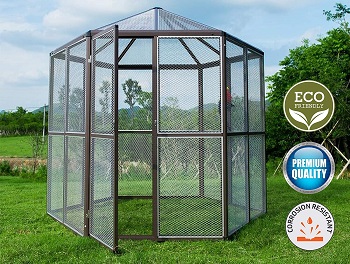 Why Aluminum Is Safe
Aluminum, just like stainless steel is probably the safest metal of choice when it comes to housing birds. The great thing about it is that it doesn't rust like iron or steel does but instead, it produces a white substance called aluminum oxide that's actually not toxic to birds if they ingest it.
Height And Diameter
If you want to know just how big this backyard aviary is, we should tell you that you'll comfortably get to walk inside it to clean it or change things up when needed. From the bottom to the highest point of this aluminum bird cage there's 93-in of space and it's 95-in wide.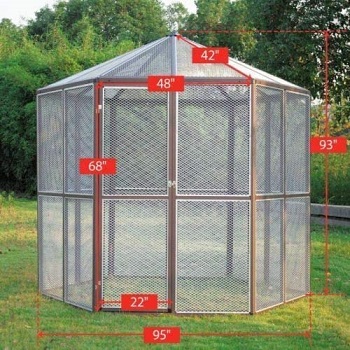 Entrance Size And Birds It Can Contain
It's actually hexagonal and features a lovely canopy so it will definitely be pleasing to look at in your backyard. The single entrance door located on one of the six sides is 68-in long and 48-in tall. The wire spacing isn't specified but it's good for medium or large birds like African greys or cockatoos.
In Short:
Has an aluminum frame and netting
Has a hexagonal shape
it's 93-in tall and 95-in wide
It's rust and corrosion-proof
Can house medium and large birds
BEST WOODEN BACKYARD AVIARY
Aivituvin Wooden Bird Aviary
Length And Width Comparison
The aviaries we reviewed so far were all extremely large. So large in fact that you could walk inside most of them. This aviary is a bit different. It is pretty tall meaning that it does come close to the other ones with its 70.8-in of height but it is narrower and shorter than the others.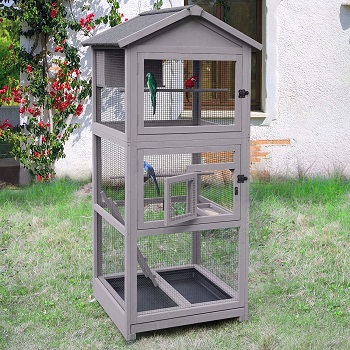 Optional Indoor Use
The frame of this backyard aviary makes it a wooden aviary. it's painted gray and due to this and the smaller ground square footage, it can fit comfortably and stylishly inside homes as well. If you're wondering how you're going to move it there, you'll find wheels on the bottom.
Weather Protected Bits
Two things help protect this cage and your birds from different weather conditions. The first is the fact that the wire is galvanized which means that the thin layer of zinc coating helps protect it from rusting and corroding. The second is the waterproof asphalt roof.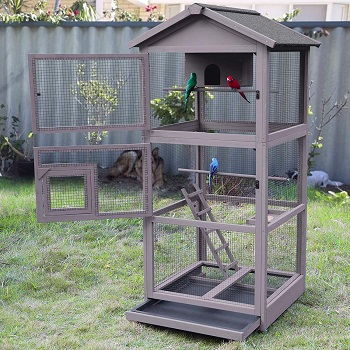 Wire Spacing And Equipment
Due to its smaller size and wire spacing of 1/2 x 1/2-in, this is a parakeet aviary. You can use it to house any bird of similar size as well. The inside already comes equipped with a few things like the hideout top area, bottom play ladder, a wooden perch, and a wooden feeder.
In Short:
Made with wood and wire
The wire is galvanized
Has a 1/2 x 1/2-in wire spacing
The top features a protective asphalt roof
Has a hideout area, perch, ladder, and a feeder
Can be move indoor with bottom wheels
BEST PARAKEET BACKYARD AVIARY
PawHut Wooden Outdoor Bird Aviary
Moving It
This aviary is somewhat similar to the one we reviewed before it. The biggest difference between the two, in our opinion, is the fact that you won't get to move it indoors. You will but you'll have to disassemble the whole things to do so because it's only elevated from the ground with wooden legs.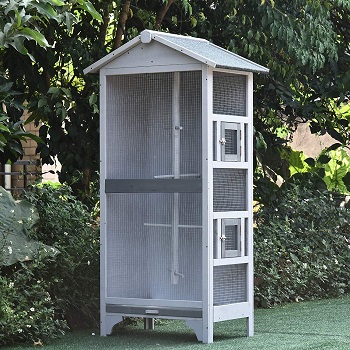 Ground Elevation
It's actually great that it's lifted from the ground because that way you won't have to worry about mold build-up or bugs getting inside this backyard aviary. Close to the bottom, you'll also find a cleaning tray that you'll get to easily slide out for cleaning. Above the tray, there is a gridded wire as well.
Frame And Sides
It does have a wooden frame and wire sides but the left and backside are entirely made out of wood. Because of this your bird will easily be kept in the shade and be well protected from direct rain. Another thing that'll do both of these things already mentioned is the waterproof asphalt roof.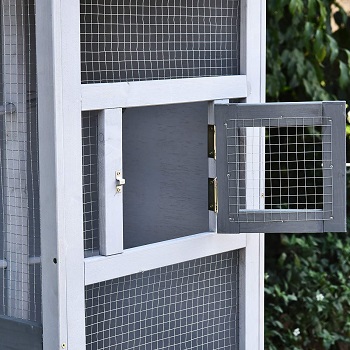 Access And Interior
You might have slight troubles accessing the interior since the two doors found on the right side are quite small. The interior is interesting however because it has an accessory that resembles a tree with branches. It's a central pillar that drops from the top and has 4 wooden perches.
In Short:
Has a wood and wire build
The back and left side are entirely wooden
Has an asphalt waterproof roof
it's elevated from the ground
Comes with 2 small entrances
Has a central pillar and 4 perches through it
How To Pick A Backyard Aviary
Since a backyard aviary is meant to be used outdoor you want to take extra precautions when picking one since they come with a lot more dangers due to their positioning and exposure to things. We'd advise you to continue reading this buying guide so that you can pick out the safest one for your birds.
Outdoor Aviary Safety – The number one thing that should worry you about any outdoor cage is metal safety since birds can easily suffer metal poisoning if the cage easily rusts and corrodes and isn't well protected from it either by metal type or with a coating finish.
Aviary Maintenance – You can't expect our aviary to be in perfect condition for years on ends without performing any kind of maintenance. Outdoor weather conditions can be hard on anything being outside for too long. Maintenance is simple though. Every couple of months you should spray down the whole aviary with a new layer of finish. Make sure the finish is safe for birds.
Aviary Function – If you have a bird you probably need an aviary. That is unless you have a bird that you let fly around freely inside your home. Aviaries are here to offer your bird the chance to get their exercise without you having to worry about any damage and without them having to worry about outside predators.
Determining Which Aviary Is For Your Bird – Wire spacing is probably the most important thing you should know about when checking out a backyard aviary for your bird. Too wide of a wire spacing can seriously harm your birds. It's best to check out the recommended wire spacing for your specific bird breed but a good point to start with is that budgie and similar-sized birds can be housed in up to a 0.5-in wire spacing cage. Larger birds like African greys and Macaws can be house in a cage of 1-in up to 1.5-in wire spacing cage and birds that fall in between are medium-sized birds.
To Sum Up
The qualifications of the Wonline Large Walk in Bird to win the title for that one backyard aviary that we'd recommend are as follows: it's made out of stainless steel, it's welded, large enough for you to walk inside it, and it has a quality white coating finish. If you want to check out more aviaries but for indoor use, we'd advise you to read the article about indoor finch aviaries or if you want to keep them for small birds about parakeet aviaries.