Are you looking to get a beautiful and natural wooden aviary but can't seem to find one or just can't decide?
We'll make it easy for you since all you need to do is continue reading this article to finally get the aviary you've been longing. You should know that we reviewed nothing but the best so it's going to be easy for you to choose one. You'll find reviews of outdoor, indoor, parakeet, and even cockatiel aviaries with more to come.
The Summary
Best 6 Wooden Aviaries
BEST OF BEST WOODEN AVIARY
Pets Imperial Stunning Wooden Bird Aviary
Outter Looks
Although we did choose to review this aviary as the best for the way it looks. That's definitely not the only reason why. It's made up of 6 sides which means that it's hexagonal and has a beautiful natural wooden finish. On top, you'll find a canopy that's colored green.
Spacious Interior
We wouldn't dare to recommend this wooden aviary as a backyard aviary because it will look beautiful there no matter what. The hexagon shape comes with benefits beyond just its looks. Your bird will definitely have more space inside since it's both 4 ft 9" long and wide.
Rain Protection
The canopy of this aviary isn't here just for its looks. Since it's designed to be used outdoors, this canopy will protect your bird from direct sunlight exposure and also from direct rain. it won't get damaged since it's a waterproof asphalt roof. The timber wood that makes it has a weather-resistant finish and the wire bits are galvanized.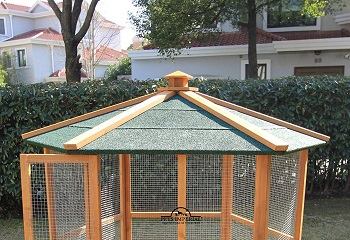 Bird Recommendation
It would be best if you used this aviary for smaller birds. We recommend parakeets, cockatiels, doves, and other birds of similar size. We came to this conclusion by looking at the very important wire spacing. It's not strictly set but it's either below 0.5-in or exactly 0.5-in.
In Short:
Has a timber wood and wire build
The wood, wire, and roof are weather resistant
Can be used outdoors
Has a hexagon shape and it's 4ft 9" long and wide
Recommended for smaller birds like parakeets
BEST ON WHEELS WOODEN AVIARY
Aivituvin Wooden Bird Aviary
Fit For Indoor Use
Although it's made out of wood, fir wood to be precise, we can't but not notice that this aviary looks slightly more modern than your average wooden bird aviary. That's due to the fact that it's entirely painted with a grey finish. With the wheels on the bottom and this color, you can easily use it indoors as well.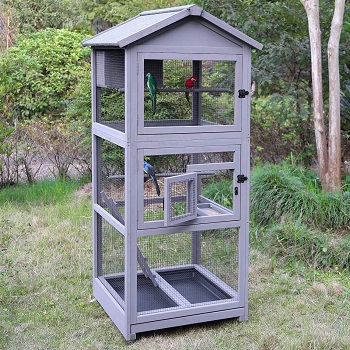 Wire Weather Protection
Apart from the wooden frame, it does feature wire sides. The wire is actually galvanized. If you don't know what galvanization means, it's a process where a metal is layered with a thin zinc coating that gives it corrosion and rust-resistant properties. That's one of the reasons why you can safely use it outdoors.
Roof Top Purpose
The top is also weather resistant. Specifically, it's an asphalt roof that's waterproof and angled. It's angled in the sense that it's shaped like a house roof so that rain droplets don't stick there. This roof will protect your birds from direct rain but will also provide them with shade from the sun.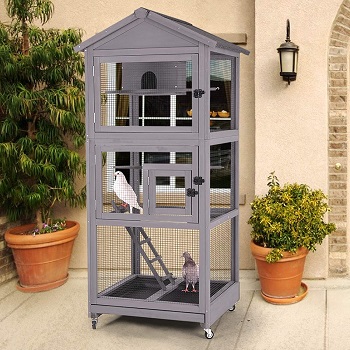 Door Locations And Size
Although it's ot exactly a walk-in wooden aviary, rest assured that you'll get to reach for every single thing on the inside thanks to its doors. There are three of them, the first two are large and the last one is small. The small door is actually built into the bottom large door. This aviary will be a great indoor finch aviary due to the 0.5-in wire spacing.
In Short:
Has a grey finish
Can be transferred indoors using wheels
Made with fir wood and wire
The wire is galvanized
Features a waterproof asphalt roof
Has 2 large doors and 1 small one
Can hosue small birds like finches
BEST OUTDOOR WOODEN AVIARY
PawHut 65″ Large Aviary
Overall Proportions
If you thought that the first two aviaries we reviewed were large, you'll love this one. It actually has the same hexagonal shape as the first aviary we reviewed but they do have some differences. The first one is definitely the size since this one is around 60-in long and wide and 65-in tall.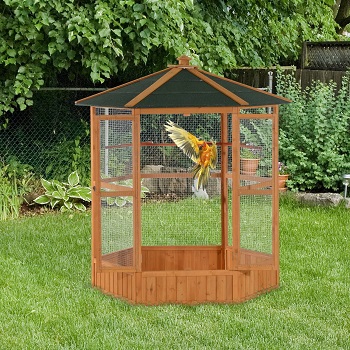 Everything About Wood
The Pawhut large wooden outdoor aviary bird cage is designed to look natural and so that it fits into any backyard or garden. It has a natural wooden finish, it's actually fir wood that's light and weather resistant. The top does feature a canopy like the first one.
Birds Allowed And Not Allowed Inside
This wooden aviary has a really small wire spacing of 0.5-in so if you have a small bird that you want to house inside you can do it with budgies, cockatiels, finches, and many other similar-sized birds. it's definitely not fit for a larger bird since larger birds have stronger beaks and could easily escape by breaking the wire.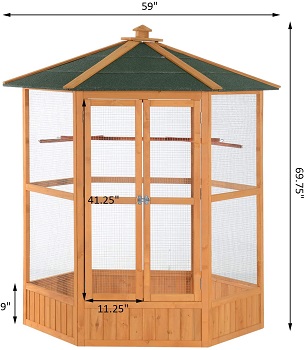 Canopy Function
The canopy isn't just here to make it look pretty. It's actually a green asphalt roof that extends away from the edges so that when it's raining and water droplets drip down, they drip on the ground and not the interior. It will also help protect your birds from direct sunlight.
In Short:
it's 60-in, long, 60-in wide, and 65-in tall
Has a green asphalt roof canopy
Features a 0.5-in wire spacing
Made with lightweight fir wood
The wood is weather-resistant
BEST INDOOR WOODEN AVIARY
Trixie Pet Products Natura Aviary
Leg Caps
There are multiple reasons why we chose to review this aviary as the best for indoor use. One of these reasons is the fact that it has an elevated design and sits on legs with plastic caps. These plastic caps will help protect your floors from getting scratched if you choose to move the aviary from the outdoor to your home.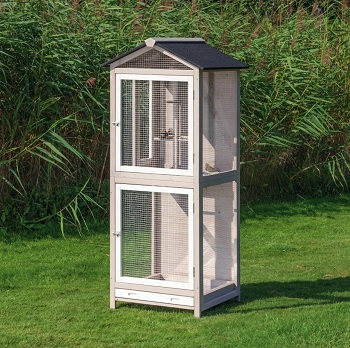 Clean Indoor Air
The second and probably the biggest reason why we'd recommend it as an indoor finch aviary for example is the fact that this wooden aviary is CARB phase 2 compliant. Put simply, the composite wood material that makes this aviary doesn't worsen the indoor quality of air.
Front Side
Athough you won't get to walk inside this aviary, you can be sure that you'll be able to reach for everything on the inside or if you want to clean it more thoroughly. This is due to the fact that around 85% of the front side is taken up by the two large doors that lock with sliding bolt locks.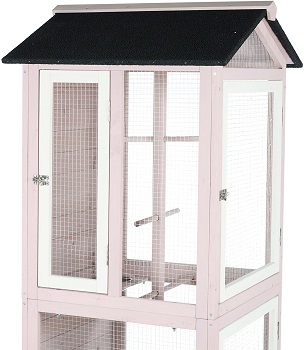 Bottom And Top
On the bottom, you'll find a drawer that you'll get to slide out for cleaning when you need to. On top, just like with the rest, you'll find an asphalt roof that will protect your birds from the sun and the rain when you use it outdoors. It's also big enough to house more than one small bird.
In Short:
it's carb phase 2 compliant
Can be used outdoors and indoors
It's elevated from the ground with plastic caps on the legs
Has 2 massive doors that lock with sliding bolt locks
Purposed for multiple small birds
Has a waterproof asphalt roof
BEST PARAKEET WOODEN AVIARY
PawHut Wooden Outdoor Bird Aviary
Sides Contents
What makes this aviary stand out right from the first look at it is definitely the way some of its sides are made. You can be sure that your bird won't be too exposed to the sun and that they will be protected from water during rainy days because the left and back side are completely wooden.
Elevated Design Reasoning
It has an elevated design and it's thoughtful because this will prevent the mold from building up down there due to excess moisture. Because of this it also fits a slide-out cleaning tray below. Above the tray, you'll also find a wire grid so that your birds can't get into contact with their own litter or escape.
Left And Right Contents
Apart from one fir wood plank, the front of this wooden aviary is completely wire which will give you a great view of what's going on inside. The two small entrances are located on the right side. They lock with sliding bolt locks and are small so that you don't have to risk your birds escaping. We say birds because this is a 2 budgie cage.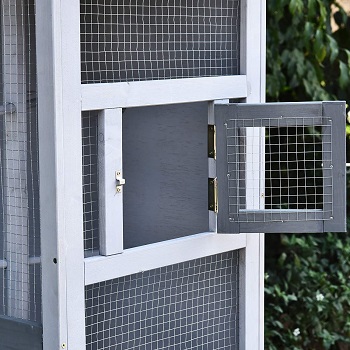 Top And Interior
Apart from the left and back sides, the top will also protect your birds from getting wet and provide them with additional shade. On the inside, there's a pillar that's centered and falls down from the top. It has perches pulled through it and it's made to resemble a tree with branches.
In Short:
Has entirely wooden left and back side
The two small entrances are located on the right
Can house two small birds
Has a waterproof Top
The central pillar with perches resembles a tree with branches
BEST COCKATIEL WOODEN AVIARY
Lonabr Aviary House
Fir Wood Info
Firwood is considered a soft wood material. It's great for external applications because even though it will expand and shrink as it absorbs the moisture from rain and other similar weather conditions, it will always go back to its original form. Knowing this, you might want to know that this aviary is made out of solid fir wood.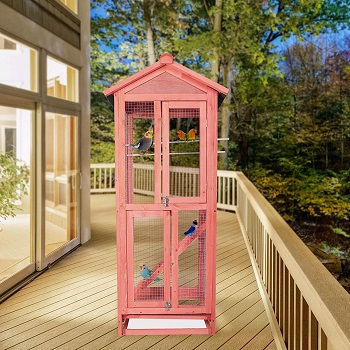 Top And Bottom
Just like with previous and many others before it, this wooden aviary has an elevated bottom so that mold doesn't build up due to excess moisture. The top features an asphalt roof that's waterproof. It's angled so it'll slide from the top and end up on the ground.
Door Locations
One door is located on the top half and the other one is located on the bottom part. This is so that you can easily access ay part of this aviary and clean or change things up a bit. You'll get to lock both of these doors with simple but safe sliding bolt locks.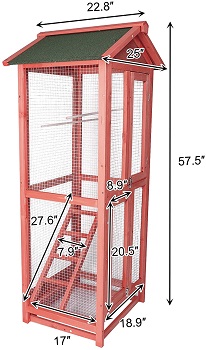 Inside Accessories
To keep everything more fun for your birds, the aviary comes with two perches where your birds will get to rest and with a play ladder. You'll get to place the ladder on the bottom while you can attach the perches to any wire part of this aviary. You should know that the color of this aviary is a faded orange and pink color.
In Short:
Made with solid fir wood
Has an asphalt roof
It's elevated from the ground
Features a top and bottom large door
The doors lock with sliding bolt locks
How To Pick A Wooden Aviary
There is something that makes every wooden aviary exactly that but knowing what the minor differences are what is going to set you up for success in picking out the perfect one. That's why we comprised this guide with all the necessary information about them.
The Point Of Aviaries – The whole point of an aviary, in general, is to give your bird a safe place where it can stretch its wings out, fly around, and get the daily exercise they need. You could think of them as flight cages but flight cages are usually just really wide, these are both long, wide, and tall.
Wooden Aviary Locations – Wooden aviaries tend to be used more outdoors than indoors but since they are really tall and that's where most of their size comes from, you can actually fit one well inside your home. You will be missing out on the weather protective details though.
Outdoor Bird Safety – The thing to worry about most when housing birds in an outdoor parrot aviary is rust and corrosion. All wooden aviaries have some wire bits and they're usually protected with galvanization. Another thing is sunshade and rain protection, usually, the canopy or house rooftop that's waterproof will do the job just fine.
Birds They Can House – If you were to compare any of these aviaries to some walk-in aviaries, you would quickly realize that they are small. Nonetheless, for the birds that they can house, they're pretty big and these birds are parakeets, cockatiels, and other similar-sized birds. This is because the wire is weak and could be easily broken with stronger beaked birds and they mostly have a 0.5-in wire spacing.
To Sum Up
We'd definitely recommend you to get the Pets Imperial Stunning Wooden Bird Aviary as that one perfect wooden aviary if you can. Ti's got a hexagonal shape its 4ft 9" wide and long, fits perfectly into any backyard and it will definitely be well protected from outdoor weather conditions. If you want to check out more aviaries but for all sorts of parrots check out the article about parrot aviaries and if you want to look at more outdoor bird enclosures we have an article about it too.