All we ever want for our pets is for them to experience the freedom of outdoor living from the safety of their own home.
While you certainly may be able to do that as it is, a bird aviary would definitely help them get a taste of real freedom. I this piqued your interest, we suggest you continue reading because there's a lot to unravel about these enclosures for birds.
The Summary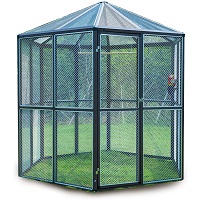 Talis Hexagonal Bird Cage
OVERALL RATING: ★★★★★
The hexagon shape is just the icing on top of this aluminum aviary that'll look amazing and stay amazing if used outdoors.
Jump To Review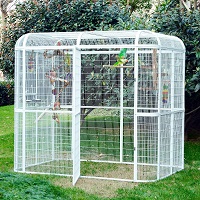 Wonline White Bird Cage
OVERALL RATING: ★★★★☆
Although not the best choice for outdoor material, this wrought iron cage has a white finish that makes it easy to notice rust.
Jump To Review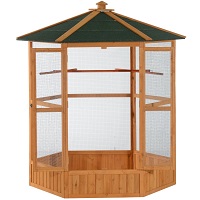 Pawhut Wooden Bird Cage
OVERALL RATING: ★★★★☆
Suitable for small birds, the aviary is sure to look great in your backyard due to its fir wooden build, hexagon shape, and canopy.
Jump To Review
What Is The Purpose Of Aviary
By definition, an aviary is a large enclosure for keeping captive birds. They're often found in zoos but those are large-scale aviaries. For home use, you'll still be looking at a large enclosure but small enough to either fit indoors or outdoors. Its purpose is to let birds fully meet their daily exercise needs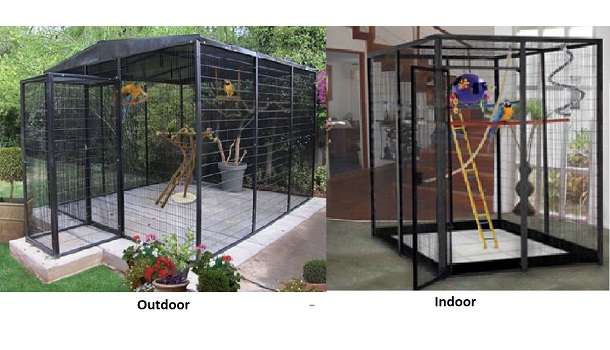 Are Aviaries Cruel?
On the contrary, aviaries are a safe method of allowing your bird to meet its daily exercise needs, play, and get a taste of the outdoor world without any dangers involved. Keep in mind that even if you have an aviary, your bird should still get plenty of out-of-cage time (at least 2 hours for smaller birds and 3 hours for larger birds).
Use Locations
Although they are somewhat rarer, you can still manage to find an indoor aviary. Here are some differences so you don't make a mistake
Indoor – Often painted with coating finishes that don't protect well against rust and corrosion. They're smaller scale and often feature cage bottoms. They are likely to only be able to house smaller birds like budgies and lovebirds. They are often mistaken for bird flight cages.
Outdoor – Commercially bought aviaries rarely feature bottom, if ever. They're heavy and you'll have to take your time assembling them. The same goes for disassembly if you ever want to move it someplace else. They can house multiple birds and are usually meant for use by larger birds like macaws and cockatoos.
The Difference Between Aviaries And Flight Cages
Bird flight cages are always incredibly wide but are quite narrow when it comes to their depth. They're meant to only partially allow your birds to meet their daily exercise needs and are easy to place indoors. In fact, most are meant for indoor use with a few exceptions. Aviaries, on the other hand, are both long, wide, and tall. You can often step into them with how big they are.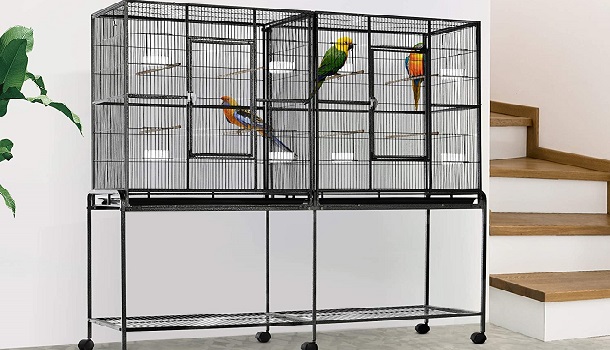 The Pros And Cons Of Aviaries
Pros
Offer birds the chance to exercise safely
Often completely customizable
Can hold multiple birds
Give birds a somewhat natural environment to fly in
Gives birds access to sunshine which they certainly need for health
Cons
Not meant for permanent bird housing
Often huge and most people don't have adequate space for them
They're often quite pricey
Maintenance is required frequently
What Birds Can I Keep In An Aviary?
If you are a beginner we suggest keeping the bird housing pool to simpler and smaller breeds. Ground-dwelling birds also have great use for it. To keep it short, budgies, lovebirds, lorikeets, and finches will all be easier to get an aviary for than for example a macaw which is a bird species hard to take care of as it is.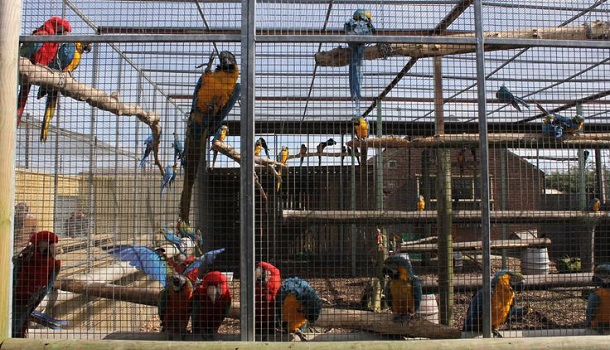 Can You Mix Birds In An Aviary?
Before you mix birds, you have to be aware of the fact that not all birds are compatible with one another. For example, budgies, lovebirds, cockatiels, and other smaller birds will have an easier time living with other birds. A good way to determine is to compare the bird sizes. For example, a budgie won't find it at all pleasing if it's housed with a bird as big as a macaw.
Can I Leave My Birds Outside?
Pet birds can be kept outside but you have to consider climate, security, noise, and predator factors to ensure your bird is kept safe while outside. Birds are very frail animals. They're highly sensitive to temperature changes and everything mentioned above so tread carefully if you want to do it.
Things To Worry About Before Purchase
How Big Should It Be?
That all depends on how many birds you want to house in it. Remember, an aviary is a lot bigger than your typical minimum size indoor cage. Each bird should have adequate space to separate when they want to and to fly around with ease. It's best to check your bird's wingspan and length but here are minimum cage sizes for birds.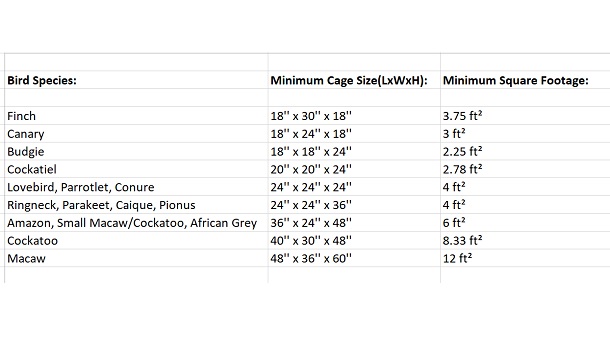 Materials To Look For
Outdoor Materials – If you can, we do suggest you go with either aluminum or stainless steel. The reason why is that stainless steel is durable in terms of rust and corrosion protection while aluminum does corrode but doesn't rust. We should mention that ingested rust is toxic to birds unless it's aluminum. There is an option to go with wood but it's only limited to smaller birds seeing as larger birds can easily destroy wood components.
Indoor Materials – You'll have an easier time choosing a material for an indoor aviary since you don't have to think about rust and corrosion as much. You can go with the materials listed above or wrought iron, iron, steel, and alloy steel.
What Is The Recommended Wire Spacing?
The same rules that apply to wire spacing in regular indoor cages apply to aviaries as well. If you're going to be placing the aviary outdoor, it's even more important to keep the wire spacing correct since your bird can escape or a predator might get to it.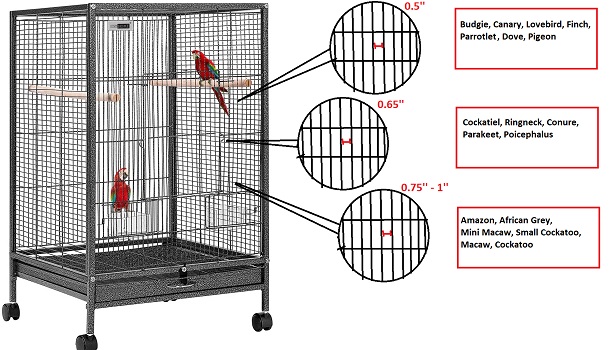 Finish Coatings
Finish coating can help you a great when it comes to protecting the aviary from rust and corrosion. the greatest thing about them is that they're fairly cheap and you can easily perform maintenance to keep the aviary rust and corrosion-free.
What Do You Put On The Bottom Of A Bird Aviary?
The bottom of the aviary should be easy to clean. Although you can leave it bottomless we do suggest you put at least something there that you can easily dispose of and that will handle different weather conditions relatively well. You can place it on concrete or put soil, sand, pine bark, or gravel on the floor. It'll be easiest to clean with a concrete bottom and should especially be considered with hooked-beaked birds.
Best 6 Bird Aviaries
We made sure to include both indoor and outdoor aviaries but since the line is blurred with indoor ones, you'll mainly find outdoor options. Some are more durable than others but you have to factor in the price as well since they definitely aren't cheap
Talis Hexagonal Bird Cage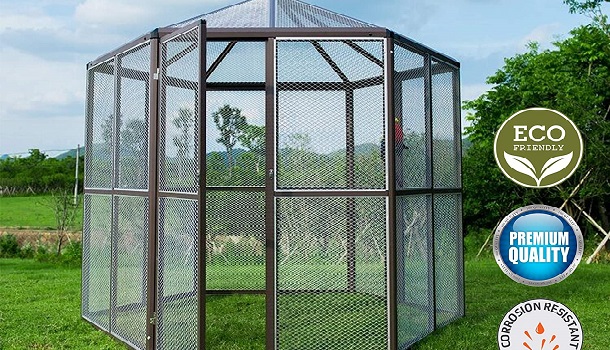 SPECIFICATION:
Material: Aluminum
Dimensions: 95" x 95" x 93"
Wire Spacing: 1"

Weight: 91 lbs
Use Location: Outdoor
Suitable For: Mini Macaw, Small Cockatoo, African Grey, Amazon, Macaw, Cockatoo
The cage is made with aluminum which is great since it means that even if it does corrode, the residue won't be toxic if the bird ingests it. It has a large walk-in door. You can lock it from one point only so it might be good to add an additional lock to it.
It has a hexagon shape which means that it's equally wide and long. It also makes it look nicer paired with the fact that it features a canopy. The 6 corners allow you to place more perches and accessories inside that are off-center.
The wire might be too harsh for bird feet so we suggest sanding them down a bit before you assemble it. Assembly should be easy since it comes with a detailed brochure on how to do it. It's also made to be assembled easily.
Overall:
Safety:
Size:
Price:
Mobility:
Assemmbly:
AVERAGE PRICE
$900 – $1000 varies from webshop to webshop: Amazon
WHY TO BUY
Has 6 corners which allows for a lot of perch placement
It's made with aluminum so it's completely bird safe
WHY TO AVOID
The wire edges might be too sharp
Wonline White Bird Cage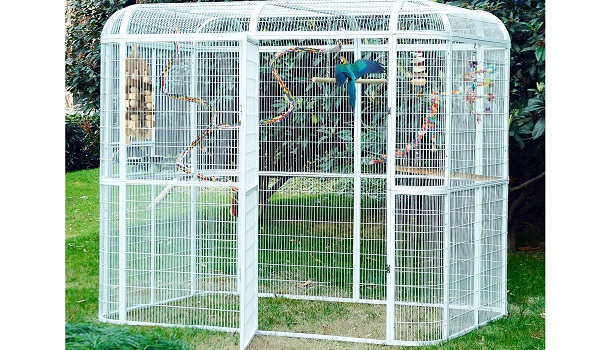 SPECIFICATION:
Material: Cast Iron
Dimensions: 86.5" x 60.5" x 80.4"
Wire Spacing: 0.75"

Weight: 90 lbs
Use Location: Outdoor/Covered
Suitable For: Conure, African Grey
The white finish of this cage will make it easier for you to notice the little imperfections and when it's time to perform any sort of maintenance. It is suggested that you don't expose it directly to rain so we suggest buying a cover or placing it somewhere with a roof.
It doesn't feature any additional extras but thanks to the large walk-in door, you can easily accessorize it to your and your bird's liking. The manufacturer does recommend performing maintenance every 2 months and even tells you how to do it.
It does not feature a bottom and since it's iron made, you can expect it to be heavy and require at least two people to move it if you don't want to disassemble it for moving. It features a curved top to look somewhat nicer.
Overall:
Safety:
Size:
Price:
Mobility:
Assemmbly:
AVERAGE PRICE
$700 – $900 varies from webshop to webshop: Amazon
WHY TO BUY
The white finish make sit eas to notice rust
The curved top edges make it easier to put on the cover
WHY TO AVOID
Can't directly be put in rain
Pawhut Wooden Bird Cage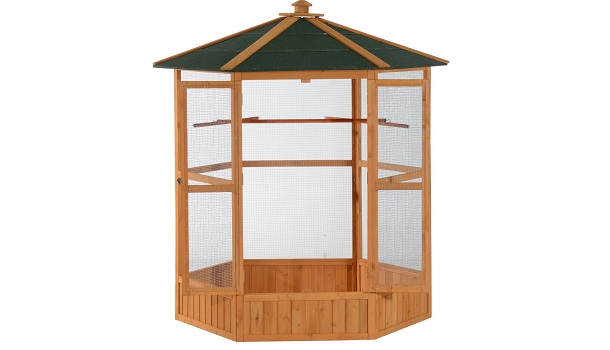 SPECIFICATION:
Material: Firwood, Wire Mesh
Dimensions: 59" x 59" x 69.75"
Wire Spacing: 0.5"

Weight: 80 lbs
Use Location: Outdoor
Suitable For: Budgie, Cockatiel, Finch, Canary
The hexagon shape of this aviary not only makes it look nicer but also allows you to place more perches inside with more efficiency in terms of saving space. It features a canopy on top covered with an asphalt roof that makes it waterproof.
The firwood is finished with a weather-resistant coating. Although it makes it weather-resistant, it does not make it weatherproof so you'll have to perform maintenance every once in a while especially since it's wood.
It has a double door entrance in the front that allows you to step in and easily clean it and switch up accessories when you want to. As it is, it features 2 perches but we recommend getting more with different diameters.
Overall:
Safety:
Size:
Price:
Mobility:
Assemmbly:
AVERAGE PRICE
WHY TO BUY
Can blend beatuifully into gardens
Has a double door for inside access
WHY TO AVOID
It's made with firwood so it'll rot more easily
Flyline Walk In Bird Cage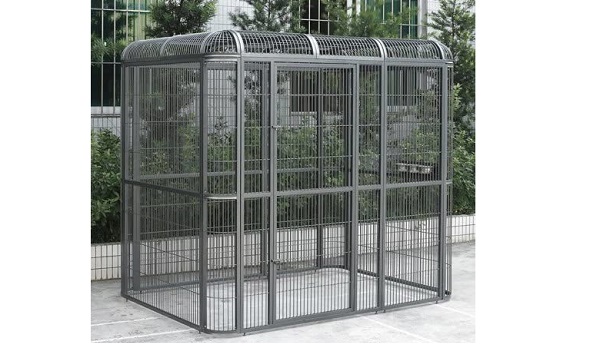 SPECIFICATION:
Material: Wrought Iron
Dimensions: 86" x 62" x 76"
Wire Spacing: 1"

Weight: 300 lbs
Use Location: Outdoor
Suitable For: Macaw, Cockatoo, Mini Macaw, Small Cockatoo, Amazon, African Grey
We wouldn't justify its price for anything that it features except for maybe the 5mm thick bars it has which allow you to house larger beaked birds inside. it has a double sliding bolt lock on the walk-in door for extra safety.
It doesn't come with perches but does come with a single feeding door that can hold up to 3 stainless steel bowls at once. You can use them for food and water and they'll be easy to clean due to the material they're made out of.
The wrought iron is powder-coated to offer some protection against the elements but even so, we wouldn't recommend placing it directly onto rain. You can purchase a cover for it and you can easily apply it since it has curved top sides.
Overall:
Safety:
Size:
Price:
Mobility:
Assemmbly:
AVERAGE PRICE
$180 – $210 varies from webshop to webshop: Amazon
WHY TO BUY
The bars are thick enough to safely house large beaked birds
Features 2 locks on the walk-in door
WHY TO AVOID
It's extremely heavy so it'll be hard to move anywhere
Pawhut Indoor Bird Cage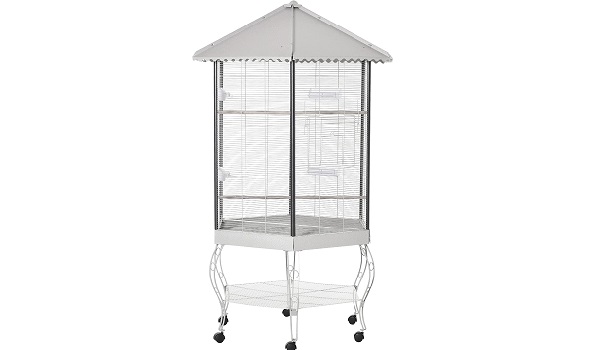 SPECIFICATION:
Material: Iron, Plastic
Dimensions: 44" x 44" x 79"
Wire Spacing: 0.5"

Weight: 72 lbs
Use Location: Indoor/Outdoor
Suitable For: Budgie, Cockatiel, Lovebird, Canary, Finch
This is a white and grey colored cage and it's a good thing it is considering you can also use it indoors which will make it blend better. What also helps is its hexagon shape, canopy, and antique stand it sits on.
The stand has 6 hollow and curved legs and even features a storage shelf where you can place all of your supplies and extras. The wheels are plastic though. The canopy is plastic so it'll protect birds well from the rain in case it gets caught up in it.
Primarily, you should use it indoors. It comes with 2 plastic perches and 4 plastic feeding stations with corresponding feeding doors. The main entrance is only around 6-in wide and 9-in tall so it'll be harder to access the inside for cleaning.
Overall:
Safety:
Size:
Price:
Mobility:
Assemmbly:
AVERAGE PRICE
WHY TO BUY
Can be used both indoors and outdoors
Has an antique look to it
Easy to move due to the stand with wheels it sits ons
WHY TO AVOID
It's not easy to access due to the small door
Aivituvin Pigeon Bird Cage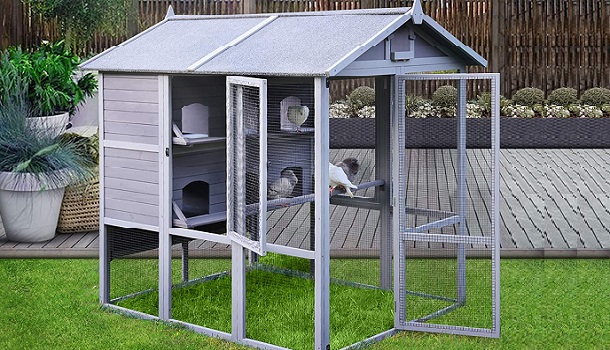 SPECIFICATION:
Material: Fir Wood, Wire Mesh
Dimensions:65" x 64.5" x 68.6"
Wire Spacing: 0.5"

Weight: 145 lbs
Use Location: Outdoor
Suitable For: Pigeon, Doves
Firwood is a great material to use outdoors since it's very flexible and even if it expands and shrinks due to moisture, it goes back to its original form. It's painted with a grey weatherproof finish and that includes the wire bits as well.
It has a total of 6 nesting areas you can clean with a tray from the back and check up on from the back as well. There's plenty of space for your birds to fly around still as it can house up to 15 pigeons or doves comfortably.
The only real issue is that it's made to house only pigeons and doves not because other birds won't be safe inside it but because they just won't have much use for its accessories. It's fully covered with a house-shaped asphalt roof and even comes with perches.
Overall:
Safety:
Size:
Price:
Mobility:
Assembly:
AVERAGE PRICE
WHY TO BUY
Has 6 easy clean nesting bo areas
Can house up to 15 birds
WHY TO AVOID
It's made for pigeons and doves only
Backyard Aviaries
Do I Need A Permission For An Aviary?
The first thing to do is to check with your local planning authority whether or not you need permission to place or build an aviary in your backyard. This only goes if your aviary is a certain size and height. Even if you don't need permission, it'll still have to meet all building regulations requirements stated in the permitted development rules act.
Bird Breeding Permits
Many people choose to build aviaries so that they can become licensed bird breeders or sellers. If that's the case, your aviary should be formed into a legal entity, it should be registered for taxes, and you'll have to through all processes that a regular small business or entrepreneur would go through.
Winter Use
You can house birds in the aviary during winter but since birds are sensitive to extreme temperatures, you'll need to heat it during the winter months. You should make one area completely waterproof and insulated as well which will require you to make adjustments to a commercially bought aviary. To warm the birds up, you can use a ceramic heat lamp or powerful bulbs (120 wats).
Summer Use
Two problems that might occur with housing birds outdoor in the summer are heat stress or heat prostration. You want to keep your birds cool and the way to do it is to install a fogger to mist the aviary would be a solution. You should also have the aviary covered and kept away from direct sunlight. You should also replenish water supplies frequently since birds won't drink warm water.
Transport Inside And Outside
You might want to avoid summer and winter housing troubles altogether but it won't be as easy to put an aviary indoors. The first problem is the size of an aviary that can rarely fit indoors comfortably. Another problem is the sheer weight of the aviary so you'll have to disassemble it and reassemble it to move it elsewhere. Most aviaries also don' feature bottoms so you'll have to think about lining the floor with something like PVC sheets to protect your floors from getting dirty.
Predator Safety
Birds are prey animals which means that predatory animals can easily endanger them. There are a few things you can do to keep birds safe. Avoid placing the aviary close to trees and tree branches which might allow wild birds to infect the aviary and cats from getting to your birds. Making sure that the floor can't be dug through is a way to keep rats and rodents away. For larger birds that have aviaries with larger wire spacings, you'll need to install mesh to prevent other predators from getting to your birds.
Aviary Maintenance
Basic Cleaning
If you have dishes inside, you should wash them daily. Floors should be scrubbed or cleaned on a weekly basis. The enclosure (cage bars and toys) should be cleaned weekly while you can disinfect it on a monthly basis.
How To Put A New Finish On An Aviary?
The things you'll need to do it are sandpaper, bird-safe paint(preferably weather-resistant, washcloths, paintbrushes, and something to protect the floors.
Take your sandpaper and start sanding down any loose paint. Take your time with this step because any leftover paint will prevent the new paint from sticking.
After you're done, polish it smooth
take your washcloths, dampen them and clean out any debris left on the bare metal (also take your time with this step).
Take your bird-safe paint and paint the cage whole using an artist's brush, a spray paint canister, or whatever you find handy. Apply the paint in these coats and apply at least 2, 3 is preferred.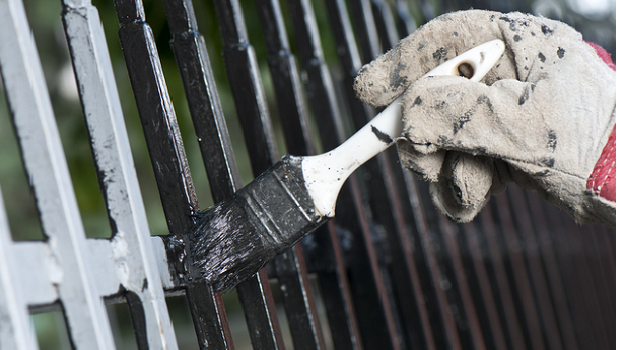 Let the paint dry out. Exposure to the sun will help both dry it and cure it and you should look for the direction on how long the process lasts before the aviary is safe to use against. Typically, it'll take around 7 days.
How Do You Make A Bird Aviary?
There's a lot to work on when building an aviary so it's going to be harder no matter what and should require some prior skill. What we can do is bring you some tips on how to make it the most efficient one possible.
The door is going to be large which means that a lot of birds can escape through them. What we recommend is placing a spring on the door so that it closes even if you forget to.
The aviary should be made as large as you possibly can, no matter the amount and types of birds you want to house in it.
Check for any permits that you might need for even building an aviary, some countries have prohibition laws. If so, if the birds are small enough, you can make an indoor version.
Shading is important because birds can overheat easily. You can prevent it by placing the aviary in the shade and placing a cover on top or using shade cloth.
Don't overdo it with the number of birds you're housing inside.
We recommend making it out of timber wood since it's a lot cheaper (keep in mind a timber-made aviary won't be safe enough for housing large and big beaked birds).
Make sure you protect the aviary from the elements so that the wood doesn't rot and the metal doesn't rust.
The sides are likely to be covered with mesh so make sure you're aware of its thickness and wire spacing. It can be galvanized mesh if the aviary is large enough so that the birds won't chew on it.
When you're done building the aviary, wait a couple of months before housing birds inside to see its flaws and how often you'll have to perform maintenance.
Make sure the birds have a place to hide from the wind, rain, and other elements.
You can have plants in the aviary as long as they're bird safe. The bottom can be natural so that your bird's litter can act as a fertilizer. With natural flooring, though, you have to be careful about predators so you might want to put mesh on the bottom. To prevent digging animals from entering, you can extend your mesh to get a few inches in the ground. They can also be concrete block barriers as well.
The shape and thickness of perches matter. Make sure you get a lot of them. They can traditional perches you can buy and things like tree branches as well as long as the wood is bird-safe
To Sum Up
The cage we'd most definitely recommend is the Talis Hexagon Bird Cage for the simple fact that it's aluminum-made and won't harm your birds. It even has a hexagon shape that definitely adds a stylish appearance to it when placed in your backyard. If you want to go rouge and look for your own aviary, be careful of sharp metal edges, easily rusting materials, and aviary assembly since it tends to pose a problem for a lot of people.