Even though they aren't the most popular of pet birds, many people find enjoyment in keeping finches as pets.
If you already own a finch or are thinking about getting one, you'll have to provide them with a safe and functional finch cage. Most of the rules that are important for housing other pet birds apply to them with a few tweaks here and there. Learn all about those rules and tweaks here.
The Summary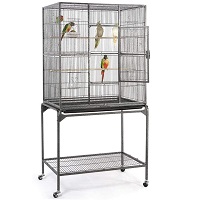 Yaheetech Flight Bird Cage
OVERALL RATING: ★★★★★
Although it's a large flight cage, the large front door makes it easy to access the inside for replacing and cleaning extras and the cage itself.
Jump To Review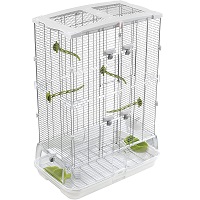 Vision M02 Bird Cage
OVERALL RATING: ★★★★☆
Even though it doesn't feature a quick cleaning tray, the food and water cups position prevent seeds and water scatter outside the cage.
Jump To Review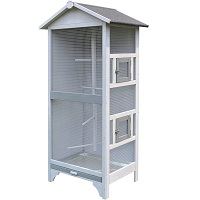 Pawhut Wooden Bird Cage
OVERALL RATING: ★★★★☆
Primarily made for outdoor use, the back and side wall are fully wooden and can keep finches warmer during windy weather.
Jump To Review
Can All Finches Be Kept As Pets?
There are probably more than a hundred types of finches out there and out of those, only a select few can be kept as pets. The reason why is that some are just too wild to ever be happy living with an owner and in a cage. Most will be discouraged from any kind of social interaction and will get depressed.
What Type Of Finch Makes The Best Pet?
The finch that's most commonly kept as a pet is the zebra finch and with good reason. They're easy to take care of and keep themselves entertained with a partner and without a lot of human interaction. Other popular pet finches include the Gouldian finch, the Spice Finch, The Strawberry finch, The Owl finch, The Society finch, and the Star finch.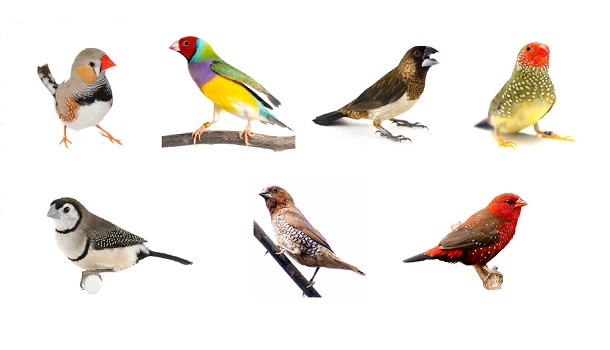 What Kind Of A Cage Is Best For A Finch?
Many factors have to be considered when choosing a cage for a finch. Appropriate size and wire spacing are probably the most important but other extras are also important to make caring for a pet finch easier.
How Big Of A Cage Does A Finch Need?
Generally speaking, per pair of finch, you should offer 3 to 4 feet of floor space. A single finch will require a cage that's at least 18-in long, 30-in wide, and 18-in tall. There are many online calculators to determine cage size for more than two finches.
Smaller Bar Spacing
Finches are one of the smallest birds so it's not surprising that they need a cage with a small wire spacing too. It can be anywhere from 0.25-in up to 0.5" depending on the finch breed. Remember, if the wire spacing is too big your finch can seriously hurt its wings, head, and legs and it's likely that they'll escape as well.
Tall Or Wide?
Finches value their privacy and they love to aggressively flee from perch to perch because of it. They also love climbing cage bars but still, it's not as important to get a tall cage as it is to get a wide cage.
Materials To Go For
Metals like copper, zinc, lead, and brass are toxic to finches. It doesn't surprise us either since most birds will get ill with these. Finches are small and frail and a lot of other products, household supplies, and even plants are toxic and can seriously harm them. Materials to go for are wood(especially great for smaller birds), wrought iron, iron, and alloy steel. The more expensive materials are stainless steel and aluminum.
Can I House My Finch Outdoors?
Finches are very sensitive to cold even though they'll tolerate most environments well. Temperatures below 60 degrees should be avoided since these are extremes and your finch is not a wild bird either. If housed in warmer weather and climates, we suggest you opt for an aviary (a large enclosure that allows birds to exercise).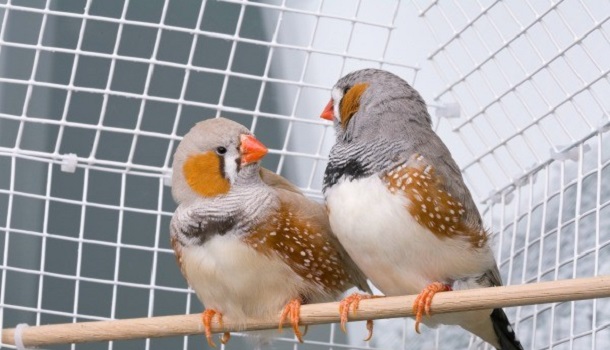 Cage Cleaning
The reason cage cleaning is so important is that mold that produces mycotoxins and bacteria that produce endotoxins are extremely toxic and can make them ill or even kill them. Make sure you get a cage that's easy to clean(the front door is large enough for you to reach inside comfortably, there's a slide-out cleaning tray and a wire grid above it).
What Do Finches Like In Their Cage?
Although not as necessary, finches do enjoy having extras in their cage. Perches are essential but they'll love a good swing too and other pet bird toys as well. Moreover, it's good to ensure them a bowl for a bath. Consider that it needs to be shallow. Food and water bowls are also necessary.
Should I Cover My Finch Bird Cage At Night?
Many people believe that cage covers are essential for bird keeping at night. We'd advise against them as they will limit air coming through into the cage.
Best 6 Finch Cages
We made sure to include cages made for all pet finch breeds. You'll also find included flight cages, outdoor aviaries, and regular indoor cages as well as smaller flight cages that are just enough for one or two finches.
Yaheetech Flight Bird Cage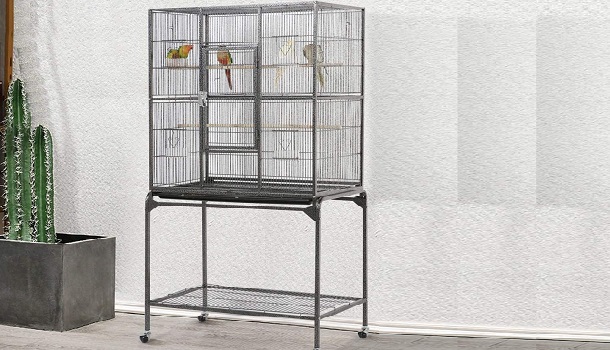 SPECIFICATION:
Material: Wrought Iron
Size: 32" x 18.5" x 63"
Wire Spacing: 0.4"

Cage Extras: Perches, Food Cups
Cage Type Flight Cage
Suitable For 2 Or More
If you want to get the real height of this cage, you have to account for the stand with wheels and a storage wire grid it sits on that's 28.3-in tall. Still, it's big enough to house 2 finches or even more.
The front door that's 18.7-in tall and 10-in wide makes it ideal to pull out accessories and clean the inside of the cage. It does feature a cleaning tray and removable wire grid above it and has 4 feeding doors.
Overall:
Safety:
Size:
Cleaning:
Extras:
Funcionality:
AVERAGE PRICE
$150 – $170 varies from webshop to webshop: Amazon
WHY TO BUY
Has a large front door for easy interior access
The 0.4" wire spacing makes it suitable for housing a lot of finch breeds
The wire grid above the clean tray is removable
WHY TO AVOID
The stand makes up a lot of its height
Vision M02 Bird Cage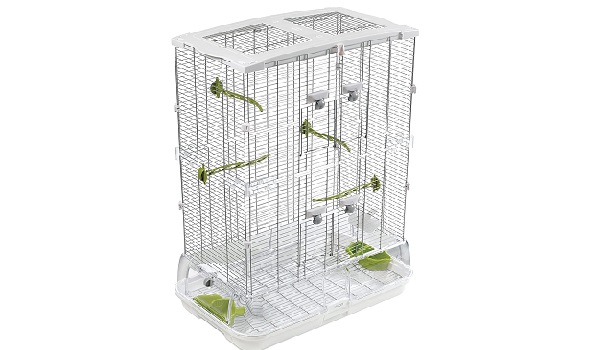 SPECIFICATION:
Material: Iron, Plastic
Size: 15.6" x 24.6" x 34.3"
Wire Spacing: 0.48"

Cage Extras: Perches, Cups, Seed Blockers
Cage Type: Indoor/Flight
Suitable For: 2 or more
The base is partially see-through and gets detached from the rest of the cage for cleaning. This means that there's no slide-out cleaning tray for your quick clean-ups. The food cups are located below to prevent seed and water scatter though.
It features 2 front doors sitting on top of each other which allows you to access all parts of the cage. You'll get 4 plastic perches that can be bolted on one side of the cage to save space inside it.
Overall:
Safety:
Size:
Cleaning:
Extras:
Funcionality:
AVERAGE PRICE
WHY TO BUY
Has multiple bolt-on perches that save space
The food cups are located on the bottom to prevent seed scatter
WHY TO AVOID
Doesn't feature a cleaning tray
Pawhut Wooden Bird Cage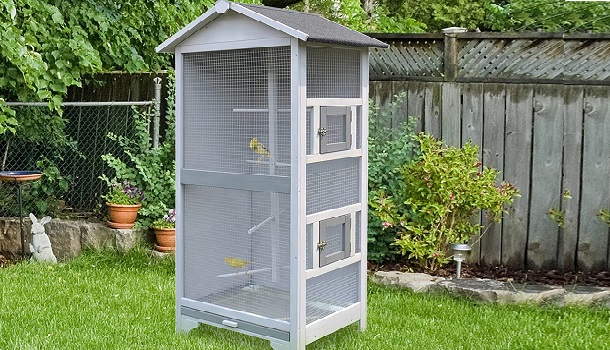 SPECIFICATION:
Material: Firwood, Wire Mesh
Size: 31.75" x 22.5" x 62.5"
Wire Spacing: 0.5"

Cage Extras: Perch Branch
Cage Type Outdoor/Indoor Aviary
Suitable For 2 Or More
The only problem that you might face with this aviary is that the doors are very small which makes it hard to reach the inside. On the plus side, the doors are small since it's mainly meant to be used outdoors so it'll prevent birds from escaping.
It's elevated from the ground to prevent mold build-up due to excess moisture. It has a fully wooden back and left panel to keep your finches somewhat warm during windy weather as well. It has a waterproof asphalt roof to keep them dry.
Overall:
Safety:
Size:
Cleaning:
Extras:
Funcionality:
AVERAGE PRICE
$190 – $260 varies from webshop to webshop: Amazon, Walmart, eBay
WHY TO BUY
Has a perch branch
It's elevated to prevent mould build-up
The back and right side panels will keep birds warmer
WHY TO AVOID
The doors are too small to reach for the inside
Prevue Hendryx White Bird Cage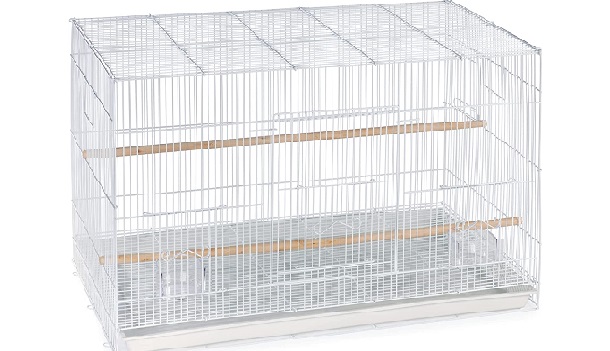 SPECIFICATION:
Material: Iron
Size: 18" x 30" x 18"
Wire Spacing: 0.38"

Cage Extras: Perches, Cups
Cage Type Indoor/Flight Cage
Suitable For 1 or 2
The white finish is sure to make it blend better into homes. What also pairs well with the fact is that it's smaller than most cages but is still a finch flight cage. It has a deep cleaning slide-out tray and a wire grid above it.
The door is large enough for you to reach inside but it's small and might cause some trouble. To the left and right sides of it, you'll find smaller feeding doors where you can place the 2 clear food and water cups that come with it.
Overall:
Safety:
Size:
Cleaning:
Extras:
Funcionality:
AVERAGE PRICE
$80 – $110 varies from webshop to webshop: Amazon, Walmart, eBay
WHY TO BUY
It's cheap
Can easily be carried with 2 side handles
WHY TO AVOID
Offers the bare minimum for housing 1 or 2 finches
Vivohome Breeding Bird Cage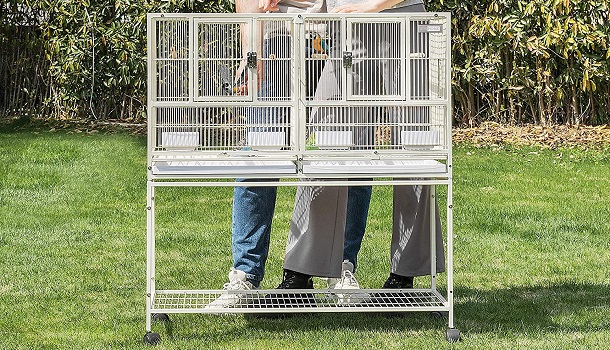 SPECIFICATION:
Material: Iron
Size: 17.8" x 37.4" x 41.3"
Wire Spacing: 0.43"

Cage Extras: Divider, Cups, Perches
Cage Type Breeding/Indoor
Suitable For 2
This is primarily a breeding cage and if you ever want to separate your finches you certainly can do so with the removable divider. Just know that the size of each separate cage is too small to permanently house a finch in it.
It comes with a nesting box door and each separate cage has its door for you to access the inside. It sits on a stand with a shelf and wheels for you to move it easily without making sudden movements.
Overall:
Safety:
Size:
Cleaning:
Extras:
Funcionality:
AVERAGE PRICE
WHY TO BUY
When separate, each cage has its own front door
Comes with a breeding box door
WHY TO AVOID
When separate, the cages are too small for permanent housing
Pawhut Hexagon Bird Cage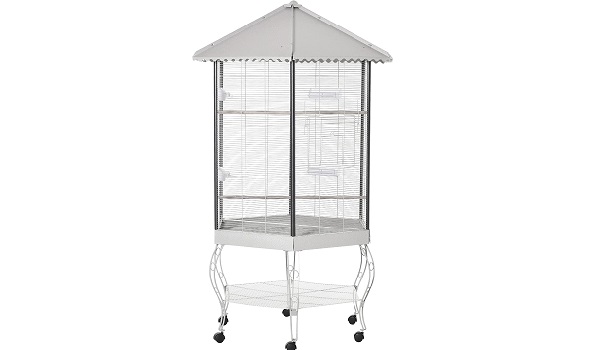 SPECIFICATION:
Material: Iron
Size: 44" x 44" x 79"
Wire Spacing: 0.5"

Cage Extras: Perches, Food Stations
Cage Type Aviary/Flight
Suitable For 2 Or More
Even though the 11.75-in wide and 9.75-in tall door should in theory be big enough for easy interior access, due to the size of this cage, it isn't. It does have 4 more feeding entrances and feeding stations to go with it.
Since it's hexagonal, you can place more perches inside whilst still saving space. Finches will have no problem fleeing from one perch to the other. It features an antique stand with a storage shelf and wheels and a canopy to protect birds from the rain with outdoor use.
Overall:
Safety:
Size:
Cleaning:
Extras:
Funcionality:
AVERAGE PRICE
$280 – $300 varies from webshop to webshop: Amazon
WHY TO BUY
Can be used indoors and outdoors
The hexagon shape allows you to place more perches inside.
WHY TO AVOID
There's only one small front entrance
Finches As Pets
How Easy Are They To Look For?
Compared to other birds, finches are relatively easy to take care of. A good cage and a partner can go a long way. All you need to make sure of is that they have enough food, fresh water for drinking and bathing, cage toys and that the cage is cleaned regularly.
No Need For Human Interaction
Most finches won't care much about their human counterpart. They're not very touchy and feely and they thrive if you just leave them alone with their other finch friends. If you want a pet to make a special bond with, finches are not the go-to.
Housing More Than One Finch?
Finches are very social so yes, you should house at least two of them together. We'd even advise you to house more if you can. Two females will get along just fine while two males might get along or they can get aggressive towards one another.
Can I House Finches Of Different Breeds Together?
Although it's not common practice with other pet birds, finches do well together with different species members. The ones we recommended as pets aren't as aggressive as some of the others so you'll have no problems mixing them up and housing them all together in one cage.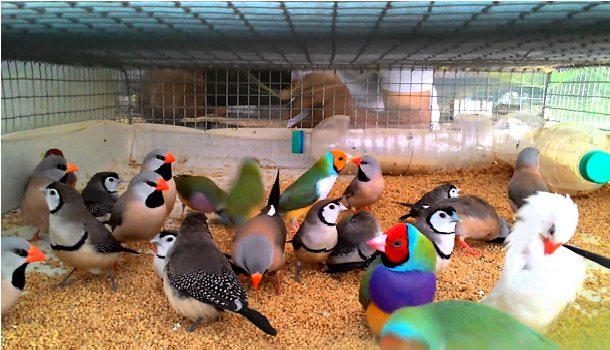 Can Finches Be Tamed?
Although they can be hand-tamed, it's highly unlikely that you'll succeed in a short period. Out of the breeds mentioned before, the Gouldian finch, is your best bet that you'll hand tame it.
Bird Fragility
Noisy environments, rooms that are lit 24/7 and cold rooms are all to be avoided because they can seriously stress out your bird. Keeping cats and dogs along with finches is also something you should avoid and sudden movement and aggressive cage relocation is also something that finches won't like.
How To Play And Bong With A Finch?
The easiest way is to talk with your finch. Your voice should be melodious and peaceful. This way your finch will get relaxed so it will like you because you bring them a good feeling.
How Do I Know If My Finches Are Happy?
That's a common question every owner wonders. It's simple to notice if your finch is happy. If you hear its song, a bird is happy. All that you need to do to make it feel happy is to ensure a comfortable room temperature but not too warm, various and healthy food, and fresh water. Consider placing a cage out of a cat's claws so that a finch won't feel stressed. It's good to keep a window open to enable your finch to hear bird voices. That will make it feel as in the wild.
How To Make A Cage For Finches?
Making your own cage can be a relatively cheap endeavor since finches can be housed in wooden cages. A few planks, wire mesh, and some other supplies are all you're likely to need.
Supplies: 5 3'x20" wood boards, 3′, 19", and 18" wooden planks, glue, nails, a drill, a tape measure, wire mesh, a stapler, door hinges, a door handle, and a sliding bolt lock.
take your 3′ and 18" planks and glue them and screw them together to make a rectangular frame. Repeat the process one more time.
Take 4 3'x20" boards and glue them to one and two on the second frame you made. Then, nail the nails into the frame.
Now, take the 19" planks and drill them into the bottom. You want to do that on all 4 sides as this will make the corner frames.
Now that you have your mainframe, drill the thin wood board onto the back.
Take your tape measure and pencil to figure out where you'll make the door, the door should be centered. You'll make its frame using 2 additional 18" planks and drill them in.
Take your wire mesh and stapler, wrap it around, cut out the excess and staple it onto the frame. Leave a few walls behind so you can easily work with the rest.
Take 2 additional 18" planks and 2 8" planks to make the door frame. glue it screw it and staple the wire mesh on it.
drill in the door hinges on both the main door frame and the actual doo. Then, you can install the door handle and the sliding bolt lock
For visuals on how to do it, check the link below.
To Sum Up
We looked at factors like build material, wire spacing, and size to conclude that we'd recommend the Yaheetech Flight Bird Cage if you ask us. It's made with wrought iron, the 0.4" bar spacing allows you to house different finch breeds and it can house more than 2. If you're purchasing a cage for finches on your own accord, make sure the cage has enough space to house at least two together and that the wire spacing is safe for them.