Tiny birds, like all things small, can pack a big punch. It's no wonder that they're highly popular among bird owners either. They're easier to take care of and in return, you'll get a lovely pet that will think of you as their flock member.
To keep the bird safe and happy, you'll have to provide it with a great housing option, and what better way to do that than to learn about what makes a small bird cage safe and what to avoid in the end.
The Summary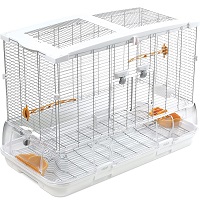 Vision L01 Bird Cage
OVERALL RATING: ★★★★★
Since it's pretty wide, you can choose to house 2 birds inside it. It gets cleaned through the detachable base and has cleverly designed extras.
Jump To Review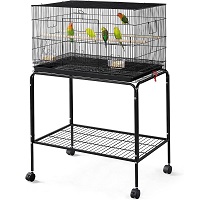 Yaheetech Flight Bird Cage
OVERALL RATING: ★★★★☆
Since it's plenty wide, not only one but multiple birds can enjoy this cage and fly around in it to meet some of their daily exercise needs.
Jump To Review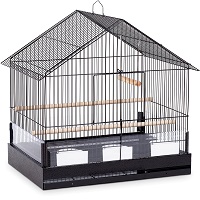 Prevue Pet Hanging Bird Cage
OVERALL RATING: ★★★★☆
Given the fact that it's lightweight, tiny, and features a wire tp handle/hook, you can easily hang this cage on a ceiling or perhaps on a stand.
Jump To Review
Defining What A Small Cage Is
Any cage that offers a bird the minimum space required for that specific bird is considered small. That way, you can think of even large cages as tiny if, for example, it barely fits the size requirement for, let's say, a macaw. In this example, a compact cage for a macaw would measure 48" x 36" x 60" but we all know that's not a small cage so we'll stick to small birds and their appropriate cages.
Small Birds List
Birds come in all shapes and sizes but we categorize them by size into small, medium, and larger birds. The most popular small pet birds are finches, canaries, budgies, parrotlets, cockatiels, lovebirds, and green cheek conures.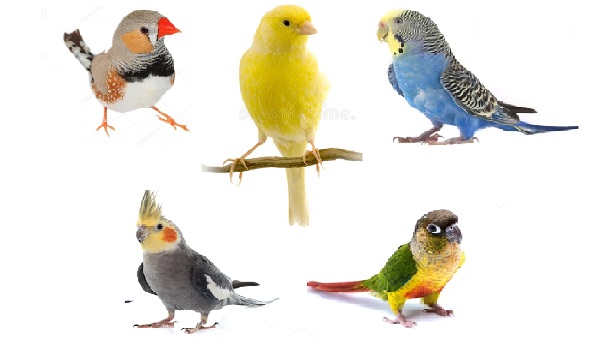 Can Birds Live In A Small Cage?
This depends on the bird and how much time you're willing to give them out of the cage. It's always better to go bigger but if you can't, make sure your bird can roam freely around the house when they're supervised and it should be fine.
Can I Get A Larger Cage For A Small Bird?
The only thing to worry about if you're purchasing a larger cage for your bird is to make sure the wire spacing isn't too big. That's the only problem with getting larger cages for smaller birds but even then, it shouldn't be a problem to find one.
Is It Cruel To Keep Birds In Small Cages?
The answer to this question is heavily dependent on the bird you want to house in said cage. Birds will appreciate a bigger cage but you can house them in small cages provided they get plenty of time out of the cage to exercise.
Pros And Cons Of Small Cages
The Pros
It makes sense that these will be excellent space savers no matter the type of cage you get. They're usually fairly cheap because not a lot of material is used to make them and they take less time to clean.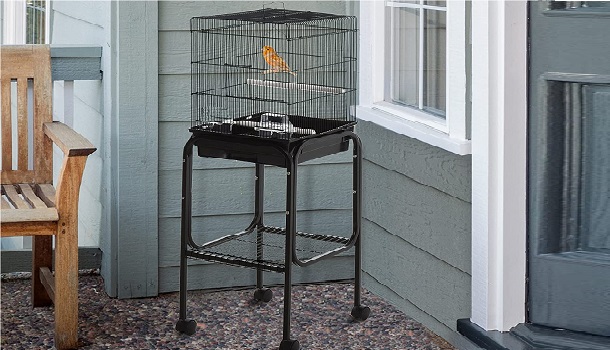 The Cons
If you're getting a little cage, the problem would be that the bird will have to spend a lot of the time out of it. If you're someone that doesn't have a lot of time on their hands to monitor the bird, it's best to purchase a larger cage.
Check These Boxes When Purchasing
If you keep in mind all of the things we're about to mention and apply them to your specific bird, you have a great chance of getting the best cage possible even if you're new to the bird owning thing and cage purchasing.
How To Choose Cage Size
The recommendation is that the bird can at least have a cage wide enough to fully stretch its wings. If the bird in question is long, the same applies to cage height. As some sort of a rule, it's recommended that each bird gets at least 18" x 18" of floor space. Some smaller birds will require 24" x 30" of floor space.
Why Is Width Important?
Birds like finches and canaries have a tendency to fly aggressively from perch to perch which would mean that you need to ensure that they're housed in a wider cage. Birds fly horizontally so it's always recommended to focus on cage length and width although they'll love a taller cage too. Small cage width will typically sit somewhere between 18-and 24 inches although some birds will need a 30-in cage as well.
Multiple Birds, One Cage
The equation to figure out the perfect cage size for multiple birds is to take their added wingspan and multiply it by three. This way, you'll get the preferred width, the same rule applies to height while the length can be somewhat smaller. Typically, you'll house more than 2 birds in a flight cage.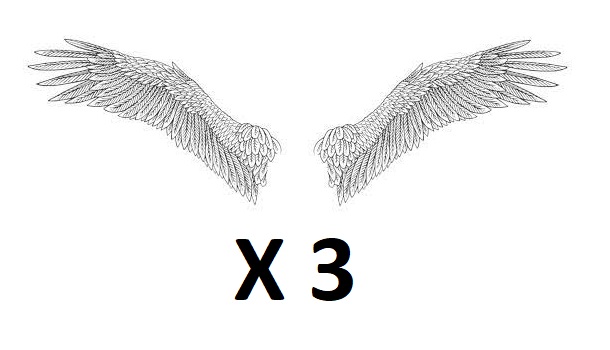 Space Between Bars
If you were to determine bird sizes by wire spacing, the only birds included in the list would be budgies, canaries, and finches. They require a spacing of up to 0.5" between bars. Other small birds like green cheek conures and cockatiels can have a bigger wire spacing (up to 0.75", up to 0.65") but can be housed in 0.5" wire spacing ones too.
Bar Gauge For Small Birds
Luckily, this is not something you ever have to worry about with tiny birds. The reason why is that they have smaller beaks that are not as strong as the beaks of larger birds like African Greys. The logic is that the birds can't bend the bars with them so any standard cage with a bar gauge probably 16 or higher will be fine.
Cage Material
You shouldn't underrate mall birds and their ability to chew on things. They love doing so and it will happen with cage bars and other areas. The problem can be is that they'll chip away the finish, expose the metal that will rust, they'll ingest it, and get poisoned. To prevent all that from happening, invest in a good finish and keep the materials to stainless steel, aluminum, wrought iron, iron, and alloy steel.
Cleaning And Frequency
A birdcage should be cleaned at least once a week. It's not only that birds like a clean cage but you'll also stop the spread of bacteria that can seriously harm their health. Cleaning supplies should be bird-safe, you can opt for natural remedies as well and always disinfect the cage after cleaning.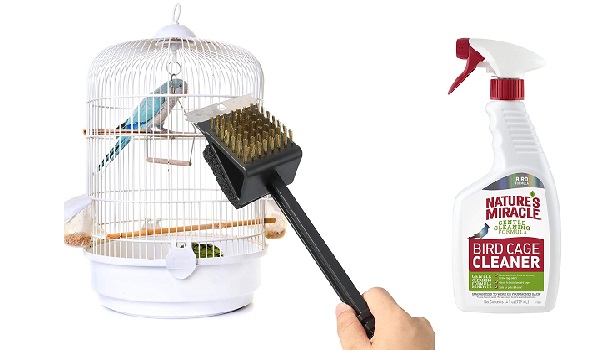 Best 5 Small Bird Cages
There are two types of cages we included in this list. The first type is made to house small birds but is bigger while the other type is cages that barely step away from the minimal cage requirements for small birds and are considered small cages.
Vision L01 Bird Cage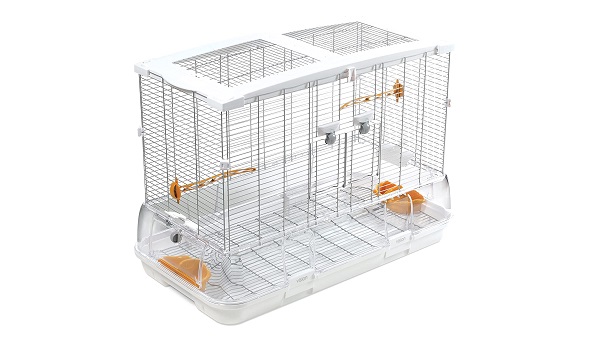 SPECIFICATION:
Material: Wire
Size: 17" x 31" x 22
Weight: 15.3 lbs

Wire Spacing: 0.5"
Bird Capacity: 1 Or 2
Suitable For: Budgie, Lovebird, Canary, Cockatiel
The focus proportion of this cage is its width. With it being what it is, you can consider it a sort of a small flight cage too. It has a transparent plastic base and the top is framed with white plastic
The rest of the cage is made out of wire. The door locks are plastic though just like the accessories it comes with. This includes two bolt-on perches and food and water cups you can place on the bottom.
You can easily detach the base from the rest to clean the cage whole. The single front door opens up vertically so it can serve as a resting area when the bird is getting out-of-cage time.
Overall:
Safety:
Size:
Mobility:
Versatility:
Funcionality:
AVERAGE PRICE
$160 – $200 varies from webshop to webshop: Amazon
WHY TO BUY
Can house up to two birds
The base and cups position prevents the seeds from scattering
The front door opens vertically and can act as a rest spot
WHY TO AVOID
The extras are all plastic made
Yaheetech Flight Bird Cage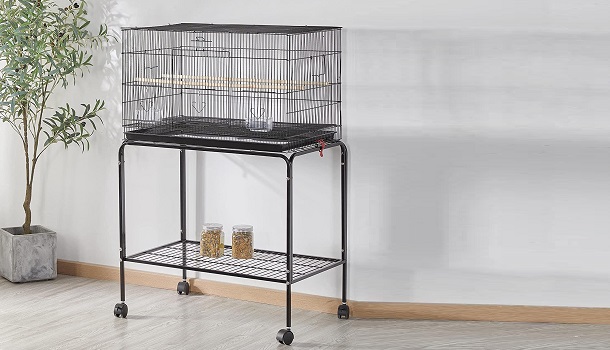 SPECIFICATION:
Material: Iron
Size: 30.5" x 18.9" x 46.8"
Weight: 15.5 lbs

Wire Spacing: 0.5"
Bird Capacity: 3
Suitable For: Budgie, Lovebird, Cockatiel
Flight cages are meant to give your bird some extra space so that they get meet some of their daily exercise needs inside. That's why this one is wider than what is typically a small cage.
It features a stand with 4 wheels and a storage grid. You can remove it from the stand and place it on a tabletop if you so wish to. It's fully made out of wire minus the stand and the cleaning tray that's made out of plastic.
The large front entrance is centered and has a smaller door on each side. This is where you'll put the feeding cups that come with it. You'll also get  2 perches. It features a handle on each side so you can easily carry it around as well.
Overall:
Safety:
Size:
Mobility:
Versatility:
Funcionality:
AVERAGE PRICE
WHY TO BUY
Can house multiple birds
Birds can fly around in it
WHY TO AVOID
Might seem flimsy due to fully wire build
Prevue Pet Hanging Bird Cage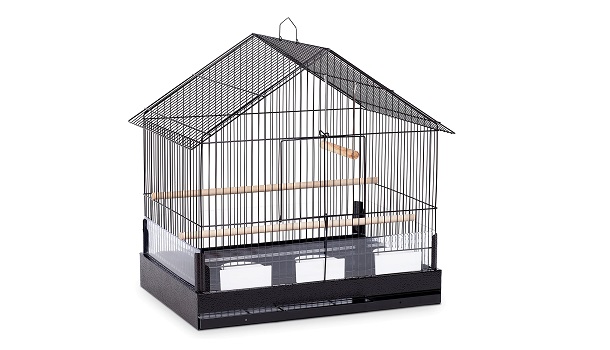 SPECIFICATION:
Material: Iron
Size: 22" x 23" x 15"
Weight: 11.6 lbs

Wire Spacing: 0.6"
Bird Capacity: 1
Suitable For: Cockatiel, Lovebird
It's rare to find a cage this small that's fully metal-made. The only exception are the transparent panels that act as seed guards. They will prevent excess seeds and other debris from falling onto the floor.
It features a carry handle that can also serve as a hanging hook. With it, you can either hang it on a ceiling or on a stand. It's made with iron but what's impressive is its baked enamel black finish that makes it more resistant to rusting and corrosion.
It comes with a total of 3 plastic food and water cups you can place closer to the bottom of the cage. It has a metal slide-out cleaning tray and above it a wire grid to prevent bird and bird dropping contact. It also comes with 2 perches and a hanging toy.
Overall:
Safety:
Size:
Mobility:
Versatility:
Funcionality:
AVERAGE PRICE
$100 – $130 varies from webshop to webshop: Amazon
WHY TO BUY
It's fully metal made
Features transparent seed guard panels
Can be hung
WHY TO AVOID
It's a little expensive considering its size
Vivohome Transparent Bird Cage
SPECIFICATION:
Material: Acrylic, Plastic, Iron
Size: 18.5" x 13.8" x 18."
Weight: 8.7 lbs

Wire Spacing: 0.5"
Bird Capacity: 1
Suitable For: Budgie, Cockatiel, Canary
You can either use this one as a small bird carrier or as a permanent housing solution for birds. The front and backside are made with transparent acrylic material. Not to worry, it still gets plenty of ventilation from the other wire sides.
The frame is plastic while the wire is metal. The top wire area features a rest top area with a double entrance. The bottom is also made with a clear acrylic material and features a tray and a wire grid as well.
It features a plethora of accessories that include an auto bird feeder, a bath box, 2 food cups, and 2 perches. Most of these are transparent which is especially good for knowing how much food is left in the food cups.
Overall:
Safety:
Size:
Mobility:
Versatility:
Funcionality:
AVERAGE PRICE
WHY TO BUY
Comes with plenty of starter accessories
It's easy to clean due to acrylic front and back side
WHY TO AVOID
It's relatively small so permament housing might not be an option
King's Cages Travel Bird Cage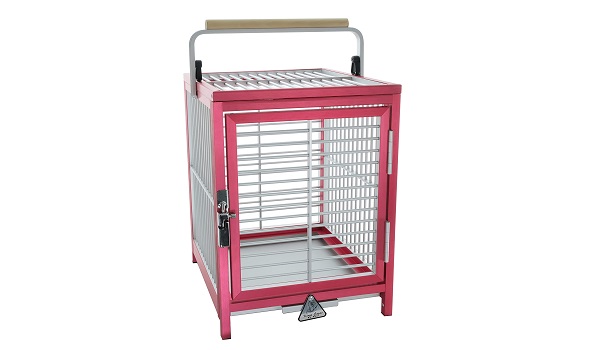 SPECIFICATION:
Material: Aluminum
Size: 12" x 14" x 15"
Weight: 10 lbs

Wire Spacing: 0.6"
Bird Capacity: 1
Suitable For: Conure, Lovebird, Cockatiel
The only reason why this one wasn't reviewed earlier is that it's mainly a travel cage. It can also be used as a secondary cage when you're cleaning the main one. It won't rust and even if it does, its rust is safe for bird ingestion.
It's colored red but it's not a finish. Instead, the color is there due to aluminum anodizing. It features an entrance that covers the whole front so each area is easily accessible. It also comes with a cleaning tray.
You can carry it using the firm large handle. It also features a wooden area that makes it double as a perch. It does not feature any accessories besides that handle/ perch. For traveling, we'd recommend one more perch for the inside.
Overall:
Safety:
Size:
Mobility:
Versatility:
Funcionality:
AVERAGE PRICE
WHY TO BUY
Completely safe for birds because of the aluminum build
It's easy to clean
WHY TO AVOID
Can only be used for travel
Signs That The Cage Is Too Small
Luckily, you'll easily notice if the cage you're housing your bird in is too small. The first few signs are screaming and biting which are followed up by psychological disorders like bird depression. This then leads to feather plucking but by then, you should have already handled the issue.
Cage Shapes To Avoid
Small cages are going to come in different shapes fairly often. A great example would be round cages. We can't stress enough how important it is to avoid these cages because they can lead to everything listed above and even bird psychosis due to a lack of corners.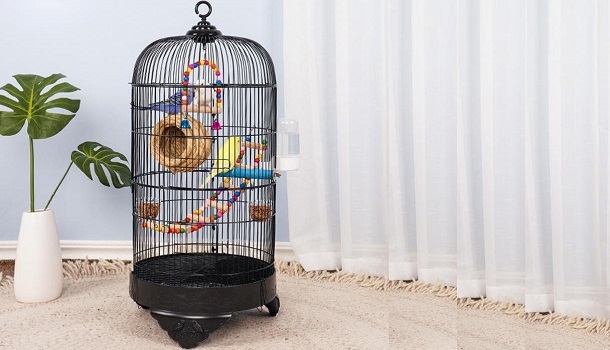 What Is The Minimum Cage Size For Birds?
Every bird has different cage size needs and since we're talking about small birds, we'll list the minimum for them.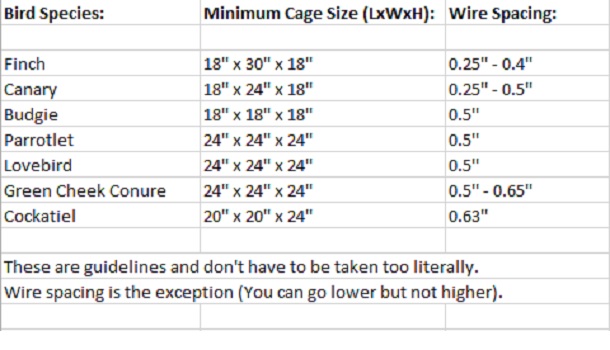 How To Care For Small Birds
If you're still considering getting a small bird as a pet, we have some news for you, they're a great choice for beginners. Bird owning difficulty follows the pattern of the larger the bird, the harder it is to be its owner. Here are a few reasons why they're so great as pets.
Quiet Times
Due to their size, these birds tend to be quieter than larger ones. Don't get us wrong, they can still talk back when they get angry at you but even these situations are easier to handle.
Owner To Bird Bonding
Most of these will commonly adopt their owner as a flock member. This only happens if you do spend time playing with them, bonding, and petting them. Playing with them will probably be the most efficient way to bond with them.
Diy Your Own Small Cage
Almost any cage can be made with the use of some tools, time, and money. Either way, you'll be spending far less on a cage you made on your own. It can also be a fun little project to occupy your time.
Supplies
You'll need a saw, four saw, sandpaper, paint, brush, screwdriver, hacksaw, drill, a ruler, handles, and clips. This method requires you to use a second-hand cabinet and the front side of an already made cage. As a replacement, you can use mesh wire, make your doors, sand down the sharp edges and you'll be done.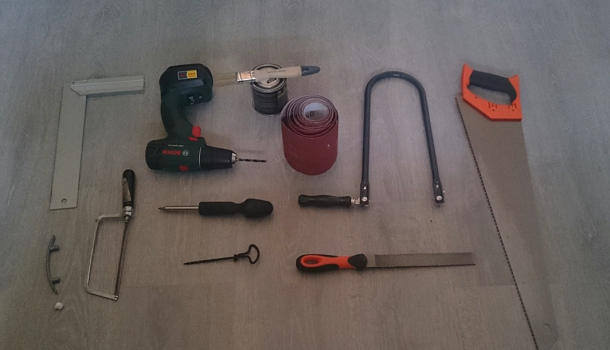 The Process
First, you'll have to remove the doors and all the screws and hinges from the area where you want to house your birds in the end. You'll have to sand down the old paint and repaint the cage with a bird-safe one. You'll make the cleaning drawer which will go on the bottom. Next, you'll drill some holes into place the clips that'll hold the wire mesh you'll place in the front. For exact measurements and visuals on how to do it, refer to the video linked below.
To Sum Up
Since the Vision L01 Wire Bird Cage is a great space saver and can house one or two small birds. We'd recommend it but if you'd prefer to search for your small cage, be sure to check out the wire spacing, minimum cage size for your specific bird breed, and the material the cage is made out of.