Having trouble finding the perfect vintage hanging bird cage?
Do you want to discover all of your options and learn more about them along the way?
You can do all that if you continue reading this article where we chose our top picks and reviewed them. We made sure to review safe and durable cages but also different types of cages as well so you can easily find round, small, parakeet, and more cages.
The Summary
Best 5 Vintage Hanging Bird Cage
BEST OF BEST VINTAGE HANGING BIRD CAGE
Prevue Hendryx Designer Cage
Color Options
Even though this cage is beautiful as it is and you'll really want it to stand out while hanging inside your home, you can also get it in white color to make it blend even better with your interior. If that's not the cage, you can always stick to the common black color that will accentuate its details.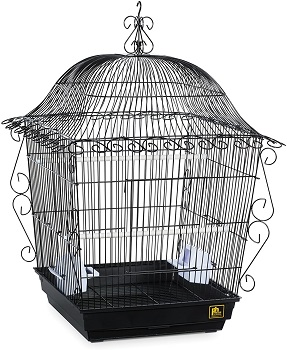 Visual Details
You can definitely use it as a vintage decorative bird cage that's for sure. It's got a curved out top, straight sides for safety, and lots of wire details on the outside of the edges. These details are made out of steel wire and are bent. Even the hanging hook has detailed ornaments.
Top And Bottom Materials
It has a pretty standard build though. The top, as we mentioned before, is made out of steel wire and it has a base made out of plastic that's not as deep to not corrupt the visuals of this vintage hanging bird cage. On the bottom, you'll find a grid and below it a drawer that you can pull out for cleaning.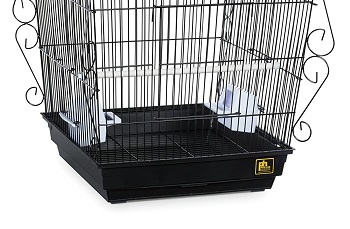 Size And Interior
It can be considered a large vintage bird cage because the fact that it's 18-in long and wide and 25-in tall is as big as you're going to get with these so you can house a small bird inside but be careful since the wire spacing is 5/8-in. The interior comes equipped with 2 white perches made out of plastic and 2 cups that are hooded and also made out of plastic.
In Short:
Has a metal wire top and plastic bottom
It's 25-in tall and 18-in wide and long
Has a 5/8-in wire spacing
Comes in white or black color
The interior has 2 perches and food cups
BEST PARAKEET ANTIQUE HANGING BIRD CAGE
Prevue Pet Copacabana Cage
How It Looks
This cage is definitely a hanging decorative bird cage when it comes to its visual appearance. It has a hexagonal shape and even features a canopy on top. This canopy is more of a visual canopy than it is a functional one. Maybe it could be used to help protect your bird from the rain when you're taking a short trip to the vet.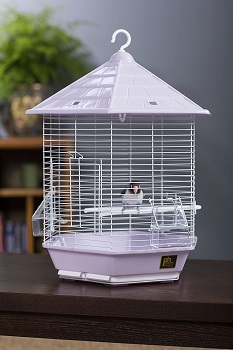 Materials And Their Safety
The canopy on top, the hook for hanging, and the bottom are all made out of plastic and colored white. In between these, you'll find steel wire sides. You'll find 6 of them in total since it is a hexagonal cage. This vintage hanging bird cage also has a powder coating finish that's safe for birds.
Clean Cage Environment
Even though it has a hexagonal shape you won't be cut off in terms of whether or not it comes with a cleaning tray. it does and you can easily pull it out for cleaning. On top of this tray, you'll find a grid that's made out of plastic that will help prevent your bird from getting into contact with its own soil.
Size, Safety, And Interior
The cage is designed to house parakeets and other small birds not only because it's generally small but also because of the wire spacing. The 3/8-in or 0.375-in wire spacing is small enough to not allow a budgie or other type of small parakeet to pull his head through the spaces in between the wire. On the inside, you'll find a branch-shaped perch and 2 clear feeding cups.
In Short:
Has a hexagonal shape
The top features a plastic canopy
Has wire sides and a plastic bottom
Features a 0.375-in wire spacing
Comes with a branch-shaped perch and 2 cups
Designed to house small birds
BEST ROUND VINTAGE HANGING BIRD CAGE
Nykk Cotagges Bird House
Round Top
If you didn't know already, we're not really what you'd call fans of round cages. Birds aren't either since it can be really damaging to their mental health but this is not a fully round cage. It does have a rounded-out dome top that's made out of wire but that's as far as it goes in terms of how round it is.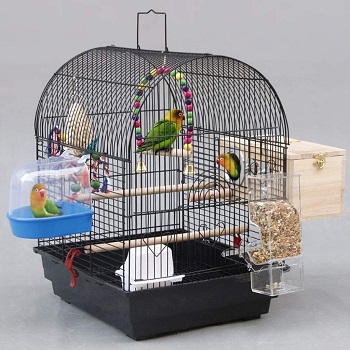 Wire And Bottom Info
The wire that's featured on almost all parts of the cage except for the bottom definitely won't be easily bent by your birds. This is even truer since it's designed to house parakeets and other small birds that don't really have as strong of beaks. The bottom is made out of plastic and serves the purpose of a cleaning tray.
Traveling Cage
This vintage hanging bird cage is big enough to be used as a parakeet travel cage as well. This is also due to the handle on top that can be used for carrying the cage or it can be converted to be used as a hook for hanging the cage to its designated stand, the choice is up to you.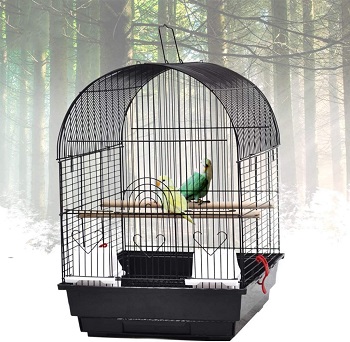 Plenty Of Equipment
Your bird definitely won't be bored when it comes to what the cage contains inside. Your bird will get to rest on two perches, eat and drink out of 2 food and water containers, play with a hanging toy, and even clean inside a bath box that stands on the wire but outside.
In Short:
Has a dope shaped top
Made to house small birds
Has a steel wire top and a plastic bottom
Comes with 2 perches and food and water cups
Features a bath box and a hanging toy
Can be used for transport as well
BEST SMALL ANTIQUE HANGING BIRD CAGE
Yhjr Flight Bird Cage
Stainless Steel Build
Most cages are typically made out of wrought iron or some form of metal alloy. There's nothing wrong with them but they do tend to rust more easily. This cage is neither of those things. The important parts are made out of stainless steel so you can be sure it won't be damaging to your birds' health.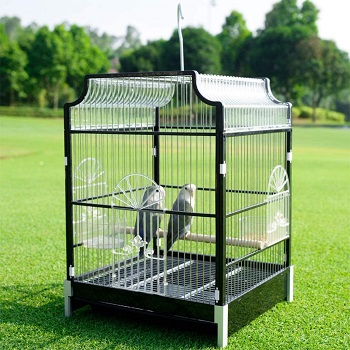 Bottom Materials
This stainless steel bird cage is also made to be used outdoor because of its metal construction. It does have an aluminum alloy bit and it's the legs that keep it elevated. It's elevated so that you can fit below this vintage hanging bird cage a cleaning tray that's made out of ABS plastic.
Vintage Details
It's considered vintage because of its top. It has concave curved edges on the left and right that flat out to create a flat top. Because of the flat top, you'll easily get to hang additional bird toys on top as well. The entrances are small and feature little bent wire details like arches.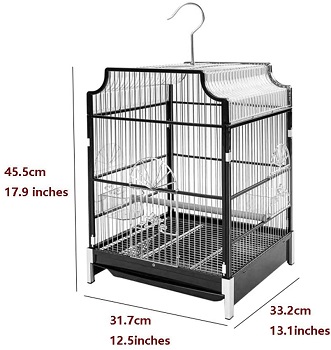 Entrances And The Inside
Apart from the small front entrance, you'll also get left and right-side small entrances that will help you easily refill the food and water cups. You'll get two of them with the cage and you'll easily monitor how much food is left since they're clear. our bird will get to rest on a single wooden perch.
In Short:
Made out of stainless steel
The elevating legs are made out of aluminum alloy
Has an ABS plastic tray for cleaning on the bottom
The top has concave edges but a flat roof
Features a front entrance and two feeding entrances
Comes with 2 clear cups and a perch
BEST INDOOR VINTAGE HANGING BIRD CAGE
Erdgfh Hanging Bird Cage Square
All Plastic
Everything that you see on this cage is made out of plastic. This might not be the best and most durable material in the world but for bird owners that have trained their birds so that they are calm, this might be an excellent solution. Another benefit is that it's quite a cheap bird cage.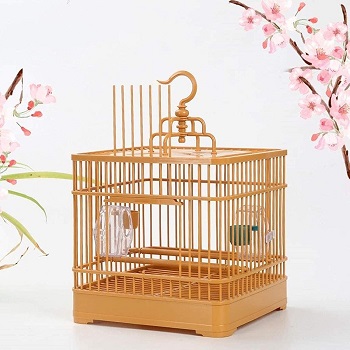 Easy Collapse
You won't have any problems with the assembly of this vintage hanging bird cage since it doesn't really feature any screws. By that same logic, it's also quite easy to collapse it for when you're not using it and you want it to take up as little space possible when you store it or if you want to transport it.
Small Cage Warning
The cage is really small with all the measurements being less than 10-in. This is why it's crucial that you only use it for short outings or as a bird sleeping cage. The important thing is that your bird is not kept in the cage for too long. The bird you'll house inside should be small.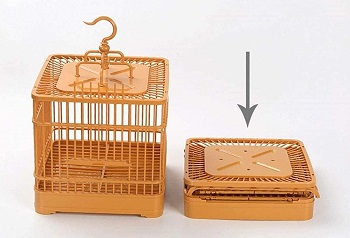 Doors And Toys
The entrance to the cage is a sliding door. It opens in an upward direction so it adds a layer of interest to this small parakeet cage. On the inside, you'll two small water and food cups and 2 perches. The perches are colored brown and are made out of plastic just like the rest of the cage.
In Short:
Entirely made out of plastic
Can be collapsed
Shouldn't house bird for extended periods of time
Comes with 2 perches and small cups
Has a sliding door entrance
How To Pick A Vintage Hanging Bird Cage
Finding a vintage hanging bird cage, in general, is tough work, let alone finding the one that's suitable for housing birds. Because of this, we decided to provide you with a buying guide where we'll set you on the right path of buying the perfect cage by talking about their differences and similarities.
Most Common Size  – All of these cages are small. In fact, they're so small that they're only useful to small birds like budgies. If by any chance the cage you're looking at is less than 12-in long, wide, or tall you should definitely consider getting a different cage since this size is just not comfortable for birds.
Bird Size Indicator – It's easy to determine what bird you can house inside any cage if you look at the wire spacing of the cage. If the wire spacing is up to 0.5-in it's a cage for small birds like budgerigars, if the spacing is about 0.6-in it's made for slightly larger birds. 1-in wire spacing is for big birds like parrots.
What You'll Need With It – Although you can hang these cages virtually anywhere, it's probably for the best that you hang the cage on an antique bird cage stand. Hanging cages have special stands that allow them to be hug securely and without the risk of the stand falling.
What's Thought As A Bird Cage – Most commonly, when people think of vintage hanging bird cages they usually picture a proud cage with all sorts of cool details. You should avoid buying these cages because they're not really good for a bird's mental health, often they'll just be made for decorative purposes as well.
To Sum Up
Although most will pick a vintage hanging bird cage based on appearance, we'd like to recommend the Prevue Hendryx Designer Cage not only because of its looks. It's the largest cage of them all and you can count on it to be safe and durable because of the wire and powder coating. If you want to check out hanging cages but not vintage we recommend you read the article about hanging parakeet cages and if you'd like to check out big versions of these cages you can always read the article about large hanging bird cages.