Do you wish your bird's cage could be a vintage decorative bird cage but so that it also functions as an actual bird cage?
You can find one in this article where we only reviewed the best. All you need to do is keep on reading to read through reviews of our selection for the best of the best. We made sure to include cages with many different functions like hanging cages or even cages for weddings.
The Summary
Best 5 Vintage Decorative Bird Cages
BEST OF BEST VINTAGE DECORATIVE BIRD CAGE
Prevue Hendryx Designer Cage
Colors To Choose From
You really don't have to look far and wide to find a properly functioning but also beautiful cage since you're already reading about one. If you don't particularly like the black color you can always choose to get this small bird carrier in white color as well that will make it blend even nicer.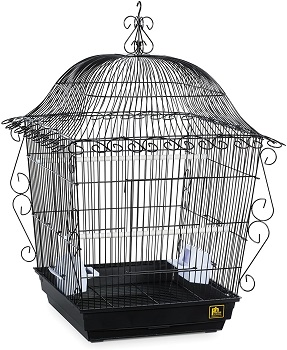 Top Hook
If you have a place where you can hang it, you can count on this vintage decorative bird cage to be the one to be hung. This is due to the fact that it features a hook with an assortment of wire detailing that makes it even more vintage. It is small so you won't get to house large birds inside.
Bottom And Top Construction
It has a wire top and a bottom base that's made out of plastic. This base also features a drawer made out of plastic that you can pull out to keep the cage as clean as possible without going through too much trouble to keep it clean- Just above this drawer, there is a wire grid to separate the bird from its own soil.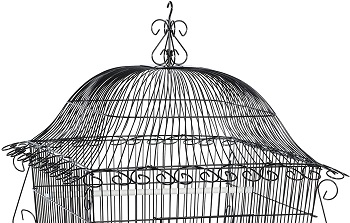 Dimension And Birds To House
As we said, it's small with only 18-in of width and length and a height of 25-in. You won't get to use it as a small parakeet cage though since the wire spacing is 5/8-in or 0.625-in. Because of this, it's designed for slightly bigger birds like cockatiels for example.
In Short:
Comes in a white or black color
Can be hung
Has a 0.625-in wire spacing
Fit for housing birds like cockatiels
Features a plastic base with a cleaning drawer
BEST HANGING VINTAGE DECORATIVE BIRD CAGE
Blue Mars 18-inch Large Bird Cage
Multiple Uses
Since it's spacious enough and features little to no details that could be easily damaged, you can use this cage as a travel cage. Apart from using the hook for carrying purposes when you want to transport the cage, you can also use this iron hook to hang the cage inside your home.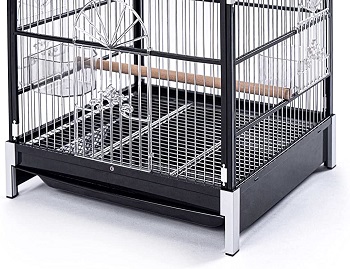 Plastic And Metal Combining
There's something out of the ordinary about this cage so it's definitely one of the more hanging parakeet cages. Instead of having a fully metal frame it actually has an ABS plastic frame and metal wire sides made out of stainless steel. Only the top is made out of clear plastic and the doors.
Roof Strenght
If you're worried about the strength of the roof of this vintage decorative bird cage you really don't have to be. This is because it's a polycarbonate material that has been pasted to create a more stable structure on top. The same material is used on the 3 entrances.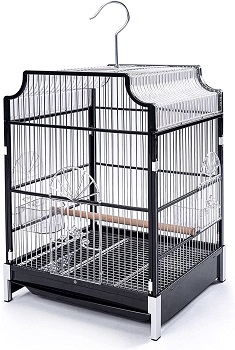 Inside Accessories
Since it's a small cage you'll only get to house a single bird inside, preferably a small one. Your bird will get to rest inside on a single perch that's made out of wood. For food and water, you'll get two clear cups so that you can monitor how much is left inside at all times. You'll get two places these cups on the 2 feeding entrances.
In Short:
Has a stainless steel wire
The frame is made out of ABS plastic
Has a PC rood that's been pasted for more stability
The hook can be used for transport or hanging purposes
Features 2 feeding entrances, 2 clear cups, and wooden perch
BEST WEDDING VINTAGE DECORATIVE BIRD CAGE
EveryDecor Antique White Bird Cage
Shade Of White
If you feel like a white cage would fit well into your home decor, you're looking at the cage that fits this description. White cages easily blend inside any home and this cage is no exception. The color is not completely white but rather it's an antique white so it fits even better in these reviews.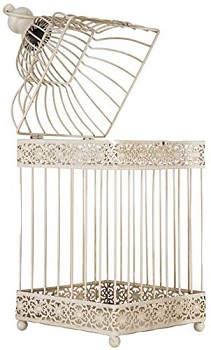 Material And Weight
The cage is made out of metal so you can be sure that it will last you for a long time. Even though its metal, this white vintage bird cage is light so you won't have any trouble when transporting it when you want to place it elsewhere or if you want to store it away. It weighs around 2 lbs.
Placement Options
The bottom of this vintage decorative bird cage allows it to be placed on flat surfaces. It is slightly elevated from the ground with 4 balls that act as legs. Because of the top, you'll get to elevate it from the ground ad hang it somewhere because of the loop.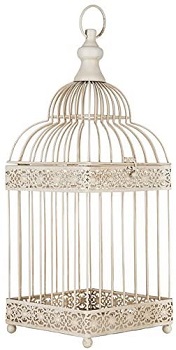 Cage Uses
The uses for this cage are almost endless. We say almost because you can't really use it as a real bird cage. It's a decorative piece so you can place plants inside or you can use it for storing your mail. Whatever you decide to do with it, it's definitely not meant to house birds.
In Short:
Made out of metal
Colored with an antique white
Weighs around 2 lbs
Can be hung or placed on a flat surface
Can't be used as an actual bird cage
BEST WHITE VINTAGE DECORATIVE BIRD CAGE
Pet Show 2 Wedding Cages
Cage Use
The beautiful pure white color of this cage will make it a perfect addition to your wedding. Its ideal use would be to use it as a cardholder at your wedding reception but of course, no one's stopping you from using it inside your home or as a flower decoration piece.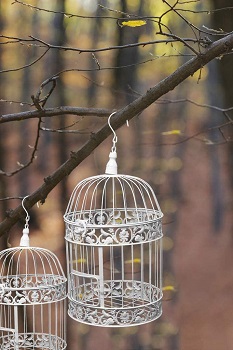 Cage Number And Size
If you want to go cheap, you'll definitely get the best bang for your buck if you get this vintage bird cage for weddings because it's not that you'll just get one vintage hanging bird cage. Instead of one, you'll get two cages. You'll have to choose what size you want to get and you can choose either between the extra small or small.
Color Options And Dimensions
You don't have to limit yourself and get only the white color of this vintage decorative bird cage. You'll also get the option of getting two black cages. If you do get it in black you can also choose between the two already mentioned sizes. The extra small cage is 7-in tall 5.5-in in diameter while the small one is 10.6-in tall and 7.5-in diameter.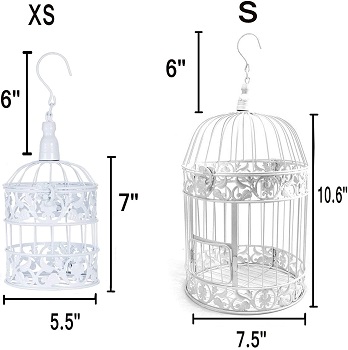 Indoor And Outdoor Use
The main reason why it's good for wedding receptions is that it can be used both indoor and outdoor so no matter where you choose to use it, the cage won't get damage. We would tread carefully with using it for birds and even then, it should only be used if you perhaps want to release a few birds at your wedding.
In Short:
Comes in a pack of two cages
Can be used indoor and outdoor
It's perfect for wedding receptions
You can get the small and extra small size
Comes in white or black
BEST METAL VINTAGE DECORATIVE BIRD CAGE
Benzara Victorian Style Bird Cage
Cage Height And Shape
This is actually a round bird cage with stand. Although it's said that you can use it to house birds in it we would advise against it under all circumstances. The fact of the matter is that it's a full round cage which means that it's detrimental to your birds' health and the wire spacing is too big to be safe for any bird.
Cage Entrances And Uses
There are two entrances to this vintage decorative bird cage. One is found at the bottom and is quite small so you won't get to do much with it anyways. The entrance that takes all the glory and that will allow you to place things like plants, flowers, and other greenery inside is the dome top that completely comes off.
Cage Uses
The dome top that fully comes of features an additional piece that holds a hook. Thanks to the hook you'll get to hang it anywhere you'd like. We di mention that it also comes with a stand so you'll get to choose between hanging it or putting it on its antique bird cage stand.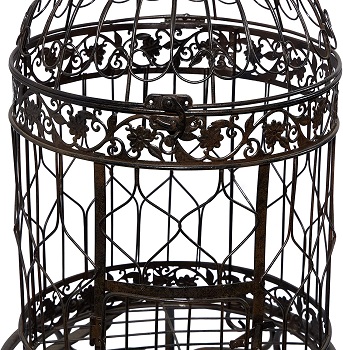 Construction And Size
This vintage metal bird cage is made out of metal. If you decide to place it on its stand it will be 4 ft tall. Without the stand, the cage alone is 24-in tall. Since it's round you'll only get the information about its diameter that is 14-in wide. As we said, its uses are large but it shouldn't be used as an actual bird cage.
In Short:
Made out of metal
Comes with a stand
Can be hung because of the hook
Shouldn't be used for housing birds
The dome top comes off and acts as an entrance
How To Pick A Vintage Decorative Bird Cage
A vintage decorative bird cage doesn't just have to look nice to be a great cage for birds. There are a few things to remember and we'd like to point out these things including their differences, some safety features, size, and a lot more so make sure you continue reading this simple buying guide.
What's Usually Meant By Decorative – If you were to go online and search for a decorative bird cage that's vintage you'd probably look through pages and pages of products that can be used to store letters, wedding invitation, etc. This is not what you should be after if you want to house your bird inside the cage.
What Decorative Can Be – These cages all look nice and most can fit into your home decor perfectly and some are also safe to use by birds. The cages that are fully round are the ones you should avoid getting for your bird to live in. All are small to not look like a large obstruction inside your home and can even be hung.
Size Precautions To Take – You will have to think about the size of a cage you're looking at. if the cage is small and has a wire spacing of 0.5-in you're most likely looking at a cage for smaller birds like a small parakeet cage. 1-in wire spacing cages can't be small and can't house small birds so they're most like big bird cages.
What Cages To Avoid – We can't get enough of repeating that vintage decorative bird cages that are round should never, under any circumstance, house actual living birds. To keep it short, they're extremely hard to maintain and keep clean and are, without a doubt, damaging to a birds' mental health.
To Sum Up
We vent ahead and choose the Prevue Hendryx Designer Cage as the one vintage decorative bird cage we'd recommend. We didn't do it just because it looks great although it does, we chose it because you can hang it anywhere, it's made out of durable wire and it's safe for birds in general. If you want to have a look at the other end of the spectrum we advise you to check out the article about antique wrought iron bird cage. If you want to stick to what you know maybe check out the article about large antique bird cage.