Do you have trouble carrying heavy things and you can't really spend that much money on a carrier so you're looking for a small bird carrier?
If you are you'll want to continue reading this article. We did our homework and found the best ones to review that fit the description. We even made sure to include carriers for a variety of birds like a cockatiel, parakeet, canary, parrot carrier, and more.
The Summary
Best 6 Small Bird Carriers
BEST OF BEST SMALL BIRD CARRIER
Moloni Bird Carrier
Carrier Pricing
Probably the biggest benefit of any bird carrier as opposed to a cage is that they are a lot cheaper than cages. It makes sense that they are since they're usually made out of plastic and soft materials rather than metal. This one will cost you around 30 dollars which really isn't a lot.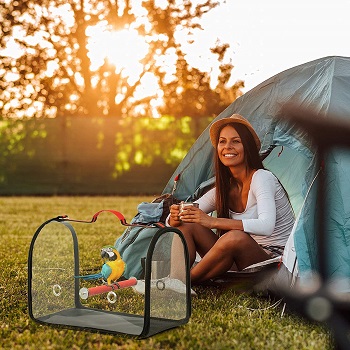 Colors To Choose From
It doesn't have a lot of color details since only the top handle and shoulder strap are colored but if it means anything to you, you can easily choose another color. The colors offered are red and that's the one we're reviewing, black, light blue, and even green. Primarily, it's colored black.
Clear Vision
It's almost completely clear which is amazing since traveling is stressful for any bird and they'll have good use of the wide field of vision on the outside. The clear material located on all sides except for the left and right side is PVC material meaning it's a type of plastic.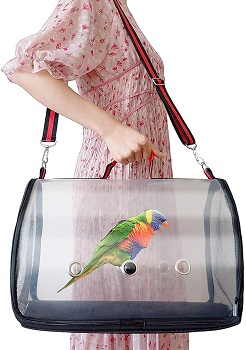 Proportions And Accessories
The entrances to this 16.5-in long, 9-in wide, and 12-in tall small bird carrier can be found on the left and right sides. They're made out of mesh fabric meaning they provide ventilation. The 6 holes on the PVC material also ensure good airflow but thanks to them, you can use the carrier as a bird carrier with perch.
In Short:
Primarily made out of PVC material
It's almost fully clear
Comes in 4 different colors
Features a shoulder strap and handle for carrying
It's 16.5-in long, 9-in wide, and 12-in tall
Comes with a perch
Has 2 mesh fabric entrances
BEST COCKATIEL SMALL BIRD CARRIER
Morimoe Bird Carrier Bag
The Importance Of Clear Features
The only thing to worry about with carriers is to make sure that they are somewhat clear and offer your bird some vision on the outside. The need for it all depends on the type of bird and their previously exuded behavior. This carrier, just like the one before it, only has unclear left and right sides.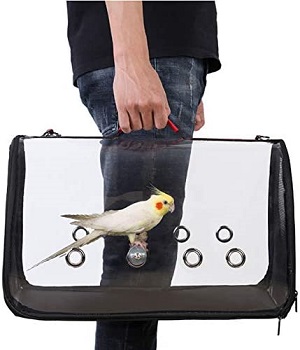 Mesh Location, Durability, And Function
It does have corners but all of its sides are curve so most of its corners are rounded out as well. The sides have mesh fabric windows that help ventilate the interior. It's important to think about the durability of these since birds can easily tear them with their claws. Luckily, the mesh fabric on this carrier is anti-grabbing.
Cockatiel Carrier Dimensions
Since cockatiels are generally around 13-in long, you'll want to get them a small bird carrier that's slightly longer than that. This one is with its 17.4-in in length. The rest of its dimensions aren't as important but still provide the cockatiel with a spacious interior since it's 5.5-in wide, and 11-in tall.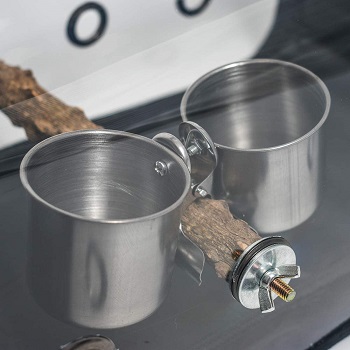 Weight And Carrying
This cockatiel travel cage weighs only 2.4 lbs which is great if you're someone that has trouble carrying heavy things. You'll get to carry it around in one of two ways. It's either with a top handle that can't be removed from this small bird carrier or with a detachable shoulder strap.
In Short:
It's almost fully clear
Mesh fabric sides
The mesh fabric is anti-grabbing
It's 17.4-in long, 5.5-in wide, and 11-in tall
Can be carried with a handle or shoulder strap
Weighs around 2.4 lbs
BEST PARAKEET SMALL BIRD CARRIER
Shiningirl Pet Parrot Carrier
Parakeet Type Recommendation
Getting a carrier for parakeets might be just as confusing as getting a carrier for parrots. The reason why is that there are around 170 species of parakeets. There are 12 in general though and the most common parakeet is a budgie so we'd recommend this cage for them.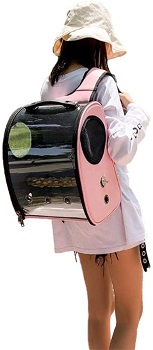 Colors And Shapes To Choose From
This small bird carrier actually both looks and functions as a backpack. It is rounded but generally, it has more of a rectangular shape. You can also choose to get it in a capsule shape and multiple different colors. This one is mainly colored orange and features some black details as well.
Carrier Sides
The front side of this bird carry cage is fully clear. It's made out of acrylic material while the rest is made out of soft fabric. To be specific, it used oxford cloth which is a material well known for making bags and backpacks. The entrances are located on the left and right sides.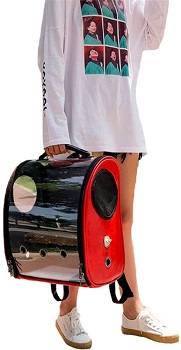 More Left And Right Details
The left and right sides also feature smaller mesh fabric circles that will help circulate new air inside this parakeet carrier. What will also help with this are the three holes punctured into the acrylic material. You will get to place a perch on the inside that you can easily screw onto the left and right sides.
In Short:
Has ana acrylic front side
The rest is made out of oxford cloth
It acts as a backpack
It's colored orange
Has entrances and ventilation holes on the left and right
Comes with a screw-in perch
BEST CANARY SMALL BIRD CARRIER
Pecute Bird Carrier Backpack
Multiple Canary Housing
You seriously can't go wrong with getting a carrier of bigger size for any bird. You will have to make sure that it isn't too small though. The canaries are one of the smaller birds out there so it's really easy to find the perfect carrier for them. Inside this 13.4-in long carrier, you might even be able to house two.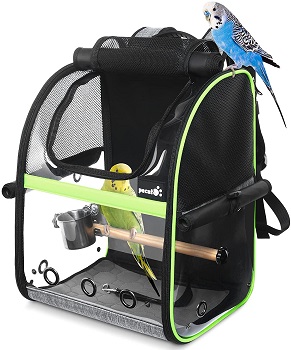 Fabric Functions
The fabric that makes this carrier is 300D oxford fabric. It's a cationic fabric and this means that it's waterproof. The amazing thing about this small bird carrier is that the left, right, and front clear sides can be covered with the fabric to create more of a private resting area for your birds.
Splitting Parts
If we were to split this carrier into two parts, we'd split it into the clear and mesh fabric bottom and top. The mesh fabric top is where most of the air ventilation will come from. Additionally, there are a few holes in the clear material so that will help ventilate this bird backpack with perch.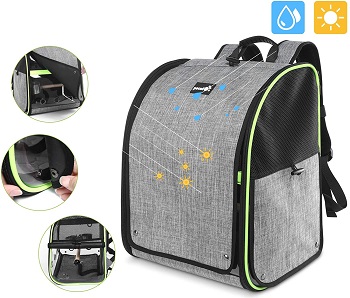 Perch And Cups
We did already reveal that this carrier comes with a perch. This perch is 13.4-in long and has a 0.8-in diameter. ti's made out of wood And you can place it inside with screws. You'll get to place two food and water container on it by camping them onto the perch.
In Short:
Acts like a backpack
Has a clear bottom front, left, and right side
The top is mainly made out of mesh fabric
Covers made out of 300D cationic oxford fabric
Comes with a perch and clamping bowls
Can house more than one canary
BEST PARROT SMALL BIRD CARRIER
Colorday Lightweight Bird Carrier
Defining Small Parrots
When you think of parrots you're probably visualizing a large macaw inside your head but there's more to parrots than that. There are around 35 different species of parrots and one of the smaller ones is a Hahn's macaw that would fit amazingly well inside this 19-in long carrier.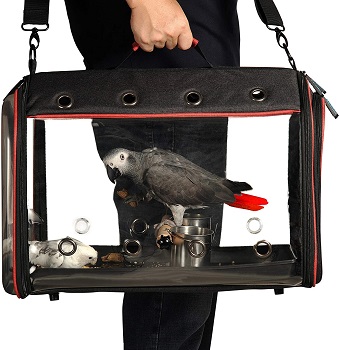 Clear Material Info
The clear material that makes up its front, back, and left sides are polyethylene material. It's a type of clear plastic just like polycarbonate or acryl is. What's so great about it is that it has a low gauge. What this means in practical terms is that it's thick since thickness gets bigger as the gauge gets lower.
Top Information
The rest of this small bird carrier is made out of mesh fabric and regular cloth. The top is one part of this carrier that's like this. It features 4 holes on each side so that your bird can get proper airflow inside. You'll also find the carrying handle there so that you can carry this African grey cage anywhere.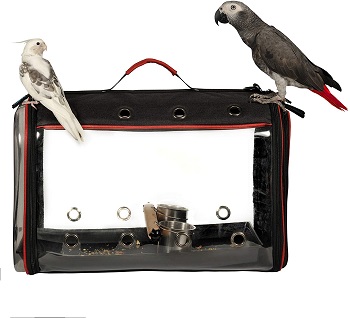 Clear Material Holes Use
The holes on the clear material are not there only for ventilation though. Because of them, you can easily place a perch that comes with it in 4 different places. You will also get 2 metal bowls for food and water that are small enough so that they don't take up as much usable space.
In Short:
Made with soft fabric and polyethylene
The clear material has a thick gauge
Ideal for smaller parrots
The top features 4 holes on each side for ventilation
The hole son the polyethylene allows you to place a perch there
Comes with 2 bowls for food and water
BEST OUTDOOR SMALL BIRD CARRIER
X-Zone Pet Bird Travel Bag
Clear Parts Construction
Just like the carrier we reviewed before it, this one is also made out of polyethylene material and other fabric materials like mesh fabric. In this case, the polyethylene material can be found in the front ad in the back. Just like the carrier before it, it features a thick gauge.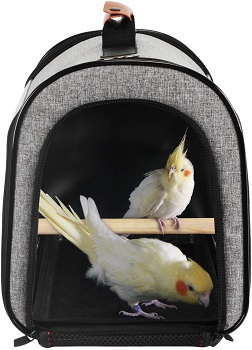 Top Design
The top of this small bird carrier is made out of fabric for a good reason. This way, your bird will be protected from direct sun exposure meaning your bird will be kept in the shade. You'll find a top handle there as well for carrying and you'll find loops for attaching a shoulder strap there as well.
Sides Differences And Similarities
One side of this carrier is made out of soft fabrics while the other is made out of mesh fabric. The mesh fabric bit will help ventilate the interior of this bird travel carrier. Both the left ad right side also function as entrances to the interior that you can close with a zipper.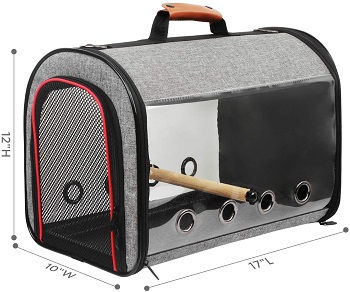 Interior And Exterior Details
You will get a plastic tray with this carrier which is great because you'll spend less time thinking about how you're going to clean the bottom and more time traveling. For the interior, you'll also get a single wooden perch that you can easily screw in. On the outside, you'll find an accessory pocket.
In Short:
Made with polyethylene and fabric
The right side is made out of mesh fabric
Features an entrance in the left and right
The fabric top protects birds from direct sun
Comes with a wooden perch
One of the sides features an accessory pocket
How To Pick A Small Bird Carrier
A small bird carrier is easy to find and pick out but we want you to know exactly why you're choosing one. Everything seen on them makes sense and it's just a matter of learning what these things that make up a carrier are for. You can learn about this and more in this simple buying guide.
Price Range – The main difference between these carriers and cages is that carriers are always cheaper. They're cheaper to make so they can be priced really low. It will be hard to find a carrier that costs over 100 dollars. Most of them are priced in the range of 30 to 60 dollars.
Clear Sides Use – The reason why all of these carriers have clear parts is that traveling is stressful for birds. By offering them a wide field of vision on the outside you're automatically reducing their stress levels. Some birds like to keep an eye on their owner as well so make sure you place them right if you're traveling by car.
Easy Carrying – If you usually have problems lifting heavy things a bird carrier might help solve your problems. Cages can range in weight anywhere from 10 up to 30 or 40 lbs since they're made out of metal. These fabric carriers don't weigh more than 5 lbs and they usually stay in the 1 to 2 lbs range.
Choosing A Too Small Carrier – Although you won't have problems if you pick out a small bird carrier that's larger than your bird, you might have problems if you pick out a too-small carrier. The thing that will most likely happen if that's the case is that your birds' tails will easily get bent. Make sure the length of the carrier is slightly bigger than the length of your birds.
To Sum Up
We truly enjoyed reviewing the Shiningirl Pet Parrot Carrier and that's exactly the reason why we'd recommend it as the best small bird carrier. It acts as a backpack and it doesn't look horrid since it features a more rectangular shape. You can choose between a lot of colors and it will be a perfect fit for most small birds. If you want to look at travel cages next, we advise you to read the articles about macaw travel cages or parrot travel cages next.