Do you have a parrot that you can't find a parrot travel cage for?
Are you having difficulties trying to find one that's suitable for your specific parrot?
If the answer to both of these questions is yes we'd advise you to continue reading this article because you're about to read reviews of only the best ones we could find. We made sure to include cages of different sizes and durability and even for different parrots like large cages, small cages, African grey cages, and more.
The Summary
Best 6 Parrot Travel Cages
BEST OF BEST PARROT TRAVEL CAGE
Pawhut 25" Dome Top Cage
Rounded Parts
If we hadn't placed it in the best of best category we would definitely have either placed this cage in the best metal or round category. We'd have placed it in the round category because it's a cage that's still safe for use by birds even though it's round. It's round thanks to its dome top.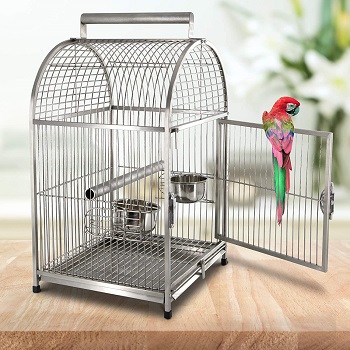 Stainless Steel Excellence
We mentioned that we would have placed it in the best metal category because it's a stainless steel bird cage. This is one of the materials used for making bird cages that you truly can't go wrong with. It offers amazing rust and corrosion resistance and it can definitely stand up to the strong beaks some parrots have.
Door Safety
The cage has a single entrance located in the front that locks with a lock that will be almost impossible for parrots to pick and open. for even extra safety, it has a metal piece that you can twist to block the door from opening if your parrot somehow manages to unlock the door.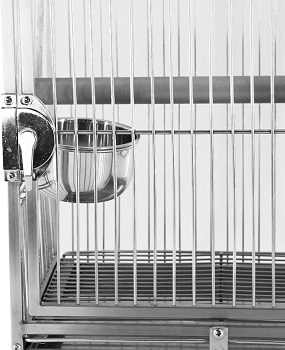 Size And Bar Spacing
You can't really rely on the wire spacing of a cage to tell you what bird you can contain inside a parrot travel cage. All we know is that it has a 3/4-in wire spacing so you shouldn't use it for smaller birds but any other parrot, as long as it fits inside this 13.75-in long, 13-in wide, and 24.5-in tall cage will do just fine inside.
In Short:
Made out of stainless steel
Has a dome top
Features a single, safe locking entrance
Has a 3/4-in wire spacing
It's 13.75-in long, 13-in wide, and 24.5-in tall
BEST LARGE PARROT TRAVEL CAGE
Kings Cages Large Aluminium Cage
Size According To Length
It's hard to determine whether a travel cage for birds is small or large but one way we found to be the most efficient way of determining this is to check the length of a cage. If the cage is over 20-in long you can think of it as a large metal bird cage. This cage is almost 28-in long.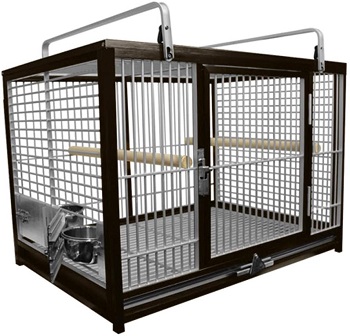 Specific Proportions
When buying a parrot cage for traveling you really want to make sure that it's a bit longer than the parrot because if not, the parrot can end up with a bent tail. This 28 7/8-in long, 20-in wide, and 20 1/4-in tall cage can house the biggest of parrots. This means that you can use it as a macaw travel cage.
Metal Safety
We haven't even gotten to the best part of this cage yet. The best part is that it's made out of aluminum that is one of the top two materials used for making bird cages in general. What's so special about it is that even if it were to rust, you won't have to worry about your parrot suffering metal poisoning by ingesting it.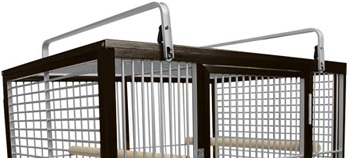 Wire Spacing And Weight
If this were a regular bird cage we definitely wouldn't recommend it for bigger parrots due to the small 5/8-in wire spacing but since it's a large parrot travel cage, you can use it to house both medium and large parrots. It weighs around 29 lbs so it makes sense that it comes with 2 carrying handles on top.
In Short:
Completely made out of aluminum
Weighs around 29 lbs
Features 2 carrying handles on top
Aluminum rust is safe for bird ingestion
Hass a 5/8-in wire spacing
It's around 29-in long so it can house parrots like macaws
BEST METAL PARROT TRAVEL CAGE
Parrot Wizard Red Travel Cage
Color Combo
This cage is both safe and fashionable. We'll get to the safety part in a bit but the color of this cage simply can't go unnoticed. It's colored red but it also uses a combination of silver color that makes it even more appealing. The frame is red while the wire bits are silver.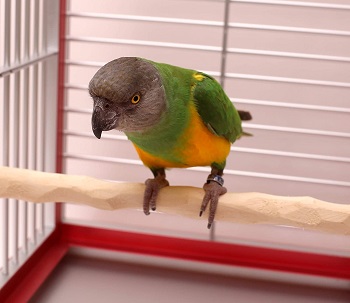 Weight And Size
One of the biggest benefits of this cage is that it's light so if you have trouble carrying heavy things, you'll definitely find useful ts weight of only 10 lbs. It's definitely a smaller cage with its length of 12-in, a width of 14-in, and a height of 17-in. With the dimensions kept in mind, it's better to use it as a medium bird travel cage. The thing that also proves it is the 5/8-in wire spacing.
Perch Design
There are a few more things that make it special but the thing that stands out the most is the perch this parrot travel cage comes with. It's called a NU perch and it's made to allow your parrot to safely and firmly grip it while traveling and moving around a lot inside a car. The carrying handle on top acts as an outside perch.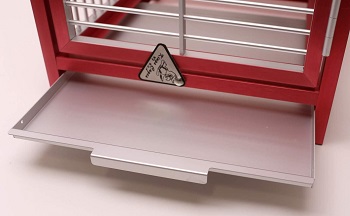 Assembly And Disassembly
It's actually an aluminum bird cage and in case you missed the information about aluminum on the previous cage we'll repeat it. It's a bird-safe material because its rust is safe for birds and parrots to ingest. You won't have to go through the trouble of assembling it or folding it down since it requires no tools for it.
In Short:
Made with aluminum metal
Has a red and silver color
Designed to house medium sized birds
It's 12-in wide, 14-in long, and 17-in tall
It has a 5/8-in wire spacing
Features a perch/carrying handle on the outside
Weighs only 10 lbs
The inside perch is an innovative NU perch
BEST AFRICAN GREY PARROT TRAVEL CAGE
Mcage 22" Portable Heavy Duty Cage
African Grey Size
Although African grey parrots look a lot bigger than your typical medium-sized bird they still fall into the category of medium birds. Adult African greys are around 13-in long so they don't really need an extremely lengthy cage. This cage that's 18-in long will do just fine.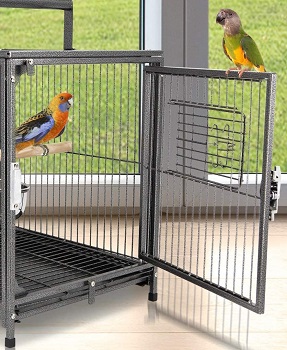 Material Toughness
What African Greys do have is strong beaks so it's important that you get them a more durable cage. Typically, a wrought iron bird cage will do just fine and this is one of those cages. Wrought iron is nothing more than a lower carbon content iron. Its main flaw is that it rusts more easily.
Interior And Exterior Accessories
It's got everything your bird needs to stay happy inside and when outside as well. The interior is equipped with a single wooden perch and 2 stainless steel bowls. These bowls can be placed on the small feeding entrances on the side. On the outside, it has a carrying handle that acts as a perch as well.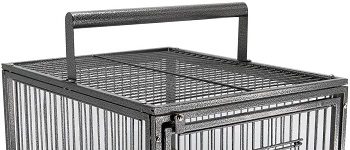 Finish And Spacing
You should keep an eye out on the finish of a cage especially if the parrot you're buying a parrot travel cage for is stronger. This travel cage for African grey parrot is coated with a bird-safe powder coat finish which means that it won't chip or crack, leaving exposed metal bits. It features a 5/8-in wire spacing which makes it suitable for birds like cockatiels as well.
In Short:
Made out of wrought iron
Has a 5/8-in wire spacing
The powder coat finish is bird-safe
Comes with a perch and 2 bowls for the inside
The carrying handle on top acts as an exterior perch
The cage is 18-in long
BEST SMALL PARROT TRAVEL CAGE
Featherland Paradise, Perch 'n Go
Small Cage Dimensions
Previously we determined that a travel cage can be considered a large one if it's 20-in long and over and with this small bird carrier, it's easy to determine that anything ess than 20-in is to be considered small. Overall, the cage is 15-in long, 10-in wide, and 12.5-in tall.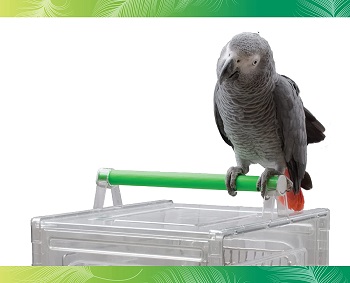 PC Plastic And Stainless Steel
What's so special about this small parrot travel cage is that it's not fully made out of metal. It uses polycarbonate for most of its build material and it does feature some stainless steel bits as well. The stainless steel parts can be found in the front as its door, and in the back as an air ventilation panel.
Clear Material Benefit
Traveling is a stressful time for any bird or parrot and one thing that you can do to make them feel more comfortable is to get a travel cage for parrots that allows them to fully view their surrounding. This is where the polycarbonate material comes into play since it's a clear material.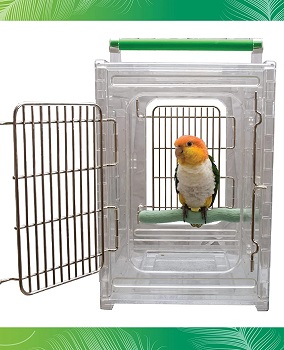 Weight And Accessories
The cage only weighs around 6 lbs so it will be easy to carry with the provided green handle on top. This handle can act as a perch along with the single interior perch it features. What it doesn't feature is bowls for food and water and sometimes this can be good because they can take away a lot of the interior living space.
In Short:
Made mostly out of polycarbonate
Has a stainless steel door and back panel
It's 15-in long, 10-in wide, and 12.5-in tall
Suitable for medium-sized birds and parrots
The green top handle acts as a perch
Features a single perch on the inside
Weighs around 6 lbs
BEST CHEAP PARROT TRAVEL CAGE
Prevue Pet Products Flat Top Cage
The Price You'll Pay
If by any chance you have a calm parrot with a beak that's not as strong you might want to opt for getting this cheap parrot cage. The price you'll pay doesn't even go above 50 dollars which is great if you want to keep things on a budget. You'll be paying around 30 dollars for it.
Cage Colors
The wire of this cage isn't really thick and it makes up around 90% of the cage in general. The wire bits are colored white and on top, you'll find the blue wire. Its base is plastic and it's colored blue while the slide-out cleaning tray is also colored white instead of blue.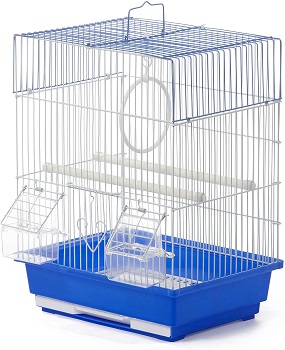 Proportions And Interior Details
If you have a smaller parrot like a parakeet this parrot travel cage will be of the perfect size for them. It has a 0.5-in wire spacing and it's 12-in long, 9-in wide, and 15-in tall. It comes with a hanging toy accessory, 2 perches, and 2 clear food and water cups that you can place on the two feeding entrances.
Multiple Functions
This is actually a multifunctional cage. The handle on top and its small weight of 2 lbs make it great for carrying and traveling. The handle doesn't have to only be used as a handle though. You can convert it into an enclosure for parrots that can actually hang either from a ceiling or a stand.
In Short:
Costs around 30 dollars
Has a wire top and a plastic bottom
It's colored blue and white
Has a 0.5-in wire spacing
Comes with a hanging toy, 2 perches, and cups
Can acts as a hanging bird cage
Able to house small parrots
How To Pick A Parrot Travel Cage
Since there are so many parrot breeds out there, choosing a parrot travel cage can be a tricky task since there are so many of them. To make it easier for you to decide on one that's perfect for your specific parrot, we made this buying guide where we'll go through all of the cage specifics you need to know and more.
Small And Large Cages – If you want to talk about size in general, these cages can easily be split into small and large cages. You should determine on your own what cage you need but generally, large cages are considered to be 20-in long and over and small cages go under the 20-in in length.
Material Durability Gradation – Three materials stand out with their durability and those are stainless steel, aluminum, and wrought iron. If you have the money, we'd definitely recommend you get the aluminum or stainless steel cage since they are the safest and if not, you can opt for a wrought iron bird cage.
Parrot Specifics – The reason why you should focus that much on the materials use to make a cage is that larger parrots tend to have stronger beaks so they need a tough opponent if you want to prevent them from bending the wire of a travel cage you're looking at. If by any chance you're looking to get a parrotlet cage, you can opt for a cheaper, regular iron wire cage.
Looking Out For The Wire Spacing – Wire spacing isn't that important with parrot travel cages. You'll want to focus more on the length of a cage so that your parrot's tail doesn't get bent if the cage is too small for the parrot. The only thing to worry about when talking about wire spacing is that the wire spacing isn't too wide for your parrot.
To Sum Up
We decided to go with the most versatile parrot travel cage and the safest one at that when we decided to recommend you get the Kings Cages Large Aluminium Cage. It's 29-in long so it's spacious enough to house even the largest of parrots, it's made out of incredibly safe aluminum and it has a 5/8-in wire spacing so it can house both medium and large parrots. if you want to check out travel cages and carriers for smaller birds, we'd advise you to either read the article about parakeet travel cages or about cockatiel travel cages.