Do you want the best for your bird so you decided it's time for a large metal bird cage?
You can pick one out of the ones we reviewed by continuing to read this article. You'll read through reviews of only the best ones we could find and we even made sure to include a large variety of cages with different visual styles and functions like aviaries, stainless steel cages, and even iron cages.
The Summary
Best 6 Large Metal Bird Cages
BEST OF BEST LARGE METAL BIRD CAGE
PawHut Rolling Metal Bird Cage
Cage Width Benefit
The great thing about this cage is that it's particularly wide. This makes it function well as an aviary and specifically as a parakeet aviary because of the wire spacing of 0.5-in. Flight cages need to have proper width because birds fly left to right more than up and down.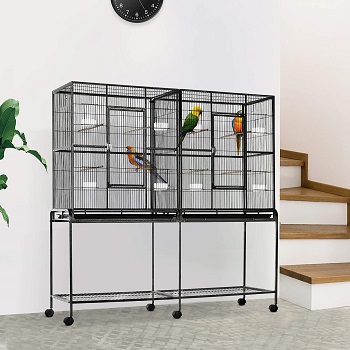 Separate Or Connected Interior
If you want to know exactly just how big this cage is, it's as big as 2 large parakeet cages. This is true because it actually is two cages in one. The interior of these cages is connected but you can also separate them by placing a divider in between them in the center. The divider comes with the cage.
Two Stands
Each cage part comes with its own stand that you can detach this large metal bird cage from. Both stands have 4 wheels for easy movement and even come with shelves where you can store your birds' accessories, toys, supplies, and anything else that you can think of.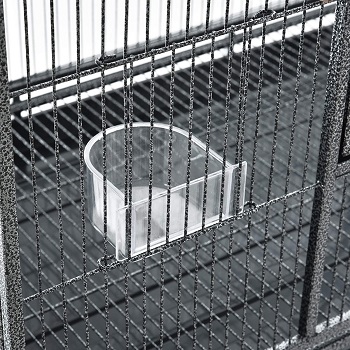 Double The Accessories
If you're worried about the price, you really don't have to be because it costs around 230 dollars which makes it a cheap parakeet cage. included in the price are some accessories as well. These accessories include 8 water and food cups and 8 perches. Four of each are intended for every cage part.
In Short:
The cage is incredibly wide
Counts as 2 large cages
The interior space is connected
Comes with a removable cage divider
Has a wire spacing of 0.5-in
Comes with 8 perches and water and food cups
BEST IRON LARGE METAL BIRD CAGE
Yaheetech 69-inch Wrought Iron Rolling Cage
Iron Type
It's not just that this cage is made out of iron but it's actually made out of wrought iron. Compared to regular iron, this one has a lower carbon content which automatically makes it more durable and tough. Unfortunately, this metal rusts easily but it's an easy fix with a quality finish.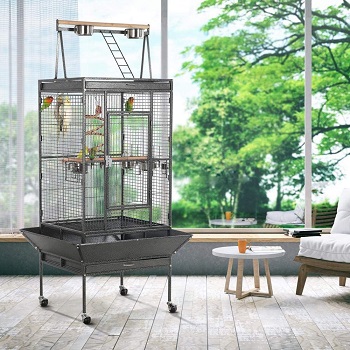 Finish Function
The finish that protects the whole large iron bird cage from rusting and corroding prematurely is the hammer tone finish that also functions as a visual enhancer. This finish makes this large metal bird cage waterproof and rust-resistant. It even makes it resist wear and tear after prolonged use.
Long List Of Accessories
We'll keep the accessories and toys information short and simple since there are so many of them. The top has a play area that features a perch, a ladder, and 2 stainless steel bowls. For the inside, you'll get a single perch, a bungee toy with a bell, and 2 additional feeding bowls made out of stainless steel. You'll get to place them on their own swing out feeding doors.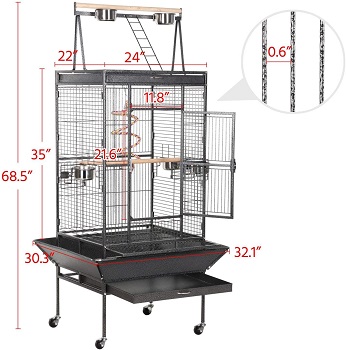 Numerous Accessories
There are three things that will help you keep this parrot enclosure cheap. The first is the top slide-out cleaning tray and the bottom slide-out cleaning tray. The third thing will actually help you keep your floors cleaner since the thing in question is a seed guard located on the outside.
In Short:
Features a playground on top
Made with wrought iron
Has water and rustproof hammer tone finish
Has a 0.6-in wire spacing
Comes with a wooden perch and 2 stainless steel bowls
Features a seed guard and a top and bottom cleaning drawer
BEST PARROT AVIARY LARGE METAL BIRD CAGE
Flyline Large Bird Flight Cage
Aviary Explanation And Use
Aviaries can't be anything but large. This is true because they're made to provide your bird with a safe place to stretch their wings and fly around a bit. They can be used indoor as well as outdoors. We'd recommend you use this one in particular indoors since it is made out of metal.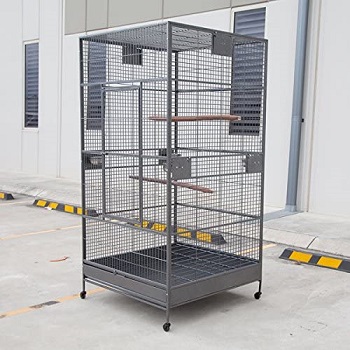 Info About Interior Equipment
The food and water cups that come with the bird cage can be placed on their own doors. There are four of them and they're quite small. They open as swing-out doors and as soon as you open them, the bowls come out with them so you can easily refill them. You'll also get two natural perches with it.
Determining Birds To House Inside
To be specific about what size of bird you can house inside this large metal bird cage parrot aviary cage with wheels we first have to take a look at the bar spacing. The bar spacing is 1-in so it's easy to conclude that it's a parrot aviary and you'll get to house large birds like African greys inside it.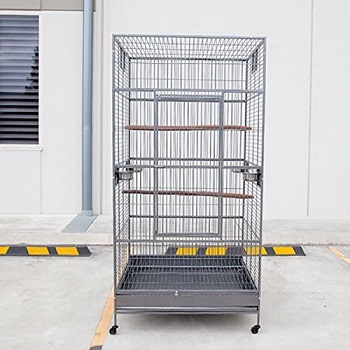 Powder Finish
With metal cages, it's important to focus on the coating finish. This is because birds can get metal poisoning if they get to the metal parts of the cage. The finish that protects this metal cage is a powder coating finish that is standard in durability and you can be sure that it won't chip or crack.
In Short:
Made to function as an aviary
Has a 1-in wire spacing
Can house large parrots like African Greys
Comes with 4 food bowl entrances and bowls
Features 2 natural wooden perches
Has a powder coating finish that won't chip
BEST STAINLESS STEEL LARGE METAL BIRD CAGE
Prevue Pet Products Stainless Steel
Stainless Steel Details
Since this is a cage for large birds, it's really great that it's made out of stainless steel. If you can get one, this type of metal is the preferred type especially for large birds that have stronger beaks. Another advantage is that it's easy to keep clean which is good since birds like clean living space.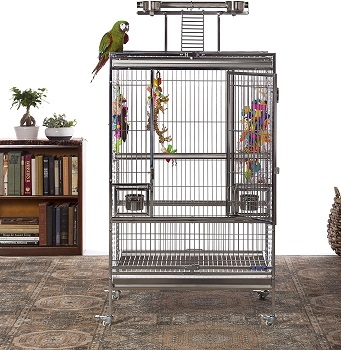 All Metal Top Play Area
The all stainless steel design isn't excluded even when it comes to the top and its contents. The top is flat so that it can contain a playground. This playground will be useful whenever your bird is getting their exercise outside of this large metal bird cage. it consists out of 2 bowls, a perch, and a play ladder.
Door Locks Safety
The front door is large enough for your bird to easily enter this large stainless steel bird cage and for you to clean it. You can be sure that your bird won't escape since it has 2 locks one on top and one on the bottom that is birdproof which means only you'll get to open it.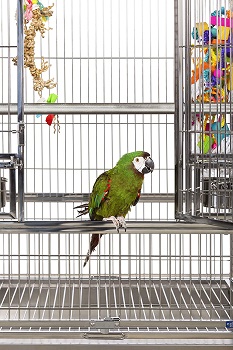 Wire Gauge And Spacing
We might as well just skip the part where we mention that you'll get 2 feeding doors, food and water bowls, and perches because there's something more important on this large metal bird cage than that. It's actually the wire gauge of 10 and 11. Wire gauge determines the thickness of the wire and this one's plenty thick. The wire spacing of the cage si 7/8-in.
In Short:
Completely made out of stainless steel
Has a single door with 2 bird-proof locks
Features a 7/8-in wire spacing
The metal has a 10 and 11 gauge
Comes with a top playground
The interior 2 perches and bowls are included
BEST ON WHEELS LARGE METAL BIRD CAGE
PawHut Wrought Metal Bird Cage
Color And Metal
We already had a wrought iron bird cage reviewed here but we did say it's common so it's no wonder that this one is made out of it as well. The difference is that this cage will blend nicer inside your home since it is a large white bird cage so it will blend easier inside homes.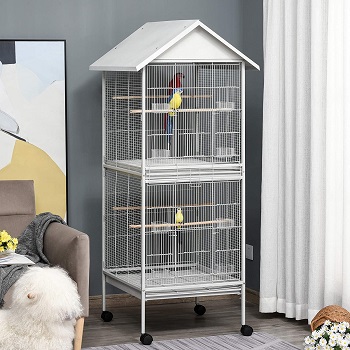 Cage Dimensions
The cage is 67-in tall but you have to take into account the height of the stand it sits on. The stand features 4 wheels to make moving this large metal bird cage a lot easier. The usable interior space of the cage is around 50-in. It also has a length and width of 23.5-in.
Top And Bottom Living Space
What's so special about this cage is that it uses its big height cleverly. That's because you can place a wire grid and slide out the cleaning tray right in the center to split the cage into two parts. That way you can house separately more than one small bird since it has a 0.47-in wire spacing.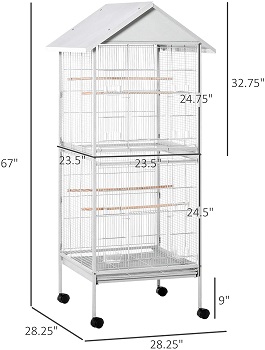 Accessory Number
It's only logical that the cages come with double everything since they can be used as two separate cages. That's why it has 2 front entrances, 8 small doors for the 8 feeding cups made out of clear plastic, and of course, 4 perches made out of wood, 2 for each cage part.
In Short:
Can be used as two separate cages
Has a 0.47-in bar spacing
Made out of wrought iron
Comes with 2 large entrances and 8 feeding doors
Comes with 8 clear plastic cups and 4 perches
Has a center and bottom cleaning tray and wire grid
BEST WITH STAND LARGE METAL BIRD CAGE
Yaheetech Stackable Divider Cage
Main Function
If you were to look at each part of this cage separately you couldn't really call it a large bird cage at all but there's a reason for the separation. It's intended to be used as a parakeet breeding cage and these cages need to give you the option of separating your birds when needed.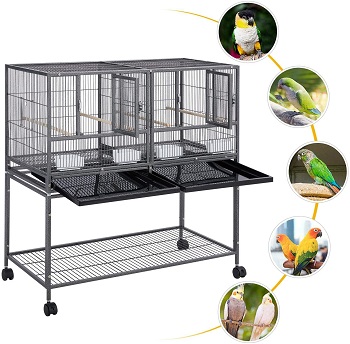 Pack Of 2 Cages
It's not that you'll just get one cage that has divided separate living spaces for birds but you'll actually get two. They won't take up any more space than one would since these are stackable bird cages. This means that you'll get to house 4 birds in total or 2 pairs of birds for breeding.
Making The Living Space Larger
Of course, you can create one large living space in both cages by removing the divider in the center. Another reason why this cage is intended to be used as a large metal bird cage for breeding is because, with the front access door, you'll get a door where you can place breeding.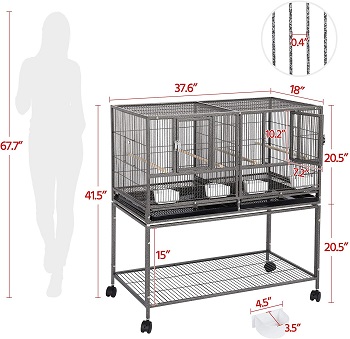 Locks, Metal, And Toys
The locks on the doors are crescent locks that can't really be opened by your birds. The metal and metal wire of the cage is coated with waterproof paint that will better protect it. Each cage comes with 4 feeding doors and cups but 4 wooden perches as well.
In Short:
You'll get two cages
The cages are stackable
Each cage can be used as a breeding cage
They come with doors for breeding boxes
You can separate the living space using a divider
It's designed for breeding small birds
How To Pick A Large Metal Bird Cage
You won't just have to worry about size when getting a large metal bird cage. You'll also have to worry about safety in terms of size, choice of metal and even coating finish so make sure you continue reading to learn all about this and a lot more in this buying guide.
Why Go Big – No matter the size of your bird it's always recommended to go bigger with bird cages if you can. With smaller birds, you might run into the problem of not being able to find the cage with a small enough wire spacing while a problem of big bird cages might be that the metal just isn't as durable.
Metal Differences – The most common metal used in making large metal bird cages is iron or wrought iron. This metal is durable due to the low carbon content but rusts more easily. With stainless steel cages, you can never go wrong because they are more durable, safe for the bird, and clean easily.
Metal Protection – If you're a bit low on cash chances are you're going to purchase a wrought iron or just a regular iron or metal wire cage. The cheap big bird cages can last you for a long time but you'll need to make sure that the coating finish is a powder coating. Powder coats don't chip away or crack so they will keep your birds mouth and beak from getting into direct contact with metal. This is important cause your bird might otherwise get metal poisoning.
Watching Out For Wire Spacing – When it comes to large cages it's difficult to know which cage can house which bird. Although some recommend birds it's best to check out the wire spacing to know for sure. Small birds can usually go up to 0.6-in, medium birds can go up to a bit larger than that while large birds like African greys can thrive in a cage with 1-in wire spacing.
To Sum Up
The Prevue Pet Products Stainless Steel Cage is probably the best large metal bird cage you can buy. We decided to recommend it because stainless steel, in general, is good for housing birds because it's easy to clean, durable, and not detrimental to a bird's physical health but the wire of the cage is also 10 and 11 gauge so it won't be easy to bend. If you happen to like round cages but want a safer alternative and a larger one at that we recommend you read the article about large round bird cages and if you need smaller cages for small birds you'd definitely want to read the article about small parakeet cages.