Do you not care about whether you house your parrot inside an aviary, cage, or flight cage and are looking for a parrot enclosure?
We didn't just review one but a total 0f six of the best cages we could find that naturally fit the description well. The differences between them are huge so we needed to categorize them into categories like small, large, outdoor, indoor, etc… This was also to make it more interesting for you to read through the article.
The Summary
Best 6 Parrot Enclosures
BEST OF BEST PARROT ENCLOSURE
Flyline Double Cage
Aviary Function
We love multiple function cages and this is one of those. It comes with a divider that you can remove and if you do, you'll then be looking at a parrot aviary. Aviaries are nothing more than huge cages meant to give your bird the safe space to fly around and get their daily exercise.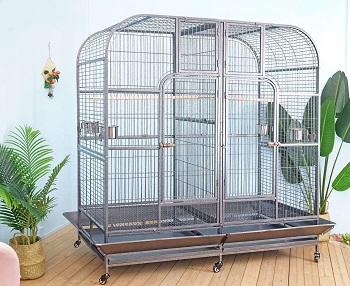 Double Cage
If you choose to leave the center divider on this parrot enclosure you'll end up having a double macaw cage. This means that you can use it as a living cage for two birds. Each cage comes with its own main entrance, and 2 smaller feeding entrances on the sides for easier and safer feeding.
Perfect For Macaws
We mentioned that it was a macaw cage for two reasons. The first one is that it has a 1-in bar spacing and the more important reason is that it's made with 6 gauge wire. What this means is that you won't have to risk your macaw bending the wires of the cage with its strong beak.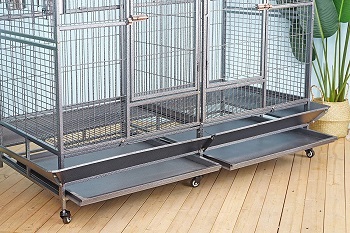 Bottom And Top
The top makes it look a bit more antique because of the top edges that are rounded. On the bottom, you'll find 6 wheels for easier moving of this 200 lbs cage. Of course, the cage comes with slide-out cleaning trays but what's more important is that it comes with bird cage seed guards.
In Short:
Comes with a removable divider
Can acts as an aviary without the divider
Functions as a double cage
Has a 1-in bar spacing
Made with 6 gauge wire
Comes with a bird cage seed guard
Weighs 200 lbs
Sits on 6 wheels for easier movement
BEST AFRICAN GREY PARROT ENCLOSURE
Flyline Parrot Escape Jumbo
African Grey Bird Info
Although African greys seem to be very large and have strong beaks, they have short tails so they're categorized as medium-sized birds just like cockatiels. Still, they can live in enclosures that have a wire spacing of up to 1-in. This one has a 3/4-in spacing which is still also safe for them.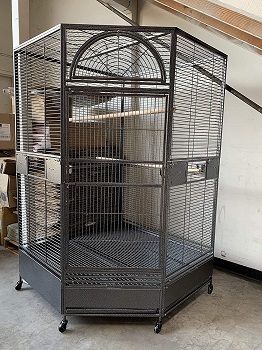 Bar Gauge Importance
Since they do have stronger beaks than your average medium-sized bird, you'll have to think about the bar gauge of the enclosure as well. It's made with 1/8-in thick wire which, when converted into a gauge, gives you a gauge of 10. With gauge, it's a rule that the lower the gauge is, the thicker the material is.
Shape And Its Benefit
It's 73-in tall, and 53-in long and wide. Because of its size, it can also act as a bird aviary but you'll easily get to use it as an indoor bird cage as well. It will blend well and save you a lot of space because it's actually a large corner bird cage. This means that it has a 1/4 of a circle shape.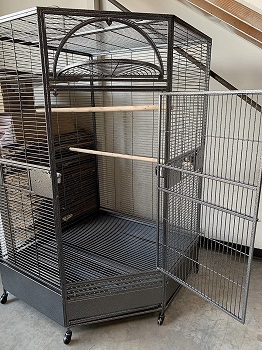 All Of The Entrances
Although the top of this bird cage is flat, it can open up to become a play top for when your parrot is getting outside african grey parrot enclosure time. All of its entrances are located in the front. The 4 feeding doors are located on the sides while the main entrance is located in the center. The arched piece on top acts as a resting place for parrots since you can open it and lay it flat.
In Short:
Can act as an aviary
Shape like a corner cage
It's 73-in tall and 53-in long and wide
Has a flat but openable top
Made with 10 gauge wire
Features a 3/4-in bar spacing
BEST SMALL PARROT ENCLOSURE
Prevue Pet Products Charming Aviary
Small Enclosure Criteria
By no means is this enclosure small but compared to the other ones it is. Another criteria we went with was if it would fit well in most homes and it would since it's colored with a pearl grey color and it's around 35-in long, 23-in wide, and 69-in tall including the stand it sits on.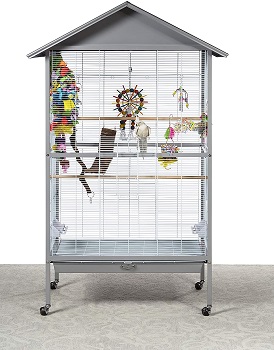 Outdoor Use
If you were to place this parrot enclosure outside, the roof housetop that's made out of metal sheets would help with keeping your birds in the shade and prevent them from overheating. We wouldn't exactly recommend you use it outdoors in the rain but you could if it's just an occasional thing you do.
No Flat Top And Accessories
Because of the roof housetop, this enclosure doesn't feature a flat top where you could hang bird accessories and toys. That's why the manufacturer of the enclosure made it so that you get a bar that you can place inside and hang all of your hanging toys there. it also comes with 2 perches and 4 feeding cups.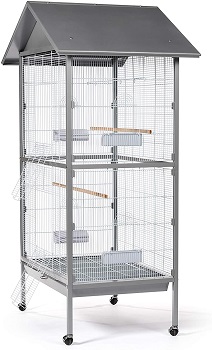 Bird Limitations
In this enclosure, you could easily house multiple birds. It's designed to mainly house small birds because of its 0.5-in wire spacing. You can even use it as an indoor finch aviary or as an aviary for other small bird types like budgies, cockatiels, canaries, and others.
In Short:
Has a metal sheet roof housetop
Can occasionally be used outdoors
Has a 0.5-in wire spacing
Sits on a stand with 4 wheels
It's colored with a pearl grey color
Comes with 2 perches, 4 cups, and a hanging toy bar
BEST LARGE PARROT ENCLOSURE
Talis Large Deluxe Bird Cage
Shape And Location Of Use
This enclosure is exclusively made to be used outdoors mainly due to its size. Besides, you wouldn't want to miss out on all of the benefits this outdoor parrot aviary will give you. It has a hexagonal shape and a canopy that will make it blend well into any garden or backyard.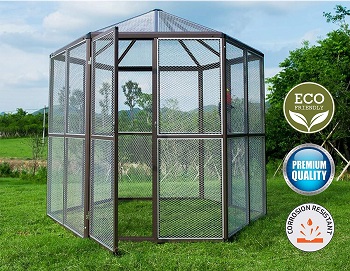 Safe Aluminum Build
It's made out of aluminum and what's so great about aluminum bird cages is that they don't rust so you don't have to risk your bird suffering metal poisoning. Even if it were to rust, the white rust or aluminum oxide would be safe for birds to ingest without you ever risking them suffering metal poisoning.
Wire Safety
Although the wire spacing isn't specified, it's easy to conclude that it's made as an outdoor parrot aviary. the larger the parrot the better and it's best if you'd avoid housing small parrots inside like cockatiels because too wide of a wire spacing can cause them to seriously injure themselves.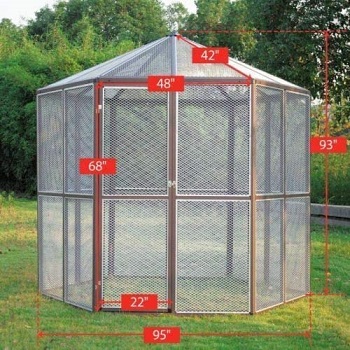 Door And Aviary Dimensions
There's only one entrance for you to access this parrot enclosure. The door is 69-in tall and 22-in wide which leads us to the conclusion that most people would be able to walk inside it. Another reason why this is possible is the here size of the thing. At its highest point, it's 93-in tall and it's also 95-in wide and long.
In Short:
Made out of aluminum
Aluminum rust is safe for bird ingestion
Designed to be used outdoors
Has a hexagon shape
Can house larger parrots
You can walk inside it
it's 93-in tall and 95-in wide and long
BEST OUTDOOR PARROT ENCLOSURE
Wonline Large Walk in Bird Cage
Aviary Comparison
There are some minor differences between the enclosure we reviewed just before this one but generally speaking, they're practically the same. They're both large, made to be used outdoors, function as aviaries, and so on. This one is colored white so if you care about bright colored cages, you might want to choose this one.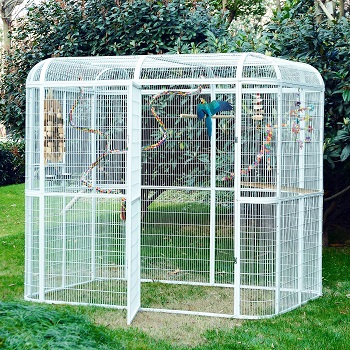 Stainless Steel Cage Properties
If aluminum that made the bird enclosure we've reviewed above is an extremely safe material for bird cages, this cage is similar in terms of safety. This is true because it's a stainless steel bird cage. Stainless steel has great corrosion and rust resistance is very durable and is great for long-term use.
Walk-In Function
The parrot enclosure is rounded at its top edges. This is more of a visual component than a functional one. The enclosure is 86.6-in wide, 60.6-in long, and 80.7-in tall. It also has a large single entrance that paired with the actual aviary size, allows you to easily enter the inside.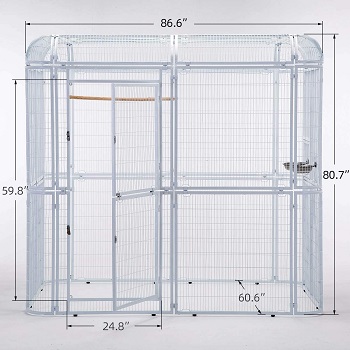 Wire And Maintenance
The wire spacing for this enclosure is 3/4-in so it can house birds like african greys but also birds like blue and gold macaws. You will have to perform maintenance every 2 or 3 months by simply spraying down the whole thing with a new bird-safe finish coating.
In Short:
Made out of stainless steel
Has a white finish
Requires simple maintenance every couple of months
Has a 3/4-in wire spacing
You can walk inside it
It's 86.6-in wide, 60.6-in long, and 80.7-in tall
BEST WOODEN PARROT ENCLOSURE
MCombo 70 inch Outdoor Aviary
Birds It Can House
It's hard to say what constitutes a large cage and a small cage when different birds have different space needs. This cage is a large one for birds like budgies but too small of a cage for birds like macaws. You should stick to using it as a parakeet aviary though and you can choose o house more of them.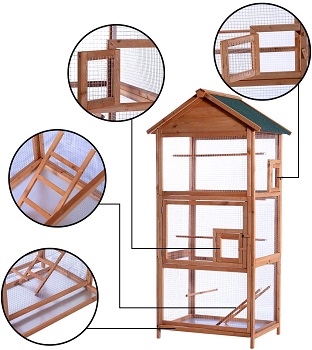 Wood And Wire Info
In nature, pinewood is considered to be a safe tree for birds. The problem that might occur is that the sap it produces would stick to the birds' feathers but since this is processed pine wood, the worry is gone. It also features some iron wire bits for a good view and ventilation.
Top And Finish
The paint finish on this wooden aviary is meant to protect the whole thing from outdoor weather conditions. Additionally, the roof on top is actually an asphalt roof. What this means is that it's waterproof and will keep your birds away from direct rain and direct sun.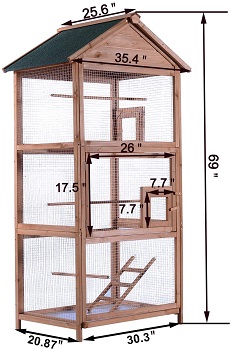 Size, Access, And Interior
There are 3 entrances to this parrot enclosure that's 20.87-in long, 30.3-in wide, and 69-in tall. You'll get one large entrance to easily access the interior and one smaller built-in entrance to access your birds without fear of them escaping. One can also be found on the side. The interior comes with 3 perches and a ladder.
In Short:
Made out of pinewood and wire
It's made to house smaller birds
It's 20.87-in long, 30.3-in wide, and 69-in tall
Has a waterproof asphalt roof
Covered with weather-resistant paint
How To Pick A Parrot Enclosure
If you want to specifically know what constitutes an enclosure for parrots and if you want to learn a little bit more about them before you buy one, you can continue reading this buying guide. We'll g through most of the things you should know to pick out the safest and the best.
What's An Enclosure – By definition, an enclosure is an area that's surrounded by a barrier so, in bird terms, an enclosure could be any type of bird cage. Enclosures are usually large so we decided that it was best to review aviaries under parrot enclosures.
What Are aviaries – Aviaries are huge and are mostly made to be used outdoors but not always. They are meant to give your bird ample space to fly around and get their daily exercise. Indoor aviaries are smaller while outdoor aviaries can sometimes be so big that you can walk inside them.
Outdoor Enclosure Recommendations – If you're going with a metal outdoor bird enclosure, we suggest you either get an aluminum or stainless steel one. These metals handle weather conditions really well, they're extremely durable, and most importantly, they're amazingly safe for birds.
Wire Spacing Safety – A sure way to determine what type of bird you can house in each enclosure is to check the wire spacing. If the wire spacing is up to 0.5-in it's designed to house small parrots and if it's 1-in then it's designed to house large parrots. Too wide of a wire spacing and your bird can be put at risk of getting seriously hurt.
To Sum Up
Since the Talis Large Deluxe Bird Cage is an aluminum parrot enclosure, we decide that there's nothing we could do other than to recommend it. Aluminum rust, if it ever happens, is safe for birds to ingest and the whole thing is so large that you can walk inside it. If you want to check out more aviary options, We advise you to read the article about large outdoor bird aviaries or outdoor bird aviary kits.