Have you had trouble finding a double parrot cage for your specific type of parrot?
Things can change if you continue reading this article where we reviewed cages for all sorts of parrots. Of course, we couldn't cover them all since there are around 350 species of parrots but we definitely covered the basics. We even categorized these cages into different categories like large, small, and many more.
The Summary
Best 6 Double Parrot Cages
BEST OF BEST DOUBLE PARROT CAGE
Mcage Double Birdhouse
Construction Material
The first thing to notice about this cage is that it's made out of wrought iron. We can't guarantee it but we'd bet that there will be more reviews of wrought iron antique bird cages since it is a common material used in making bird cages. It's a lot cheaper than other metals but offers great durability.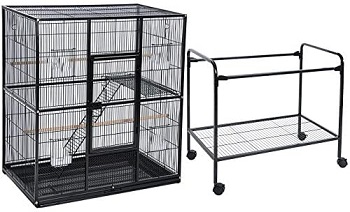 Finish Purpose
What you really want to direct your attention to with wrought iron cages is its finish. The finish is there to protect it from rusting prematurely and a good bird-safe powder coat finish will dot the job just fine. Finishes can often time have traces of lead and zinc and you want to avoid that since this is unsafe for birds.
Biggest Proportion And Cage Split
If we had to accentuate one proportion on this double parrot cage it would definitely be its width of 63-in. It's not unusual that it's so big since it is primarily a flight cage and a double one at that. Each cage comes with its own stand with wheels and a wire grid that is removable and you'll even get a breeding box door for each cage part.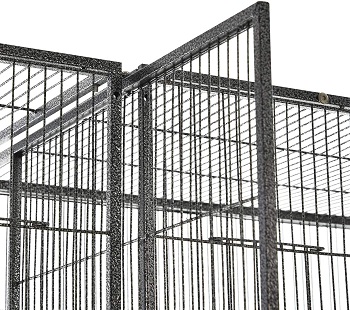 Wire And Bird Separated Living
The wire spacing of this cage is 0.5-in which means that it's a good choice for small parrots like parakeets. You will get to separate your bird into their own living space as well using the provided divider located in the easily removable center. The door lock on each front door is bird-proof.
In Short:
Has a wrought iron construction
Finished with a powder coat finish
Has a 0.5-in wire spacing
It's 63-in wide
Comes with a center divider
Each cage part sits on a removable stand
Has 2 breeding box doors
BEST WITH STAND DOUBLE PARROT CAGE
Mcage Large Double Stack Bird Cage
Construction Details
We predicted it well before, this is another wrought iron bird cage. This time around, we thought we'd go into detail about what makes it durable. it's durable thanks to the low carbon content which gives it high tensile strength and many more things but primarily, it gives it durability.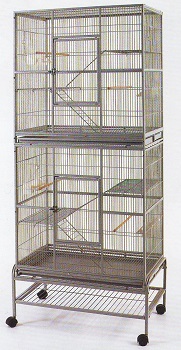 Obvious Differences
The difference between this double parrot cage and the first one we reviewed is that the first cage had 2 cages placed side by side while this one has cages stacked on top of one another. There is no divider for them to have a connected interior and they both sit on a single short stand.
Multiple Dimensions
Each of these two cages is 30-in long, 18-in wide, and 30-in tall. This size is a lot bigger than the minimum recommended size for a big bird cage for parakeets. If you include the stand with both cages, the cage is then 74-in tall and the two cages without the stand are 63-in tall.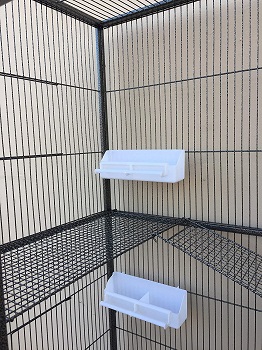 Multi Animal Housing
This is a multifunctional cage in terms of what animals it can house. With birds, you can stick to housing small birds because of the 0.5-in wire spacing. You can be sure that your bird won't get bored easily because the interior is equipped with shelves, shelf access ladders, perches, and feeders.
In Short:
Built out of wrought iron
A single cage is 30-in long, 18-in wide, and 30-in tall
The 2 cages can be stacked
Comes with a single removable stand
Has a 0.5-in wire spacing
Doesn't have a connected interior
Comes with shelves, ladders, perches, and feeders
BEST WITH DIVIDER DOUBLE PARROT CAGE
A&E Cage Co. Double Flight Cage
Dividers And Their Uses
Dividers, in our opinion, are always a good thing to be able to rely on one with cages made to house multiple birds. This is because if one is causing trouble you can separate the birds so that they can take a timeout and cool of until you're ready to reintroduce them to one another. Without the divider, this cage is 64-in wide.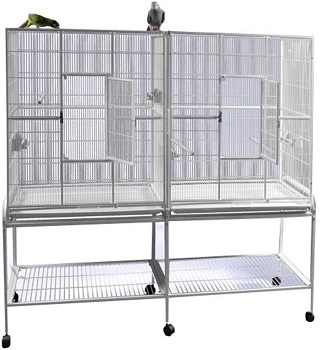 Primary Function
What this double parrot cage actually is a double flight cage. Flight cages are known to have a big width so that your bird or birds can fly around a bit inside to get a portion of their daily exercise. We say a portion because they're still too small to replace it completely. Every bird needs out-of-cage time.
Other Dimensions
The rest of this parrot cage with divider is 21-in long, and 65-in tall. It's this tall because it sits on a stand with wheels for easier moving and a wire grid for more organized bird supply storage. The interior is actually 34-in tall. The stand can't be removed from the cage as in previous cases.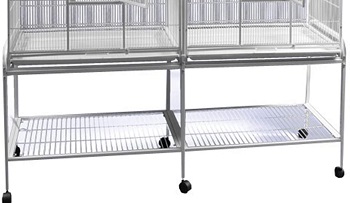 Breeding Cage Contents
Nothing's stopping you from using this as a parakeet or canary breeding cage. it's got a safe 0.5-i wire spacing, 2 breeding box doors, comes with a divider for bird separation when needed, and will definitely feel luxurious to your birds because of its size. These doors can be found on the sides.
In Short:
Acts as a double flight cage
Comes with a removable center divider
Has 2 breeding box doors
Sits on a stand that has wheels and a wire grid
It's 64-in wide, 21-in long, and 65-in tall
The interior is 34-in tall
Has a 0.5-in wire spacing
BEST ON WHEELS DOUBLE PARROT CAGE
PawHut Wrought Metal Bird Cage
Overall Size
So far, we reviewed nothing but small bird cages but things are about to change after we review this one. We're reviewing it as small mostly because it's able to house small birds but also because of its size in certain conditions. Overall, it's 67-in tall, 28,25-in long, and wide.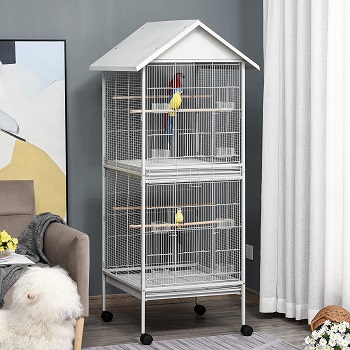 Saving Space And Looking Good
It's also made out of wrought iron but this time around, the finish changed from the boring black and grey to the easily blendable white color. Because most of its size comes from its height and not width or length, it will be easy to fit inside any home without taking up a lot of space.
Separate Heights
The interior of this double parrot cage can be connected or left separated. You'll separate it by placing an additional cleaning tray and wire grid in the middle. That way, the separate cages are located on top of one another. The top cage is then 24.75-in tall while the bottom one is 24.5-in tall.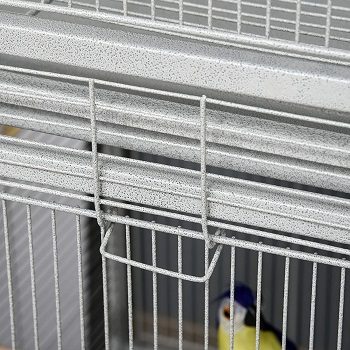 Top Bottom And Wire Spacing
The wire spacing is a bit smaller than what we're used to seeing as a standard for small birds. This white bird cage with a stand has a 0.43-in wire spacing which is still safe for small parrots. The stand only features wheels while the top is shaped like a roof housetop.
In Short:
Built with wrought iron
Has a white finish
The top has a roof housetop
Sits on a wheeled stand
Has a 0.43-in wire spacing
The interior separates with a cleaning tray and wire grid
BEST LARGE DOUBLE PARROT CAGE
Flyline Double Cage
What It Is And Can Be
If you were to remove the center divider of this cage you could think of it like a parrot aviary. Aviaries, unlike flight cages, are both long and wide and are meant to provide your bird with a safe space to fly around and get a full dose of their daily exercise. This one has a 1-in bar spacing so it's suitable for large parrots.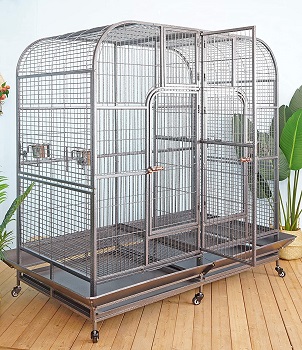 Wire Thickness And Lock Safety
With large parrot cages, you have to think about the thickness of the wire or its gauge because they have strong beaks and could easily bend the thin wire. That's not the case with this large double parrot cage because it's made with 6 gauge wire. All of its doors also feature safe and birdproof locks.
Size, Weight, And Cleaning
You have to be prepared that a double cage of this size also weighs a lot. It weighs around 200 lbs and it's 64-in wide, 32-in long, and 73-in tall. The dimensions are like this before including the seed guard on the outside that will help keep the floors of your home cleaner.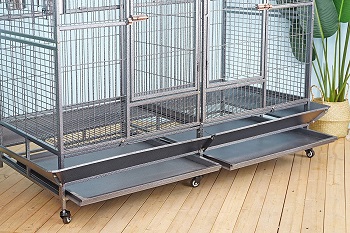 Separate Cage Details
With the divider on, each cage part becomes a comfortable living cage for parrots. Each one then features 2 feeding doors and 2 feeding bowls, and a single large wooden perch. You can also use it to breed your large parrots due to the breeder box doors you'll get with it.
In Short:
Can function as an aviary
It's 64-i wide, 32-in long, and 73-in tall
Comes with a seed guard for the outside
Weighs around 200 lbs
Has a 1-in bar spacing
Made with 6 gauge wire
Comes with a removable divider
BEST RAINFOREST DOUBLE PARROT CAGE
WesternPacific Large Double Cage
Defining Rainforest Parrots
Rainforest parrots include a large variety of parrot species but probably the most known are macaws. That's why we'll focus this review around them and more specifically, we'll focus it on large macaws like the blue and yellow macaws. the interior size of 77-in in width, 39-in in length, and 61-in in height is a good start.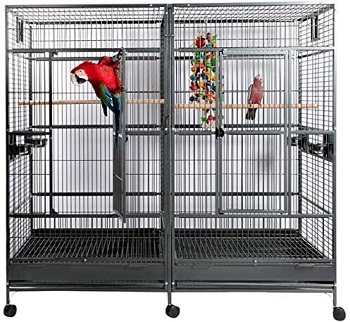 Divider And Bars
It does come with a divider and the only thing that changes in that case in terms of its proportion is its width. With the divider on, each cage is then 38-in wide. The cage also features a 1-in bar spacing which is another clear sign that this is a rainforest double parrot cage.
Sides And Front
The front is where you'll find the two main entrances to each part of this parrot cage. The sides are where you'll find the smaller, but equally important entrances for feeding. The top of each side also features an entrance that acts as a breeding box entrance.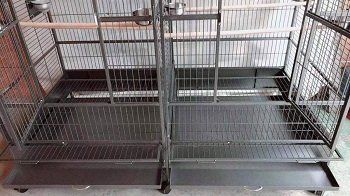 Weight And Interior
With a cage of this size and weight of around 250 lbs, it's only natural that it sits on wheels for easier movement. Luckily, these wheels can also be locked for more stability when it's not being moved. The interior comes with a total of 6 wooden perches and 6 food and water bowls.
In Short:
It's 77-in wide, 39-in long, and 61-in tall
With the divider, each cage is 38-in wide
Has a 1-in bar spacing
Sits on lockable wheels
Has 2 main, 4 feeding, and 2 breeding box entrances
Weighs around 250 lbs
How To Pick A Double Parrot Cage
It's easy to pick out the best dual bird cage when you have all the information necessary for you to make your pick a success To make this happen, we recommend you continue reading this buying guide where we'll go through the details of these cages and some general bird housing safety info.
What To Look For – If you were to search up a double parrot cage you might have difficulties finding one so for you to be successful you can easily look up double flight cages. This is a sure way to find a cage for smaller parrots though while you'll still have to do your research for bigger parrots
Distinguishing Feature – In case you stumble upon a cage that comes with a divider, you'll also be looking at some form of a cage made to house two parrots. These dividers are removable and are a good way to separate your birds if they end up having a fallout or you're beginning to introduce the two parrots to each other.
Small And Large Parrot Safety – Since we only reviewed large and small parrot cages it's only logical that we should mention how to distinguish the two. Smaller bird cages have a wire spacing of up to 0.5-in while large bird cages have a wire spacing of up to 1-in. This is important to focus on because if you choose a bigger wire spacing cage than recommended you're automatically putting your bird in danger.
Aviaries And Flight Cages – The small bird double cages can act as flight cages while the larger bird double cages can act as aviaries. The difference between the two is that flight cages are mostly wide and can only partially replace the need for flying in birds while aviaries can replace it together.
To Sum Up
The Flyline Double Cage looks elegant because of its rounded topsides, it's easy to clean because of the bird cage seed guard, and it's made with 6 gauge wire and has a 1-in bar spacing which makes it perfect as a large double parrot cage. If you want to focus on macaws specifically, you can read the article about double macaw cages next or if you want to read about larger flight cages, you can check out the article about extra large flight cages next.