Do you prefer vintage and antique style and feel as if an antique wrought iron bird cage would be a perfect addition to your home?
You can safely choose one from the one we reviewed here if you continue reading this article. We'll go into depth about these cages and one is bound to fit your needs and style since we reviewed a large variety of cages like on wheels, round, and large ones as well.
The Summary
Best 6 Antique Wrought Iron Cages
BEST OF BEST ANTIQUE WROUGHT IRON BIRD CAGE
Super Deal 63.5" Rolling Bird Cage
Vintage Look Explanation
In terms of how it looks this is the most typical cage that can be described as vintage. It has got a stand that makes it antique and rounded out, dome top that enhances it furthermore. Other noticeable visual features that help this antique bird cage with stand achieve this vintage look are the wire arches on top and the door.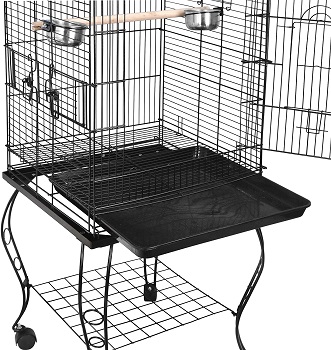 Cage Finish
It's really important that this wrought iron cage has a durable coating finish since wrought iron is durable but stains easily. This is an antique wrought iron bird cage with a coating finish that helps it resist rust and dust. It also ensures that the cage isn't toxic for your bird.
Cage Entrances
You'll find an entrance in the front and one on top. They're both large so it will be easy to access the cage on the inside whenever you need to clean it. The top entrance consists of two doors that can help create a play area for your bird if you decide to place a perch in between to keep it open.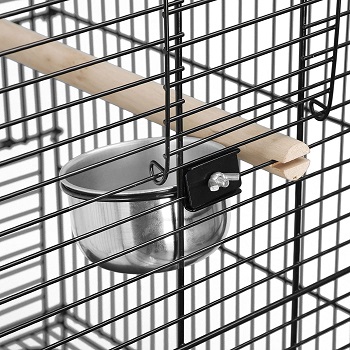 Feeding And Playing Additions
The left side of the cage has 2 smaller doors that lock safely. These are feeding doors and you'll get to attach the 2 stainless bowls to them to easily refill them when it's necessary. The cage comes with another wooden perch and has a plastic cleaning tray on the bottom.
In Short:
Made with wrought iron wire
Has a rust and dust resistant finish
Features a dome top with a 2-door entrance
The front entrance is large
Comes with 2 perches and feeding bowls
Features feeding doors on the side
BEST MACAW ANTIQUE WROUGHT IRON BIRD CAGE
Yaheetech Wrought Iron Rolling Cage
Top Shape
It doesn't always have to be that the stand makes the cage look antique although it is the most common. The thing that makes this cage antique is its curved and rounded top. It's hard to explain its shape but we'd go with a little sombrero hat if we had to explain it simply.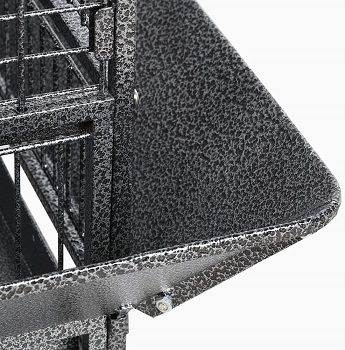 Two Small Entrances
It's got smaller entrances than the antique wrought iron bird cage we reviewed before but they're found in the same places. You'll find one in the front and one top. The top entrance is actually a 2-door entrance that when opened, can hold a perch between so that the door stays open.
Keeping Floors Clean
You might really enjoy how this large macaw cage keeps clean. It has an angled seed guard on the outside that's close to the bottom. This way, any food, or other dirt that would otherwise find its way one the floor will land back into the cage o the slide-out cleaning tray.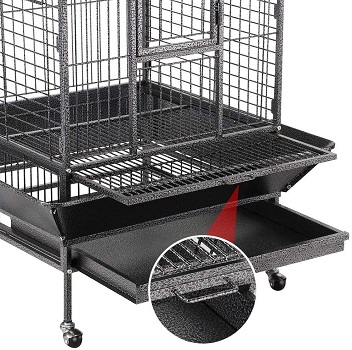 Spacing And Moving
We mentioned that this is a cage for macaws and it's for a good reason. The reason is that the wire spacing of the wrought iron wire is 1-in which is 2 times bigger than the recommended wire spacing for small parakeets like budgies. The cage can also easily be moved using the wheels on the stand.
In Short:
Has a curved and rounded top
Has a top and front entrance
Has a 1-in wire spacing
Features a seed guard on the outside
The stand has wheels
BEST PARROT ANTIQUE WROUGHT IRON BIRD CAGE
McCage XL Wrought Iron Cage
Blending Into Homes
Bird cages, in general, can oftentimes be large obstructions inside your home both because of their size and color. This cage, although large will easily fit in better inside any home because of the fact that it's a large white bird cage. Everything on it is white except for the wheels.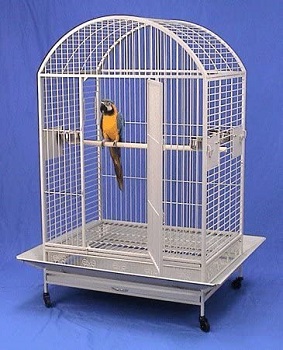 Removable Seed Guard
Bird cage seed guards can also pose a problem in terms of how the cage looks. This antique wrought iron bird cage has a seed guard all the way down near the slide-out cleaning tray. This seed guard, if it still bothers you and you don't need it, can be removed from the cage.
Large Cage Dimensions
The stand of this cage won't take up much of the cages' height. The cage is 50-in tall and with the stand, it goes to 65-in in height. It's also pretty wide and long so your birds will get to properly stretch their wings when inside it. It's 36-in long and 26-in wide.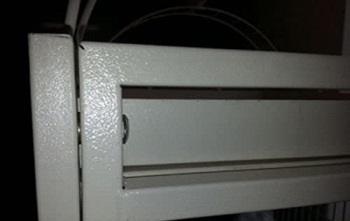 Bird Size And Interior Fun
You do have to think about your birds' size if you want to really determine if a cage is big or small. This cage can house macaws because of its size and wire spacing of 1-in. Your bird will get to play inside on the natural wooden perches and will get to eat and drink out of stainless steel bowls.
In Short:
It's colored white
Has a removable seed guard on the bottom
Feature s a cleaning tray
Sits on wheels
Has a 1-in bar spacing
The cage alone is 50-in tall
Comes with natural wood perches and stainless steel bowls
BEST LARGE ANTIQUE WROUGHT IRON BIRD CAGE
Vivohome Iron Cage Large
Small Details
It's common for vintage cages to have little detailing that makes them more of an antique cage. This is one of these cages. It features multiple small wire arches on its entrance doors and also decorations that are kind of shaped like little hearts but not fully so that it doesn't turn into a cute bird cage.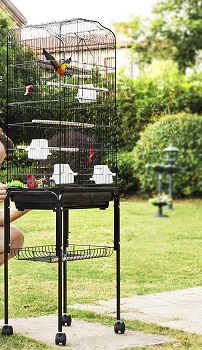 Top Play Area
The top is curved on both sides but the highest point of the is antique wrought iron bird cage is flat. There you'll find two doors that you can open and place a perch that come with a cage. This thing creates a fun play area for your birds and also allows them to fly to the cage when they feel it necessary.
Wire Spacing Safety
This is actually a big bird cage for parakeets. We were able to determine this because of the wire spacing of 0.39-in. It's smaller than the maximum recommended spacing so you can be sure that your little feathered friends won't put themselves in danger by sticking their head out.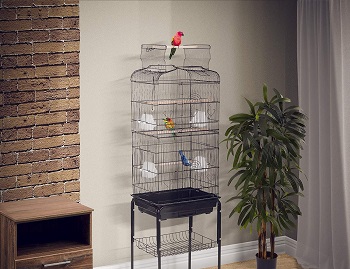 Cage Size And Supplies
When determining the size of a bird cage you have to take into account the stand size and the birds it's able to house. This cage, without the stand, is around 36-in tall and can house budgies so it is big. it comes with 4 feeding bowls and perches and also a swing toy.
In Short:
Has a 0.39-in wire spacing
Fit for housing small birds like budgies
Sits on a stand
The cage alone is 36-in tall
Comes with 4 perches and bowls, and a swing
Has a top and 2 front entrances
BEST SMALL ANTIQUE WROUGHT IRON BIRD CAGE
Prevue Pet Products Wrought Iron Cage
Cage Color
We went through cages that are antique because of their top and through cages that are antique because of their stand but we still haven't gotten to a cag that's antique because of its color. This model has a sage green color that's more of a pastel color. You can use it as a small travel bird cage.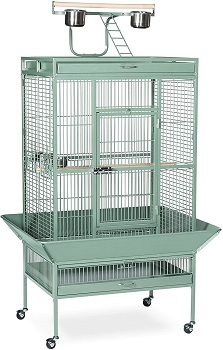 Flat Top Play Area
The cage has got a flat top which is great cause you'll get to hang your birds' toys on top. On the outside, there is a little play area as well. This area has a metal construction as well and consists of a wooden perch, 2 bowls for food and water that are made out of stainless steel, and a play later.
Safe Entrance And Clean Top And Bottom
Even if the large front entrance door were to be unlocked by your bird the door stopper on top will prevent it from fully opening. The cage actually has 2 slide-out cleaning trays. They're made out of metal and one is reserved for the top play area and the other one for the bottom.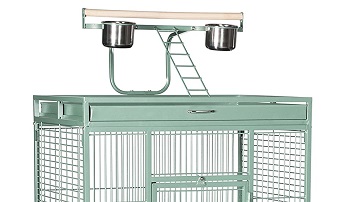 Moving And Safety
The cage sits on a stand with wheels since it does weigh 91 lbs and would be difficult to move otherwise. The wire of this antique wrought iron bird cage has a 3/4-in wire spacing. In decimals, this equals a 0.75-in wire spacing so it's designed to house larger birds.
In Short:
Has a sage green color
Has a top play area
Has a cleaning tray on and the bottom
Weighs 91 lbs
Has a wire spacing of 0.75-in
Comes with 4 bowls and 2 perches
Sits on wheels
BEST ROUND ANTIQUE WROUGHT IRON BIRD CAGE
McCage XL Cage Wrought Iron
Dome Top
We wouldn't really recommend you get a large round bird cage if it were fully round but luckily this one isn't. It's only round at the top since it's a dome-shaped top. This is great because otherwise the cage would be really bad for your birds' health and would be difficult to keep clean.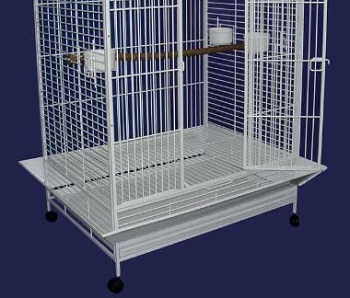 Cage Dimensions
This is an extra-large cage but it doesn't mean that you can use it as an aviary. large bird aviaries should be even bigger than this antique wrought iron bird cage that's 40-in long, 30-in wide, and 53-in tall. With the stand, it has an overall height of 67-in.
Color And Cleanliness
It's actually white so it will blend with your interior easily. The surrounding of the cage will also be exceptionally clean since on the bottom, just above the cleaning tray, there is a seed guard that has angled edges. This seed guard consists of 4 panels that you can then place on the cage.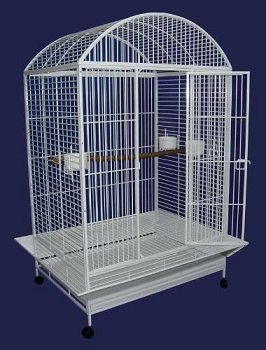 Details About Accessories
Even the cups for water and food are made. You'll get three of them and they're made out of stainless steel. This white bird cage with stand has three feeding doors as well where you'll get to put these bowls. The single perch that comes with it is brown, thick, and it's made out of wood.
In Short:
Has a round top
It's 53-in tall, 40-in long, and 30-in wide
Comes with 3 bowls, and a single wooden perches
Has three feeding entrances
Features 4 panels of seed guards
The bottom has a cleaning tray
How To Pick An Antique Wrought Iron Bird Cage
To find the best antique wrought iron bird cage for your bird and yourself, there are some things that you need to go through to better understand these cages and what you want to look for. We'll talk about the specifics, general info, and their differences in this buying guide.
Wrought Iron Explanation – Wrought iron is nothing more than metal that has a lower carbon content. This makes it more durable but there are some flaws to it as well. This type of metal easily rusts so to protect the metal you need to get a good coating finish.
Coating finishes – Like we've said before, to protect the metal from rusting and corrosion, the thing that will do this job is the coating finish typically you'll find powder coats or paint coats. Some use galvanization before the finish coating but the most important thing is to make sure that these fishes are not toxic for birds.
Making Cages Antique – There are a variety of ways with which you can make your cage antique. Usually, they have a curved hollow leg stand and a curved or round top or one of the two. You can go antique with colors as well. Pastel colors are usually a good choice or if you want your cage to go unnoticed, white colors.
Cages According To Bird Size – What antique wrought iron bird cage you'll pick out mostly depends on the size of your bird. If you have a small parakeet like a budgie, you'll want to get a smaller wire spacing of up to 0.5 or 0.6-in but it's safer to go lower. For big bird like macaws, the wire spacing can go up to 1-in.
To Sum Up
The antique wrought iron bird cage we'd like to recommend as the best is definitely the Super Deal 63.5" Rolling Bird Cage. It's spacious so any bird will be happy when inside, it comes with an antique stand, and on top, you'll get 2 doors that can create a play area if the perch goes between them. If you want to learn more about antique cages but want them to be made out of more natural materials you can check out the article about antique wrought iron bird cage or if you want to have a large one specifically, the article about large antique bird cages.