Do you perhaps have a small bird or parrot that you want to contain in a small travel bird cage for short trips or traveling?
If you do and you want to make sure you get the best and safest for your bird, you should definitely continue reading this article. If you're wondering why it's because we reviewed the best that fit the description. We even made sure to include a large variety of cages like a cockatiel, budgie, small parrot cage, and a lot more.
The Summary
Best 6 Small Travel Bird Cages
BEST OF BEST SMALL TRAVEL BIRD CAGE
Prevue Pet Products Travel Cage
Car Safety
Safety doesn't have to come from the metal used to make a cage and its wire spacing. You can also look at safety as traveling safety and this is where this cage comes to shine. You will get a welded bracket on the side of the main entrances so that you can securely fasten the cage with a seatbelt.
Finish And Metal Duo
The metal used to make it is steel and with a combination of a quality powder coat finish, you're left with a product that is resistant to both rusting and corrosion. This is important because if the cage were to rust and your bird would ingest it, there's a big chance that your bird will suffer from metal poisoning.
Perch Designs
The perch for the interior of this small travel bird cage is not a classic wooden perch but instead, it's a rope perch. There is one more perch that's actually wooden and you can find it on the outside of this bird carrier with perch. This wooden perch also acts as a handle for carrying. For the inside, you'll also get 2 bowls and feeding entrances where you can place them.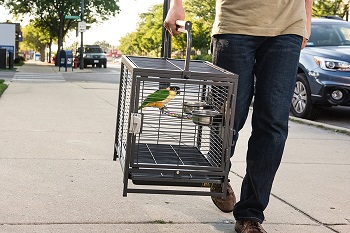 Dimensions And Spacing
Overall, including the carrying handle for this cage, it's 25-in tall while the actual usable interior space of this cage is 18.75-in long, 18-in tall, and 14.86-in wide. The wire spacing is 0.5-in which means that it's suitable for most small birds like budgies, finches, and even cockatiels.
In Short:
Built out of steel
Has a powder coat finish
The perch on the inside is a rope perch
The metal and wooden handle acts as another perch
Has a 0.5-in wire spacing
Has a welded bracket for seatbelt fastening
BEST COCKATIEL SMALL TRAVEL BIRD CAGE
Featherland Paradise Perch 'n Go
Cockatiels And Cage Length
Cockatiels tend to be confusing size-wise because they can easily live inside a cage that's made for small birds like budgies but they also can live inside a cage with a bigger wire spacing than that of a budgie or finch. Cockatiels usually grow into a 13-in long bird so this 15-in long cage will be a perfect fit for them.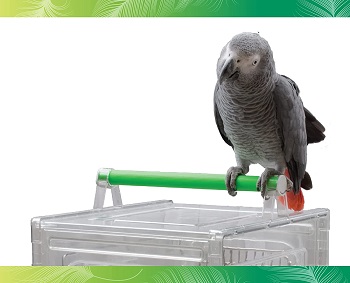 Primary And Secondary Materials
This small travel bird cage is primarily made out of polycarbonate material. This material is clear so that your cockatiel can get a full view of his or her surroundings when traveling since it is a stressful time for any bird. The door and back panel for ventilation are made out of stainless steel.
Only Perches
This cool bird cage doesn't come with bowls for food and water and the reason for this is great. Since it's small, the 2 bowls that usually come with these cages would simply take away too much of the actual usable interior space so you'll only get a perch for the inside. The handle on top acts as a perch as well.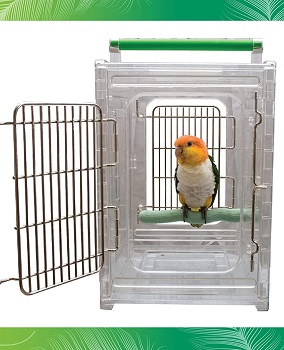 Cage Sturdiness
Your birds won't get to destroy this cage just because it's made out of stainless steel and PC plastic but also because the birds allowed inside are just too small to do anything to the cage with their beaks. Apart from cockatiels, it's great for finches, budgie, conures, and more.
In Short:
Primarily made out of PC plastic
Has a stainless steel door and back panel
It's 15-in long
Suitable for cockatiels and other small birds
The top handle converts into a perch
There's a single perch for the inside
BEST PARROT SMALL TRAVEL BIRD CAGE
Kings Cages Aluminium Cage
Large But For Small Birds
When getting a travel cage for birds, you just have to come to terms with the fact that the cage you choose will be incredibly small but this cage changes the game. It's almost 30-in long which means that it could easily house large macaws inside but it's suitable for small parrots due to the 5/8-in wire spacing.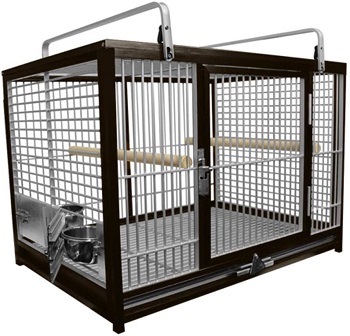 Material Safety
If you don't really have a budget and can offer the best quality for your bird it's easy to pick this macaw travel carrier as the one you'll buy. This is true because it's made out of aluminum and if you know anything about it, you'll also know that its rust is safe for bird ingestion.
Weight And Carrying
One thing you should consider before buying is its weight of 29 lbs. If you can't really carry that much weight you might want to opt for a different small travel bird cage. To make it easier for you to carry this small parrot travel cage, you'll get not one, but two handles on top for carrying.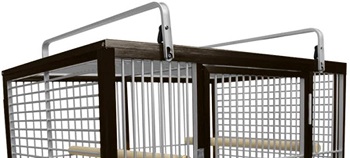 Door Locks And Other Accessories
The single door located in the front actually locks with magnets so you don't have to risk your bird escaping. The interior, since it's so spacious, is equipped with 2 wooden perches and 2 bowls for food and water. You can place these bowls on the two feeding entrances found on the side.
In Short:
Made out of aluminum
Weighs 29 lbs
Comes with 2 top carrying handles
It's around 29-in long
HAs a 5/8-in wire spacing
Can house small birds and larger birds
Comes with 2 perches and bowls
BEST PORTABLE SMALL TRAVEL BIRD CAGE
Parrot Wizard Aluminum Red Cage
Easy Carrying
The first thing that comes to mind when we think about a portable cage is that it's a lightweight and easy-to-carry cage. This is just one of the many amazing things that this cage features. It weighs only 10 bs so anyone can easily carry it and transport it anywhere you'd like.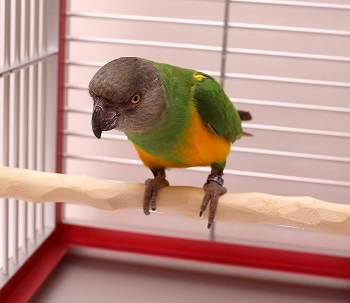 Snug Fit
It is a tight fit for medium-sized birds like cockatiels since it's 14-in long, 12-in wide, and 17-in tall but thanks to the 5/8-in wire spacing, you should have no problems housing birds of this size inside safely and securely. This small portable bird cage is colored red and silver.
Aluminum Safety
We haven't even gotten to the best part of this small travel bird cage yet and that is that it's an aluminum bird cage. If you're wondering why this is great it's because you won't even have to risk your bird getting sick. After all, aluminum rust, although it's not common, is completely safe for birds.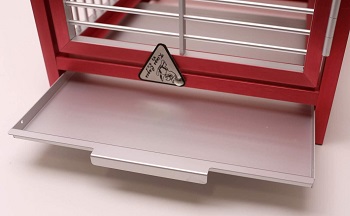 Perch Innovation
There are two perches on this cage that are worth mentioning. By now, you should have already gotten costumed to the fact that a carrying handle on a cage can function as a perch as well and this is one of those perches. The interior perch is an innovative NU perch that allows your birds to better grip on it and feel more secure.
In Short:
Has a red and silver color
Fully made out of aluminum
Has a 5/8-in wire spacing
Comes with an interior and exterior perch
It weighs only 10 lbs
It's 14-in long, 12-in wide, and 17-in tall
BEST BUDGIE SMALL TRAVEL BIRD CAGE
Pawhut 25" Dome Top Cage
What Is Round And What Is Not
If this cage had round sides we wouldn't recommend it ever but since the only round bit on it is its dome top, it's just as safe for birds as any old flat top bird cage. If it were a fully large round bird cage, we would advise against it because these cages are detrimental to a birds' mental and physical health.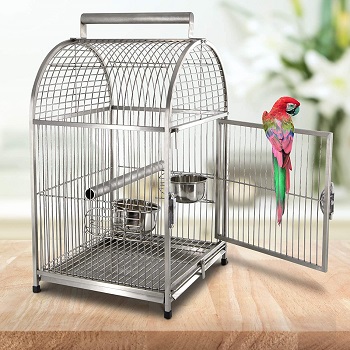 Material Competitor
We had previously reviewed two aluminum bird cages and this cage can easily compete with aluminum for the safest bird cage material. It's a stainless steel bird cage which means that you will spend less time worrying about corrosion and rusting and more time enjoying.
All Stainless Steel Accessories
Even the accessories that you can find on this small travel bird cage are made out of stainless steel. That includes the two water and food bowls that are designed to be placed on the small side feeding entrances and even the perch that comes with it. There's an additional perch on top that acts as a carry handle.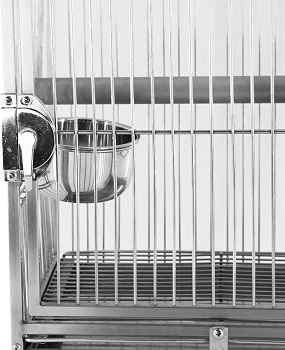 Budgie Safe And Spacious
The only way to go wrong by getting a spacious travel bird cage is to mess up the wire spacing that would then be too wide but with this travel cage for budgies worrying about it is a thing of the past. It features a 0.5-in wire spacing that's not only suitable for budgies but other small-sized birds as well.
In Short:
Made out of stainless steel
The 2 bowls and perches are stainless steel as well
Has a 0.5-in wire spacing
It has a dome top
The carrying handed converts into a perch
Stainless steel is completely safe for birds
BEST CHEAP SMALL TRAVEL BIRD CAGE
Prevue Pet Products Travel Cage
Cage Parts
If you're looking for simplicity and for a cage that you'll use for short outings and trips to the veterinarian this cage might be the answer you're looking for. It features a wire top and a plastic bottom. The bottom acts as a plastic base that will keep the surrounding area clean.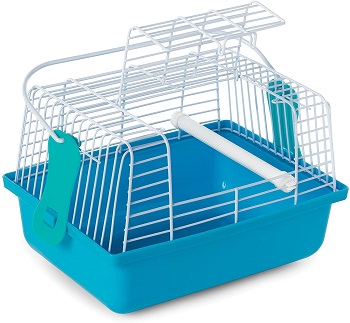 Designed For Small Birds
This small travel bird cage is made for housing small birds that don't have strong beaks due to its length of 9-in, the width of around 6-in, and a height of around 6-in. It's also designed for smaller birds because it just wouldn't handle the abuse coming from birds with a stronger beak.
Convertible Cage
You don't have to use it for birds only though since it's a Prevue pet products travel cage for birds and small animals. All you have to do to convert it into a small animal cage is remove the white plastic perch from the inside to make more room for other small animals like hedgehogs.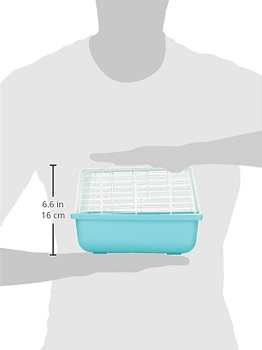 Bird Safety And Weight
With everything mentioned, it makes sense that this is definitely not a luxurious parakeet travel cage. You'll pay under 30 dollars for it. It features a 3/8-in wire spacing so you can feel safe housing small birds inside it. You'll get to carry it with a wire handle and it won't be a problem since it only weighs 1 lb.
In Short:
Has a wire top and a plastic bottom
The bottom acts as a deep plastic base
Can only house small birds
It can be converted into a small animal cage
Has a 3/8-in wire spacing
It's around 9-in long, 6-in wide, and tall
Comes with a removable plastic perch
How To Pick A Small Travel Bird Cage
It's always good to know what you're doing when choosing a product for your bird and the same can go for any small travel bird cage. To make that happen, we've comprised this simple buying guide where we'll go through the safety of the cage, types of cages, and a lot more so that you can pick one out on your own.
Importance Of Size – You seriously can even go wrong with cages when it comes to size. In fact, the rule commonly used is the bigger the better. If you want to be looking for a small cage that will depend on the bird you want to house but a good rule of thumb is that a small cage is less than 20-in long.
Consequences Of A Too Small Cage – What you will have to worry about is if the cage is too small for your bird. What can easily happen if the length is smaller than your birds' length is that your bird can end up with a bent tail. This is more of an aesthetic issue than a functional one but it's still good to avoid it.
Defining Small Birds – A small bird would be any bird that is the safest living inside a cage with a 0.5-in wire spacing. Birds like cockatiels might be confusing to categorize since they can do great in a cage made for budgies but can also live inside a cage with a 5/8-in wire spacing.
Small Bird Cage Safety – One way to look at small travel bird cage safety is wire spacing but you can look at it from the material used to make their perspective as well. Birds can suffer metal poisoning if they ingest rusty parts so make sure you get a cage that's well protected from rusting or ones that don't rust at all.
To Sum Up
It really wasn't difficult to decide and recommend the Parrot Wizard Aluminum Red Cage as that one small travel bird cage we'd recommend you get. It only weighs 10 lbs even though it's made out of aluminum metal that is safe for birds and won't cause them to suffer metal poisoning. If you'd like to check out carriers and travel cages for bigger birds we'd advise you to read the article about parrot travel cages or parrot travel carriers.