Are you tired of heavy travel cages and are looking to get a lightweight parrot travel carrier?
If you are, you might find joy in continuing to read this article because we reviewed the best and set out to help you pick the best. We tried to do so by giving you a simple buying guide at the end of the article that contains reviews of different carriers like small, large, and even acrylic carriers.
The Summary
Best 6 Parrot Carriers
BEST OF BEST PARROT CARRIER
Moloni Bird Carrier
Clear View
One of the best benefits of carriers is that most of them are made of some type of clear material. You'll want to keep an eye on this because traveling is very stressful for a bird and you can make it easier for them if they have a good view of their surrounding. This carrier is clear in the front, top, and the back.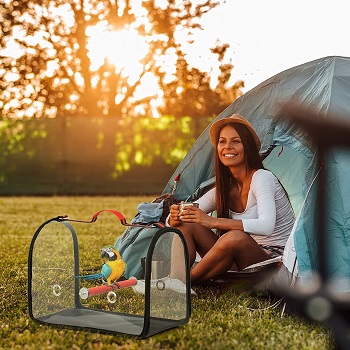 Carrier Sides
The rest of this carrier is made out of soft fabrics. Specifically, we're talking about the bottom, left, and right side. The right and eft side is where you'll find entrances to this bird carrier with perch. These entrances are made out of mesh fabric for better ventilation of the interior.
Carrying Options
This parrot travel carrier will be easy to carry around since it only weighs around 1 lbs. You'll get to carry it around in multiple ways. One way is through the handle that's attached to the top or you can hook the shoulder strap on the two hooks to carry it like a travel bag if you'd like.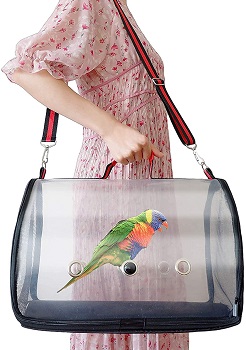 Carrier Accessories
The clear PVC material features a total of 6 holes for ventilation but that's not their only function. Thanks to these holes, you can place a perch on the inside and attach it to the two holes. You'll even get a small bowl for water and food that you can also attach on one of the holes.
In Short:
Has a clear PVC material front and back
The left and right side are made out of mesh fabric
The mesh fabric helps with ventilation
Features 6 holes for ventilation
You can place a single perch and bowl on the inside
Can be carried with a handle or shoulder strap
Weighs around 1 lbs
BEST ACRYLIC PARROT TRAVEL CARRIER
Pennzoni Display Macaw Carrier
Is It A Carrier Or A Cage
Although it's pretty obvious what constitues as a parrot travel cage and a carrier some products easily bend the rules of this and this is one of those carriers. It's made out of strictly hard materials but features handles on top for carrying. You can think of it as both a cage and a carrier.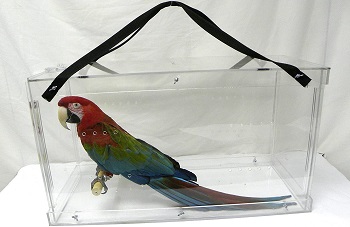 Fully Acrylic Build
This is an acrylic parrot carrier and when we say that it's mad eout of acrylic material, we mean that it's entirely made out of it. You don't have to question whether or not your parrot will have the luxury of checking out its outside surrounding since acrylic material is a clear material.
Lengthy And For Large Parrots
We usually say that any carrier or cage that's 20-in long and longer can constitute as a large carrier and this is one of those carriers. It's designed to function as a large macaw carrier since it's 27-in long and you won't even have to risk your macaw ending up with a bent tail.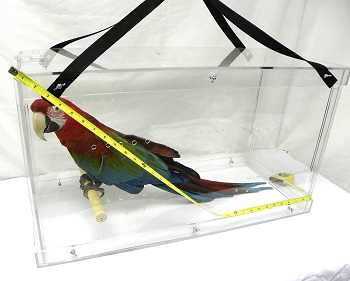 Non Acrylic Things
There are two things on this carrier that aren't made out of acrylic materials and these are the carrying handle and the perch that you can place on the inside. The handle is made out of nyon while the perch is made out of hardwood. You can place this perch on 2 of the many holes it has for ventilation.
In Short:
Made entirely out of acrylic material
It's 27-in long
Suitable for housing large macaws
Comes with a nylon handle
Features a hardwood perch
The carrier has small holes for ventilation
BEST LARGE PARROT CARRIER
Paradise Toys Perch N Go Large
Amazing Length
It's not an easy task to find a carrier for large parrots. Usually, it will be easier to find a large parrot cage since we determined that a large carrier should be 20-in long or even longer. Luckily, this can still work as a large parrot carrier since it is 30-in long which you won't find all that often.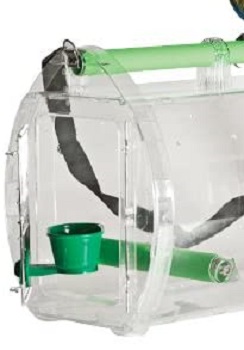 Clear Material Comparison
It's somewhat similar to the travel carrier we reviewed before it since it' still a fully clear carrier. This one is not made out of acrylic materials though but instead, it's made most out of polycarbonate material or PC plastic in short. Polycarbonate sheets tend to be stronger than acrylic sheets.
Metal Parts And Their Details
Even though it's a carrier it does have some metal pieces but these are menial. It's a stainless steel bird cage only because the door in the front is made out of it. Stainless stee is considered one of the safest metal use for making bird cages. It has a 5/8-in wire spacing so it's suitable for smaller parrots as well.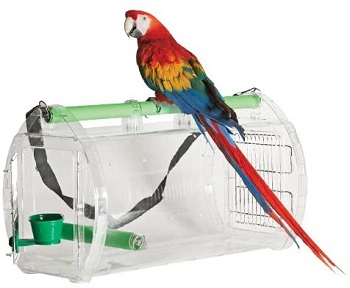 Outside And Inside Details
You'll get two perches with this carrier. One is located on the top and the outside so that your parrot can rest when you let it out of the cage and the other one can be found on the inside. The inside is also equipped with a small bowl for either food or water and the outside also features a shoulder strap.
In Short:
Made out of polycarbonate material
PC plastic is stronger than acrylic materials
HAs a stainless steel doors
The wire spacing is 5/8-in
It's around 30-in long
Can easily house large macaws
Has an outside and an inside perch
Features a shoulder strap for carrying
BEST SMALL PARROT TRAVEL CARRIER
Colorday Lightweight Bird Carrier
Birds It Can House
You can never go wrong by getting a bigger carrier or cage for your bird. Birds will always appreciate the extra space and this especially holds for small travel cages that are too small for birds no matter what. This 19-in long carrier will be a great fit for medium and small birds.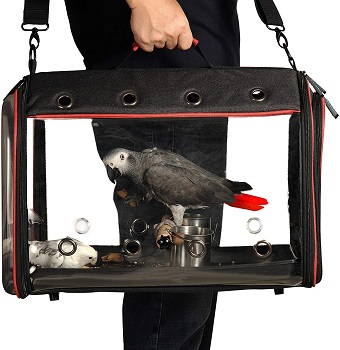 Clear Parts
The clear materials can be found in the front, back, and on one of the sides, specifically, the right side. The clear material used is polyethylene material that has a low gauge. What this means is that it's a lot thicker since the thickness of the material gets bigger as the gauge gets smaller.
Soft Materials And Ventilation
The top, bottom, and left sides of this parrot travel carrier are made out of soft fabric material. The left side specifically is made out of mesh fabric for better air circulation. You will get a total of 8 holes on top, and 8 holes on the front and back for even better air ventilation.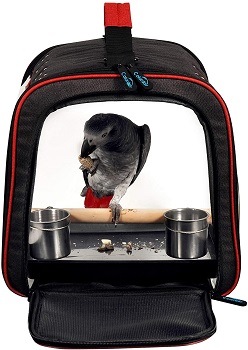 Color, Top, And Interior Details
The carrier is mostly black but it does feature some red details if that's what you'd like your carrier to look like. You can easily carry it with a top handle or by attaching a shoulder strap on top. The interior is equipped with a simple wooden perch and 2 small food and water bowls.
In Short:
The clear bits are polyethylene material
The rest of the carrier is made out of soft fabrics
The left mesh fabric side is used for entry and ventilation
Has 8 holes on top and 8 on the bottom for ventilation
Comes with 2 bowls and a single perch
Designed to be used by small and medium-sized birds
BEST BACKPACK PARROT CARRIER
Shiningirl Pet Parrot Backpack
Choosing A Shape
The main benefit of this backpack is that you can get it n two designs and multiple colors. This shape is more of a capsule shape but if you prefer a boxed-in look, you can get one that's shaped more like a rectangle. It does have some curvature still but the main shape is boxed in.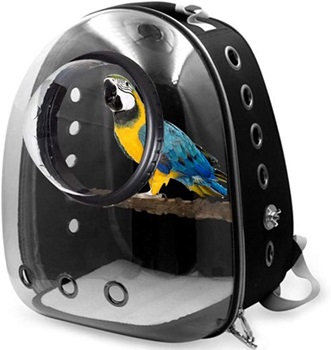 Front Side
The front of this parrot backpack carrier is clear and it's polycarbonate material. It does have a convex bubble in the center and 3 holes below it for ventilation. These holes are used only for ventilation since the back doesn't have holes so that you could place a perch in them.
Backpack Functions
It literally functions as a backpack. It has an adjustable shoulder strap, a non-slip bottom, and it's wear and tear-resistant. It does have a handle on top for whenever you feel like carrying it in your hand rather than on your shoulders. The rest is made out of soft fabric and it's colored blue.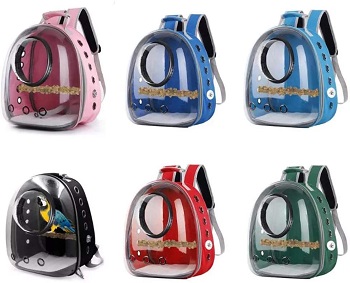 Size And Accessories
On the left and right side of this parrot travel carrier, you'll find 6 holes where you can place the single perch that comes with it. The rest of these holes are used for ventilation ad proper air circulation. It's around 16-in tall, 12-in wide, and 11-in long so it's more of a parakeet carrier.
In Short:
Has a capsule shape
The front is made out of clear PC plastic
Comes with a single perch for the inside
The shoulder straps are adjustable
Has a non-slip bottom
It's 16-in tall, 12-in wide, and 11-in long
Suitable for smaller parrots
BEST CHEAP PARROT TRAVEL CARRIER
Akinerri Birds Travel Carrier
Carrier Shape
You can see this carrier as a small tent for your parrot or bird. It's easy to set up and fold down when you're not using it. It doesn't have exactly a rectangular shape but it does feature 4 sides. The corner of the carrier is a bit rounded so it kind of has a capsule shape.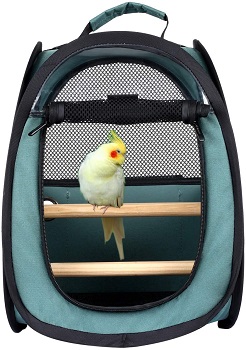 Ventilation And Vision
The top of two sides is made out of clear materials while the top of the other two sides is made out of mesh fabric. Both will work well to provide your bird with enough air circulation and so that he or she can get a clear view of their surroundings which will automatically reduce their stress levels.
Interior Contents
What's amazing about it is that you can place a plastic slide-out cleaning tray on the bottom so that the interior is kept cleaner and so that it's easier to clean. You'll also get two wooden perches for the inside that you can Fix onto the sides of this parrot carrier with screws.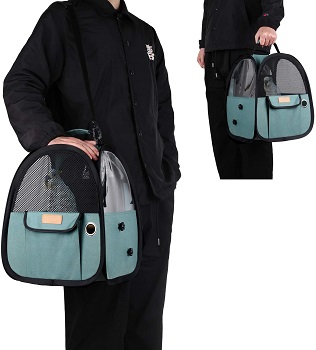 Carrying, Price, And Size
You can choose to carry this carrier with a handle or with a shoulder strap. it features an accessory pocket on one of the sides as well. Although all of these carriers can be considered small and large cheap parrot cages this one takes the cake with its contents and a price of around 50 dollars. It is meant to house smaller parrots since it's 12.2-in long and wide, and 15.5-in tall.
In Short:
Has a rounded rectangular shape
Two sides have a clear top
Two top sides have mesh fabric windows
Comes with 2 wooden perches
Can be carried with a handle or shoulder strap
It's 12.2-in wide and long and 15.5-in tall
Comes with an accessory pocket
Costs around 50 dollars
How To Pick A Parrot Travel Carrier
Before picking out a parrot travel carrier you'll need to learn, if you don't know already, a few things about these products, what they should have, what size you'll want to choose depending on the size of your bird, and a lot more so make sure you continue reading this simple buying guide.
Parrot Problems – The toughest thing to do when choosing a carrier or cage for a parrot is to determine what size you'll need. This is a problem because there are around 350 parrot species. The easiest thing you can do is to place them into size categories like small, medium, and large.
Size Determining – After you've categorized the size of your parrot the next thing to do is to look for a cage that's slightly longer than your parrot. This is important because if your parrot were to be housed in a carrier that's too small for them, the parrot might end up with a bent tail.
Reducing Travel Stress – It's only natural that your parrot is going to be stressed when traveling so to reduce it, you might want to direct your attention to clear carriers. A fully clear carrier would be best for a bird that's really stressed out and that's larger than expected.
Large Parrot Carrier Specs – Larger parrots are trickier to contain because they need a very long cage to not end up with a bent tail. When we say large parrots we're focusing on large macaw breeds like a blue and gold macaw. You can find a carrier designed for them and it's best to get one that's around 30-in long, depending on the length of your parrot.
To Sum Up
Since the Paradise Toys Perch N Go Large bird carrier is so versatile and durable, we decided to recommend it as the best parrot travel carrier. It's made out of clear polycarbonate material that is stronger than acrylic material and it's around 30-in long which means that you can use it to house even the largest of parrots like bue and gold macaws. If you want to check out carriers for smaller birds and parrots specifically, we'd advise you to read either the article about cockatiel travel cages or about small bird carriers.