Are you and your macaws read for a double macaw cage that will both help you save space and leave you with the choice of housing your macaws together?
You can make it happen if you continue reading this article where we only reviewed the best ones we could find. In terms of function, most of these are similar but that definitely doesn't stand true for their price and looks so that's why you can also find antique and cheap cages here and that's definitely not all you'll find.
The Summary
Best 6 Double Macaw Cages
BEST OF BEST DOUBLE MACAW CAGE
Mccage Extra Large Parrot Cage
Small Macaw Cage
Did you know that there are around 17 macaw species known to man? Fewer are actually kept as pets but it just goes to show you how versatile these birds are and that goes for their size as well. Some species of macaws are as small as cockatiels and these are the macaws that you'll get to house in this cage.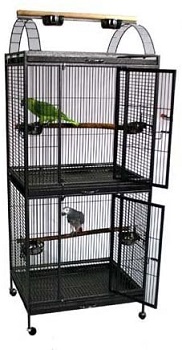 Separate Cage Dimensions
These are actually separate cages that you can stack on one another. The cages share a single play area on top so you can consider it to be a play-top bird cage. Each cage is 30-in long, 24-in wide, and 26-in tall. If you include the stand and the play top the cage becomes 74-in tall.
Common Iron Build
It's very common for bird cages, in general, to be made out of the material this double macaw cage is made out of. The material in question is wrought iron and you can rely on it to be pretty durable because of the low carbon properties but it comes with a fair warning and that is that it rusts more easily.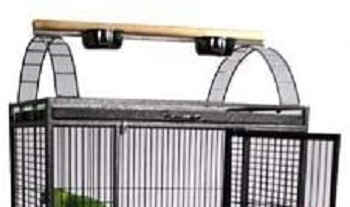 Finish And Accessories
The rusting problem is an easy fix. All you need to do is make sure that the cage has a bird non-toxic powder coat finish at the very least and this one has it. Each cage comes with a single wooden perch and 2 bowls. The top features 2 bowls as well, a single perch, and 2 play ladders.
In Short:
Has a wrought iron build
MAde up of two separate cages
You can stack the cages
The top features 2 ladders, a perch, and 2 bowls
Each cage is 30-in long, 24-in wide, and 26-in tall
The interior comes with 2 interior perches and 4 bowls
BEST CENTER DIVIDER DOUBLE MACAW CAGE
WesternPacific Large Macaw Cage
Cage Splitting
This is a cage that you can choose to separate into two cages or you can house your macaws together inside one large undivided interior. This is all made possible thanks to the center divider that it comes with. You can easily remove it or put it back into its designated slot.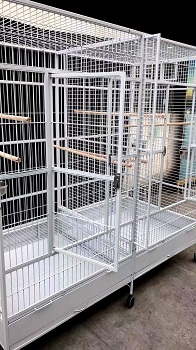 How Much Space It Gives You
The bar spacing of 1-in alone is enough to prove that this double macaw cage is an excellent choice for housing larger macaws. The other thing to prove it is each separate cage dimension. With the divider, each separate cage is 38-in wide, 40-in deep, and 77-in tall.
Breeding Macaws
These cages can commonly be used as breeder cages and it's no wonder since they're perfect for housing a pair of macaws. To help set everything up, the far top of each side features an entrance where you can place a breeding or nesting box. Each side also features 2 feeding entrances.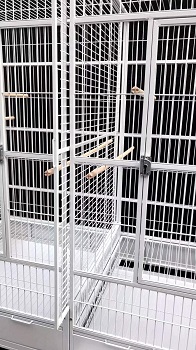 Connected For Life
Although we said that this double macaw cage with center divider is separate, we do have to say that you can't actually physically separate them. They sit on a stand with 6 wheels that feature 2 slide-out cleaning drawers. It makes sense that it sits on wheels since it would be really hard to move it due to its weight of 250 lbs.
In Short:
Acts as one large double macaw cage
You can separate the cage with a divider
Each separate cage is 38-in wide, 40-in long, and 77-in tall
Sits on a  stand with 6 wheels
The slide-out cleaning trays are separated
Comes with 2 nesting box entrances
Has a 1-in bar spacing
BEST ANTIQUE DOUBLE MACAW CAGE
Flyline Double Cage
Large But Looking Nice
You do have to understand that most of these cages are extra large and not a lot of people can afford for a cage to take up that much space. What you can do in this cage is to get a cage that looks nicer and this is where this cage goes into action since it's a vintage bird cage with stand.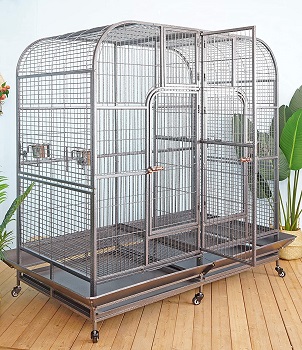 Rounded Bits
Mainly, it's antique because of the rounded top corners that also make it somewhat of a large round bird cage. We wouldn't recommend it if it were fully round though but since it does feature corners, you can feel confident in housing your macaws inside safely.
Aviary Function
This double macaw cage is 64-in wide, 32-in long, and 73-in tall and because of these large proportions, you can even consider it as a macaw aviary. Of course, this is only true if you remove the divider that splits the cage into two equal parts that can then be used as parrot enclosures.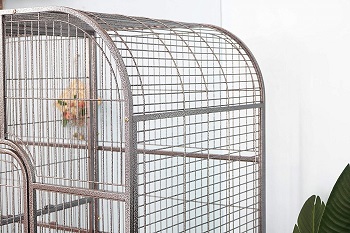 Important Macaw Cage Details
The bar spacing of this macaw cage is 1-in and the wire gauge is 6. You should pay attention to the wire gauge if our macaw is a large one with a strong beak. Another thing we should mention is that it comes with a bird cage seed guard so that the surrounding floor is almost always kept clean.
In Short:
It's big enough to act as an aviary
Can be split into two cages with a center divider
Has a 1-in bar spacing
It's made with 6 gauge wire
Has a bird cage seed guard
The top corners are rounded
BEST CHEAP DOUBLE MACAW CAGE
Aier Double Cage For Macaws
Size Comparison
If we had to compare the size of this cage to the size of a previously reviewed one, we'd definitely say that it's closer in size to the last third one we reviewed. It's around 63-in wide, 32-in long, and 73-in tall. This is true of course if you remove the divider and if you put it where it's supposed to go, the width splits into two.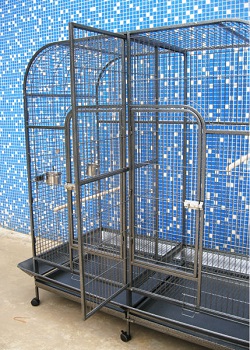 Lowest Of Prices
The most amazing thing about it is that it's definitely a lot cheaper than the cages before. In terms of price, all of the before cages were getting close to or went over 1000 dollars but this cage actually costs almost as little as a cheap parakeet cage and it's around 200 dollars.
Common Build
It's not like this double macaw cage is made out of less quality materials. All of these cages are either made out of iron or wrought iron and this cage is as well. The part where you have to worry about rusting shouldn't be a problem since it does feature a powder coating finish.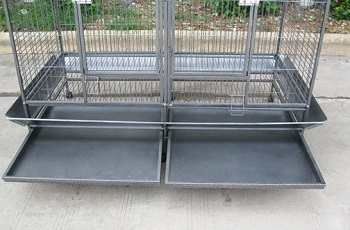 All The Entrances
It features 2 large entrances in the front that will prove to be enough for you to access the inside of the cage whenever you need to. You'll also find 2 entrances per side that are much smaller since they are feeding entrances and you can place the 4 bowls that come with the cage on them for easier water and food supplies refilling.
In Short:
Made out of iron
Has a safe for birds powder coat finish
It's around 63-in wide, 32-in long, and 73-in tall
Come switch a cage divider
Each cage part has its own large entrance
Each cage part has its own 2 feeding entrances
BEST LARGE DOUBLE MACAW CAGE
PawHut Rolling Metal Bird Cage
Smaller Macaws Cage
Let us be clear, this cage is in no way small but it should be used to house smaller macaws. Although the wire gauge isn't specified, since it has a 0.5-in wire spacing, it's easy for us to conclude that it wouldn't be able to handle the power of some macaws that have incredibly strong beaks.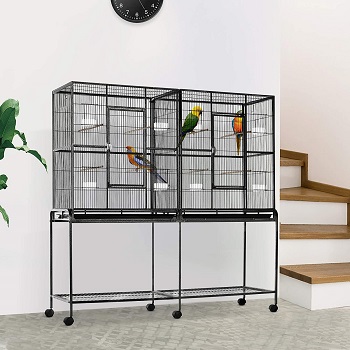 Main Function And Width
It actually functions as a double flight cage. Flight cages are meant to give your bird a chance to fly around freely inside their home. They shouldn't fully replace the exercise they need daily but it can definitely lower the quantity of time needed for exercise. They're mostly extremely wide and this one is 64.25-in wide.
Splitting The Cage
Of course, you can choose to split this double macaw cage into two equal parts so that both of your macaws can have their own, separate living spaces. You'll get to do this with a removable center divider. The cage sits on a long stand with 6 wheels and a long storage grid.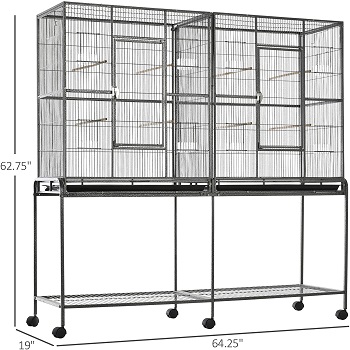 Front Panel And Interior
Each part of the cage comes with its own main entrance that's quite large. You'll also get 4 small entrances in the front where you can place the 4 cups that come with it easily. Additionally, each cage will also come with 4 perches so that means you'll get a total of 8 perches.
In Short:
Has a 0.5-in wire spacing
Designed to house smaller macaws
can be split into two using a center divider
It's 64.25-in wide
The stand it sits on features 6 wheels and a storage grid
Comes with 8 perches and 8 feeding cups
BEST WITH STAND DOUBLE MACAW CAGE
Vivohome Stackable Breeding Cage
Cage Blending
Not many cages allow you to take them from the stand and use them without it. This cage, fortunately, does so if you have a special place in your house for your bird cage you can easily make it blend well into your interior without it looking like a nightmare. It's even colored pink.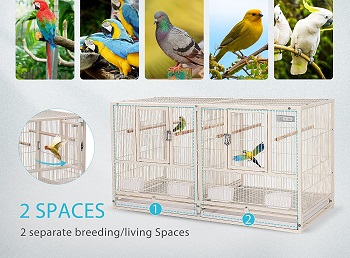 Breeding Cage Details
The main use for this double macaw cage is for you to use it as a bird breeding cage. You'll notice that this is true because it comes with a removable divider. In fact, any of these cages that come with a center divider could be used for breeding if they had a nesting box entrance. None of them do except this one that you'll find on the left and right sides.
Macaws It Can House
The cage, with the stand on, is 41.3-in tall and without it, it's 20.5-in tall. The width and length don't make it any bigger so it's not likely that you'll get to house a large macaw inside it. The macaw breeds you can house inside should be close to Hahn's macaws in terms of size.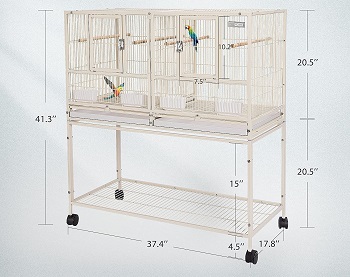 Spacing And Finish
The bar spacing is a little smaller than the maximum recommended for smaller birds like budgies and finches which is 0.5-in. You don't have to limit yourself and use it just for macaws. You can easily breed other small birds inside as well. It has a spray paint finish that's durable and will keep your macaws' beaks from getting into direct contact with metal.
In Short:
Acts as a breeding cage
It sits on a removable wheeled stand
Overall, it's 41.3-in tall, and the cage is 20.5-in tall
Able to house small macaws
Has a 0.43-in wire spacing
Features 2 breeding box doors
Comes with a center divider
How To Pick A Double Macaw Cage
Since there's a limited number of them to choose from, getting a proper double cage for macaw birds might be a more difficult task than anyone would like. Pair that with a mostly high price and it makes you wish you don't get it wrong the first time you're buying it. To make sure you get the correct cage, we advise you to continue reading this buying guide.
Price Points – It's no wonder that these cages are usually very expensive. There really isn't a rule as far as the pricing goes, all we know is that they can easily cost over 1500 dollars. It doesn't surprise us since sometimes a single macaw cage can cost up to 1000 dollars.
Cage Splitting – If you're prepared for it and are allowed to do it, most of these double macaw cages can have a connected interior so that two macaws don't have to be housed separately inside their own cages. Luckily, if you do choose this option, you can always go back to separate macaw housing since they come with removable dividers.
Macaw Partners – If you'd like to house 2 macaws together there are some precautions that you should take. For starters, you shouldn't house birds of the same sex together. The birds should also be introduced to one another in a neutral environment and then you can gradually let them live together.
Macaw Beaks – Macaws, apart from being large, are very strong birds with incredibly strong beaks. That's the sole reason why you should pay extra attention to the quality of the finish and the thickness of the wire. Some of these cages have a specified gauge and the lower the gauge, the thicker the wire is.
To Sum Up
Although it is a bit pricey, we can't but not recommend the Flyline Double Cage as the best double macaw cage. It's so large that it can be used as an aviary if you remove the divider that splits the cage into two and it's even made with durable 6 gauge wire. If you want to read more about cages and aviaries for macaws, we'd advise you to either read the article about stainless steel macaw cages or outdoor macaw aviaries.