Have you decided to start your bird breeding journey but you know you'll need a bird breeding cage that you can't seem to find?
We'll help you find one, in fact, we'll help you find one for your specific time of bird if you continue reading this article. The reason why is that we didn't just review the same old cages for breeding but we also made sure to review breeding cages for birds like macaws, parakeets, and many more birds.
The Summary
Best 6 Breeder Cages
BEST OF BEST BIRD BREEDING CAGE
Prevue Pet Products Hampton Deluxe Cage
See It Right Away Features
The way this cage looks is probably one of the most common looks for these types of cages. The features that stand out the most are the steel tube frame, wire sides, wide build, and a stand with wheels, and a storage grid it sits on. There are a few others but we'll get into detail about it later on.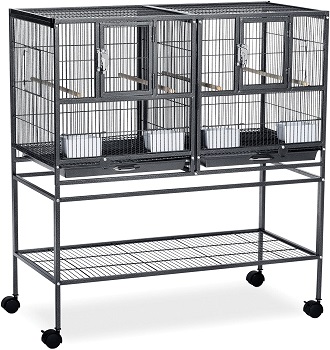 Build Materials
What you can't tell from just looking at the Prevue Pet Products Hampton deluxe divided breeder cage is the material used to make it. It's similar to a antique wrought iron bird cage that has a low carbon content which makes it more durable. It's coated with a hammer tone finish for better rust and corrosion resistance.
Cage Separation
It's not a necessity, but it's very common for the cage to be split into two separate parts. You'll get to do this with a center divider it comes with. This divider can also be removed to create an interior space that's 37.5-in wide, and 18-in long with the overall height being 40.25-in.
Separate Cages Details
Each cage part has its own separate main entrance, feeding entrances, and accessories they come with. For each cage part, you'll get 2 wooden perches and 2 plastic cups for food and water. The wire spacing is 0.5-in which makes it suitable for housing and breeding birds like parakeets.
In Short:
Built out of wrought iron
Has a 0.5-in wire spacing
Comes with a removable center divider
Each cage has 2 perches and 2 cups for food and water
It features a stand with wheels and a wire grid
It's 37.5-in wide, 18-in long, ad 40.25-in tall
Made to house small birds
BEST CANARY BREEDER CAGE
Kookaburra Cages Wire Cage
Most Common Build
If the cage previously reviewed features one of the most common breeding cages builds, then this one features the second most common build for these types of cages. The difference between these two models is the price because you'll be paying a lot less for a cage built like this one.
2 Parts Build
This cheap cage is made simply out of two things. The bottom is made out of plastic and it acts as a deep bottom base that will help collect fallen bird excrements while the top is fully made out of wire. When we say wire, we mean that there is no metal tube frame like the one reviewed before.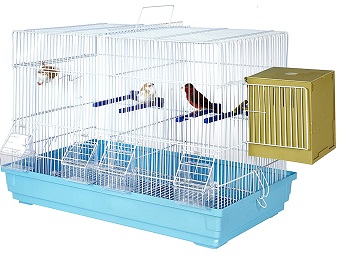 Handle Uses
The great thing about Kookaburra cages is that they come with a carrying handle. This handle can either help you hang it someplace like on a stand or a ceiling, or you can use it to carry the whole thing and travel with your bird inside a car when you want to.
Cage Parts, Size, And Safety
It does come with a divider and each cage part then features 2 perches, and clear plastic food and water bowls. It's 22.8-in wide so when you place a divider in the center the width splits into half. Due to its then size and 0.4-in wire spacing, this is a great choice for canary breeding cages.
In Short:
Has a wire body
The bottom base is made out of plastic
Has a 0.4-in wire spacing
Can be carried or hung someplace with a handle
Features a center divider
Has 2 clear cups and perches for each cage part
BEST FINCH BIRD BREEDING CAGE
Yml Medium Breeding Cages
Ease Of Breeding
If you decided that you want to breed finches ad you're new to the whole breeding your birds' thing, it is safe to say that you're on the right path of becoming a pro. Finches are a breed of birds that are easy to breed and especially if the finch is a zebra finch which is one of the most common finch breeds out there.
Build Specifics
There's almost nothing more to say about how these finch breeding cages are made that hasn't already been mentioned in the previous review. The difference is that this cage has a full wire body and the only plastic bit is the cleaning tray located below that you can easily slide out for cleaning.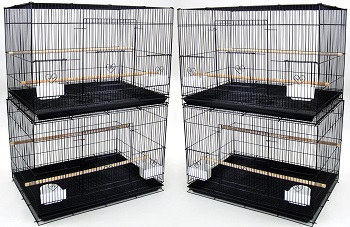 How Many Cages You Get
We used the plural of a cage before because you won't just get one cage, but a total of 4 cages. One cage can house a pair of finches so you'll easily get to breed a total of 4 pairs or 8 finches. To save you some space, you'll be allowed to stack these cages on top of one another.
Wire Spacing For Finches
Most finch breeds will do just fine inside a cage with a wire spacing of 0.5-in, and if you hadn't already guessed it, the Yml bird cage has that same wire spacing. Each cage is 30-in wide, 18-in long, and 18-in tall so it's of the perfect size for housing 2 finches.
In Short:
You'll get 4 cages in total
Has a full wire body
Has a plastic slide-out cleaning tray
Each cage is 30-in wide, 18-in long, and 18-in tall
Has a 0.5-in wire spacing
The cages can be stacked
BEST PARAKEET BIRD BREEDING CAGE
Mccage Extra Large Breeding Cage
Size Category
There is the category of medium-sized birds such as cockatiels or African greys that have stronger beaks and do look larger. You'll get to house them in cages up to 1-in wire spacing. The parakeets are in the category of small birds but a 1-in wire spacing cage is suitable for them, too.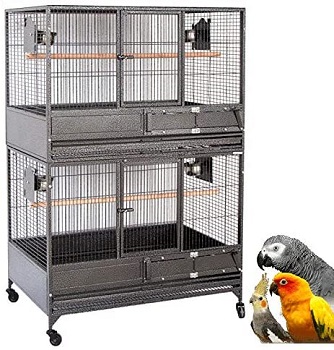 All Of The Wire Details
It has a 0.5-in wire spacing so it can be used for breeding small birds like budgies. It's 36-in wide, 23-in long, and 24-in tall. It's made with 8 gauge wire which is something really important for strong beaker birds.
2 Cage Pack
Instead of just getting one cage, you'll actually get two parakeet breeding cages. They are pretty much the same, the only difference is that one features 4 wheels on the bottom. The reason why only one cage has wheels is that you'll get to place the other cage on top of that cage to save some space.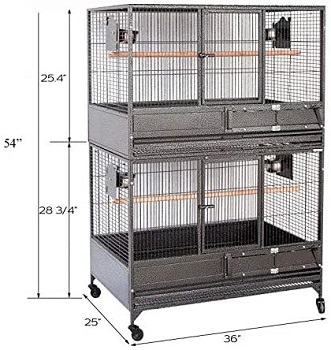 Entrances And Their Functions
Each cage features a single main entrance in the front. On the bottom of the front panel, there is an elongated door that can hold 3 cups for food and water. You'll find 2 more feeding entrances on the left and right sides. These side doors can act as breeding box doors as well.
In Short:
Made with 8 gauge wire
Has a 0.5-in wire spacing
Comes in a pack of two cages
You can stack the cages
Comes with a total of  bowls for food and water
The side feeding entrances can act a breeding box doors
BEST PIGEON BREEDER CAGE
Aivituivn Wooden Pigeon Cage
Colony Breeding Cage
This cage is the perfect example of a cage for bird colonies. Although this cage is not fully it, it's a great example to learn from. Colony breeding is nothing more than breeding birds at random, however, they please. This will require you to get a multiple birds cage and luckily, this cage can house up to 15 birds.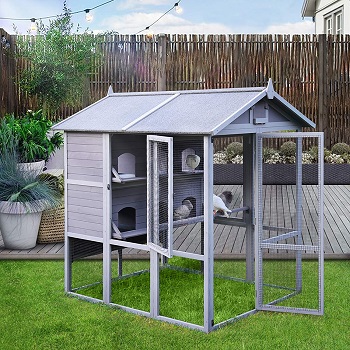 Front And Back
Apart from acting like a pigeon breeding cage and we'll get into the why's later on, it also acts as a wooden aviary. Aviaries are meant to give your birds enough space to fly around freely and the front of this cage can make it happen. The back is where all the nesting boxes can be found.
Nesting Places
It's not uncommon for large colony bird cages to allow you to walk inside them. You'll get to do it with this one using the large door in the front. There are a total of 6 separated nesting boxes in the back that can be accessed both for cleaning, and a watch guard from the outside in the back.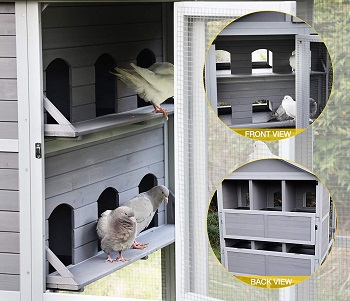 Outdoor Use Build
It's made out of fir wood and wire. The top makes it look like a house because of the asphalt house roof. This roof is waterproof. The fir wood is a great material of choice for the outdoors along with the galvanized wire that is corrosion and rust-resistant. It's too big to fit inside homes anyways so we recommend you limit its use to the outdoors only.
In Short:
Has a fir wood build
Has an asphalt roof and galvanized wire
Made to house up to 15 pigeons
Has 6 separate nesting boxes in the back
The front area lets it act as an aviary
You can walk inside it
BEST QUAIL BIRD BREEDING CAGE
WesternPacific Large Cage
Species Suitable For It
There are a lot of species of birds and some size variations are bound to happen. This cage specifically, is intended to house the largest macaws like the greenwing and the blue and gold macaws as well as quails of similar size. With this kept in mind, you have to be prepared for the fact that this is a very large cage.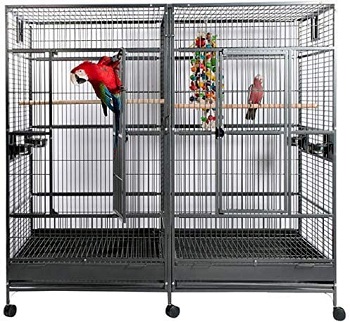 Cage Size
We won't stop you from housing medium-sized macaws inside either. In fact, a bird will always appreciate the extra space as long as it's safe for them and it is since this quail breeding cage has a wire spacing of 1-in. It's 77-in wide, 39-in long, and 61-in tall.
Separate Bird Housing
It acts as a double cage meaning that you'll get to house two birds inside either separately or in a shared space. This is made possible with the divider that you can remove from the center. With the divider on, each cage is then around 38-in wide while the height and length remain the same.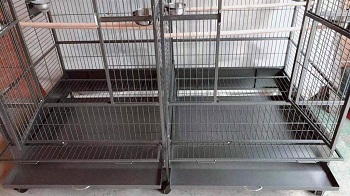 Door Types
Each cage part has its own separate large main entry door and they also feature a lot of small entrances. These entrances can be found on the sides of the cage. Two out of the three entrances on both sides act as feeding doors while 1 out of the three on both sides acts as a breeding box entrance.
In Short:
Able to house medium and large macaw
Has a 1-in bar spacing
Comes with 2 breeding box entrances
Has a total of 4 feeding entrances
Comes with a removable divider
It's 77-in wide, 39-in long, and 61-in tall
How To Pick A Bird Breeding Cage
We wanted to make this quick buying guide for picking out the perfect breeder cage for beginners as well as expert breeders. We still have to go through the basics though that include choosing the correct wire spacing, common cage types, easiest birds to breed for beginners, and other basics that will help you out in the long term.
Breeding Cage Types – There are two types of these cages you can get when it comes to their equipment and how they function. The first one is a single breeding cage that won't allow you to separate your birds and the second one is double breeding cages that will allow you to do so.
Cheapest Types – Although you'll only find cheap breeding cages for small birds, it's good to know your options. The cheapest cages will usually have a full wire body and a plastic base or a plastic cleaning tray. For these cages, you won't have to spend more than 100 dollars.
Birds Easy To Breed – A good rule to figure out how easy a bird is to breed is to check its size category. Smaller birds will be the easiest to breed while the hardest to breed will definitely be bigger birds like macaws. You'll also have to take into consideration that larger birds will need bigger cages that are consequently more expensive.
Wire Spacing Rules  – Wire spacing is definitely the single most important factor that determines whether or not a cage is made for your bird or not. Small birds like budgies, canaries, and finches will be the safest in cages with a wire spacing of up to 0.5-in, large birds can live inside of 1-in wire spacing cages and medium-sized birds vary greatly but they're always somewhere in between the two.
To Sum Up
We just couldn't appreciate the 8 gauge wire build on the Mccage Extra Large Cage along with other things so that's why we'd recommend it as the best bird breeding cage. You'll actually get two cages that you can stack. It has a 0.5-in wire spacing but it can house medium-sized birds as well. If you want to check out breeding cages for birds we haven't already mentioned here, you might want to read the article about parakeet breeding cages, and don't forget that you'll need a parakeet breeding box as well so you can read the article about it as well.