Have you found out that an 18-in long and wide cage is fit for most small-sized birds so know you're trying to find that one 18×18 bird cage?
We can help you pick one out and you won't even have to look for them if you continue reading this article. That's because we reviewed nothing but these cages in this article. We even made sure to keep it interesting and offered you a variety of cages like a cockatiel, parrot, and many more cages.
The Summary
5 Best 18×18 Bird Cages
BEST OF BEST 18X18 BIRD CAGE
Prevue Pet Products Select Bird Cage
Color Options
On the rare occasion that we find an indoor bird cage that will allow you to choose a color for, we can't but not mention the variety of colors it comes in. This is one of those cages and you can get it in a total of 9 colors. These colors include brown, sage green, pewter, red, and many more.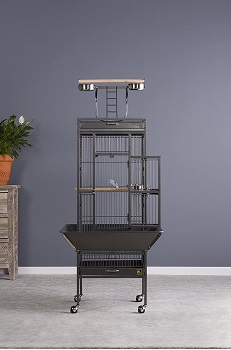 Finish And Metal Properties
The colors you'll get to choose from are mostly powder coat finishes. They will protect the metal from corrosion and rust exceptionally well because they don't chip or crack. The metal used is wrought iron which is a more durable version of regular iron because of its low carbon content.
Size, Top, And Bottom
The 18×18 bird cage measurement includes the length and width. Overall, it's 57-in tall but that includes the heigh of the play top and the stand with wheels it sits on. The play top consists of a wooden perch, a play ladder, and 2 bowls for food and water that are made out of stainless steel.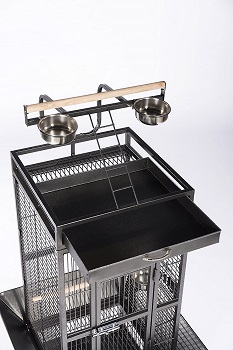 Cleaning And Wire
It even has a seed guard that will help keep your floors clean by redirecting fallen food back inside on the cleaning tray. There's one more slide-out cleaning tray on top for the play top bird cage area. It has a 3/4-in wire spacing so we'd recommend it for medium-sized parrots like African Greys.
In Short:
Made with wrought iron
Comes in 9 different colors
It's 57-in tall
Has a stand with wheels it sits on
Features a play top and seed guards
Has a 3/4-in wire spacing
BEST DOUBLE 18X18 BIRD CAGE
PawHut Double Rolling Metal Cage
Double Cage
Sometimes when we review large cages what we'll usually mean by it is that they can house large birds. With this cage, we actually mean that this cage is large because you'll actually get 2 separate cages that are then around 18-in long and wide. This will allow you to house two birds inside.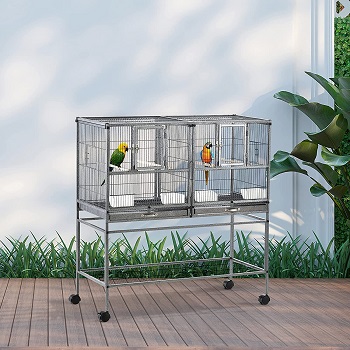 Separate Cage Entrances
The way to split this 18×18 double bird cage into equal 18-in measurements is through a center divider. Without this divider, the cage is 37.5-in wide. Each cage part has its own main entrance, two feeding entrances, and each one also has a single breeding box door that's located on the side.
Which Birds It Can Help Mate
If you haven't already guessed, this is a bird breeding cage. In it, you'll be able to mate one matin pair of birds. Since each separate cage is then 18.5-in wide and 18-in long and because it has a 0.5-in wire spacing, you can use it to house small birds like budgies.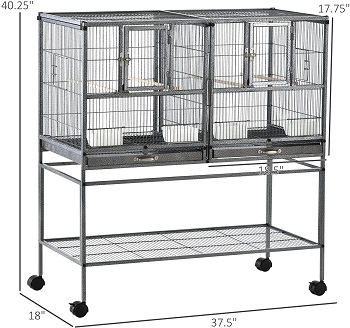 Stand Information
It does sit on a stand and you won't be able to remove the cage from it. With the stand on, the cage is around 40-in tall. The stand features 4 wheels for easier movement and you can actually lock two of them to keep it stable when you're not moving it around. It also has a wire shelf for supply storage.
In Short:
Acts as a breeding cage
You'll get two cages
It can be split with a removable divider
Comes with 2 breeding box and main entrances
Two of the wheels on the stand are lockable
it's 40.25-in tall
Has a 0.5-in wire spacing
BEST PARROT 18X18 BIRD CAGE
Vivohome 30 Bird Cage
Who It's For
Although an 18×18 cage won't usually be able to house a parrot, that's only true because parrots are associated with the largest of parrot species generally which are the blue and gold macaws for example. There are around 350 parrot species and this cage is made for medium-sized parrots.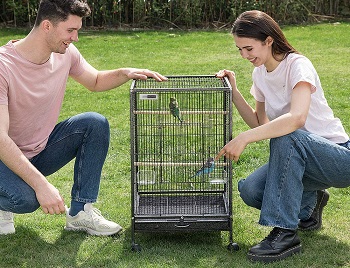 Durability On A Budget
We've already mentioned a wrought iron bird cage in a previous review so you should know that it's more durable than regular iron due to its lower carbon content and high tensile strength. It's a great solution for bird owners that can't afford aluminum or stainless steel bird cages.
Hammer Tone Finish
What protects the metal from rusting and corroding prematurely on this 18×18 bird cage is the hammertone finish. Not only does it protect it from the two, but it also gives it a specific look because of the hammered paint color which combines darker and lighter shades of grey.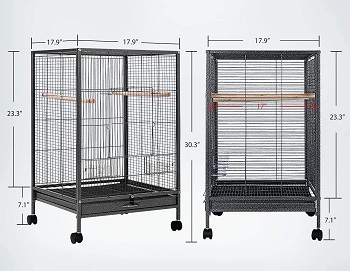 Dimensions And Wire Specifics
It's not exactly 18-in long and wide though. The specific measurements are 17.9-in in length and width which is a size difference that won't change much. It has a 7/8-in wire spacing so we'd recommend it for use as a quaker parrot cage for example since they're medium-sized parrots that can live in cages this small with a wire spacing that big.
In Short:
Made with wrought iron
Has a hammertone finish
Features a 7/8-in wire spacing
It's 17.9-in long and wide
Designed to house medium-sized parrots
BEST COCKATIEL 18X18 BIRD CAGE
King's Cages Es Parrot Cage
Birds It Can House
A 5/8-in wire spacing cage is a very specific width because it won't let you house small birds inside but will also only allow you to house some medium-sized birds inside. One of the prime examples of birds that can fit inside these cages are cockatiels that are medium-sized birds but not that much bigger than small birds.
Colors To Choose From
We're really impressed with the color of this 18×18 cage because it's a brass color that gives it sort of a bougie look. If you don't like it and want a cage that won't stand out at all, you can also get in the most typical colors which are either black or white colors. All of the colors are bird-safe.
Top And Bottom Build
It has a build that's typical for small and cheap bird cages. It has a full wire body and at the bottom, you'll find a base that's made out of plastic. This base is somewhat deep but it's not made to collect bird excrements. The thing that will help with that is the slide-out cleaning tray.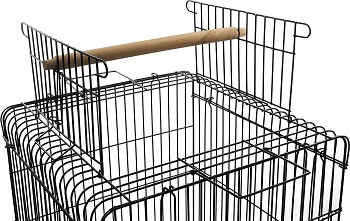 Play Area Description
This brass bird cage has a play top area that's a bit different from the one on the cage we reviewed before. This area consists of two doors that you can open and keep open with one of the two perches that come with it. The perches are made out of wood and you'll also get 2 cups with it.
In Short:
Has a wire body and a plastic base
Made with 5/8-in wire spacing
Designed to house medium sized birds
Comes in brass, black, or white color
Has a 2-door and a perch play area on top
BEST ON WHEELS 18X18 BIRD CAGE
Ibnotuiy Parakeet Bird Cage
Top Shape
Rectangular or in this case, square-shaped cages can be quite boring to look at. It is quite often for cage manufacturers to then make a dome top bird cage and that's the case with this one. It's more interesting though because it does have corners and a total of 4 sides as well.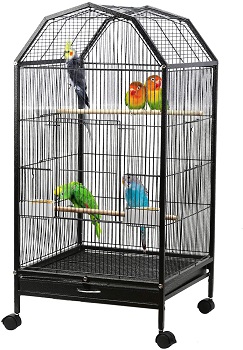 Weight And Moving It
It's 34-in tall but 32 of these inches are the actual cage height. The other 2-in are reserved for the wheels it sits on. These wheels can actually be locked to set it into place better when you're not moving it. Even though it only weighs around 14 lbs it's still a good thing to be able to rely on.
Construction And Cleaning
This bird cage on wheels does have a metal frame and wire sides. The bottom is also made out of metal which includes the tray for cleaning as well. The cleaning tray is a drawer-type tray that you pull out easily for when you need to discard your birds' litter. Above it, there is a wire grid to prevent your birds from stepping in their own litter.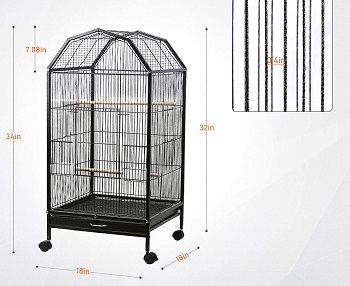 Entrances And Wire
The front of the 18×18 cage is where most of the entrances are located. It features one large entrance in the center that acts as the main entrance and to the left and right of it, you'll find 2 smaller feeding entrances. The right side of the cage features another door that can act as a nesting box door. It has a 0.4-in wire spacing.
In Short:
Has a cornered dome top
It's 34-in tall
Sits on lockable wheels
The slide-out cleaning tray is metal
Has a 0.4-in wire spacing
Weighs around 14 lbs
Has a breeding box entrance
How To Pick An 18X18 Bird Cage
We thought we'd start this simple buying guide on how to pick out the best cage with a bit of information on which birds can actually be housed inside cages of this size. We'll also talk about width between the wires for specific birds and a lot more so make sure you continue reading.
Birds They Are For – An 18×18 cage is usually the minimum cage size requirement for most small and medium-sized birds. By small birds, we mean parakeets, canaries, finches, and other small-sized birds but it's also great for love birds, quaker parrots, and other birds of similar size.
How Many Birds It Can Fit Inside – It would be best if you'd only house one bird at a time inside a cage of this size. In the rare case that it's a double 18×18 bird cage, you can use it to house two birds inside. For a pair of birds to be house inside though, the cage only needs to be around 7-in longer or wider.
Wire Spacing Range – To our surprise, these cages can have a wire spacing of up to 7/8-in. Most do come with a wire spacing of 0.5-in or lower but we had reviewed 3/4-in and 7/8-in wire spacing cages as well. These cages will get to house medium-sized birds while the 0.5-in wire spacing cages can house small birds
Materials Commonly Used – We only reviewed iron, steel, and wrought iron cages here. These are the most commonly used materials for making bird cages. If you want a more durable cage, you should go with the wrought-iron one. All of these metals rust fairly easily but they can easily be avoided with a powder coat or hammer tone finish.
To Sum Up
We definitely wouldn't want to miss out on being able to recommend the Prevue Pet Products Select Bird Cage as the best 18×18 bird cage. It's made out of wrought iron, comes with a bird cage seed guard and a play top, and has a 7/8-in wire spacing that can house medium-sized parrots. If you'd like to check out slightly bigger bird cages we advise you to either read the article about 24×24 bird cages or about 30x18x18 bird cages.